Sports Families: 5 Athletes Who Live in Someone's Shadow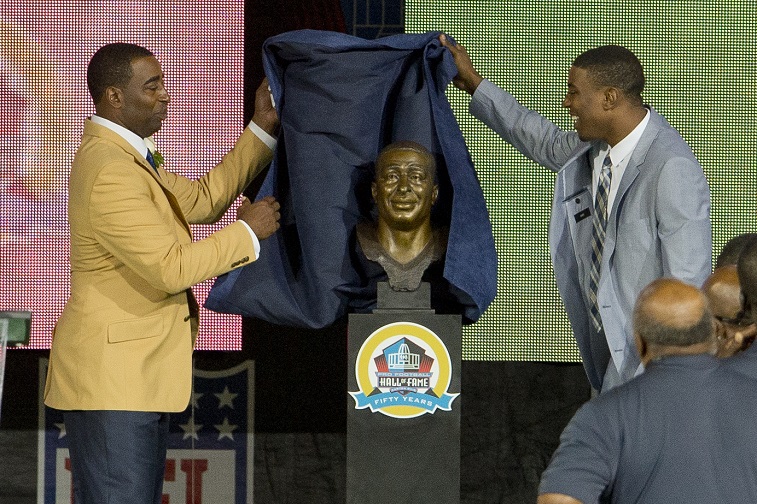 It's articles about players like Duron Carter that help us remember that professional sports tend to be a family business, and that as talented as he was, there's no denying the difficulty that comes with growing up the child of a superstar athlete. His father, Cris Carter, was one of the best wide receivers to ever play the game. That's why he's got a bust in Canton, Ohio. No matter how skilled someone might be, it's always going to be a challenge to live up to the standards set by the family members who play before you.
It's very rare for a child of a sports star to supersede their parent. Most of the time, the bar is set awfully high. However, just because a vast shadow is cast, that doesn't mean family members can't make a solid professional sports career for themselves.
With that, here's a list of a few of those underrated legacies in professional sports.
All stats courtesy of Sports-Reference.com and ESPN.go.com
1. Chris Long
It couldn't have been easy for Chris Long to play football, knowing that he had to follow in the footsteps of his dad, Howie. After all, can anyone really follow Howie Long? Drafted by the Oakland Raiders in 1981, Howie was an eight-time Pro Bowler, two-time First-Team All-Pro, and as fierce as they come on the football field. He was both strong and fast, and a very dominant force during an extremely physical era of the NFL. He was recognized as such, with his induction into the Hall of Fame in 2000. And, while Chris has not reached the level of his father and probably never will, that doesn't mean he hasn't done well as a pro.
Chris Long was highly heralded out of the University of Virginia, and the St. Louis Rams selected him second overall in the 2008 NFL Draft. In his seven seasons so far, Chris has managed to consistently get better each year, and plays his defensive end position well. In 2011, he finished the season with 13 sacks, which was good for the seventh-highest in the league. 2014 was a tough year for the former Cavalier, and he spent most of the season recovering from an injury. But there's no reason to think he can't recover and continue on with his stellar NFL career.
2. Danny Schayes
Danny Schayes? Who's that? He's the son of Hall of Fame (inducted in 1973) basketball player Dolph Schayes, that's who. And the elder could ball. Dolph finished his career with averages of 18.5 points-per-game, to go along with 12.1 rebounds. He made it to the All-Star Game 12 times in his career, and made the First-Team All-NBA six times. Dolph was also a very effective player, who ended up 28th all-time in player efficiency, as well as grabbing the 27th most total rebounds in the history of the NBA. Danny never reached the standards set by his old man, but did prove to be a valuable asset while in the NBA.
Danny Schayes' career totals were nothing to write home about. He averaged 7.7 points-per-game, 5.0 rebounds, and 1.1 assists. Regards of these statistics, you don't play in the league for 18 years if you're not bringing something to the table. And Danny Schayes was the guy who found a way to contribute to every team for which he played. He was an intelligent player, who could always be relied upon to play quality minutes. He averaged just under 20-a-game for his career, and during that span was also an 80.6% free-throw shooter.
Although he was never the same player as his father, Danny definitely did the "Schayes" name proud.
3. Brian Griese
Bob Griese was inducted into the NFL Hall of Fame in 1990. With eight Pro Bowl appearances and two seasons as a First-Team All-Pro, Griese was a very good quarterback in the NFL. And in 1977, he showcased this skill when he led the league in both touchdown passes and passer rating. However, prior to that, he was also the man under center when the Miami Dolphins won the Super Bowl in 1973. It's no surprise, then, that Brian Griese had his work cut out for him when he set out to play professional football. His father had managed quite the legacy, and those were some big shoes to fill.
Brian Griese would never be his father, but he did have a solid NFL career. He spent 11 years in the league, and made it to the Pro Bowl in 2000, as a member of the Denver Broncos. That year, the younger Griese threw 19 touchdowns, to just 4 interceptions, and led the league in passer rating (102.9). It doesn't matter that Brian never reached the same status as his dad, because he did achieve a lot during his playing career, including a College National Championship in 1997, a Rose Bowl MVP in 1998, and a Super Bowl ring. That's not a bad collection.
4. Dom DiMaggio
Joe DiMaggio was one of the best overall players to ever play the game of baseball. What else can you say about a guy who had a career batting average of .325, three MVPs, and a 56-game hitting streak. There are no adjectives that can truly describe DiMaggio's greatness. The truth is, what he brought to the sport goes beyond statistics, and he left a lasting legacy that very few could ever hope to attain. However, you know what else he had? A kid brother, named Dom. And Dom DiMaggio, he was a pretty good ballplayer himself.
The youngest DiMaggio spent 11 years in the big leagues, and finished with a career batting average of .298. Dom was stellar on the base-path, and had a big year in 1950. That season, he led the American league in steals, runs scored, and triples. And, to this day, Dom DiMaggio still holds the Boston Red Sox record for longest hitting streak at 34 games.
He may not be Joe. But, no one ever will be. Regardless, Dom DiMaggio was quite the baseball player.
5. Brent Barry
Rick Barry was named one of the 50 greatest basketball players of all time. The Hall of Fame forward was a lights-out shooter and a natural scorer. He averaged 24.8 points-per-game for his career, and had four seasons where he averaged over 30-a-game. Rick was also a solid passer and quality rebounder. But, one of the things about him that stands out above the rest: His free-throw shooting. He is one of the best-ever from the charity stripe, and he did it all while shooting underhand. You know you're a stud when you can get away with that. So, it had to be hard for his sons growing up. Well, in our opinion, Brent did quite well for himself.
Brent Barry didn't have the same numbers as his father, but he did have a solid 14 years in the NBA. In that span, he proved to be a solid contributor to six different teams. He made big shots and also averaged over 40% from three-point land in his career. Brent was also a winner, picking up two NBA Championships with the San Antonio Spurs. But, what we'll always remember about this Barry, is his freakishly underrated athleticism. No matter how good Rick Barry was, trust us, he never did this.