5 NBA Games You'll Never Forgive Yourself for Missing This Season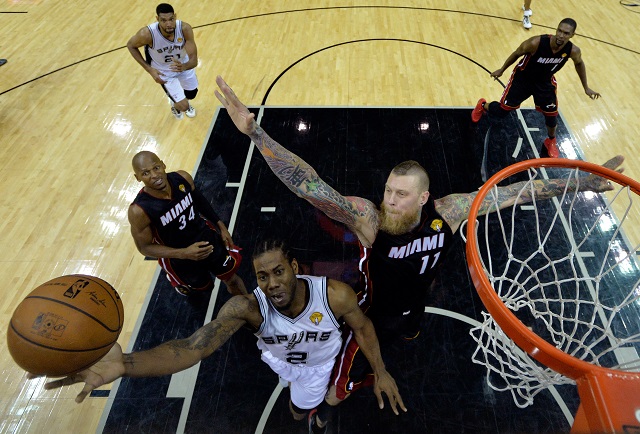 The last time most people watched NBA Basketball, they were likely watching something like the scene above — wherein the San Antonio Spurs dismantled the Miami Heat en route to an NBA Championship. Off the court, in the offseason, NBA fans got to watch as LeBron James bailed on South Beach, Paul George broke himself, and the balance of power shifted a little more evenly around the Eastern Conference through free agency. But unless you watched the Summer League (we did, and we're not ashamed), you haven't seen organized NBA Hoops in nearly two months. This is, of course, awful.
Luckily, with the release of next season's NBA schedule, and less than eleven weeks before basketball kicks again, we can begin to salivate over what the next batch of eighty-two games will hold. Will this be the year that San Antonio finally gives up the ghost? Can LeBron bring a championship to Cleveland? Will Chandler Parsons still look like the third most popular member of a boy band in a Dallas Mavericks uniform? The questions are already formed, and now all that we're left with is the agonizing trudge of the last two months and change before tipoff.
The season is long, and it's easy to go on autopilot, watching just the nationally televised games and tuning in halfheartedly until the playoffs start, but the price paid there is missing out on some truly tremendous hoops. Sure, there's SportsCenter and YouTube, both repositories for the newest batch of highlights repeated ad nauseam, but nothing beats watching one of those plays happen live. Here's five games you won't want to scour the Internet for after the fact.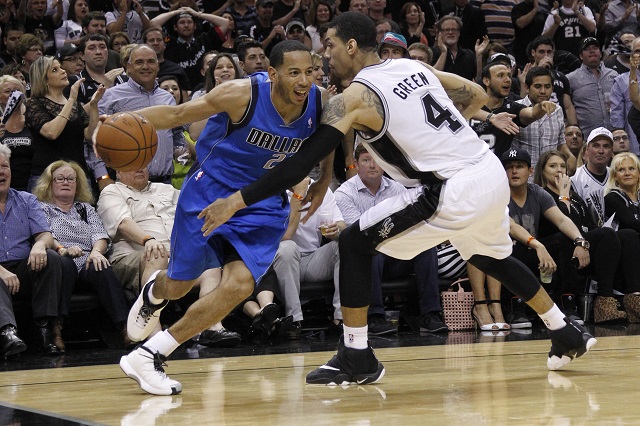 5. San Antonio vs. Dallas, October 28
The TNT opening tip off of the 2014 NBA season, Mavericks-Spurs will feature a rematch of the first round series between the two teams, when Dallas became the only team to take San Antonio to seven throughout the entire playoffs. In all fairness, this is happening at the same time as the Orlando Magic take on the New Orleans Pelicans (a League Pass and local broadcast), but unless you're a diehard fan of either team, you'd be advised to watch Dirk and Duncan battle it out instead.
Dallas and San Antonio both benefit from extraordinary coaching to go with their exceptional talent at the Power Forward position. And while nobody really looks good in comparison to San Antonio — which lives in another stratosphere when it comes to consistently providing a good team — the Mavericks measure up better than most, as both teams have looked toward unorthodox means when it comes to compiling competitive rosters. Plus, this is the first game of the season, and it's going to be better than the second half of the double header (Houston vs. the Lakers).
4. Chicago vs. New York, October 29
The (second) Return of Derrick Rose has everyone excited, even after last year's decidedly underwhelming comeback. If Rose is actually beating out his Team USA counterparts with his play, this is going to be a hard matchup to ignore, especially since it will also mark the debut of Derek Fisher as a head coach and, we assume, the introduction of the Triangle Offense to the New York Knicks.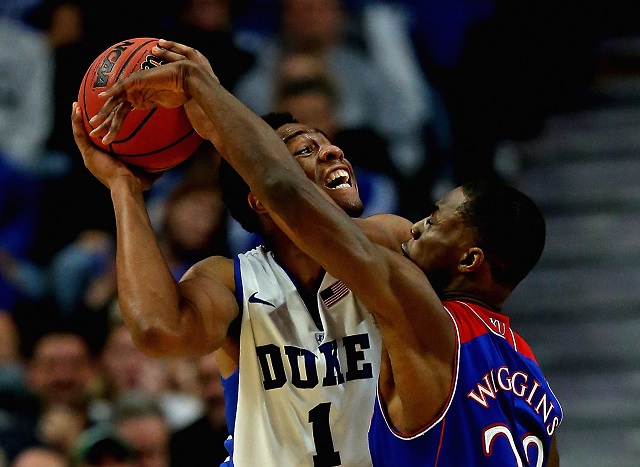 3. Minnesota vs. Milwaukee, November 29
A game that almost definitely won't feature the best basketball of the season and could end up being nigh unwatchable, Bucks and Timberwolves is going to be one to watch simply because it'll be the first professional matchup between the top two picks in the lauded (and loaded) 2014 NBA Draft, as Andrew Wiggins and Jabari Parker face off in Minnesota. If these two wind up as good as they could be, this might be the first iteration of a legendary rivalry.
2. Oklahoma City vs. San Antonio, December 25
The second game on the packed Christmas plate (as per usual, there are five NBA games being played on December 25), the Thunder will look to wrest Western Conference bragging rights from the San Antonio Spurs, who have frustrated Kevin Durant and company's playoff hopes as often as anyone, even if Memphis can also put in a claim to that title. While we don't think that KD's likely to leave Oklahoma any time soon, another wasted year in the West might do a lot to move that needle one way or the other.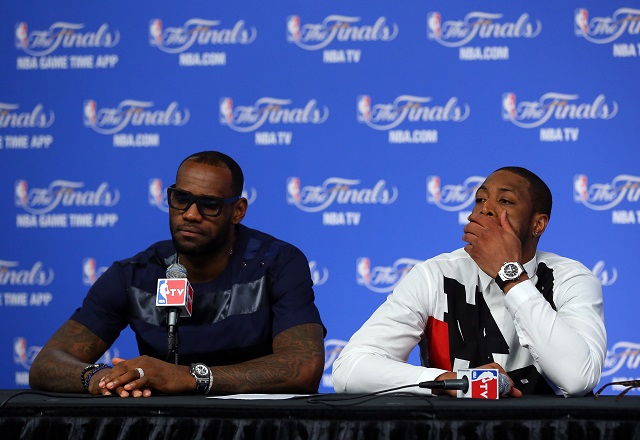 1. Cleveland Cavaliers vs. Miami Heat, December 25
The most anticipated Christmas Day game this year, and one of the high points of the prospective season, LeBron's return to Miami should be about as entertaining as his return to the Quicken Loans Arena was in 2011.
Although we're not expecting the Heat to treat James with the singular disdain that Cleveland did — before he left, he did manage to triple Miami's NBA Championship, after all — it'll be interesting to see how the game plays out on the court, when James is pitted against Chris Bosh and Dwyane Wade for the first time in over four seasons. Our prediction? Heat victory, as Cleveland's utter lack of defense (provided the Love trade goes through) foils LeBron's hopes for a triumphant return. You can click here for a full listing of the NBA's television schedule for next season.