5 NBA Hall-of-Famers Still Playing Today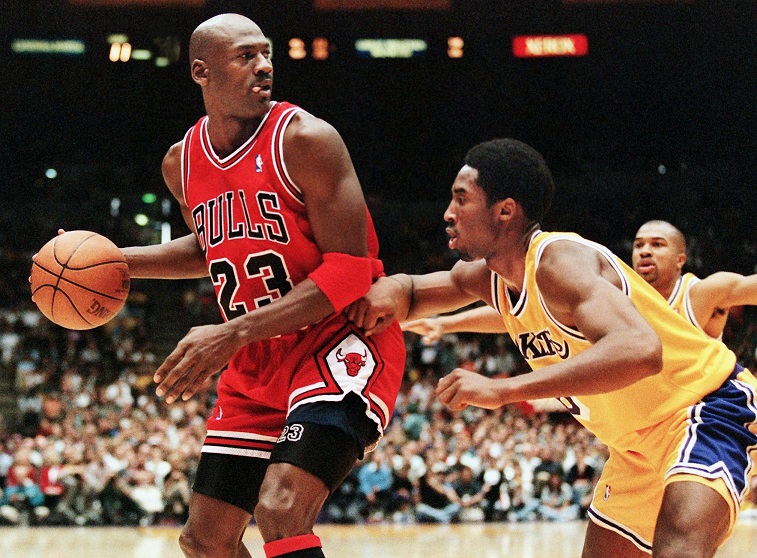 It's a timeless sports storyline —  the young upstart pitched against the wily veteran. The montage typically begins with the rookie putting on an athletic showcase, before the living legend digs deep into his bag of tricks and 'schools' the young gun to hold court. From there, the understudy can only officially enter his prime after going through the aging superstar and ushering the game into another era. Even Michael Jordan had to wage war against the likes of Larry Bird, Isiah Thomas, and Magic Johnson en route to taking six titles and being hailed as the GOAT.
Today's NBA may be defined as the perfect storm of old versus new, with LeBron James working to put his face on the Mt. Rushmore of the sport, while Stephen Curry and Anthony Davis are just getting started. Against this backdrop, five living legends are now approaching 40, after having racked up a grand total of 138,423 points, 53,300 rebounds, 23,476 assists, and 13 championships between themselves. For next season, each of these five first-ballot Hall-of-Famers may put together one last deep postseason run, before retiring, and ultimately presenting an emotional speech in front of adoring fans, coaches, and league executives at Springfield.
Here are their career numbers at the end of the 2014 season: Can you guess who they are?
| | | | | | | | |
| --- | --- | --- | --- | --- | --- | --- | --- |
| | Age | Points | Rebounds | Assists | Steals | Blocks | Titles |
| Player 1 | 36 | 32,482 | 6,800 | 6,122 | 1,882 | 627 | 5 |
| Player 2 | 38 | 25,974 | 14,644 | 4,062 | 978 | 2,942 | 5 |
| Player 3 | 38 | 25,949 | 14,512 | 5,383 | 1,831 | 2,027 | 1 |
| Player 4 | 36 | 28,119 | 10,051 | 3,282 | 1,076 | 1,128 | 1 |
| Player 5 | 37 | 25,899 | 7,293 | 4,627 | 1,715 | 723 | 1 |
1. Kobe Bryant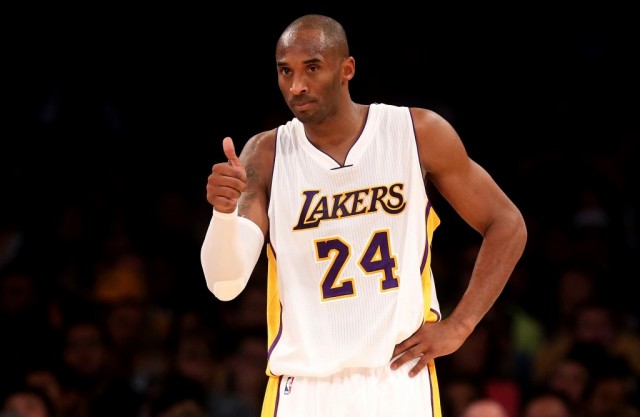 Still the closest thing that the game of basketball has seen to Michael Jordan since His Airness retired, Kobe was torching defenses for 29 points, six rebounds, and five assists per game at 22, during his fifth season in the league, Oh, and he was also the perfect sidekick to Shaquille O'Neal on the 'threepeat' 2000-2002 Lakers championship squads.
In 2004, Jerry Buss and the Lakers parted ways with O'Neal and handed the keys to the franchise over to Kobe Bryant, after a well-publicized and dramatic power struggle. From there, the Lakers went on to claim two back-to-back titles for himself, in 2009 and 2010, as the undisputed alpha dog of Los Angeles and the NBA, at large. After claiming two scoring titles, prime Kobe was often cast as a maniacal competitor, or "not human," according to fellow Laker great James Worthy.
Bryant has been brought back to Earth, however, as Father Time has put his body through a series of devastating injuries — missing 123 games over the past two seasons. Next year, Kobe will turn 37, and will be playing out the last year of his two-year, $48.5 million contact extension. The Lakers are willing to spend the cash to rebuild this team on the fly to help Bryant make one last title run, but so far their efforts have come up short.
2. Tim Duncan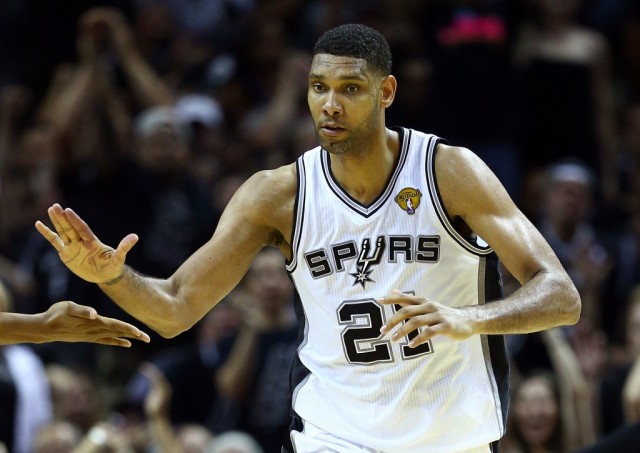 Tim Duncan will go down as the greatest power forward of all time. On the low block, the Big Fundamental abuses his opponents with a series of spin, up-and-under, and drop step moves before finishing the play off at the front of the rim with either hand. In space, Duncan will often either turn and face to put the ball on the floor, or simply rise up to bank in a jumper off the glass. In 2002, Tim Duncan filled up the stat sheet to put up 26 points, 13 rebounds, four assists, and three blocks per game en route to claiming league MVP honors.
Duncan will always be hailed as the centerpiece to a long-running Spurs Dynasty that has won five championships in fifteen years. With time, Tim Duncan has seamlessly transitioned into a more limited role as rebounder, shot blocker, and clutch post scorer. For Game One of the 2014 NBA Finals The big Fundamental turned back the hands of time, to put on a vintage 21-point, 10-rebound, 3-assist performance against the Miami Heat.
Last season, however, the Spurs went down to the L.A. Clippers, in an epic seven-game first-round series. Duncan, at 38, more than held his own against a spry Blake Griffin, in averaging 18 points, 11 boards, three assists, one steal, and one block for the series. Going forward, San Antonio will always emerge as a top destination for NBA free agents hungry to win as long as Timmy D is eager to prove that he still has something left in the tank.
3. Kevin Garnett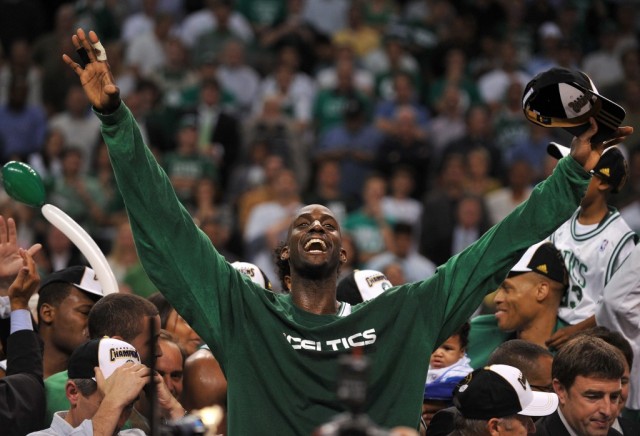 Kevin Garnett glared at the camera and screamed, "anything is possible," to close out his 2008 NBA championship. Earlier that year, Garnett had joined forces with Ray Allen and Paul Pierce to form a super team and created 180-degree turnaround in Boston. In doing so, Garnett had subjugated his own game for Ubuntu, or the team, putting up "only " 19 and 9.
Before Boston, the Big Ticket was the only game in town through 12 long years in Minnesota. Immediately out of high school, KG left everything on the line each game to shut down his own man, rotate into the paint, contest shots, and control the glass. As an offensive force, Garnett was the total package on the low block, for jab steps, turnaround jumpers, scoop shots, and hammer dunks. In 2003, Kevin Garnett went beserk, blitzing the playoff competition for averages of 27 points, 16 rebounds, five assists, two steals, and two blocks, only to ultimately go down to the Lakers in six games.
Arguably more than any other superstar, Garnett has been well versed in the highs and lows of professional basketball. After Boston, Garnett was part of a "disastrous" trade that shipped himself and running mate Paul Pierce off to Brooklyn. For his time, Garnett put in seven points per game for a massively underacheiving Brooklyn club that was nothing short of a disappointment enchanced by its massive payroll. Last February, KG completed the circle and returned to Minnesota, where he will serve as a mentor to young guns like Andrew Wiggins and Zach Levine.
4. Dirk Nowitzki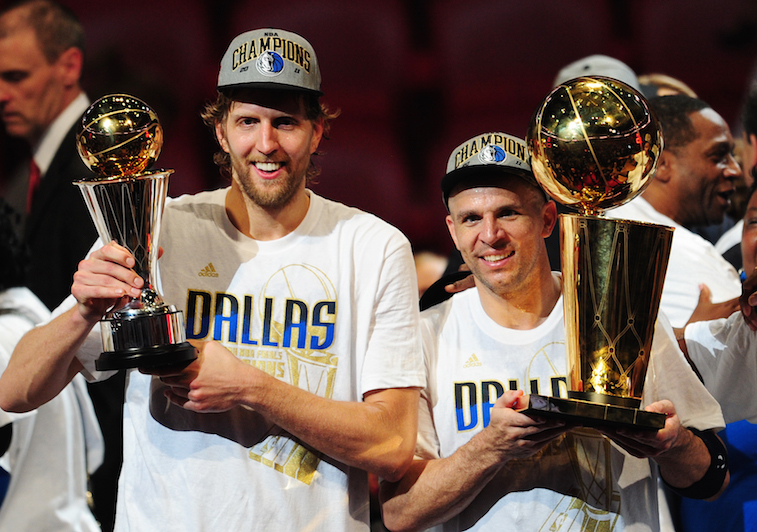 Dirk Nowitzki, a seven-footer with unlimited range, has always presented a match-up nightmare to the opposition. When staring down smaller defenders, Nowitzki can simply shoot over the top, and in space Dirk can drive the basketball against lumbering stiffs for easy scores at the front of the rim. As an offensive machine, Dirk Nowitzki torched defenses for 27 points per game, off efficient 48% field goal, 40% three-point, and 90% free-throw shooting in 2006.
Young Nowitzki and his Mavericks, however, were often dismissed as "soft," after their high-octane offense always seemed to sputter out at inopportune times and degenerate into playoff failure. In response, the then much maligned Dirk Nowitizki took time off, traveled to Australia, and expanded his game to work out of the high post. From there, Dirk showed off his new go-to moves in the 2011 Finals against the Miami Heat. Claiming Finals MVP honors as the Mavs dispatched year one of LeBron James's Miami experiment, Nowitzki consistently knocked down dagger jump shots from the elbow area.
For next year, billionaire owner Mark Cuban will likely open up his checkbook, yet again, to help Dirk Nowitzki make one last deep postseason run through the stacked Western Conference. Beyond Rondo, the Mavs rosters lost Monta Ellis and Tyson Chandler, and are left  to pick up the pieces after DeAndre Jordan bailed on them during free Agency. The Mavs were also penciled in to make a move for LaMarcus Aldridge, who grew up in Dallas and played his college ball down I-35 at the University of Texas, but he signed with San Antonio.
5. Paul Pierce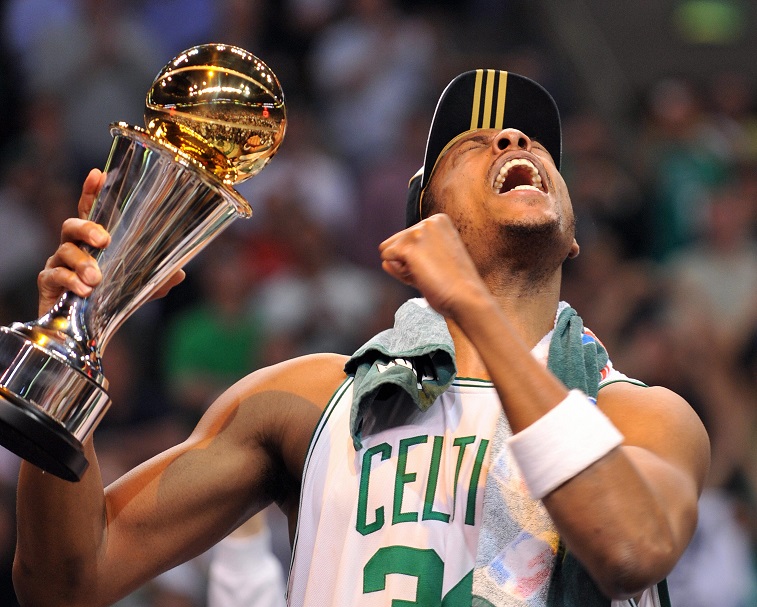 Maybe it's because he looked pudgy, but in his prime Paul Peirce emerged as the unlikely savior for a proud Celtics franchise that had nearly slid into total irrelevance,after the retirement of Larry Bird and untimely deaths of Len Bias and Reggie Lewis. Pierce, sliding down to 10th overall pick in the 1998 NBA Draft, after battling concerns about his conditioning and work ethic, immediately went to work proving the doubters wrong, emerging as the most clutch player out of a 1998 draft class that included Vince Carter, Mike Bibby, Antawn Jamison, and the aforementioned Nowitzki.
In carrying the Boston Celtics, a young Paul Pierce dropped in 27 points per game, while also hauling in seven rebounds, and dishing out five assists through 2005-2006. For the second leg of his career, Pierce shared the load with Kevin Garnett, Ray Allen, and Rajon Rondo for a Celtics club that made two trips to the NBA Finals and won one championship. At his best in isolation at the top of the key, Pirce he would cycle through a sequence of hesitation moves and up fakes, before working his way into the paint for floaters, lay-ins, and touch passes to cutting teammates.
Paul Pierce most recently touched down in Los Angeles, after spending time in Washington and questioning the heart of his teammates during a one-year stint in Brooklyn. As a Wizard, old man Pierce paced the team with 15 points per game and nailed game winning shots through an unlikely playoff run. This season, Paul Pierce will be out for more, a veteran contributor to a hometown squad — the Los Angeles Clippers — who also happen to be championship contenders.