5 NBA Players Wasting Their Talent on Awful Teams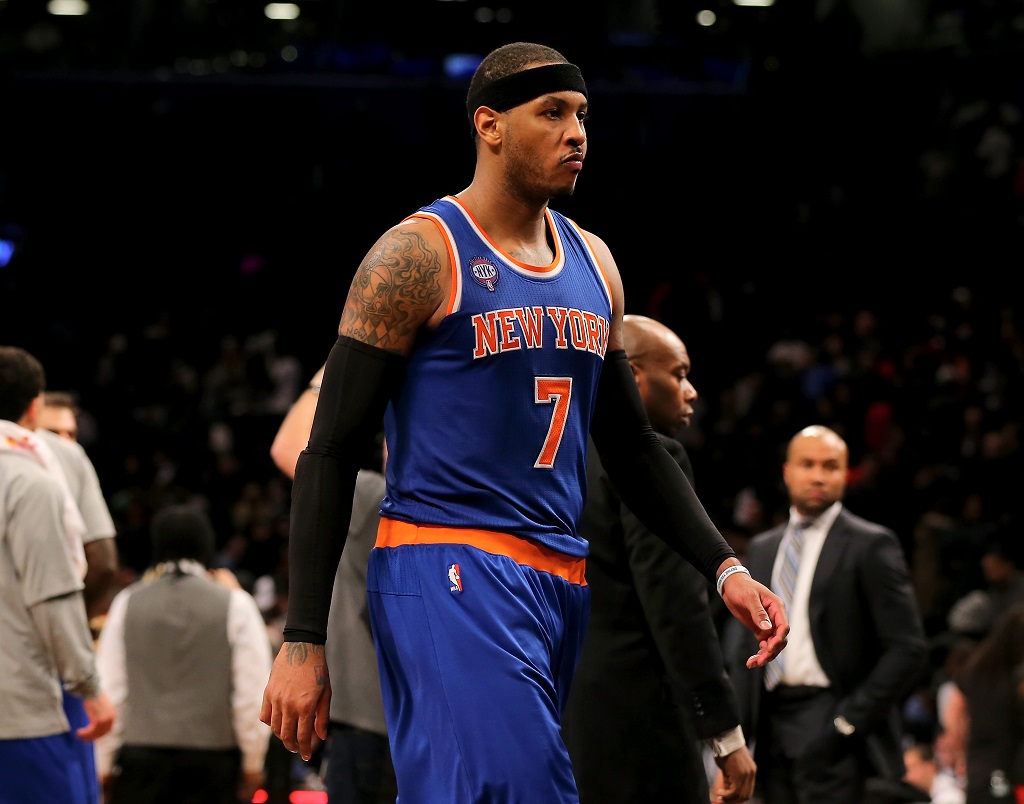 Nothing is fair in love, war, or the NBA. With every batch of new basketball talent, there are players who rise to the top — the guys who have the game to win it all. Unfortunately for them (and for their fans), winning a ring requires a whole lot more than talent: You've got to stay healthy; you've got to peak at the right time; and you've got to have a good team and a good front office that have your back. That last part is important, because if you're stuck with one of the worst managements in the NBA, your road to a ring gets that much harder.
Of course, there are guys like Karl Malone or Charles Barkley — all-time greats who simply didn't see the chips fall in their favor. We don't mean that in a diminishing sense, but we're going to call it what it was. Malone stayed with Utah nearly to the end of his career, and Barkley played on fewer teams than you might think in his quest to get past the Bulls. No, what we focus on today are the guys who are a step or two behind in this un-fun evolutionary ladder; the players who still have a couple more years of prime basketball left, but they're stuck in the quagmire of bad management, bad rosters, or both.
5. Jimmy Butler
One of the not-so-secret secrets about the Chicago Bulls is their notoriously tight-fisted ownership; they're the same folks who paid Toni Kuko? more than Scottie Pippen. That's not to say that the current state of affairs is entirely anyone's fault, as injuries to their million dollar PG and the erosion of Joakim Noah and Luol Deng derailed Chi-town's hopes for a basketball championship in the immediate future, but it is a fact. Now Jimmy Butler, the best (and healthiest) player on the Bulls is stuck with the weight of the entire franchise on his shoulders and no relief in sight — we're not banking on Dwyane Wade and Rajon Rondo yet.
4. Andre Drummond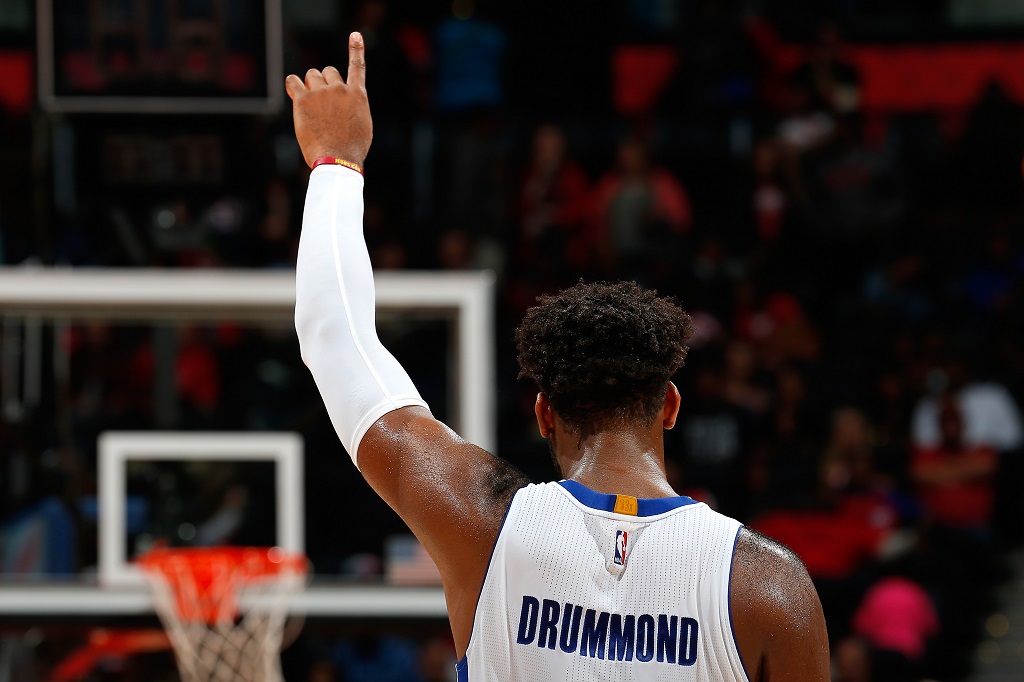 Andre Drummond is the latest name in the ongoing NBA case study of how to build a team around a flawed superstar — and he certainly is that, if only for his free-throw shooting woes. Detroit's President of Basketball Operations and head coach, Stan Van Gundy, knows something about this struggle, as he remains the only coach to have successfully coaxed an NBA Finals run out of a team of sharpshooters surrounding one of the league's best centers (more on Dwight in a bit). The Pistons are a far cry from the 2008-2009 Magic — who notched nearly 60 wins — as they finished last year at 44-38.
It's fair to argue Drummond's inclusion on this list, as the Pistons are clearly a work in progress, but the Pistons are still rebuilding from their successes at the turn of the century, and when you consider that before this year they hadn't made the playoffs since 2009, still haven't made it out of the first round since 2008, and have only finished a season with more wins than losses once in the last eight years, it's fair to say that the Motor City Basketball club is getting a little mired in defeat.
3. Dwight Howard and James Harden
We pair them together because they were both clearly a cut above the performance of the 2016 Houston Rockets, a team that has been a dumpster fire fueled by discarded Sloan Analytics presentations. The Rockets were supposed to be on the cusp of the newest basketball revolution, instead we got this:

If a picture is worth a thousand words, then this vine is worth 38 million — what Harden and Howard earned to play for Houston last year.
2. Carmelo Anthony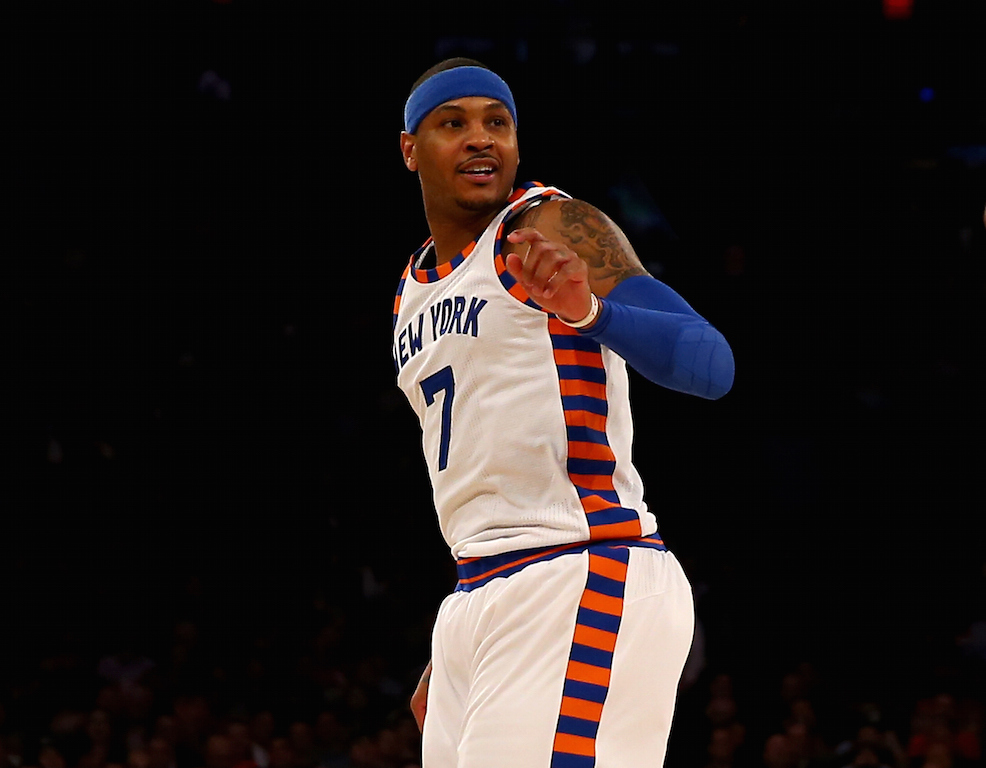 Carmelo is the oldest player on this list, meaning he's the one who's had the longest time to look his NBA mortality in the eye. Most famous for being the only top-five pick from the 2003 NBA Draft class without a ring (yeah, Darko's counts), Anthony shunned ring chasing for a massive deal with the New York Knicks over the offseason, signing a five year deal worth $124 million to stay the star of Madison Square Garden and remain the face of the NBA's most beleaguered franchises.
He won't be a free agent until he's 34, and there's no denying that his prime has largely been wasted in the big Apple, save for a fluke 54-win season that came after injuries forced coach Mike Woodson into a wickedly effective small-ball lineup, which he abandoned as soon as he could, because the Knicks are gonna Knicks no matter what. We just wish one of the league's most talented scorers hadn't tied himself to the mast of their perpetually-sinking ship.
1. DeMarcus Cousins
Boogie might be the most divisive player in the league today — for every fan who points out (correctly) that he's a beast of a player, there's another one who points to his distinct lack of tangible success since his entry into the league in 2010. Fair enough. During his tenure with Sacramento, the Kings have gone 164-312. How good can you really be if you've led your team to just one 30-win season?
It's the Kevin Love phenomenon, to some degree. That approach, though, ignores two things: The Kings play in the Pacific division, which means they regularly face the Suns, Warriors, Lakers (don't laugh), and Clippers — all teams that have won 50 games or more since Cousins was drafted (save PHX) and contended for NBA Championships, not just playoff spots. Add that sort of competition to the fact that the Kings' front office has been one of the most dysfunctional in the league, and you have the perfect storm for a great player held back due to circumstances beyond his control.
In other words, while DeMarcus may not actually be as good as we think he is, he certainly deserves a franchise that is a hell of a lot better than the one he's got. We still think keeping the Kings in SacTown was the right move, but in the three years since the efforts to relocate the team to Seattle failed, we have to wonder if the team may have been better served under Chris Hansen.