5 NBA Players Who Are Fantasy Gold Right Now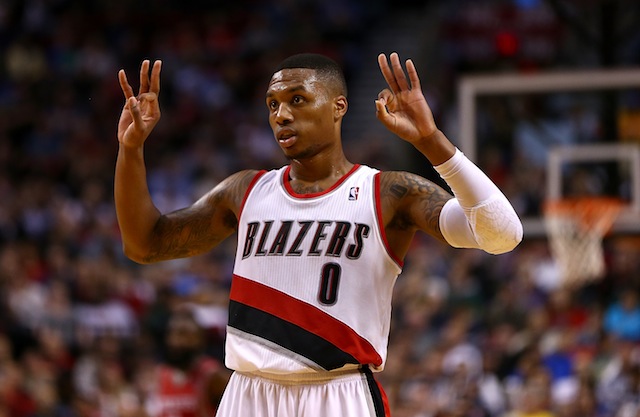 With daily fantasy sports still a hot commodity for all of the NBA lovers out there, this season has featured quite a few consistently stellar names. The question is, which five NBA players have truly stood out as fantasy gold so far this season — specifically in the month of February? Let's take a look at the five super studs, including one player who may have placed himself into the "elite" category, thanks to his incredible play this season.
1. Damian Lillard, PG, Portland Trail Blazers
Damian Lillard has simply taken his game to another level, which has been great for fantasy players who either have him in season-long leagues or use him often in daily fantasy games. When looking at his numbers through the month of February, we've seen him score 43, 78, 54.25, 50, 44, 54.75, and 38.25 fantasy points on DraftKings. Those numbers are pretty ridiculous, especially for a player who still isn't one of the most expensive on the board. Lillard shows no signs of slowing down and looks like he's well on his way, if not already, to the "elite" level.
2. James Harden, SG, Houston Rockets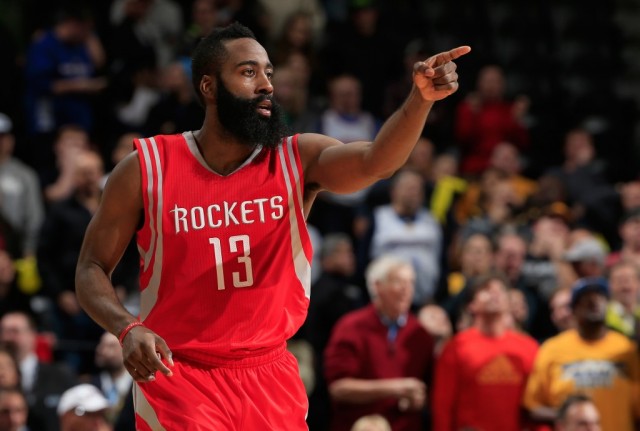 James Harden is probably one of the two most dangerous fantasy basketball players in the NBA right now. While his team isn't exactly lighting it up this season, that doesn't mean that he's not doing what he can to right the ship. In the month of February, Harden has topped 52.5 fantasy points in five of his six games, and in the sixth game he had 40.25 points. Yes, just 40.25 fantasy, no big deal. It's obvious that Harden has taken over in Houston and is one of the most talented players in the league. The only problem? He's also one of the most expensive players on the board every single night that he plays.
3. DeMarcus Cousins, PF, Sacramento Kings
The man dubbed "Boogie" has had just one bad game through the month of February, and it came against the Cleveland Cavaliers in a game which he played just 29 minutes. Aside from that 29.5-point outing, we've seen DeMarcus Cousins score a ridiculous 74 fantasy, as well as 54, 47.75, 60.5, and 58.25. Those numbers are just unreal, and it's obvious that he's playing at an MVP level. Unfortunately, his team is not, but that won't stop Cousins from looking to improve on his current 27 points, 11.3 rebounds, and 3.1 assists per game. Is Cousins the most dominant big man in the NBA? He has a strong case, but the next man on this list may have something to say about that.
4. Anthony Davis, PF, New Orleans Pelicans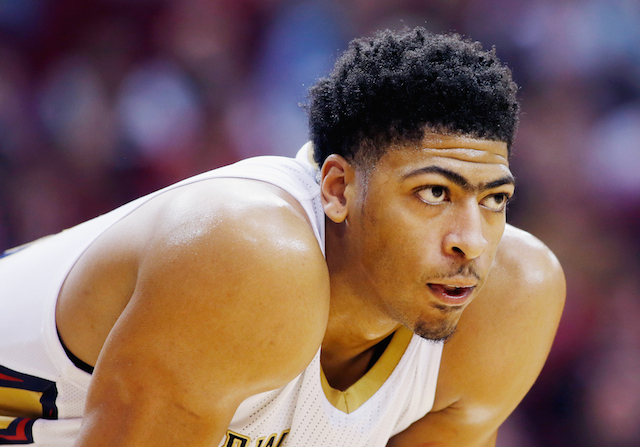 Listen, when you score 93.5 fantasy points in a single game, you almost automatically get on this list. "The Brow" did just that, when he scored 59 points and had 20 rebounds, four assists, and one block against the Detroit Pistons on February 21. Anthony Davis was on another level in that game specifically, but we've seen him play big consistently throughout this month.
To go along with his insane 93.5-point outing, he also had 57.75 fantasy points and 62 fantasy points on back-to-back nights against the Los Angeles Lakers and San Antonio Spurs. Davis is averaging 46.8 fantasy points per game, 24.3 regular points, 10.1 rebounds, 2.2 blocks, and 1.9 assists. Basically, he proves that while it hasn't always been an easy ride in New Orleans, he's more than capable of taking over whenever he wants.
5. Stephen Curry, PG, Golden State Warriors
It might seem crazy to say it, but Stephen Curry has actually had better months than he's put together in February. Pushing that aside though, he's still managed to have an impressive start to the month. Curry has played seven games in February, scoring 63, 46.25, 48.25, 56.25, 59.75, 55, and 70.75 fantasy points.
So, basically, the man is guaranteed to top 46 fantasy points, has no issue getting above 55, and is just flat out incredible at basketball. On the year, Curry is averaging 29.8 points, 6.6 assists, 5.3 rebounds, and 2.2 steals per game. Can you say MVP? Oh, and let's not forget that at the rate Curry and the Warriors are going, they have a legitimate chance to break the Chicago Bulls' 72-win record this season.
Follow Jeff Smith on Twitter @JSM8ith
Statistics courtesy of DraftKings.com and Basketball-Reference.com.