NBA: 5 Players Who Had the Worst Time in Minnesota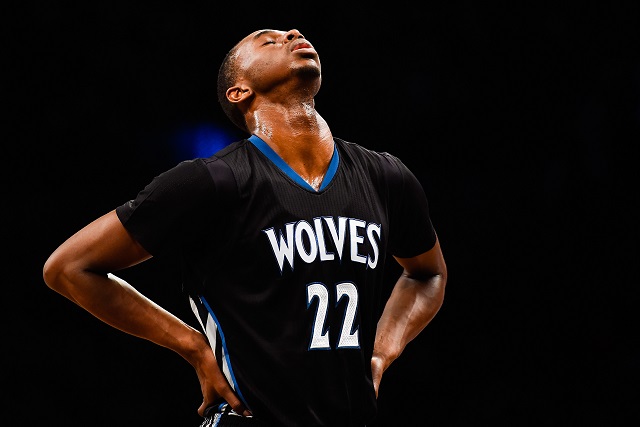 It must be an incredible feeling to make it to the NBA. After all the blood, sweat, and tears, the hard work has finally paid off, and you've managed to become part of an exclusive group of athletes. And then in one moment, all your jubilation comes crashing down. Because while you've reached the highest level the sport has to offer, you now find yourself a part of the Minnesota Timberwolves organization. And your world will never be the same.
For some unbeknownst reason, this is a destination that hasn't been kind to a lot of NBA hopefuls. These players arrive with talent and an unquestionable drive to succeed, and then they start to lose. A lot. That kind of disappointment can take its toll on even the strongest of individuals. Unfortunately, this scenario has happened often, and some great basketball players have found their time with the Timberwolves to be less than pleasant. With that in mind, here are five NBA players who suffered in Minnesota.
1. Christian Laettner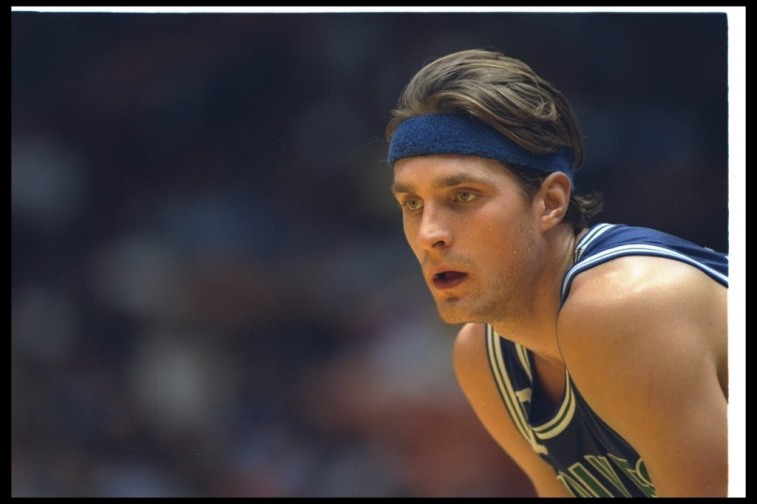 Statistics in Minnesota

: 17.2 PPG, 8.1 RPG, 3.2 APG, 47.4 FG%, 81.4 FT%

Seasons in Minnesota

: 4
The Timberwolves drafted Christian Laettner with the third overall pick in the 1992 NBA Draft, and it wasn't long before the former All-American realized that Minnesota was nothing like Duke University. For a guy who spent his entire life winning ball games, playing for the Timberwolves was a rude awakening.
Despite a fairly productively rookie campaign, during which he averaged 18.2 points, 8.7 rebounds, and 2.8 assists, Laettner found himself on a T-Wolves team that finished the 1992-1993 season with a 19-63 record and was one of the bottom dwellers of the Western Conference. Unfortunately for Laettner, this result would prove to be the norm during his entire stay in Minnesota.
For the next three seasons, the Timberwolves finished the year with the following records: 20-62, 21-61, and 26-56. There's nothing to suggest that Laettner was ever going to be the same player in the pros that he was in college, but being in an environment such as this couldn't have been good for the evolution of his game.
In 1996, Laettner finally left Minnesota after being traded to the Atlanta Hawks. This change in scenery was exactly what the former Blue Devil needed, as he would eventually make his only All-Star team appearance in the 1996-1997 season.
2. Tom Gugliotta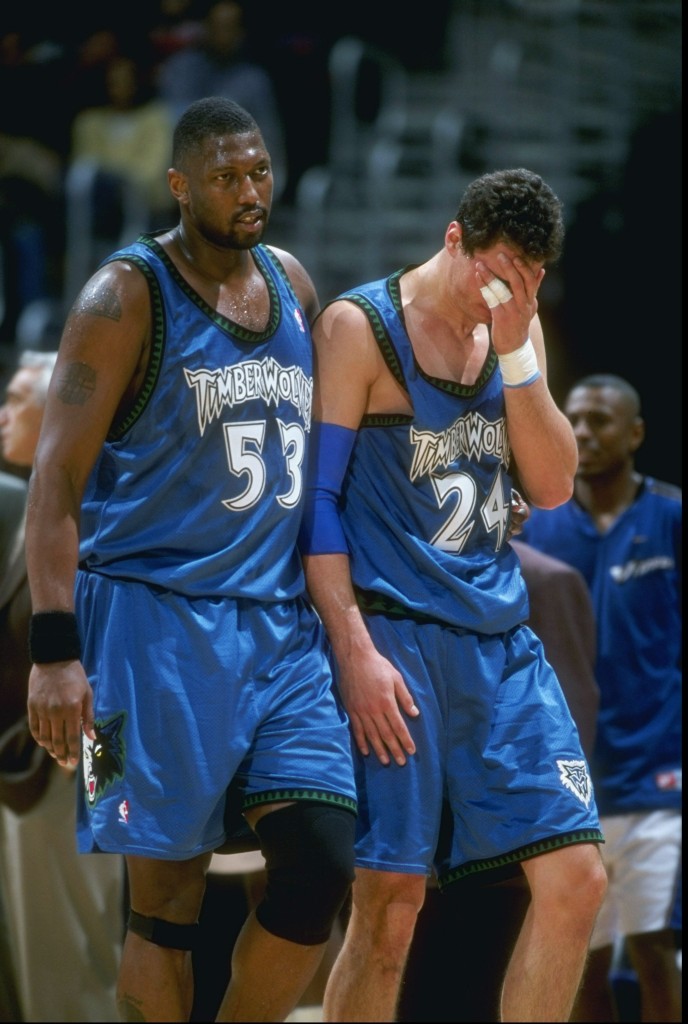 Statistics in Minnesota

: 18.2 PPG, 8.5 RPG, 3.8 APG, 46.4 FG%, 80.1 FT%

Seasons in Minnesota

: 4
Tom Gugliotta (above, right) joined the Minnesota Timberwolves in the 1994-1995 season when he was acquired in a trade from the Golden State Warriors. However, from a win-loss standpoint, this team proved to be not much better than his previous one.
The T-Wolves would finish that season with a 21-61 record while averaging 94.2 points per game (26th of 27), an offensive rating of 102.6 (26th of 27), and a defensive rating of 112.4 (26th of 27). Despite a lot of terrible finishes, the Googs would manage to get in one stellar campaign in while as a member of this organization.
In the 1996-1997 season, despite their 40-42 record, the Timberwolves would get into the playoffs as a sixth seed. Although they would end up getting swept in the first round by the Houston Rockets, this proved to be the best individual season of  Gugliotta's career.
With averages of 20.6 points and 8.7 rebounds per game, Googs would find himself on his first and only All-Star team. But as would happen to so many players who wound up sporting the Minnesota jersey, solid individual campaigns never translated to much success for the franchise as a whole.
3. Wally Szczerbiak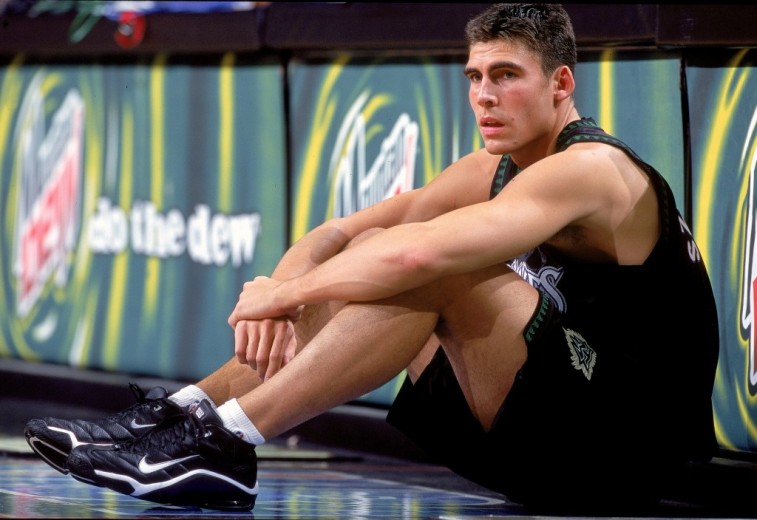 Statistics in Minnesota

: 15.5 PPG, 4.4 RPG, 2.7 APG, 50.0 FG%, 85.5 FT%

Seasons in Minnesota

: 7
Wally Szczerbiak became a member of the Minnesota Timberwolves when the team selected him with the sixth overall pick in the 1999 NBA Draft. During his seven years with the organization, Szczerbiak was always fairly solid on the court, and even made  it to the All-Star Game during the 2001-2002 season. However, as a team, the Timberwolves were never really able to get over the hump, even though they started to consistently make the playoffs.
Starting with his rookie season, Szczerbiak and the Timberwolves would go on to make the playoffs five consecutive times. Unfortunately, this stretch was probably more frustrating than you might think. For the first four trips, the Timberwolves would get bounced from the playoffs in the first round.
It wasn't until the 2003-2004 campaign that Minnesota was finally able to advance. Unfortunately, despite their 58-24 record, Midwest Division title, and first overall seed, the Timberwolves would lose to the Los Angeles Lakers in six games in the Western Conference Finals.
4. Kevin Love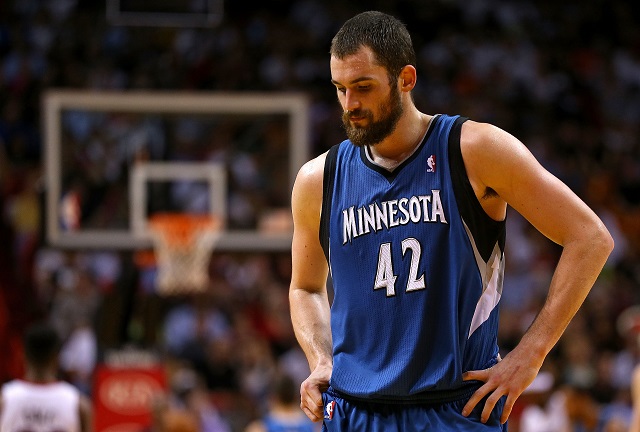 Statistics in Minnesota

: 19.2 PPG, 12.2 RPG, 2.5 APG, 45.1 FG%, 81.5 FT%

Seasons in Minnesota

: 6
Kevin Love may have been selected fifth overall in the 2008 NBA Draft by the Memphis Grizzlies, but he never once suited up for the team that took him. As fans would soon learn the next day, Love was traded to the Minnesota Timberwolves, and so would begin an extremely difficult period for the former UCLA Bruin.  His time in Minnesota is a prime example that sometimes superstar numbers don't exactly translate into wins.
In his six seasons with the Timberwolves, Love made the All-Star team three times. Twice in that span he averaged 26 or more points a game, and on five other occasions he also grabbed an average of 11 or more rebounds per contest.
Yet these numbers proved to be nothing more than empty figures. Love may be one of the more skilled stretch-four bigs in the NBA, but not once was he able to take the Timberwolves to the playoffs. Not. Once. At least his impressive playoff drought came to an end when he joined the Cleveland Cavaliers.
5. Kevin Garnett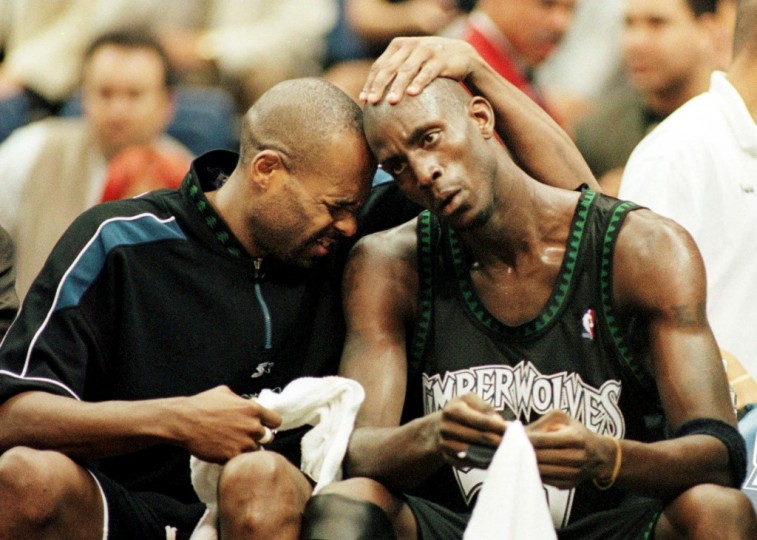 Statistics in Minnesota

: 20.5 PPG, 11.3 RPG, 4.5 APG, 1.7 BPG, 49.2 FG%, 77.9 FT%

Seasons in Minnesota

: 13
If there is anyone to really feel bad for on this list, it's Kevin Garnett. At just 19 years old, the Timberwolves made Garnett the fifth overall pick in the 1995 NBA Draft. and he proceeded to turn into one of the best players in the NBA.
KG was tough and talented and left it all on the floor. His skills were only matched by his intensity and heart. For the first 12 years of his career, Garnett was the face of the Timberwolves franchise, and he gave them everything. Unfortunately, they didn't exactly hold up their end of the bargain.
Starting with the 1996-1997 season and ending in 2003-2004, Garnett and the Timberwolves would make it to eight consecutive playoffs. However, it wasn't until the last year that they managed to advance past the first round. That right there is insanity. The Big Ticket gave this organization the best years of his life, and, despite an MVP award and 10 All-Star Game appearances, he never managed to find the ultimate team success.
Fortunately for Garnett, that time would come in 2007, when he was part of a blockbuster trade that sent him to the Boston Celtics. It was there that the Big Three — KG, Paul Pierce, and Ray Allen — would take home the 2008 NBA Championship. One thing's for sure: Garnett certainly deserved it.
All statistics are courtesy of Basketball-Reference.com and ESPN.go.com.