5 NBA Stars Who Made Forgettable Pit Stops During Their Careers
While NBA stars like Dirk Nowitzki and Kobe Bryant got to retire with the teams who they made their names with, most NBA players will not get that luxury. Even Michael Jordan spent two years away from the Bulls, and Paul Pierce became a journeyman after 15 years in Boston. Whether the player is there and gone or they fade into the background, several players have had tenures on teams that were entirely forgettable.

Vince Carter, Phoenix Suns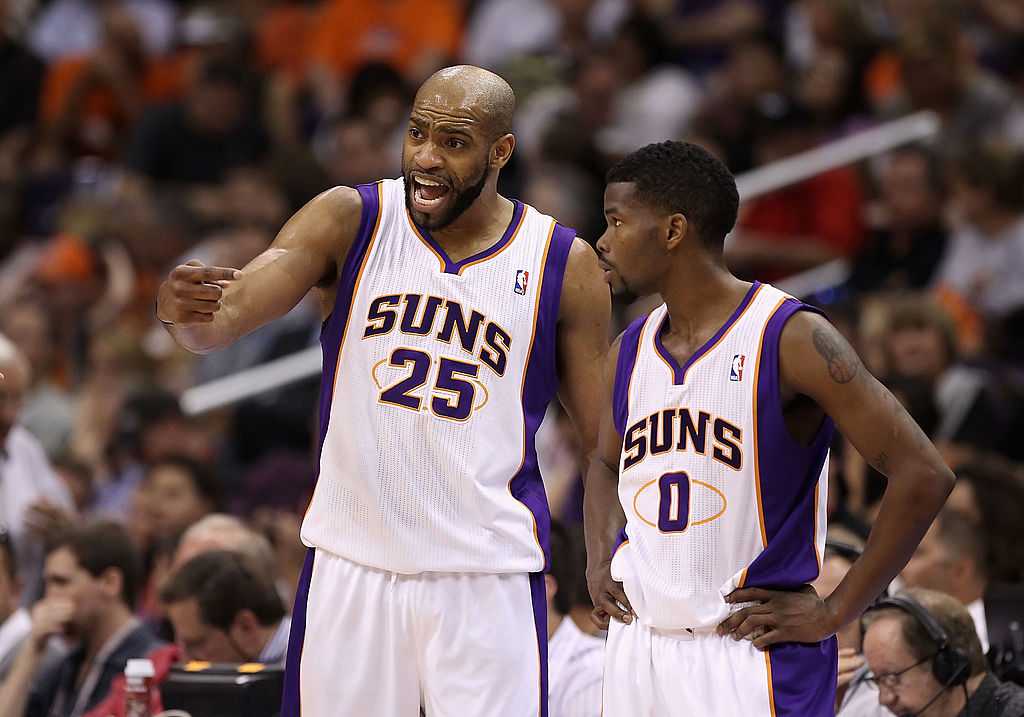 We start our look at NBA stars who made forgettable pit stops by discussing the one who is still active. Vince Carter is a journeyman veteran who is known for his steady presence that makes his tenures in places like Atlanta and Sacramento more memorable to those fan bases than they may have been otherwise. Back in the 2010-11 season, Carter went from the Orlando Magic to the Phoenix Suns in a trade.
It was a far cry from his current tenures with a smaller role. Carter was beginning to struggle with the fact that he was no longer an alpha dog. He wasn't a disaster, but his 13.5 points per game were then a career-low, and Carter never quite fit in. Lucky for him and for fans, he quickly embraced his smaller role when he moved to Dallas the next season.

Rasheed Wallace, Atlanta Hawks
Rasheed Wallace went from Portland to the eventual NBA champion Detroit Pistons in 2004, but it wasn't a direct flight. For 36 hours and exactly one game, Rasheed Wallace played for the Atlanta Hawks.

It wasn't a particularly memorable game. Wallace scored 20 points on 24 shots, but he did have five blocks to go with his six rebounds. The Hawks lost the game.

In a strange twist, Rasheed Wallace's single-game tenure in Atlanta was apparently long enough for one group of fans. The makers of the 2004 NBA video game NBA Ballers included him in a Hawks jersey for the streetball inspired game.

Dwyane Wade, Cleveland Cavaliers
Dwyane Wade's year-and-a-half away from the Miami Heat may seem like a blur. While his Chicago Bulls tenure was tumultuous, it was memorable. His reunion with LeBron James in Cleveland, however, never reached the magical levels that Wade and LeBron reached when they both teamed up in Miami in their primes.

Wade came off the bench for all but three of his 46 games in Cleveland and put up a career-low 11.2 points per game. He wasn't a disaster, but he was a shell of his former self. Upon his departure, LeBron stated he always felt like Wade belonged back in Miami, stating that he often saw Wade keeping up with his former team before he went back there.

Allen Iverson, Memphis Grizzlies
Allen Iverson's post-Denver Nuggets career was tumultuous. His brief sting in Detroit was a notorious failure which both ended their run of dominance and began a resurgence by the Nuggets. His return to Philadelphia at the end, while fun for the fans, was filled with off-the-court drama that clouded what could have been a fun farewell tour for one of the biggest NBA stars of his era.

In between those two teams was a three-game stint with Memphis in which Iverson was not happy about coming off the bench. This unwillingness to accept a smaller role was, in many ways, the story of the end of his career. He put up 12 points a game off the bench in those three games before the two parted ways.

Tracy McGrady, San Antonio Spurs
After seemingly ending his career in the NBA, Tracy McGrady went overseas. At the end of that season, however, he found himself for a bizarre, brief, and unspectacular comeback for the San Antonio Spurs. It has to be one of the most anonymous stops among NBA stars from any era. McGrady didn't play in a single regular-season game but found himself in six playoff games, mostly at the end of blowout games, where he did not score a single point.

It was memorable for McGrady in one way (unlike Michael Jordan's time in Washington). Before this brief comeback, McGrady was notorious for never making it out of the first round, and in that 2013 season, the Spurs made the Finals. He may not have had a say in that, but it did take him out of a club he did not want to be in.