NBA: 5 Star Teams That Failed Since 2000
Time for a little bit of recent basketball history. Remember back when the Miami Heat still had a Big Three, and were discussing ways to bring scoring forward Carmelo Anthony, into the fold? In case you forgot, the news during the 2014 NBA Finals, according to unnamed ESPN sources,  was that "Heat officials and the team's leading players have already started to explore their options for creating sufficient financial flexibility to make an ambitious run at adding New York Knicks scoring machine Carmelo Anthony" Basically that LeBron James, Chis Bosh, and Dwyane Wade would all opt out of their contracts in order to create enough space to sign 'Melo.
Putting aside the reality that this move, which didn't happen (obviously), was more or less implausible for a variety of reasons (quickly: the luxury tax would have been brutal, this would be the last significant contract for any of the players involved, the Players Union and their respective agents would have revolted, and there's no way Udonis Haslem was walking away from his player option, worth $4.6 million), we felt moved to consider the fact that, of all the super teams created in this fashion since the turn of the century, only two of them have actually worked out. As much fun as it is to rip on superstars that play for other teams as often as possible — Kobe signs a massive extension? He's greedy and doesn't care about winning. The Heatles take less to win more championships? They lack competitive fire. — a collection of talents that form up to wear the same jerseys is much more likely to be one of the twenty-nine teams not hoisting the Larry O'Brien Trophy in the middle of June.
For every 2012 Miami Heat, there is likely to be a 2011 Miami Heat, and even the Boston Celtics, who provided the modern framework for the NBA superteam, only wound up winning one title over their five year span together. And many teams never even make it that far. Here are five teams that were pegged to make noise in the NBA, before they ended up whimpering in defeat.
5. 2011 New York Knicks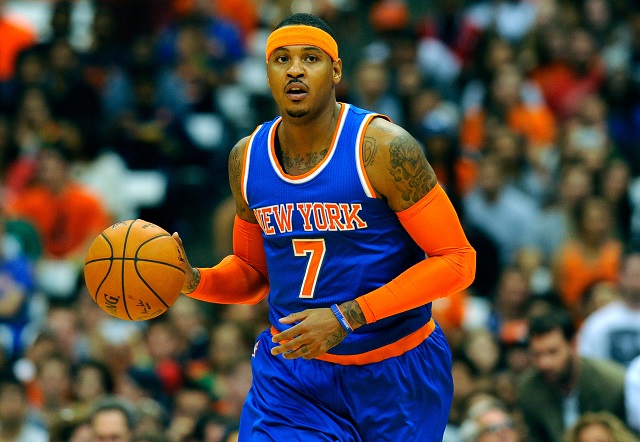 Their Stars: Tyson Chandler, Amar'e Stoudemire, Carmelo Anthony
It's easy to laugh, now, but in 2011, when the early December news came that Tyson Chandler was signing with the New York Knicks, there was serious discussion about whether or not the Knicks would be challenging the Heat in the Eastern Conference Finals. Remember, the season hadn't started yet, since the lockout had erased any games prior to Christmas, and there was the faint possibility that Amar'e would regain the form that had him playing like a league MVP. Seriously.
So the Knicks had what appeared to be the best front court in the league, and a five-year window, according to Chandler. What happened? Injuries completely and utterly derailed the team, which was unable to get out from Amar'e's contract, since they had chosen to amnesty Chauncey Billups in order to have the cap room in order to sign Chandler — the defensive big man that had just come off a successful championship run with the Dallas Mavericks. Stoudemire, who had turned into a shell of himself after struggling to stay on the court at all, was effectively a $20 million handicap on the Knicks' ability to build a competitive roster.
And their owner is James Dolan. No one understands James Dolan, who seems willing and eager to sabotage and fire anyone in his front office that displays even the smallest hint of competency.
4. The 2013 Los Angeles Lakers
Their Stars: Dwight Howard, Pau Gasol, Kobe Bryant, Steve Nash
Too soon? When the Los Angeles Lakers succeeded in what looked to be the biggest offseason coup this side of The Decision in 2012, it prompted a whole host of pundits, fans, and personalities to revisit the last time Dr. Buss's team had pillaged the Orlando Magic for their star center. The Lakers would threepeat with Shaq before his relationship with Kobe imploded, and that was the measuring stick that Howard and Bryant would be held to. They'd also successfully held on to Pau Gasol, the Power Forward who had arguably been the best player on the Lakers second trip to NBA Finals contention.
Then there was Steve Nash. Nash, who was still one of the ten best point guards in the league at that time, was reuniting with a head coach that had navigated him to a pair of MVP awards — double the number Kobe had gathered over a similar tenure in the league. The deck was looking so stacked that Bryant declared that the team was "locked and loaded to bring back the title."
Of course, after the 2013 season became an unmitigated disaster, with Bryant, Howard, Nash, and Gasol all playing terribly (when they played at all, as injuries ran rampant across their roster), it dawned on Laker fans that eternal championship contention might not be their franchise's birthright, a notion punctuated with Howard's departure to Houston, while Nash and Bryant battled retirement rumors as they struggled to return from potentially career-ending injuries. The best part? This wasn't the first time that the Lakers had reloaded with the expectation of a title, only to have it fall short.
3. 2004 Los Angeles Lakers

Their stars: Kobe Bryant, Shaquille O'Neal, Karl Malone, Gary Payton
The 2004 Los Angeles Lakers also had Luke Walton. Never forget about Luke Walton. And while they would better their contemporaries on this list by making it to the NBA Finals, they would only manage to win one against a Detroit Pistons squad that did not feature a single marquee superstar at the time (all due respect to the Detroit starting five, four of whom were NBA All-Stars). The Lakers, who had used Shaq's charm and networking skills to recruit legendary power forward Karl Malone and the trash talking Gary Payton, were serious favorites at the outset of the season. Even if their two most headline worthy additions, Malone and Payton were 40 and 35, respectively, at the time of their signings.
2. 2001 Portland Trail Blazers
Their stars: Rasheed Wallace, Scottie Pippen, Shawn Kemp
Similarly to the 2004 Lakers, the 2001 Trail Blazers took a phenomenally talented team — the 2000 Trail Blazers had won 59 games and had taken the Lakers to seven games in the Western Conference Finals — and added additional, big name parts. While Shawn Kemp would ultimately be remembered for the appetites that would prematurely end his NBA career, the signing looked, on paper, like it would perhaps convince him to curb his enthusiasm and put his nose to the grindstone.
Knowing what we know about that era of the Trail Blazers, though, the idea that anyone could focus on basketball is pretty absurd. This, after all, was the crew that would go on to be labelled the Portland Jail Blazers.
1. 2014 Brooklyn Nets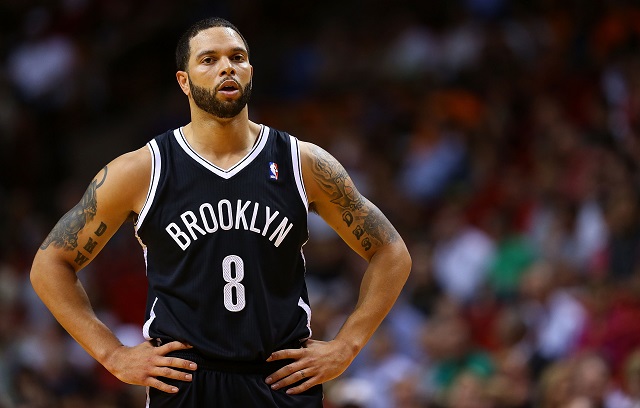 Their Stars: Deron Williams, Joe Johnson, Paul Pierce, Kevin Garnett, Brook Lopez
When the New Jersey Nets migrated to Brooklyn, they were already on the clock for a championship: a five-year window promised by Mikhail Prokhorov when he purchased a majority ownership of the team in 2010. The Nets moved quickly, signing Deron Williams to a max contract worth $100 million, taking on Joe Johnson's $100 million max deal, and paying Brook Lopez $60 million. That team was bounced in the first round by a Chicago Bulls team that was paying less in salary than the Nets were paying in the luxury tax.
And then the Nets went all in, trading all of their assets to assemble a starting lineup of Williams, Johnson, Paul Pierce, Kevin Garnett, and Brook Lopez. And it never really clicked, even though they had been built explicitly to beat the Heat, they ended up losing to Miami in 6. It's worth noting that Lopez missed the entire postseason with a foot injury.