5 NBA Teams Poised to Make Big Moves During the Draft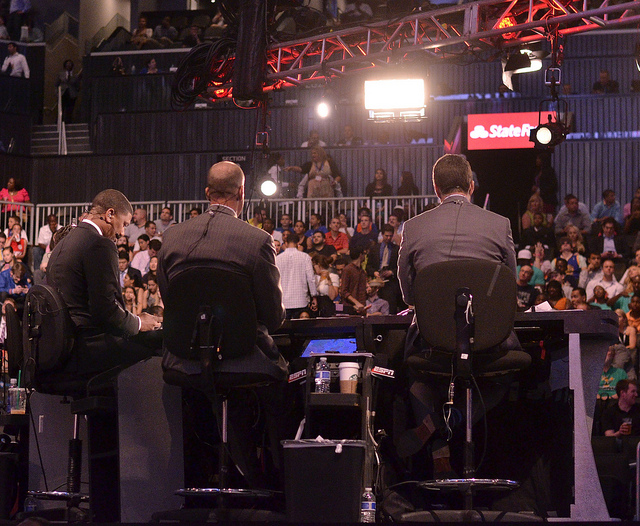 Almost two years of hype have boiled down to a two-hour telecast, starting at 7 p.m. Eastern Time on ESPN. The 2014 NBA draft class, who have been heralded as the deepest group to declare for the NBA since 2003 and as early as last year's draft — when Marcus Smart returned to Oklahoma and everyone was lamenting the lack of a real star — or, as Jay Bilas put it during the broadcast that, "If any of [the players going in the top three] were the sixth or seventh pick everyone would be raving about how deep it was." The unsung coda was "wait for 2014."
Well, we've waited and we've mocked and we've watched players get hyped, become overrated, and become underrated again. One of the best prospects before the college hoops season started ended up only being the best player on his team half the time (that'd be Andrew Wiggins and Joel Embiid, respectively) and the other best prospect (Jabari Parker) wound up putting so little effort into his defense that he was in danger of being benched in any given game — even during March Madness.
Then there's the Kevin Love thing, the LeBron James thing, and the Carmelo Anthony thing. There are prospective superstars and other super-roleplayers available because a) this draft projects to be above average and so high draft picks are desirable, and b) because there are some asset rich teams that want to return to contention as soon as possible, and can leverage some serious pressure against the teams that are looking to get over the hump. Here are five teams we've identified as the most likely to make some serious noise on draft night.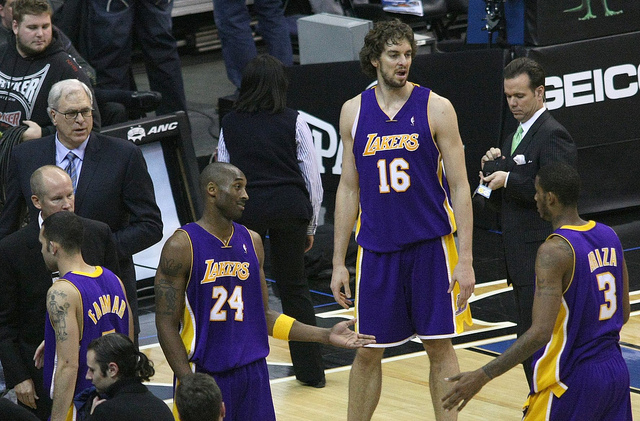 5. Los Angeles Lakers
This one remains about as much of a longshot as Kobe Bryant rounding into form as anything other than a withered husk of his former glory, but rumors about the Lakers clearing out enough space to fit two max level contracts (like, say, Carmelo Anthony and LeBron James) by trading away their lottery pick — seventh overall — and Steve Nash's expiring deal, worth about $9.7 million. That works, in theory, but any cursory attempt at empathizing with James and Anthony puts it to bed almost immediately, especially if you can convince yourself that Kobe's best days are behind him.
Think about it: you're Carmelo Anthony. You've been the hero and the scapegoat in the most basketball crazy city in the country. You've made millions upon millions upon millions of dollars. The most glaring hole on your resume is the fact that you — alone among the top five draftees of your draft class — have yet to win a ring despite the fact that you've only missed the playoffs once, and that was after a season where you did everything you could (and got as little help as humanly possible). You're not going to LA, even if you have LeBron. You already spent your formative years fighting tooth and nail in the West.
If you're James, you're having some of the same concerns. Do you really want to prop up the twilight of Kobe's career? The Lakers have three players under contract for next season: Kobe, Nash, and Robert Sacre (plus a team option on Kendall Marshall). Every awful thing that's been said about Miami's roster holes goes double, maybe triple for Los Angeles. But if you're LA, you're accustomed to having everything fall into place, and you're going to try like hell to make noise on draft night. Rookies don't help you win rings, and the Lakers want to hang another banner. They've also been linked to Klay Thompson in an apparent play for Kevin Love.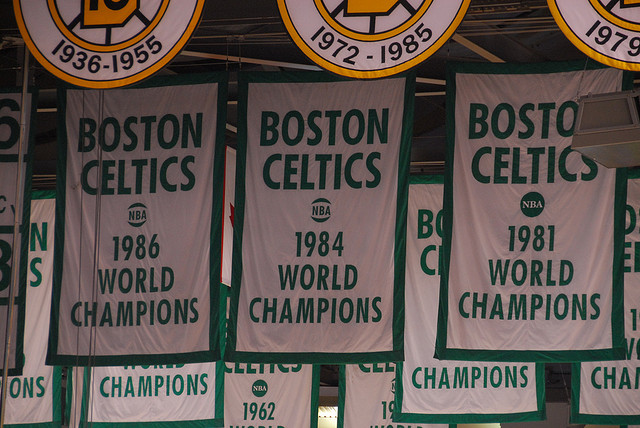 4. Boston Celtics
Another team that puts banners over youth, Boston's already suffered through a decade long drought after failing to rearm as their '80s teams fell apart (of course, some of that has to be attributed to the untimely deaths of Len Bias and Reggie Lewis), and the Celtics ownership has no desire to spend the next ten years in a reprise of the misery that was the Pitino era.
Most fans knew it as soon as Ainge put the nail in the coffin of the Pierce-Garnett era for a (Billy) King's ransom in draft picks, but back in April the general manager and the C's principle owner, Wyc Grousbeck, both reiterated that they would love to "set off some fireworks" this offseason, although Ainge was sure to temper expectations, saying that, "[The Celtics] have to do the right deals. Those are a lot harder than most people think or believe or understand. I'm not making any promises."
Not coincidentally, the Celtics have emerged as a regular name in the ongoing Kevin Love talks, and it's not just because "Boston Trades for Timberwolves Power Forward Named Kevin" is an easily copied column that many area sportswriters have kicking around from 2007. They had also been heavily linked to Houston's Ömer A??k.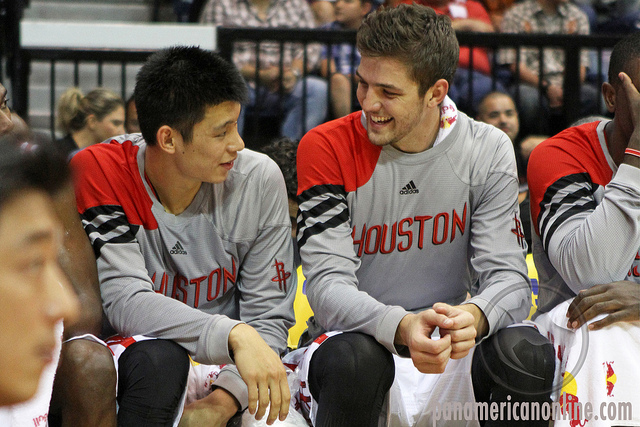 3. Houston Rockets
Daryl Morey, the Houston Rockets general manager, is known for two things: his association with advanced stats, and his love of trades — famously making a swap at every trade deadline he has been in charge of player personnel. This year, the Rockets look to wheel and deal again as they search for a third star to pair with Dwight Howard and James Harden. They also have a pair of contracts that they'd absolutely love to unload in Jeremy Lin and Ömer A??k, who were snaked from their old teams (New York and Chicago) by some fine line contract negotiations that left them with massive contracts in the third year of their respective deals, aka this upcoming season.
Lin has proven himself a capable starter in the league, and A??k's reputation as a rim protector makes him a hot commodity around the league, but Morey's shilling of the center during the regular season may have dampened his trade value, as teams are aware of exactly how much the Rockets (don't) value him.
Popular targets for Houston involve Carmelo and LeBron, and their flexibility and salary cap expertise make them a great candidate to help the fireworks go off on draft night, even if they're just acting as facilitators. At the minimum, we expect Morey to at least buy a second round pick, since he seems pathologically unable to let bygones be bygones.
update: Morey strikes again! Not even three hours after this article was finished, news broke that A??k was headed to the New Orleans Pelicans in a trade, which cannot become official until next Tuesday, for a protected 2015 first round pick and $1.5 million. The Pelicans will keep the pick unless it falls in the top three or outside the top 20, so Houston will receive the pick if it falls anywhere between.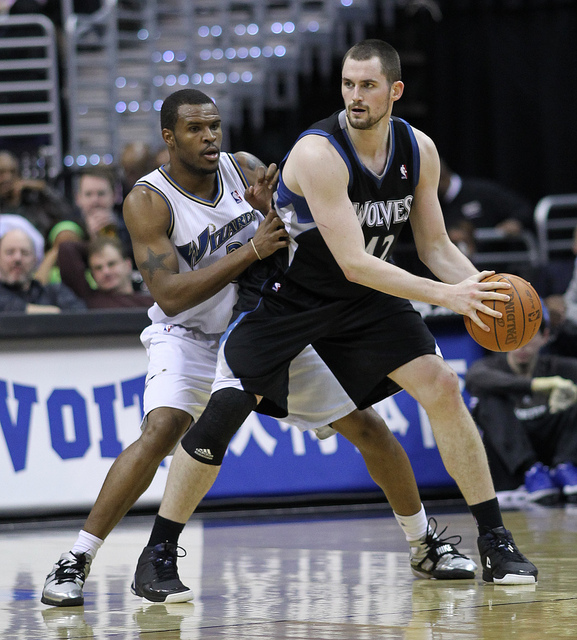 2. Minnesota Timberwolves
The Timberwolves are sitting on what some consider the holy grail of this upcoming free agency, which officially kicks off on July first. While James and Anthony are arguably better players, they're both almost 30, looking at the last big contracts of their careers, and ready to chase rings. Kevin Love, in contrast, is younger than Stephen Curry, and is sick of losing. The prospect of locking up an elite power forward at the age of 25 is immensely appealing to every team around the league, and the 'Wolves definitely don't have the capability to keep him — even with the lingering questions about his leadership and the fact that he still hasn't played in a meaningful (read: playoff) game.
For the Timberwolves, the questions boil down to what they want out of their next season. Playing in a relatively small market, their odds for building a championship contender overnight seem distant. If they want to keep hope alive within their fanbase, they need to offer incremental improvement from last year, which means cracking their playoff ceiling. Or grabbing one of the top picks in the draft, although Kevin Love reportedly killed a deal to Cleveland, so that might be harder than it sounds.
1. Cleveland Cavaliers
The Cavs are in the same boat the 'Wolves are, only they play in a worse conference and have been dealing with it since 2010. After losing LeBron to Miami, hope seemed high for Cleveland, especially after drafting Kyrie Irving. Nothing else seems to have gone right since. From key prospects possibly tanking workouts to going all in on Andrew Bynum and Luol Deng, the Cavs seem stuck trying to "win now" without any of the pieces to do so. They've been linked to trading their pick (the third time in four years that they've landed the number one overall pick), and they might decide to go all in on, well, whoever feels like playing in Cleveland is worth it.