NFL
5 NFL Players Surprisingly Out of Football in 2015
How the mighty have fallen. Football, like no other sport, exposes the vulnerability of man, and the fleeting nature of arriving at peak physical performance. The average NFL career lasts for a mere three years, before a player is put on the shelf, out of the game, and replaced by a new recruit, fresh out of college. In this ultimate game of inches, "losing a step" can make all the difference between high stepping to pay dirt and being crushed behind the line of scrimmage for a big loss.
To a man, all league insiders are very much well aware of the inherent career risks undertaken between the lines. Still, with every passing season, legions of fans remain miffed at many of the personnel decisions that have left their favorite players out of football. Each of the five following players each reigned supreme as the King of the Hill, only to now find himself unceremoniously cut, without a roster, and watching ballgames on the couch, like every other Joe Six-Pack.
5. Reggie Wayne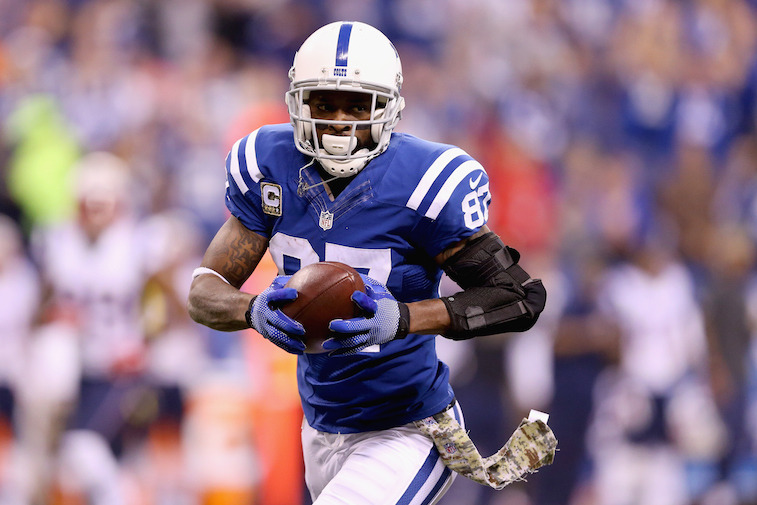 The New England Patriots signed Reggie Wayne to a one-year contract last August. Terms of the deal included $450,000 in guaranteed money, plus $1.1 million in base salary, and $1.25 million in incentives, if Wayne were to remain healthy and haul in 65 catches through the regular season. The Dynasty Patriots, of course, have had great success with the likes of Corey Dillon, Randy Moss, Wes Welker, and Darrelle Revis, as aged veterans and reclamation projects that still proved to have a lot left in the tank. Wayne and the New England front office, of course, had built in great mutual respect for each other, as the Colts – Patriots rivalry largely defined the AFC through the 2000s.
Wayne promptly asked to be released from the Patriots, after catching two balls for 24 yards, through two preseason games. This curious decision has preempted various league insiders to speculate that New England will demand that Wayne return his $450,000 signing bonus back to the organization. For his part, former Patriots backup quarterback Scott Zolak immediately weighed in that the Patriots Way was "too tough" and "not fun" enough for Wayne.
Wayne, of course, made a name for himself in Indianapolis, where he ultimately emerged as Peyton Manning's favorite target, after Marvin Harrison. As a Colt, Wayne racked up 1,070 receptions (7th of all time), for 14,345 yards (8th of all time), and 82 touchdowns, over the course of 14 years. Wayne was particularly adept at running precise routes and settling into the soft zone, for possession catches. Wayne was also an avid workout warrior, who often joined his fellow Hurricanes Andre Johnson, Frank Gore, Ed Reed, and Ray Lewis through brutal offseason training regimens in South Florida. In any event, Reggie Wayne has quickly discovered that the market for a 36-year old wide receiver not named Jerry Rice is non-existent.
4. Ray Rice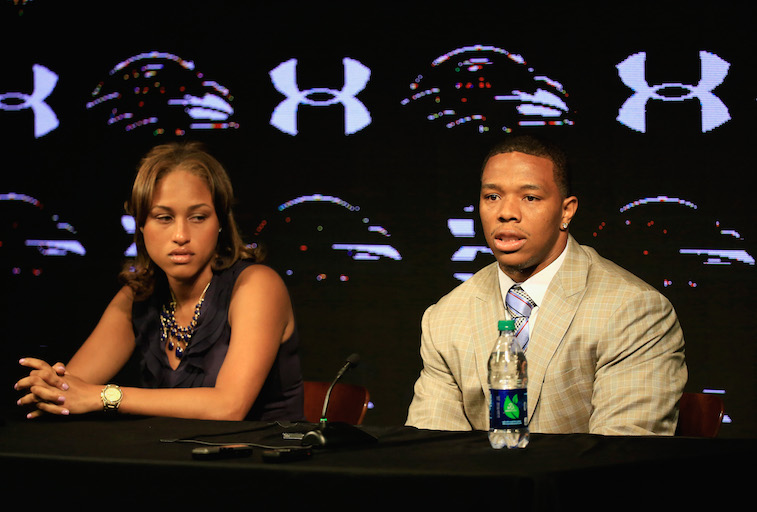 In 2012, Ray Rice caught a short swing pass from Joe Flacco, on fourth-and-29, on the road, in San Diego. Rice then immediately turned up field, before felling an opposing linebacker with a powerful stiff arm, cutting to the left, taking off to the races, lowering his shoulders, and bowling over the Charger secondary at the first down sticks. From there, the Ravens went on to escape out of San Diego with a 16-13 overtime win. For Rice, this play was the signature moment of a season that did also result in him claiming one ring, in Super Bowl XLVII, against the San Francisco 49ers.
After backing up Willis McGahee as a rookie, Rice had quickly emerged as one of the better all-around backs in all of football. Standing at a diminutive 5-foot-9, Rice would often hide behind a wall of blockers at the line of scrimmage, before hitting the hole and exploding into daylight. In the passing game, Rice was a willing blocker, who would hold his own on blitz pick-up, before releasing out into the flat as the ultimate safety valve. Before winning the Super Bowl, Rice had put together four consecutive seasons of 1,100+ rushing yards and 60+ receptions.
Still, Rice's career and life abruptly changed for the worse when he was booked on third-degree aggravated assault charges for striking his then fiancée, Jenay, in the face, at a Las Vegas hotel in 2014. At first, the league office handed down a two-game suspension. After footing of the shocking incident went viral the league office quickly moved to suspend Rice indefinitely, and the Ravens voided his five-year, $35 million contract.
Although Rice has been reinstated by the league and is still only 28, no team has signed him to a deal, or even called him in for a work out. Team executives are apparently not willing to take on the risk of a public relations debacle, in exchange for a solid starter at running back.
3: Darnell Dockett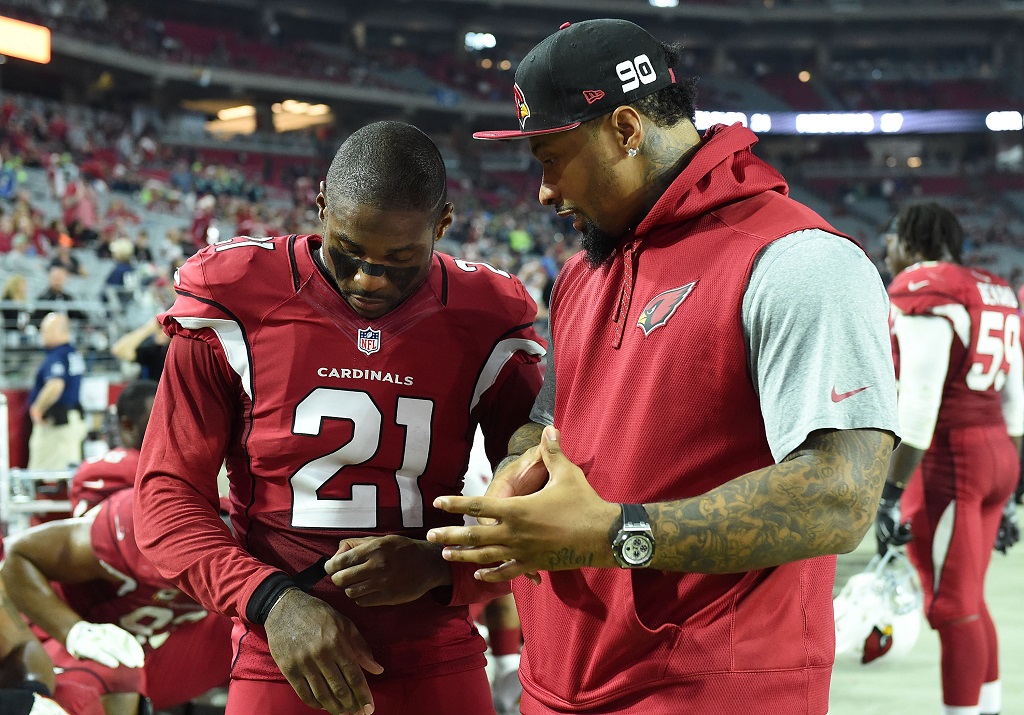 Last March, the San Francisco 49ers signed Darnell Dockett to a two-year, $7.5 million contract. Terms of this deal included $2 million in guaranteed base salary. At the time, Dockett was something of a consolation prize, in a disastrous 49er offseason, when the likes of Anthony Davis, Justin Smith, Chris Borland, and Patrick Willis filing paperwork to retire. These defections came against a backdrop where Jim Harbaugh claims to have been forced out, and ultimately packed his bags and khaki pants back to Ann Arbor, Michigan. The 49ers, as recently as three seasons ago, came within one touchdown of winning Super Bowl XLVII.
In painting lipstick on a pig, the 49er front office did originally bill the Dockett signing as a win-win, in terms of both solidifying the defensive front, while also weakening division rival Arizona. Dockett, in his last full season, did account for 4.5 sacks and 36 tackles out in the desert. As a Cardinal, Dockett quickly established himself as one of the better and more durable defensive tackles in the game, after going in the third round in 2004 out of Florida State. To wreak havoc, No. 90 would use a combination of up-and-under, spin, and bull-rush moves to blow up blocking assignments.
Still, Dockett sat out on the entire 2014 season, after blowing out his knee in practice. Dockett, prior to tearing his ACL, had only missed four games through ten seasons in the NFL, and appeared set for a comeback in The Bay. In a somewhat shocking twist of events, the 49ers did release Dockett as a final cut, one day before trimming the roster to the league-mandated 53.
2. Trent Richardson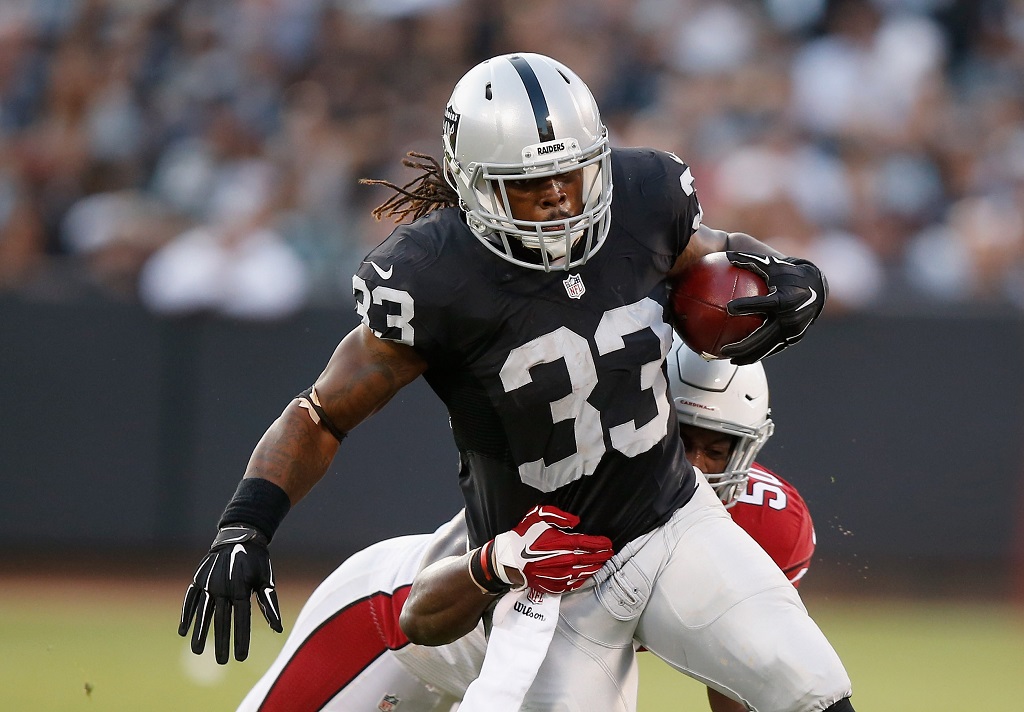 It's easy to forget, but Trent Richardson was a force at Alabama. Richardson, against the then-vaunted SEC competition, was simply too powerful to be brought down by arm tacklers at the line of scrimmage and too fast to contain out on the edge. Richardson won two BCS championships in Tuscaloosa and was actually lauded as the most talented weapon out of a stacked roster that included the likes of Mark Ingram, Eddie Lacy, and Julio Jones. For his junior season, Trent Richardson ran roughshod for 1,679 yards and 21 touchdowns on the ground, before declaring for the 2012 NFL Draft.
Various league insiders at the time anointed Richardson as the most NFL ready back out of college since Adrian Peterson. The Browns, for their part, even gave up their fourth, fifth, and seven round draft picks to Minnesota in order to move up in the draft and take Richardson at three. In fact, Jim Brown was roundly mocked after questioning the move and dismissing Richardson as "ordinary." As a rookie, Richardson did manage to put up a relatively solid 950 yards and 11 touchdowns. This nominal production would eventually prove the cliche that statistic lie.
Richardson averaged 3.6 yards per carry as a rookie after often times running into his own blockers and being tackled from behind. By his second season, the Browns had seen enough, and dealt Richardson to the Colts in exchange for a first round pick. At that time, the Colts front office sold their fans upon the possibilities of pairing Andrew Luck up with Richardson in the backfield and dominating the league for years to come. By his second season in Indianapolis, however, Richardson was benched behind Dan "Boom" Herron and Zurlon Tipton, and even left off the team plane for the 2014-2015 AFC Championship Game before being released.
The Raiders, of course, signed Richardson to a two-year deal this offseason. Richardson, however, was unceremoniously cut after showing up to camp overweight and collecting upon his $600,000 signing bonus. Still, the Buffalo Bills called Richardson in for a workout, after backup running back Karlos Williams suffered a concussion earlier in October. Richardson, again, lost the job to Boom Herron. Trent Richardson, at 25, is already out of football, and is doomed to join the likes of JaMarcus Russell as being synonymous with the phrase "all-time bust."
1. Tim Tebow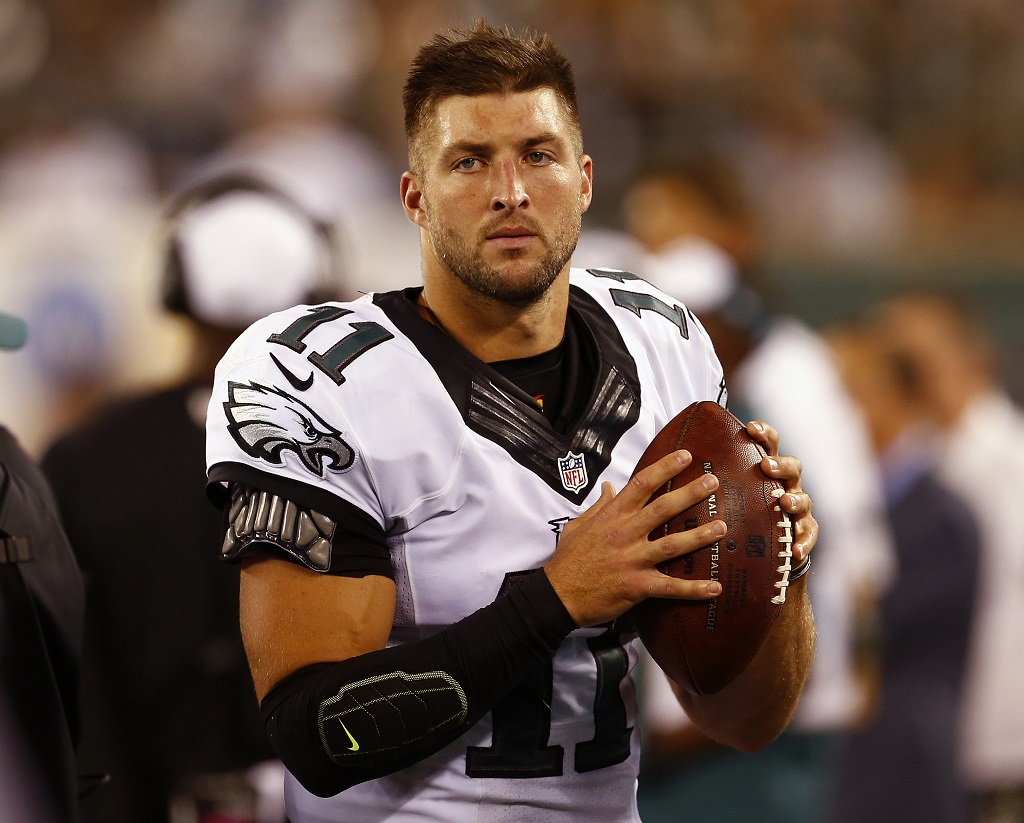 The 2015 Philadelphia Eagles' offseason may be summed up simply as, "What in the world is Chip Kelly doing?" In going out with the old and in with the new, Kelly showed the door to fan favorites Nick Foles and LeSean McCoy, before bringing in Ryan Matthews, DeMarco Murray, and Sam Bradford. This roster overhaul also included a Tim Tebow appearance at training camp. At the time, multiple reports out Philadelphia indicated that Tebow had improved his mechanics as a pocket passer and was improving rapidly. For his part, Tim Tebow completed 59% of his passes while also throwing and running for three touchdowns through the preseason.
Philadelphia did trade Matt Barkley to Arizona last September, which apparently cleared the way for Tebow to make the team as its third quarterback behind Sam Bradford and Mark Sanchez. NFL analysts then immediately went on to speculate that Chip Kelly would install a special package of plays for Tebow which would include multiple read-option looks. The Eagles, however, went on to release Tebow with the final cuts to their 53-man roster. Tebow is now out of football at 28 after quickly flaming out with the New York Jets, New England Patriots, and Philadelphia Eagles.
As a professional, Tebow will always have the 3:16 Game. For the Wild Card win, Tebow fired a bullet down the seam to Demaryius Thomas, who raced 80 yards down the field to paydirt on the first play of overtime in Denver. For the game Tebow went 10-for-21, for 316 yards (31.6 yards per attempt) and two touchdowns.