5 NFL Players Under the Most Pressure to Perform in 2019
There are few situations where individuals are expected to perform to the astronomical level that professional athletes, and specifically superstar NFL players, are expected to perform at when they hit the field. Whether that is fair or unfair doesn't matter nearly as much as the results. Whether it's a seasoned veteran who has set the expectations for himself, or a young player who set a high peak early on, their current or upcoming season will likely be the only thing they judged against.

These five players have high expectations going into the 2019 season, and if they don't perform, their legacies could take a hit.

Antonio Brown
After a dramatic exit from Pittsburgh, all eyes will be on Antonio Brown to put his money where his mouth is and perform at a superstar level. He has a healthy new contract and an Oakland Raiders team who has faith in him. If he can develop a good rapport with Derek Carr and head coach Jon Gruden, there's no reason that Antonio Brown can't make this new beginning one for the ages.

If he doesn't do that, however, all those things he said while departing from Pittsburgh could back to haunt him for the remainder of his career.

Russell Wilson
Russell Wilson is in the opposite situation as Antonio Brown, but he has similar, if not greater expectations. After leveraging his way to a hefty contract, Wilson is returning to a fan base that loves him and a team he has already led to Super Bowl glory. With that deal, things could sour on him if he does not return the Seahawks to the top.

Wilson has proven to be a consistent threat during his first few seasons in the NFL, and with renewed faith between him and the team, there is a good chance that he proves that he's worth every penny in that deal. However, if he struggles, Wilson might enter the conversation of wildly overpaid NFL players.

Kirk Cousins
After signing his historic deal with the Minnesota Vikings, Kirk Cousins is looking to make his disappointing first season with them a memory. If he has a great year, no one will remember the mediocrity from last season. If he struggles, however, he could soon have people questioning how much longer he has as a starting quarterback in the NFL.
Whether or not the blame lies on Kirk Cousins' line, himself, or some other factors, the NFL is unforgiving of struggles, and even the best quarterbacks often find themselves in a position where they need to perform.

Carson Wentz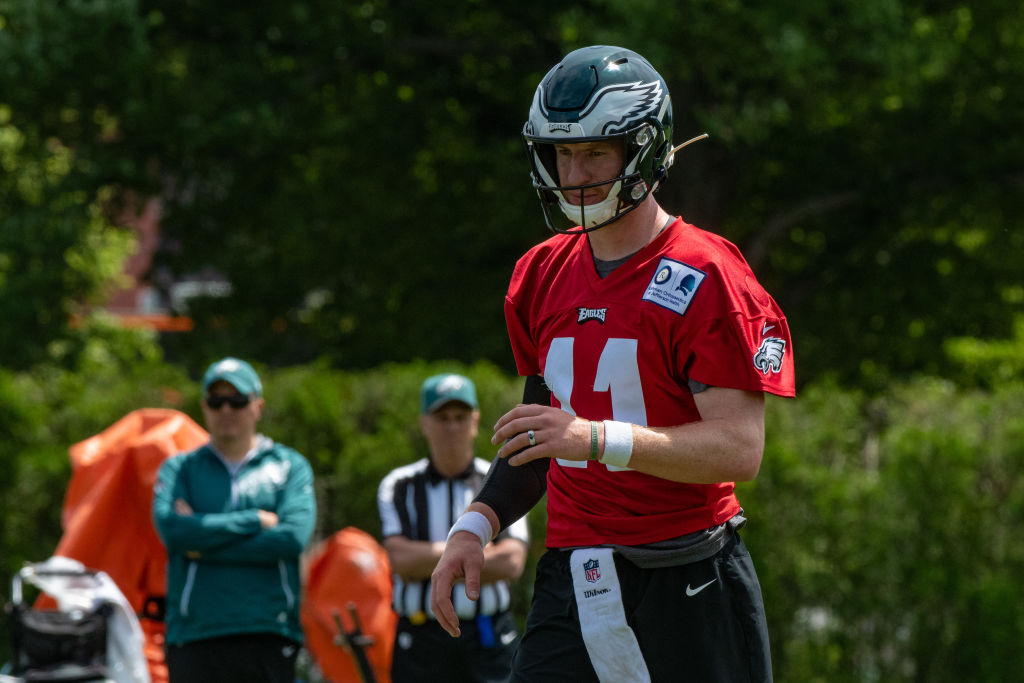 Carson Wentz is in the complicated spot of replacing the quarterback who led the Eagles to the Super Bowl just a little over a year ago. On the one hand, the Eagles chose to side with him over Nick Foles, and Foles has proven to struggle to remain on the field due to his health. On the other hand, however, Foles won that Super Bowl, so there is a certain set of expectations on Wentz. And let's not forget the reason Foles played in that Super Bowl was that an injury kept Wentz out of the playoffs.

Wentz does not need to be a superstar to make it work, but he does have to prove to be a reliable and above average NFL quarterback.

Aaron Rodgers
We already know Aaron Rodgers is one of the best NFL players of his generation, but he has to perform this season.
His complicated relationship with former Packers head coach Mike McCarthy deteriorated in 2018, and as it did, dozens of stories spilled out through the media claiming that the volatile relationship was largely on Rodgers' shoulders. Whether or not that was true remains to be seen, but with those seeds planted, Rodgers needs to prove that getting rid of the coach was the right thing to do.
If Rodgers shows his age (he turns 36 this coming season) or struggles, however, people will be wondering if the Packers made the right move.