5 NFL Records that Could be Broken During the 2019 Season
One of the best parts of watching our favorite teams and players perform on the field is when they break records during any given season. In 2019, several long-standing NFL records may be in danger. Although they'll always remain a part of NFL history, there are at least five of these stats that might lose their top spot this season.

5. Most rushing yards by a quarterback, season
Before Vick fell from grace in the NFL, he was a powerhouse QB for the Atlanta Falcons. He broke another rushing record in 2011 when he surpassed Randall Cunningham's long-standing number (4,928) of total career rushing yardage after a milestone 53-yard dash during a game against the Buffalo Bills.

Lamar Jackson guided the Baltimore Ravens to the playoffs last season, and he did it with his legs. He rushed for 695 yards and five TDs in 16 games, but he made only seven starts. Jackson finished the season with 1,201 passing yards and six touchdowns. If he stays healthy and runs like he did last season, he could break Vick's benchmark for QB rushing yards in a season.

4. Most sacks, season
New York Giants defensive end Michael Strahan went onto another lucrative career on the other side of the camera when left the football field, but he still left his mark in the NFL record books. More seasoned football fans will remember when veteran Jets' lineman Mark Gastineau grabbed the title of most sacks way back in 1984 with 22, but Strahan rewrote one of the flashiest NFL records in 2001 with his sack of Brett Favre.

Two of today's active players who could surpass Strahan's mark include:

J.J. Watt, who tallied 20.5 sacks in both 2012 and 2014
Aaron Donald, who finished with 20.5 sacks in 2018
3. Most receiving yards, season
The thought of a receiver having a 2,000-yard season may seem far-fetched, but obviously, Johnson fell just short of this mark by only thirty-six yards in 2012. One receiver who will be giving Johnson's record a run for its money is Julio Jones who set the pace with 1,677 yards last season.

If you think that league-leading number isn't close enough to compare, consider the year 2015 when Jones topped the NFL with 1,871 yards. He'll have to stay healthy, and the Falcons' offense will have to perform at a high pace all season, but in a league that focuses on passing more than ever, this is one of the NFL records that could fall in 2019.
2. Most career touchdown passes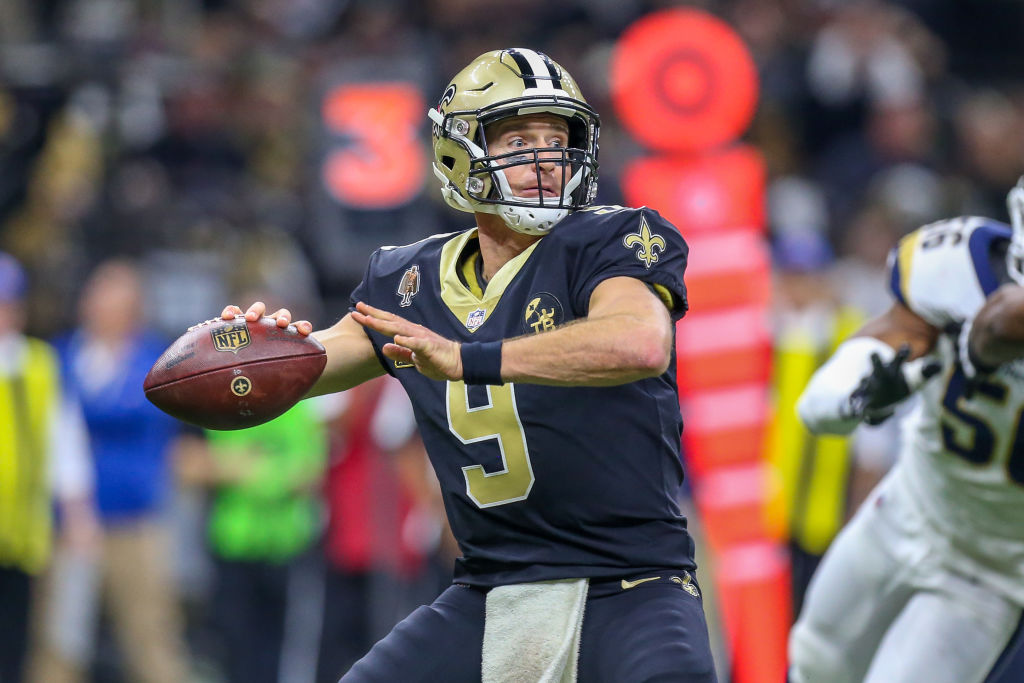 Playing quarterback for the Indianapolis Colts for almost two decades, Peyton Manning holds a long list of NFL records that are all a true testament to his stellar career:
Career wins including the playoffs (200) and comeback victories (45)
MVP awards (five) and playoff appearances (15)
Games with four touchdown passes (25) and number of games with an 80% pass completion rate (19)
Those are just a few of the many records Manning still possesses, but New Orleans' QB Drew Brees is nipping at his heels for career touchdown passes thrown. Brees has 520 TD passes, and he is right on target to take the title in 2019. Brees dethroned Manning for the No. 1 spot in career passing yards at the end of 2018, and now he's got another of the more illustrious NFL records in his sights.

1. Most pass completions, season
You know what they say — you win some you lose some, and 2019 may see the possibility of Brees breaking one record (career passing touchdowns) while losing his top spot in another. Currently, the Saints' quarterback is one of the highest-paid, most talented players in the NFL. He led his team to an NFC Championship game last season despite his advancing age.

But last season, another veteran QB, the Steelers Ben Roethlisberger, was knocking on Brees' door to take the season completions record away. Roethlisberger ended 2018 with 452 completions. He surpassed 400 in 2014, and the only two seasons he was under 200 were his first two playing with Pittsburgh.
Some of the NFL records might not have the same legacy as baseball records, such as home runs in a season or longest hitting streak. But there's a good chance we could peer inside the football records book more during the 2019 season as a handful of NFL records look destined to fall this year.