5 NFL Rookies Who Could Explode onto the Scene in 2015
While the opening round of the 2015 NFL Draft was loaded up with talent and players who could make an instant impact for their new teams, there was talent spread all throughout the seven rounds. With that being said, we even saw a first-round talent in La'el Collins go undrafted. With fans flocking to the stores to buy the jersey of the newest player on their favorite team, the question now becomes, which of these rookies will burst onto the scene in a big way in 2015? There are plenty of options, but here's a look at the five most likely to make a huge impact this season.
1. Amari Cooper, WR, Oakland Raiders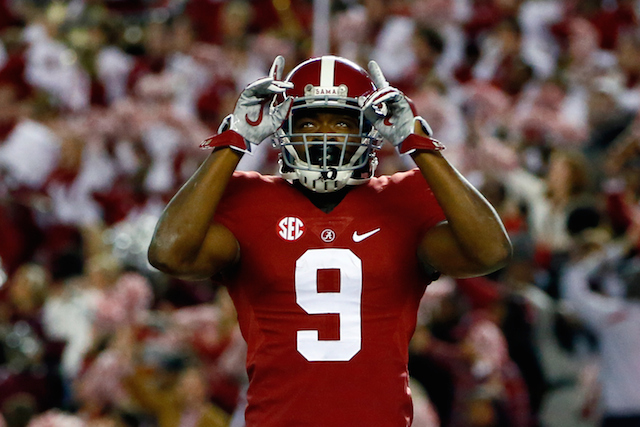 If you were surprised in the slightest to see Cooper not only make this list, but top it, then you obviously didn't see him play much during his time with the Alabama Crimson Tide. Cooper played three seasons for Alabama, scoring a total of 31 touchdowns, with 3,463 yards. He was impressive in all three seasons, but nothing compared to what he did in his final year. Cooper caught 124 balls for 1,727 yards and 16 touchdowns in 2014, while showing that he can do a little bit of everything.
If Cooper and second-year quarterback Derek Carr can form a connection right out of the gate, this could prove to be a dangerous one-two punch for years to come. Most importantly, Cooper is going to be a hot pick to win the 2015 Offensive Rookie of the Year Award.
2. Melvin Gordon, RB, San Diego Chargers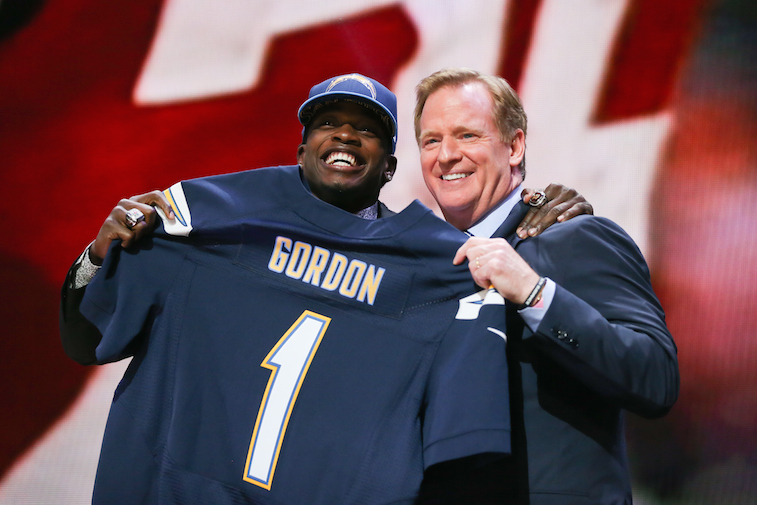 If you want to talk about a running back who found an incredible landing spot, say hello to Melvin Gordon. The rookie from the Wisconsin Badgers is poised to play a huge role in San Diego's offense, as the team chose to let Ryan Mathews leave town in free agency. Mathews may be on the Philadelphia Eagles now, as ESPN explains, but the Chargers may not lose a step with the decision to draft Gordon. While there is still some depth with Branden Oliver, Danny Woodhead and Donald Brown, none of those backs have the talent and upside that Gordon has.
Gordon rushed for 2,587 yards and 29 touchdowns in 2014 alone, showing talent that left NFL scouts simply drooling. The rookie will get first crack at being the man in San Diego's backfield, and there's no reason to believe that he won't grab control of that opportunity.
3. Tevin Coleman, RB, Atlanta Falcons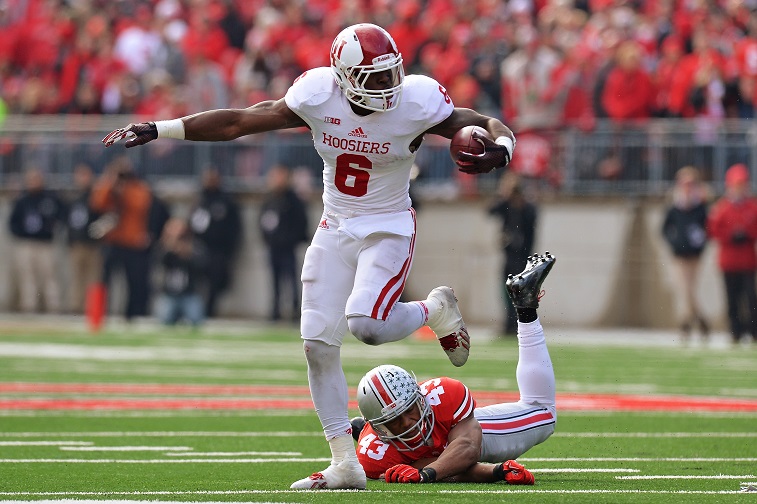 Choosing a third-round pick to make some early noise may seem like a bit of a risk, but we see it more as an opportunity here. Coleman comes into a situation where Kyle Shanahan is now calling the offensive shots for the Falcons, which is amazing news for the former Indiana Hoosier. Shanahan has a strong track record with running backs, even going back to last season with the Cleveland Browns.
Coleman played for a team in the Hoosiers who struggled mightily, winning only nine games in 2013 and 2014 combined. Even with that said, Coleman was still able to average 7.3 and 7.5 yards per carry, while scoring 27 combined touchdowns. Coleman's in a situation where he's going into a head-to-head competition with second-year back Devonta Freeman. Since the Falcons parted ways with both Steven Jackson and Jacquizz Rodgers, it means that if Coleman can beat out Freeman, that he'll be the workhorse back in Shanahan's running back friendly offense.
4. Jameis Winston, QB, Tampa Bay Buccaneers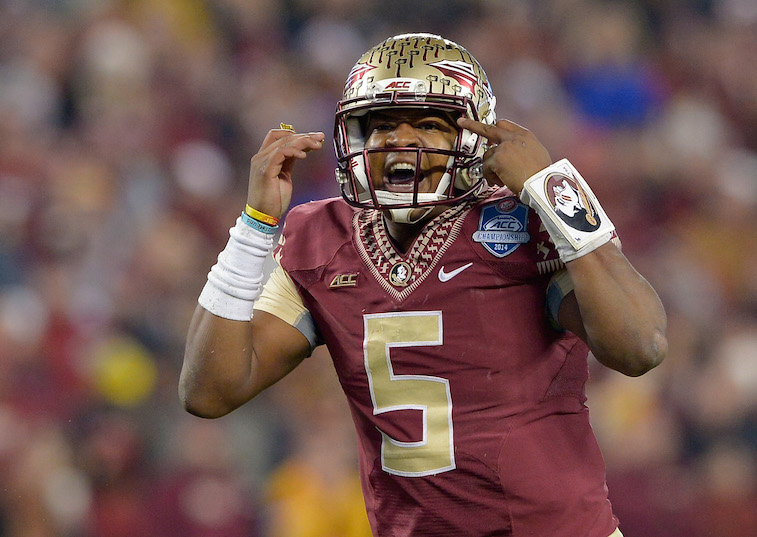 Either Jameis Winston or Marcus Mariota had to make this list. Not because one of the top picks had to be on here, but because they both have a strong case to make the cut. The reason it ended up being Winston? Well, not only does he have a work ethic that will blow you away, but he also has playmakers in Mike Evans and Vincent Jackson, who are going to make his transition to the NFL a whole lot easier. Winston seems to have all the makings of a gym rat, while remaining focused on trying to be the best leader possible.
The man dubbed "Famous Jameis" had some off-field issues at Florida State, as FOX Sports explains, but his full attention seems to have fully turned to the football field heading into his rookie year.
5. Vic Beasley, LB, Atlanta Falcons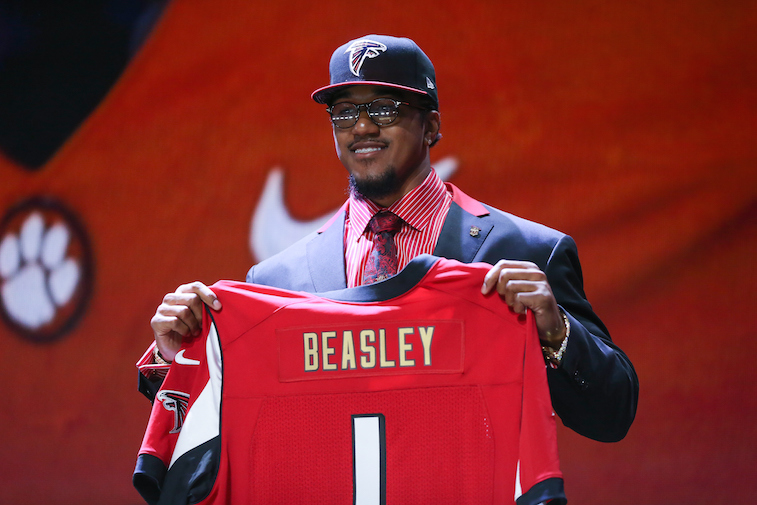 Two Atlanta Falcons on the list? You bet. The Falcons are badly in need of a pass rush, which is one of many reasons why new head coach Dan Quinn was hired. The great news for Falcons fans, though, is that Quinn and Beasley are going to be a match made in heaven. Over the past two seasons with the Clemson Tigers, Beasley totaled 25 sacks, while essentially being a nightmare for opposing offensive lines.
While many young rushers have struggled in their first or second seasons in the NFL, Beasley has the poise and the smarts to be successful right out of the gate. Expect Beasley to see plenty of field time and to emerge as one of the most exciting rookies from the entire 2015 NFL Draft.
All statistics courtesy of ESPN.com