5 of the Biggest Comebacks in College Football History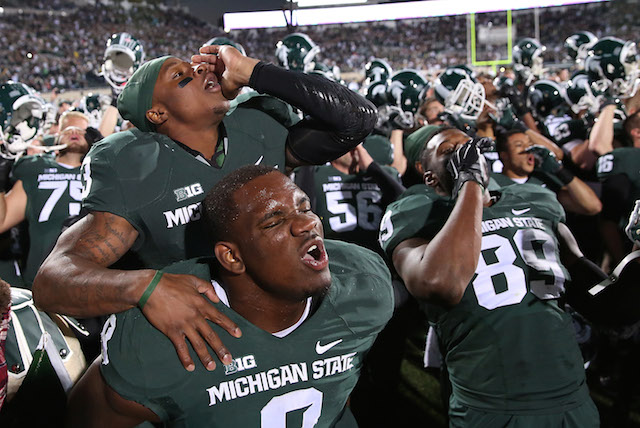 Down 20 points heading into the fourth quarter against the nation's No. 1-ranked offense, it was the No. 8 Michigan St. Spartans who turned into the offensive juggernaut as they rattled off 21 unanswered points to stun the No. 5 Baylor Bears.
In a battle of two of the country's best teams, it appeared unfathomable that the Spartans would be able to topple the Bears, whose gunslinger, Bryce Petty, was having a monster day with 550 yards in the air and 3 touchdowns. However, it was Michigan St.'s Connor Cook who had the last laugh, firing a go-ahead touchdown pass with 17 seconds remaining in the ballgame. The 2015 Goodwill Cotton Bowl will certainly go down as an instant classic.
In honor of this historic game, we take a look, in ascending order, at 5 of the greatest comebacks in college football history.
All statistics are via SR/College Football
5. Doug Flutie Does Damage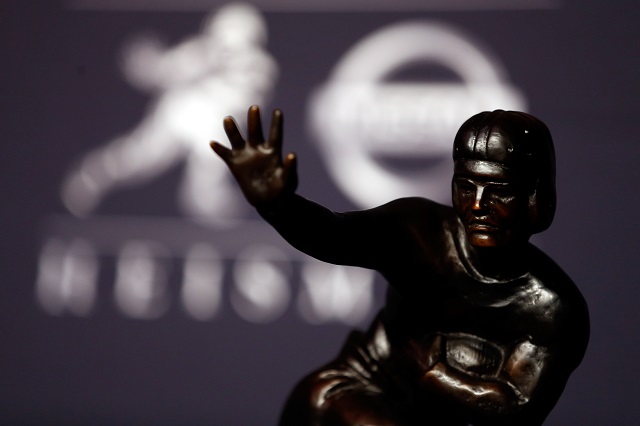 Final score: Boston College 47, University of Miami (FL) 45
Doug Flutie might not have been the biggest guy on the field but, on November 23, 1984, the BC quarterback's last-second Hail Mary touchdown to beat Miami pass might go down as arguably the greatest single-play in college football history.
Try watching this play and not getting chills. I dare you.
4. Kordell Stewart's "Miracle at Michigan"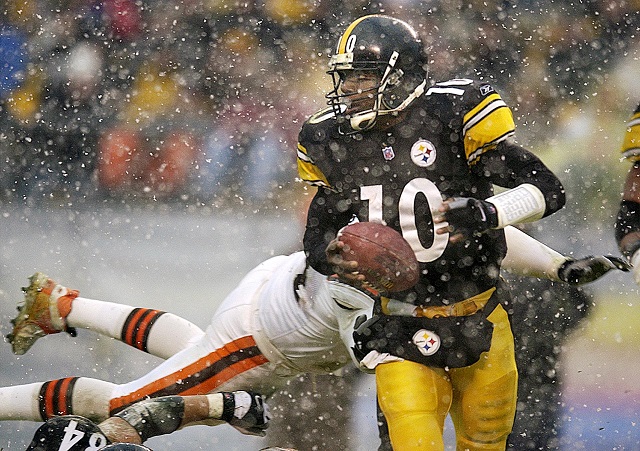 Final score: Colorado 27, Michigan 26
It's hard enough as it is to go into the Big House and take down the University of Michigan Wolverines. But, on September 24, 1994, Colorado quarterback, Kordell Stewart, upped the ante with his 64-yard Hail Mary that won the Buffaloes the game, 27-26.
The Miracle at Michigan will always remain as one of the most iconic moments in college football lore.
3. Boise St. Brings the Trickery
Final score: Boise St. 43, Oklahoma 42 (In Overtime)
A rising program looking to prove it belongs against a storied blue-blood. Gutsy and perfectly executed trick plays. A "Statue of Liberty" for a 2-point conversation and a double-overtime victory. Surprising proposal between a star running back and his cheerleader girlfriend. The ultimate storybook ending.
Welcome to the 2007 Fiesta Bowl. See highlights here.
2. Johnny Football's Swan Song
Final score: Texas A&M 52, Duke 48
As Texas A&M trailed the Duke Blue Devils, 38-17 at halftime, it looked as if Johnny Manziel was going to end his college career on a sour note. However, all this deficit did was set the stage for something special to be added to the legend that is Johnny Football. Manziel led a furious second-half comeback that would propel the Aggies to a victory in the 2013 Chick-fil-A Bowl.
Johnny Manziel's final numbers: 30-of-38, 382 passing yards, 4 touchdowns, and 0 interceptions. Also, he added 73 yards and a touchdown on the ground. Not a bad way to go out.
1. Reich to the Rescue
Final score: Maryland 42, Miami (FL) 40
Back-up quarterbacks aren't meant to play. And they're certainly not meant to come into a game, down 31-0 at halftime, and lead their team to victory. However, that's exactly what Frank Reich did in the 1984 Orange Bowl. Reich threw six second-half touchdown passes and led the University of Maryland Terrapins to a stunning victory, in what is probably the greatest comeback in college football history.
Frank Reich would not be satisfied with merely accomplishing this feat at the college level, so he decided to do it again in the NFL. In the 1993 Playoffs, down 35-3, Reich came into the game and led the Buffalo Bills to a victory over the Houston Oilers, 41-38. If you're ever in the need for a comeback, this is definitely the guy to call.