The 5 Worst Triple-Doubles in NBA History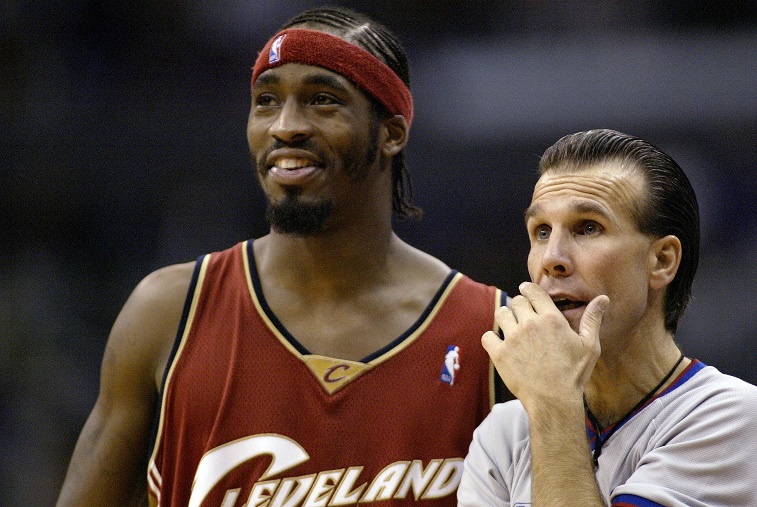 Triple-doubles are overrated. There, we said it. While it's an impressive feat for a basketball player to tally a double-figure total in three different statistical categories (usually points and then two of rebounds/assists/steals/blocks), it's not that rare. We're not talking about the basketball equivalent of a no-hitter here. Superstars are able to put up triple-doubles on an occasional to semi-regular basis. The feat has even been accomplished in just 17 minutes of playing time, barely a third of a regulation game. For that matter, Oscar Robertson actually averaged a triple-double for an entire season!
Still, for some NBA players who will never achieve superstar status, or for those who could only dream of averaging a triple-double like Robertson did, closing in on that milestone game is still obviously a big deal. Big enough, in fact, for players to be willing to embarrass themselves publicly to try and get that precious last point or rebound.
We took a trip down memory lane to round up five of the worst triple-double attempts in NBA history, with the players listed in alphabetical order. (Because how could we really pick a worst triple-double attempt ever from such a distinguished group of infamous "do anything to get 10, 10, and 10? performances?) Who would you add to this list?
Nicolas Batum
Former Portland Trail Blazer Nicolas Batum (pictured) needed a 40-footer at the horn to get to his triple-double against San Antonio in November 2013, and that's exactly the shot he took and made. Not exactly the smartest thing to do when your team is already winning by seven points and the sporting thing to do is to just let the clock harmlessly expire. To Batum's credit, he realized immediately that he had a mistake and apologized profusely after the game for disrespecting his opponent: "That is maybe the worst thing I've done in my career," he said.
Final stat line: 11 points, 12 rebounds, 11 assists.
Anthony Bowie
In March 1996, Magic guard Anthony Bowie actually called timeout with 2.7 seconds to play and his team leading Detroit by 20 points because he was one assist shy of a triple-double. We're not sure which coach was the most upset with that decision: Orlando's Brian Hill, who handed Bowie the clipboard in disgust so Bowie could draw up the final play, or Detroit's Doug Collins, who waved his players out of the way for Bowie's masterpiece play and then led them off the floor before the final horn sounded, drawing a $5,000 fine from the NBA.
Final stat line: 20 points, 10 rebounds, 10 assists.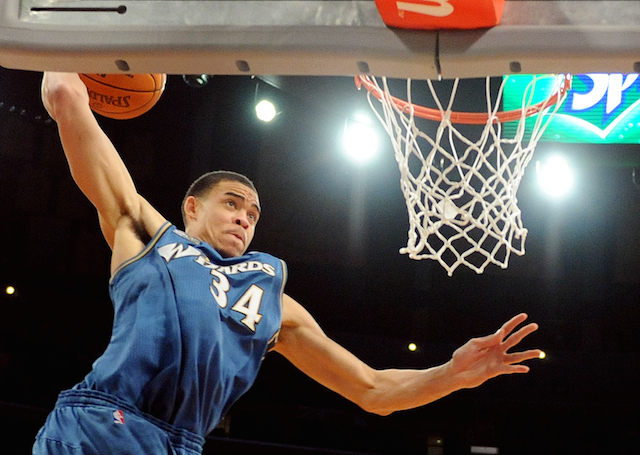 Ricky Davis
Cleveland's Ricky Davis will forever go down in the Triple-Double Hall of Shame after shooting at the wrong basket in the final seconds of a March 2003 game with a 25-point lead over Utah. Davis was attempting to get the final rebound he needed to finish off a triple-double, but apparently, shot attempts don't really count if they're taken at the wrong basket? (Funny how that works.) Davis received a hard foul from Utah's DeShawn Stevenson for his efforts, leading Jazz coach Jerry Sloan to tell reporters, "I was proud of DeShawn and I would have knocked him down harder. They can put me in jail for saying that, but that's the way it is."
Final stat line: 28 points, 9 rebounds, 12 assists.
JaVale McGee
Then-Washington center JaVale McGee (pictured) really wanted his 10th point to get a triple-double. As in, really really wanted that 10th point. McGee made a comedy of errors in the final minutes as he tried desperately to find meaningless point No. 10 in a blowout loss at Chicago. "That was the hardest one point I ever tried to make in my life," McGee said after the game. When McGee finally scored with 18 seconds left, he received a technical foul for hanging on the rim in celebration. Washington lost the game 98-79.
Final stat line: 11 points, 12 rebounds, 12 blocks.
Bob Sura
Hawks guard Bob Sura was only one rebound from a triple-double against the Nets in April 2004. And not just any triple-double: Sura was looking for his third triple-double in as many games. Sura intentionally missed a layup in the final moments of a 129-107 win, which gave him the milestone, but for less than a day. The NBA went back and adjusted the final statistics because the rules say, "A field goal attempt is a player's attempt to shoot the ball into the basket…" Since Sura basically admitted he wasn't trying to score, the shot attempt (and the all-important 10th rebound) didn't count.
Final stat line: 22 points, 9 rebounds, 11 assists.
All statistics are from Basketball-Reference.