2015 NBA Draft: Will March Madness Stats Help These 5 Players?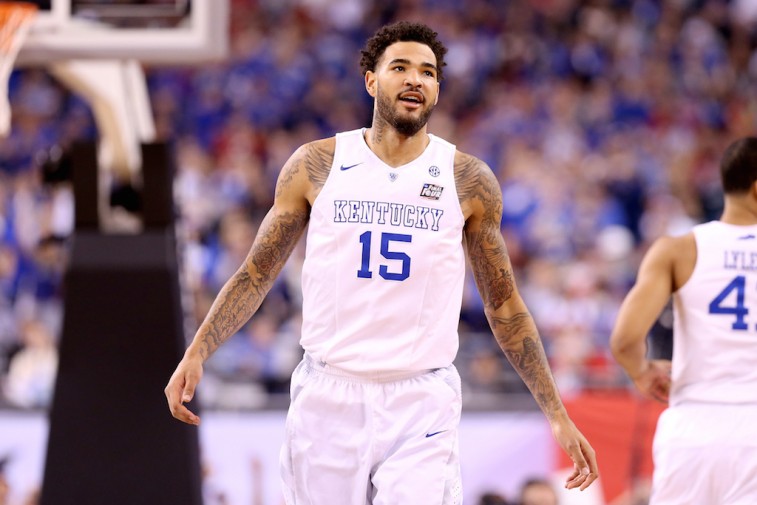 The 2015 NCAA Tournament was a classic tournament that featured everything a college basketball fan could ever wish for. Upsets, clutch jumpers, and the extinguishing of perfection were just a few things that came out of this year's Big Dance. We will miss March Madness dearly, but with it firmly in the rearview mirror, there's still another major basketball event to look forward t: the 2015 NBA Draft.
While there were other moments for college and international players to show teams what they're made of before the draft, this year's tournament was a great coming-out party for a lot of the game's young stars. This tournament was more than just a chance for the top players in the country to reaffirm their skills, it was an opportunity for less heralded prospects to make a name for themselves. Many of college basketball's top players have already locked up their place among the elite, but that doesn't mean that others can't showcase enough upside to see their names creep up draft boards.
This sort of movement because of outstanding play in the tourney has happened in the past, and there's no doubt it will happen again. There were a lot of standout performances in the 2015 tournament, but some players' stars shined a bit brighter and they have NBA executives salivating over their potential. With that, here are five players who raised their stock in the NCAA tournament.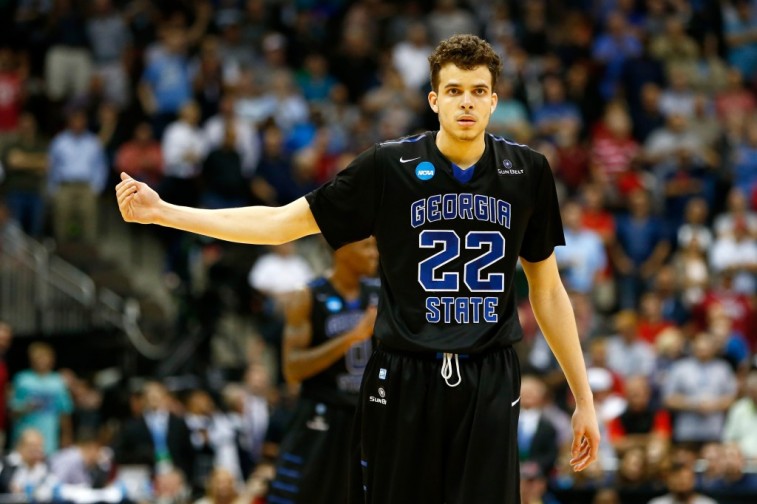 1. R.J. Hunter, guard, Georgia State Panthers
For those who didn't know much about Georgia State's R.J. Hunter prior to the 2015 NCAA Tournament, his play was enough to rectify that. NBA scouts have been aware of Hunter's shooting prowess for quite some time, but his touch wasn't exactly on point this year — despite averaging 19.7 points per game, the junior only shot 39.5% from the field and 30.5% from three-point range this season. Those percentages were a major drop from his sophomore campaign, but Hunter made the most of his time at the Big Dance. The Panthers made it to the round of 32, and they did it on the back of their shooting guard's sensational performance against the third-seeded Baylor Bears. Hunter's game-winning three in the waning seconds put his father on the floor and Georgia State on the map. That's how you create your "one shining moment."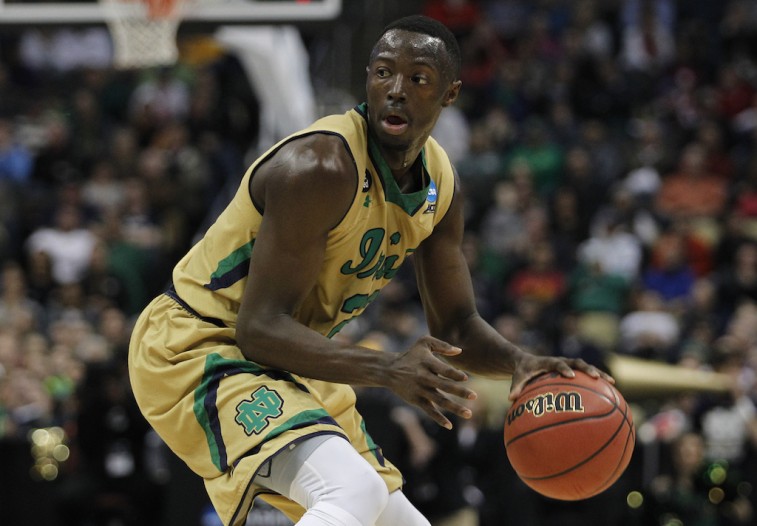 2. Jerian Grant, guard, Notre Dame Fighting Irish
The only knock against Jerian Grant is his age — he's already 22 years old and will be 23 come the 2015-16 NBA season. Other than that, the Notre Dame guard is the complete package. A consensus All-American this year, he helped lead the Fighting Irish to a birth in the Elite Eight. In the tournament, Grant had performances that showed off his natural scoring ability. He dropped 16 points in the third round against Butler and put up 15 in the regional final against Kentucky. On top of that, the senior found other ways to contribute when his shot wasn't falling. In the Sweet 16, the Fighting Irish got past a difficult Wichita State team because of Grant's smooth facilitating skills. He controlled the pace of the contest and had 11 assists on the night. Grant is a big-time player who showed the type of tenacity and grit that should make him successful at the next level.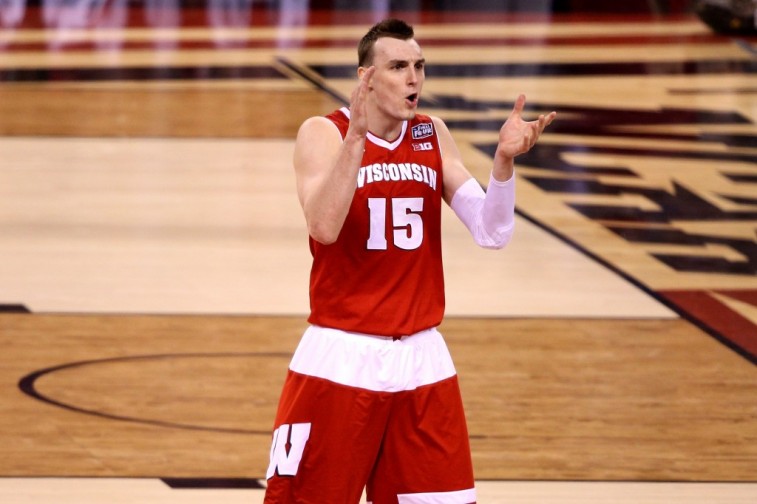 3. Sam Dekker, forward, Wisconsin Badgers
Sam Dekker showed his basketball chops during the regular season. But he truly came to life for the Wisconsin Badgers in this year's NCAA tournament. At 6-foot-9, 230 pounds, Dekker used his physicality to get to the basket whenever he wanted. He was absolutely impossible to stop when he chose to attack the rim. Dekker also showed that, if he continued to work at it, he has the ability to be a solid outside shooter. Despite a less than stellar national championship game, the Wisconsin forward shot 50% or better from the field in each of his team's games this tournament. The Badgers may not have walked away with the NCAA title, but Dekker managed to win over a lot of NBA executives with his outstanding postseason performances.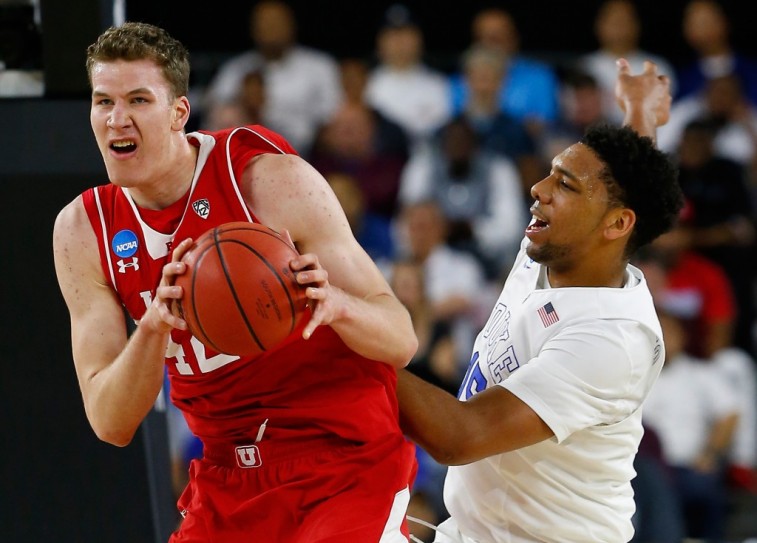 4. Jakob
Poeltl, forward, Utah Utes
Utah forward Jakob Poeltl already had the size that most NBA franchises covet, but now he's showed the toughness to go along with it. The 7-footer from Austria proved that he could play up to the competition when his Utes matched up against the Duke Blue Devils in the Sweet 16. Poeltl had the difficult task of trying to stop superstar Jahlil Okafor, and he more than held his own against the All-American. He had 10 points and 8 rebounds on the night, but it was his defense that stole the show. By limiting Okafor to just 6 points on the night, Poeltl showed just how effective he could be as an interior defender. If he can improve his offensive skill, then there's nothing not to like about the Utah forward.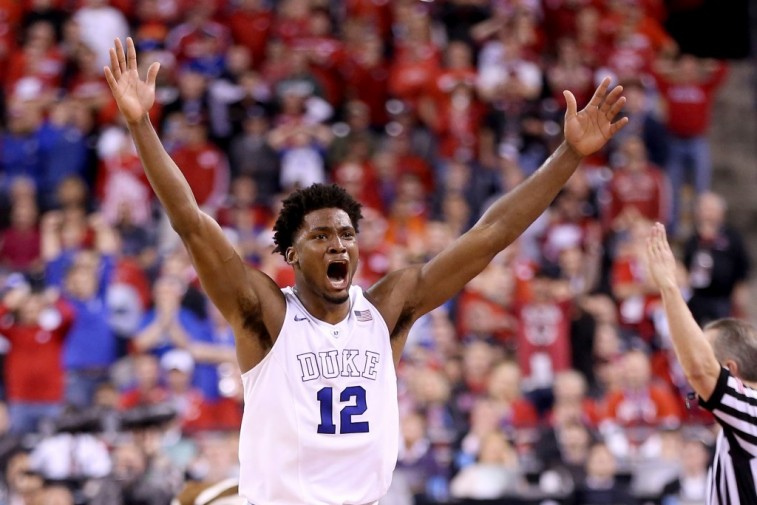 5. Justice Winslow, forward, Duke Blue Devils
The Duke Blue Devils don't make it to the 2015 National Championship, let alone win it, if forward Justice Winslow doesn't have the tournament of a lifetime. The freshman was a monster in transition, impossible to defend in the open floor, and physically dominant at the rim. But he also managed to knock down a plethora of clutch jumpers and was extremely consistent from the free throw line. There may not be a player who raised their stock more in this year's tournament than the freshman Blue Devil. Don't be surprised if Winslow's name is one of the top five names called in the 2015 draft.
All statistics are courtesy of SR/College Basketball and ESPN.go.com.