5 Players With the Most to Prove in the 2016 NBA Playoffs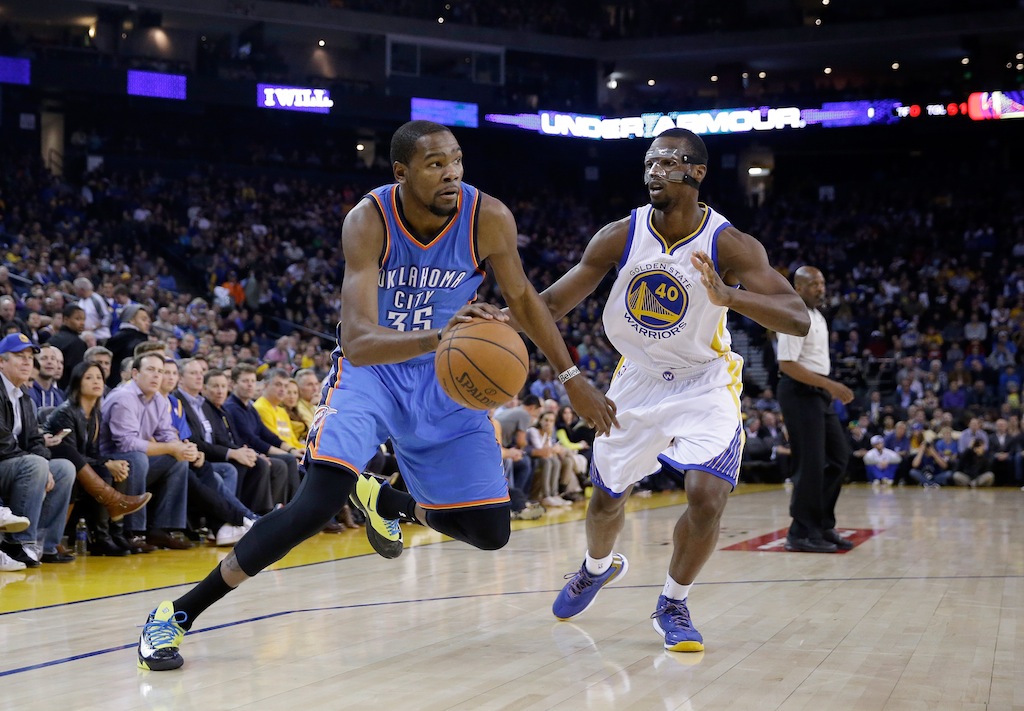 The NBA Playoffs are when men and legends are made. Basketball junkies recall fond memories of Magic Johnson sweeping through the lane to drop in a baby hook shot, Larry Bird stealing the inbounds pass before hitting D.J. for the decisive lay-in, and Michael Jordan taking flight at the top of the key before switching hands mid-air to finish off a spectacular move.
In more recent years, the playoffs involved the likes of Tim Duncan, Kobe Bryant, Shaquille O'Neal, Ray Allen, and LeBron James banking shots off the glass, finishing off alley-oop plays, nailing dagger threes, and carrying their respective franchises upon their backs to the promised land. Every NBA season, of course, brings new challenges and new headlines.
For 2016, the story has centered around the Golden State Warriors' drive toward 72-10. Against this backdrop, the San Antonio Spurs have quietly put together a historic run of their own, while the great James has managed to fade into relative obscurity amid what seems to be a changing of the guard at the top. For the 2016 NBA Playoffs, five players will have a lot riding on the line as the NBA establishes and solidifies a new pecking order.
5. Chris Paul
For Chris Paul, the jury is still out in terms of defining his career legacy amongst the all-time greats. At the top end, CP3 is often compared against Isaiah Thomas as the ultimate maestro at point guard, who picks his spots through the first three quarters before taking over late in the game. Thomas, of course, was the baby-faced assassin who led the Bad Boy Pistons to back-to-back titles, after going to war against Magic, Bird, and Michael Jordan.
Paul, however, has never advanced past the Conference Semifinals. The 30-year-old has already tallied up more than 7,500 assists and 1,700 steals, while also being named to nine consecutive All-Star teams. For his career, CP3 has put up 19 points, four boards, 10 assists, and two steals per game. On paper, this record matches up against any floor general. In terms of winning results, however, Paul would take a seat behind Steve Nash, who also compiled staggering numbers with the run-and-gun Suns, only to be turned back by the Spurs and Lakers.
For the 2016 postseason, Paul will likely duel against Russell Westbrook, Stephen Curry, and even James Harden. Paul versus Westbrook always promises to show a great contrast in styles, with the doughboy PG trading shots against arguably the most athletic specimen to ever play the position. Last season, CP3 put on a clinic in front of Tony Parker and the Spurs before self-destructing against the Rockets in the semifinals. Paul will certainly be out to make amends this season, and will be tossed into the fire with a banged up Blake Griffin at his side.
3-4. Russell Westbrook and Kevin Durant
After eight years as teammates, Durant and Westbrook are still out to prove that they can coexist in Oklahoma City. Last season, Westbrook assumed command of the team, with KD sidelined for 55 games with nagging foot injuries. Westbrook, as top dog, led the league in scoring, at 28 points per game, while also corralling seven rebounds and dishing out nine assists. The Thunder, however, finished out the 2014-2015 season at 45-37 and out of the playoffs.
OKC, at 49-22, appears all but locked into the third seed in the West, behind the historically white-hot Golden State Warriors and San Antonio Spurs. A healthy Durant has quietly rounded back into form throughout the regular season and is now averaging 28 points per game. As a scoring machine, KD can still cross over bulky forwards out in space and also go over the top of smaller, quicker players for easy scores out of the post. As an added bonus, Durant is also knocking down 39% of his three-point shot attempts this season.
For now, Portland, Dallas, Houston, and Utah are each separated by a mere 1.5 games, in spots six through nine in the Western Conference. The Blazers and Rockets may both emerge as tough, first-round outs for the Thunder. If anything, fans could look forward to the possibilities for a frenetic shootout featuring the likes of Westbrook, Durant, Harden, or Damian Lillard.
Against this backdrop, Westbrook and Durant may take turns operating out of a flat one-four isolation set, with the game on the line. An early first-round exit, however, would trigger another leg of soul searching in Oklahoma City, with the championship window for the Durant-Westbrook era being rapidly slammed shut.
2. LeBron James
James has faded into the background against this season's love fest for Curry and the Golden State Warriors. If anything, the sporting world seems more concerned with monitoring James' cryptic social media rants than it is with following his latest exploits on the court. In recent days, several sports journalists suggested that The King is primed to leave Cleveland again, after James posted a collage of pictures featuring himself alongside Dwyane Wade, Carmelo Anthony, and Chris Bosh onto his Instagram account.
The whirlwind of gossip has little to do with what James is doing on the floor. Apparently, the debate is over, and it is obvious that James is no longer the best basketball player in the league. Last year, it was King James who strapped Cleveland onto his back through the Finals, without Kyrie Irving and Kevin Love, who had both been shut down for the season after suffering devastating injuries.
James, in a Game Two finals win, dominated the end-to-end action, with 39 points, 16 boards, and 11 assists to the likes of Timofey Mozgov and Matthew Dellavedova. Still, Golden State blew Cleveland out of its own building 132-98 last January, with a smirking Curry commenting that the arena still had the whiff of championship champagne in the locker room.
This humiliating loss ultimately put an end to the David Blatt regime and gave rise to James' confidant Tyronn Lue at head coach. For James, the 2016 NBA Playoffs will be something of a redemption tour — to re-establish his reign over the sporting world. If James were to fail, the shadow of Jordan and his six rings will forever loom large.
1. Stephen Curry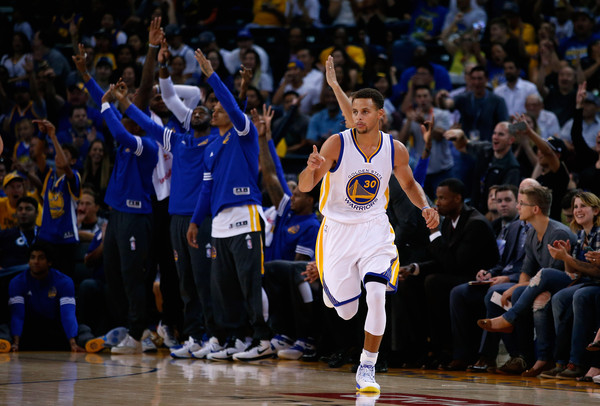 Last season, Stephen Curry took home league MVP honors and announced himself to the world as the most skilled offensive player in the game of basketball. At a lithe 6-foot-3/185 pounds with bad ankles, he emerged as the ultimate antithesis to the brute force of James. Curry and the Warriors put the final stamp upon their dream season by outlasting the Cavaliers through six games to take the NBA Finals. The revolution was televised, with this freewheeling club throwing out wacky lineups of versatile athletes to space the floor and drop bombs from deep.
For 2016, Curry is arguably both the MVP and Most Improved Player. Curry has upped his game even further, with his deadly combination of unlimited range and moves upon moves out in space to set up the defense. If left alone, he is not shy about pulling the hair trigger and is now in a zone where he literally only competes against himself.
This season, Curry is leading the league in scoring at 30 points per game, with a remarkably efficient 50% field goal, 45% three-point, and 90% free throw shooting. By last February, Steph Curry had already broken his own record for three-pointers in a single season, with 24 games left to go. The Golden State Warriors opened up the season with 24 straight wins before suffering their first loss at Milwaukee; they are still within striking distance of the all-time 72-10 mark.
This dream season, however, would come with a giant asterisk if the Warriors were to fall short of championship hardware. In setting the table for a Western Conference showdown, the Spurs are giving up a mere 92 points per game, coming off a signature home win in which they harassed Curry into a miserable 4-for-18 shooting. A playoff loss would have these Warriors sharing space alongside the 18-1 New England Patriots within the mythical "What If?" Hall of Fame.
Statistics courtesy of ESPN.com and Basketball-Reference.com.