5 Quarterbacks Who Could Take the Eagles to Super Bowl 51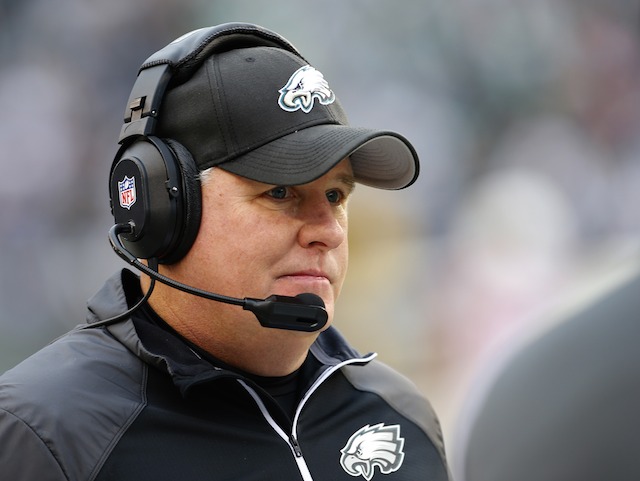 In recent years, the Philadelphia Eagles have made a habit of going into the regular season with great expectations only to fall flat on their faces after the opening snap of game one. Take the 2011-12 season when newcomer Vince Young declared the Birds a "dream team." That star-laden squad ended the season 8-8 under Andy Reid with many of the costly free agents (Nnamdi Asomugha and Dominique Rodgers-Cromartie) dispatched in the following years.
In a "here we go again" scenario, the Philadelphia faithful were thinking of a February 2016 date at Levi's Stadium after signing Demarco Murray, Ryan Mathews, and Byron Maxwell along with the (somewhat questionable) trade for Sam Bradford. A former No. 1 pick with surgically repaired knees, Bradford possessed a once-strong and accurate arm but hadn't played much in the previous two seasons. Lost in the frenzy of optimism was the departure of Lesean McCoy, Evan Mathis, Jeremy Maclin, and Brandon Boykin.
With a 4-7 record and remarkably one game out in the pathetic NFL East, the Eagles need to look ahead to the 2016-17 season even if the team wobbles its way into the 2015-16 playoffs. The most loyal Philadelphia Iggles fans know there is no future with Bradford under center. Speaking of under center, it does raise the question as to why the Eagles don't put the QB under center, allowing Murray to run downhill… but that's a query for another day.
Looking into the magic crystal ball that hovers over the top of Lincoln Financial Field, there are five quarterbacks whose talents may fit with Chip Kelly's wide-open, rapid-fire offense. The ability to be mobile (as opposed to scrambling), think quickly on one's feet, and have the adroit skill to run or throw downfield are precious commodities, and two players desperately in need of a change of scenery top the list, followed by a hometown boy. Add two draft-eligible college players, and you can envision Jeffrey Lurie hoisting the Lombardi Trophy at NRG Stadium on February 5, 2017 in Houston.
1. Robert Griffin III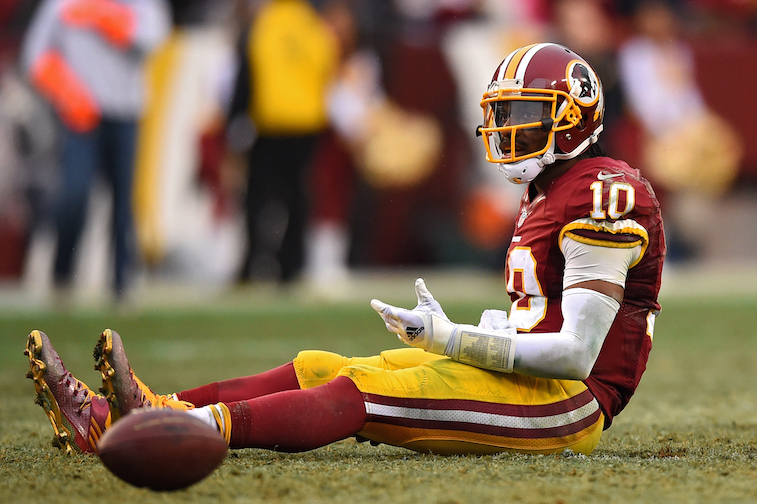 To say Robert Griffin III has worn out his welcome with the Redskins is akin to saying the Mets are in sore need of another hurler. After a good rookie year in 2012, RG3 was beset with knee and ankle injuries along with a concussion, and his path to stardom took a sharp turn downhill. Trouble with the coach, a pariah to teammates, and an egotistical punchline to sports pundits, the former Heisman Trophy winner finds himself working with the scout team, waiting for the offseason when he will certainly be traded.
At his peak, RG3 had the arm and legs to make Chip Kelly's fantasies come true. With a good amount of time away from live game action, it's safe to bet that Griffin's knees and ankle might be in decent shape, making him more agile than he appeared right after his ACL and LCL surgeries. RG3's arm, while probably rusty, is more than adequate for the Mad Genius coach to exploit.
Alone, RG3 would not be enough at QB to lead the Eagles to a title. Given his somewhat fragile condition, the team would need an upgrade at the offensive line — the addition of some receivers who can actually run routes and hold on to the ball wouldn't hurt. The Redskins are so anxious to get rid of the former Baylor star, a third-round pick or two plus a few cheesesteaks might seal the deal.
2. Colin Kaepernick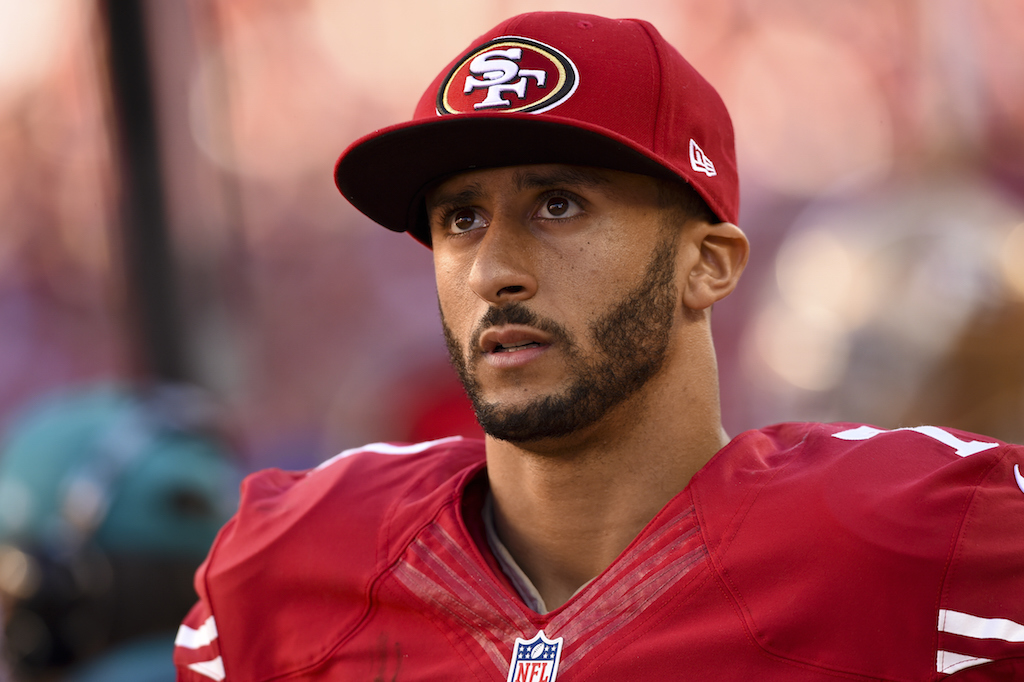 While some of RG3's talent applies to this 49ers QB, the differences make the former University of Nevada star even more appealing. After taking over mid-2012 from Alex Smith, the nimble, strong-armed Kaepernick took the team to the Super Bowl where the Niners lost to Baltimore, 34-31.
After a stellar 2013 season in which Kaepernick threw for 3,197 yards with 21 touchdowns and eight interceptions, the team rewarded him with a six-year contract with a value that topped out at $126 million. The bad news was that coach Jim Harbaugh lost control of the team, which impacted the star QB's play. While Kaepernick's total yards and rushing stats were up, his touchdowns were down (19) and interceptions were up (10).
The collision course between Kaepernick's slide and the ouster of Harbaugh in favor of Jim Tomsula continued, and the man who took his team to the Super Bowl a few years earlier was benched after Week Eight. To make matters more painful, a tear was found in the QB's non-throwing shoulder, which required surgery that ended his 2015 season.
Given that Kaepernick is in the midst of his multi-year deal, the Eagles can only acquire him via trade, and lacking a quality backup (unlike the Skins, who have Kirk Cousins), the Niners can ask for a high draft pick that might enable the team to select from next year's crop of stars. Even after shoulder surgery, the ex-Wolf Pack collegiate star is more durable than RG3. That said, he too would benefit if the Eagles upgraded their receiving corp.
3. Matt Ryan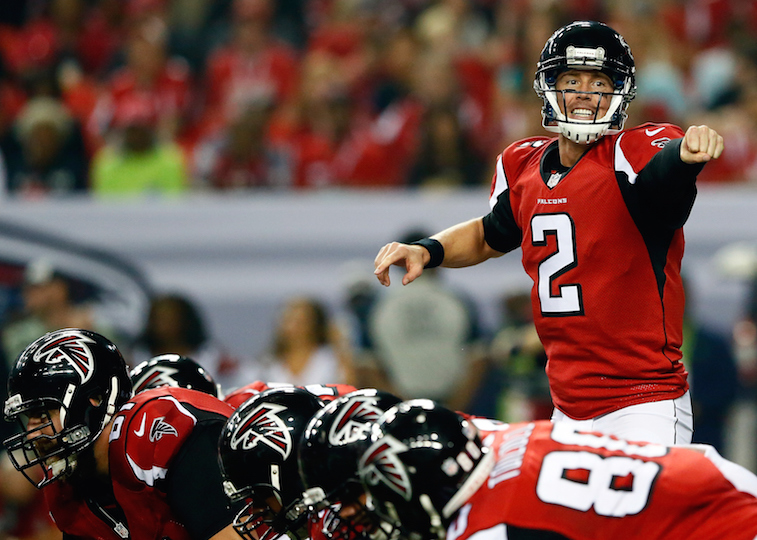 You can dream, can't you? After a strong start to the season, the Atlanta Falcons dropped five games in a row, calling into question whether Matt Ryan has what it takes to lead his team to the playoffs and beyond. The consensus is that the 30-year-old No. 3 pick in the 2008 draft is a good signal caller, but not great. During the five-game skid, Ryan has had 16 touchdowns and 12 interceptions.
Like Kaepernick, Ryan plays under a first-year coach — the defensive-minded Dan Quinn. The Exton, Pennsylvania (40 miles from Philly) native has decent wheels, having amassed 700 rushing yards going into the 2015 season. The issue is the fact that Ryan signed a five-year extension in 2013 worth $103.75 million, making him a costly acquisition.
The former Boston College All-American is backed by the untested Duke Blue Devil Sean Renfree, who was drafted as the 249th player in 2013, so a QB swap might work. Anyone interested in Mark Sanchez? Perhaps the Falcons have their eye on Chad Kelly from Ole Miss as their future franchise leader or even UGA's Greyson Lambert who has only two INTs this season.
4. Trevone Boykin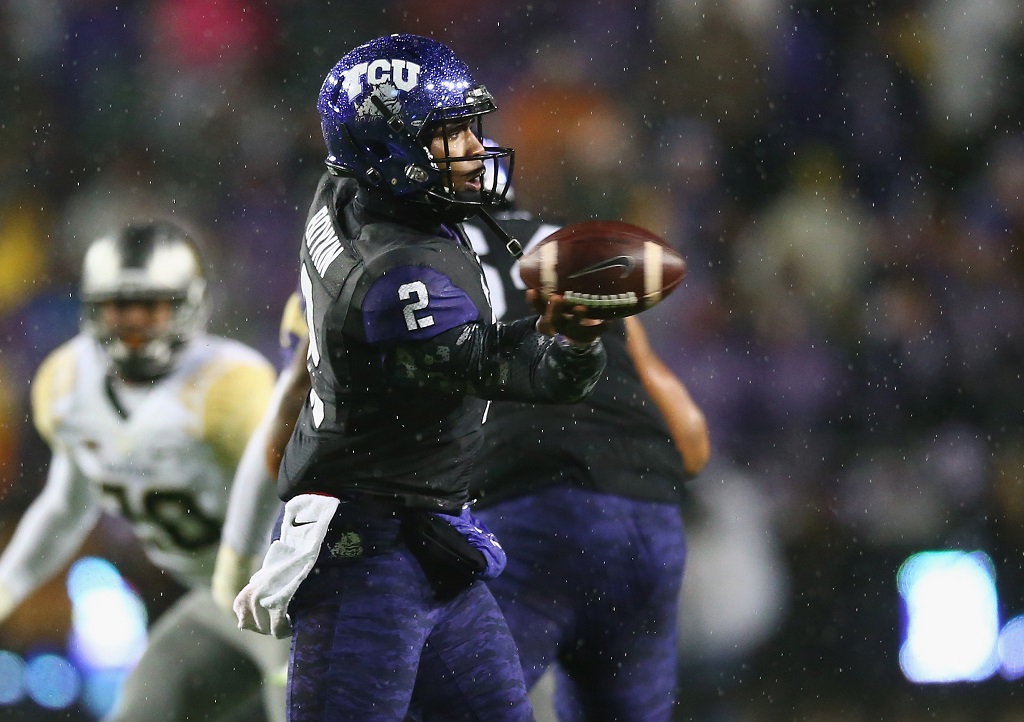 Chip Kelly has a persistent nightmare in which he offers a bounty of players and picks and gets nixed trying to acquire Marcus Mariota in last year's draft. To Kelly's dismay, this real-life scenario leads us to believe that the Eagles' coach/GM wants a college player he can mold rather than an NFL veteran with too much tread on his tires.
For 2016, enter Trevone Boykin, the TCU star who recently broke the college passing record of the Bengals' Andy Dalton. With 85 career TDs and more than 12,000 yards in total offense, Boykin (a former track and field star) has more than 600 yards rushing so far this season. At 6-foot-2 and a shade over 200 pounds, he is solid and regarded as a leader by his teammates.
If the season ended after Week 11, the Eagles would have a top-10 pick. While drafts are difficult to predict, many of the other teams that could fall ahead of the Birds also have QB needs, so a trade up might be in order to land Boykin. Is he the consolation prize for missing Mariota? Kelly's not talking.
5. Kevin Hogan
Scouts are mixed on the strong-armed Stanford quarterback. The MVP of the 2014 Foster Farms Bowl has been labeled inconsistent, following stellar performances with flops, such as the November 14 loss to Oregon where he botched four snaps. Overall, Hogan's stats are good, with more than 2,500 yards passing in 2015 with 23 TDs to seven interceptions. With his ideal quarterback size at 6-foot-4, 218 pounds, Hogan has decent mobility with 294 yards rushing this season. His high watermark was 355 yards on the ground in 2013.
If the NFL draft were today, Hogan would likely be there when the Eagles picked even though he is currently rated fourth in total QBR by ESPN. Is Hogan a sexy pick? Nope. But he comes from a school known for delivering great quarterbacks and, as a Stanford grad, might bring the right mindset to a team in desperate need of leadership.
Statistics courtesy of ESPN.com.