5 Reasons Dwayne "The Rock" Johnson Doesn't Regret NOT Becoming an NFL Legend
Long before Dwayne "The Rock" Johnson became the household name he is today, he was single-minded about achieving one goal: becoming an NFL star. Recruiters loved Johnson. His Miami Hurricanes teammates were in awe of his sheer defensive force.
But Johnson didn't make it into the NFL. And he doesn't regret a thing. There are at least five big reasons why. First, let's look at The Rock's football life and his eventual return to his family business.
Dwayne "The Rock" Johnson's NFL dreams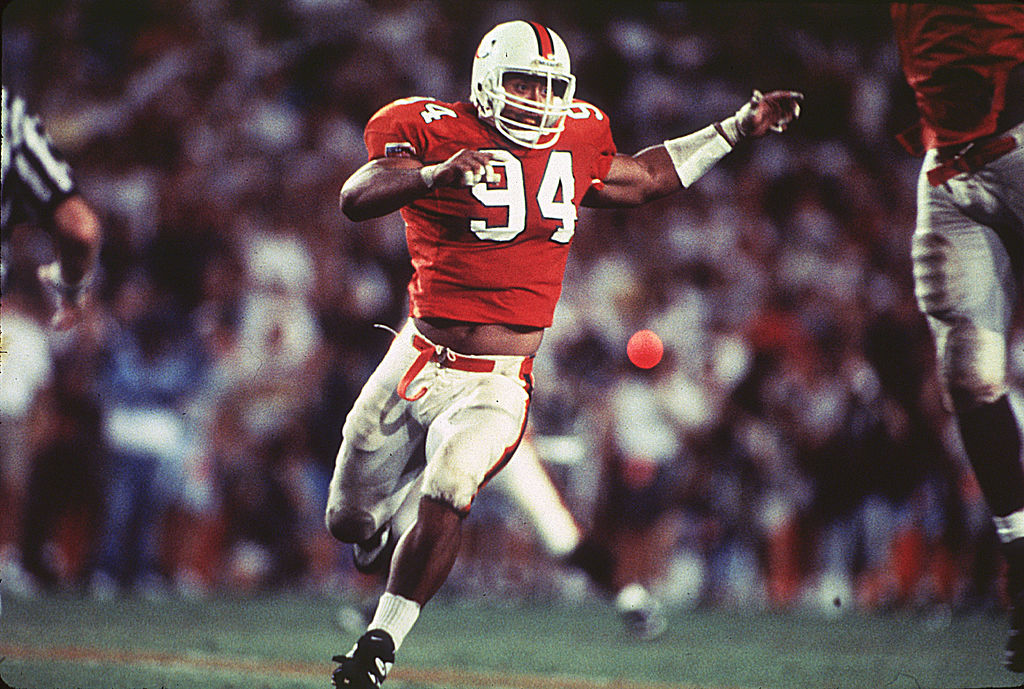 Johnson's family was already two generations deep in the wrestling world. Instead, he applied his genetic gifts to football, becoming an All-American out of high school in Honolulu.
Before he was "The Rock," Johnson was simply "Dewey." That's the nickname his Miami Hurricanes teammates affectionately coined for the physically imposing defensive lineman.
Recruiters hyped up Johnson for his imposing build, great attitude, and dedicated work ethic. He saw a path to NFL success. But it wasn't meant to be, according to SB Nation.
How close Dwayne Johnson got to NFL stardom
Johnson raised his profile enough to join one of the strongest college teams in the country. Competing for his spot was future Hall of Fame defensive tackle Warren Sapp. An unenviable position, if ever there was one.
Sapp proved so suited for the role that it left Johnson benched. Scouts began losing interest. As his teammates landed high picks in the NFL — Sapp went to the Tampa Bay Buccaneers — Johnson was left cold in the 1995 NFL Draft.
After a short bid to impress the NFL by joining a CFL practice squad, Johnson went a different way — arguably a more successful one. Like his father and grandfather, he entered the ring as a pro wrestler. Eventually, Johnson emerged as "The Rock." Despite the heartbreak, he has no regrets about missing out on the NFL.
Five reasons why Johnson doesn't regret missing out on the NFL
Johnson is consistently open about how painful it was to exit football before the NFL, reports Fox Sports. His path ultimately went somewhere different and likely far more successful. Here are five key reasons why Johnson has no regrets about going undrafted:
He not only continued his family tradition as a WWE wrestler, but he also opened up opportunities for future generations to enter the profession. Two of his cousins are hugely popular WWE superstars Nia Jax and Roman Reigns. Johnson's daughter Simone is now in WWE's training camp — the fourth generation of the Johnson family to enter the ring professionally.
Johnson has made hundreds of millions more than he would have as an NFL player. The median NFL salary is $860,000, reports CNBC, and Johnson's pay would've put him at the lower end of that scale. As a wrestler and actor, Johnson is reportedly worth $320 million.
NFL projects aren't neccessary for his paydays. Instead of commentating or joining a front office, Johnson will appear in three upcoming films. Fast and Furious 10, DC's Black Adam, and Jungle Cruise make even Stephen A. Smith's salary look like pennies.
"The Rock" had a far longer in-ring career than he would have had in the NFL. Johnson makes public appearances and appears in movies each year. At WrestleMania 32, in 2016, Johnson worked in the ring for what was likely the final time. If he was drafted in the NFL in 2005, it's almost impossible to see such athletic longevity.
Making so much money allows Johnson to supercharge his charitable foundation. The Dwayne Johnson Rock Foundation focuses on assisting disadvantaged youth. Had Johnson not embarked on his lucrative wrestling and Hollywood careers, this great work would not be as great.
No one who dedicates years of their life trying to make it in the NFL can say they are completely without regrets. But for Dwayne "The Rock" Johnson, his life ended up far richer from the more winding path he took after what felt like a failure.
Follow more updates from Sportscasting on our Facebook page.