5 Reasons Manziel Should Be the Browns' Starting QB
The Cleveland Browns have a quarterback decision to make this week. Is incumbent Brian Hoyer the right man for the job, or should head coach Mike Pettine turn over the reins of his team to rookie Johnny Manziel?
After both players struggled in Monday's preseason game at Washington (Hoyer was just 2-6 with 16 passing yards, while Manziel wasn't much better at 7-16 for 65 yards), the choice doesn't seem like an easy one.
However, when it comes down to which signal-caller gives the Browns the best chance to succeed in 2014, the answer is ultimately Johnny Football. Here's why.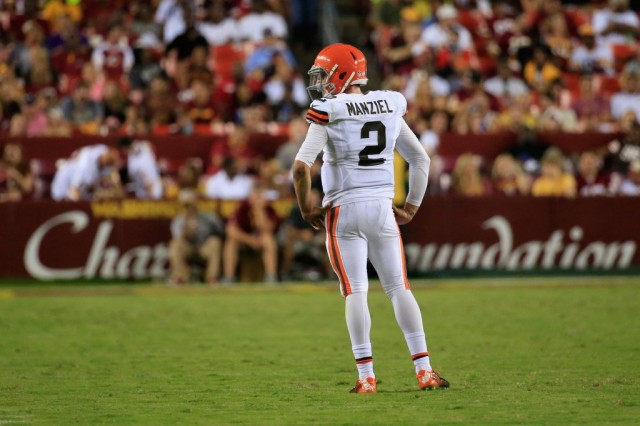 1. The Browns need an offensive playmaker
Cleveland finished 27th in the NFL in points per game last year, and that statistic would likely have been even worse without star receiver Josh Gordon, who had a league-leading 1,646 receiving yards and also caught 9 touchdowns. Gordon's status for the upcoming season is in doubt after a yearlong suspension for violating the league's substance-abuse policy, which he has appealed.
Whether or not Gordon ends up playing a down for the Browns in 2014, the Cleveland offense needs to figure out how to consistently manufacture more big plays — specifically, more scoring plays. A dual-threat quarterback who can keep plays alive with his feet (and has shown a knack throughout his college career for making something out of nothing) should be just what the doctor ordered for a historically less-than-productive offensive unit.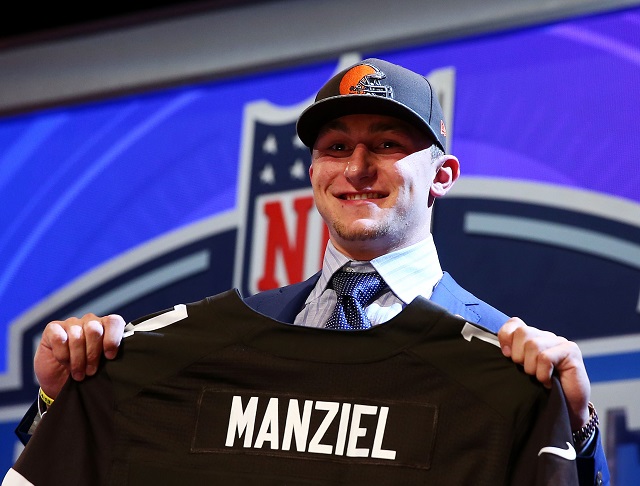 2. The experience gap is overrated
Yes, Hoyer has been in the league for six seasons. And no, Manziel hasn't played a single NFL snap that counts yet. But is there really that much difference in game experience between the two? Hoyer has started exactly four games over the past six years. To put the numbers in perspective, Manziel has the possibility to double Hoyer's career total in the first half of the season alone.
No matter which quarterback is currently the favorite to win the job, if Manziel has been able to "significantly" narrow Hoyer's lead in the quarterback derby without ever seeing the field in a regular-season game, the "experienced veteran verses green newcomer" storyline is obviously not as lopsided a comparison as pundits have made it out to be.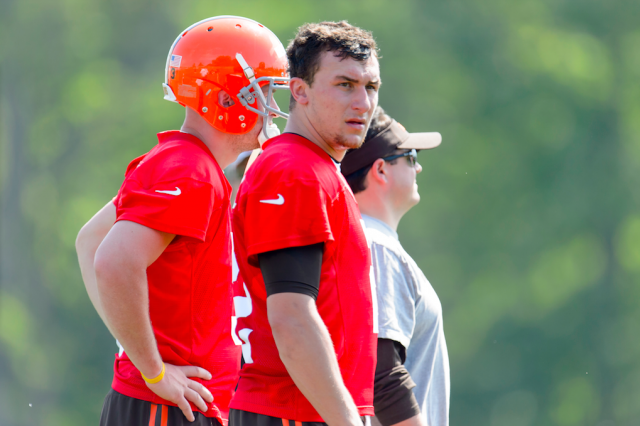 3. Manziel will start eventually — it's inevitable
This just in: The Browns didn't spend a first-round pick on Manziel so they'd have a well-known clipboard holder for the next few seasons. Johnny Football is going to get his shot to prove he can play in the National Football League – it's a matter of when, not if.
So, no, it doesn't make sense to let Hoyer play for the first three games and then use the late-September bye week to install Manziel as the heir apparent.
In a stretch of winnable October games (at Tennessee, Pittsburgh, at Jacksonville, Oakland), Cleveland wants – no, needs — a Manziel that's already seen the speed of the league up close and personally. If the Browns want to make noise in the AFC North this year, they have to use Manziel from the get-go. Does anyone really think the rookie has as good a chance of beating the Steelers in Week 6 when he's facing them for the first time, instead of with 60 minutes against Dick LeBeau's defense already under his belt from September?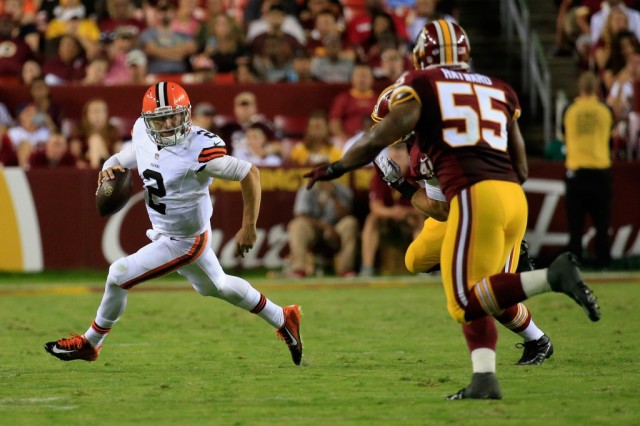 4. "Johnny Backup" would be a distraction waiting to happen
Why isn't Tim Tebow a backup quarterback in the NFL today? The answer: Because there's not a team in the league that was willing to put up with the distraction of having a cult figure on its bench. If Hoyer gets the starting nod over Manziel, every poor decision, incompletion, or (heaven forbid) interception would amplify the incessant call on every talk show and sports network in America for a quarterback change. Every Browns press conference, media availability, and interview session would begin with the same question: "So have you thought about giving Johnny a shot?"
It's long been said that the most popular player on a football team is the backup quarterback. When your backup quarterback is already one of the most popular players in the entire league, you're just asking for trouble by letting him wear an earpiece on the sideline for 16 games in a row.
5. The Dawg Pound needs a quarterback sensation
"I don't care if they've had 20 starting quarterbacks since 1999. I'm going to be the 21st and the guy that brought them the Super Bowl," Manziel said in February about the possibility of playing in Cleveland.
While the Cleveland coaching staff has downplayed the impact of celebrity and ticket sales on the team's quarterback decision ("We're not going to let jersey sales determine our depth chart," Pettine famously said after the draft), make no mistake: The long-suffering fan base will be a factor in the great QB debate of 2014.
Manziel brings an excitement factor that this team – and this town – has been missing since, well, forever. When your franchise has finished in last place for three straight years and won five or fewer games in each of the last six seasons, something has to change in the near future. It's been said that the definition of insanity is doing the same thing over and over again and expecting different results, and with a quarterback history like Cleveland's, how can the Browns not give Johnny Football a chance to work his magic and breathe life into a team that's occupied the cellar for far too long?