5 Reasons the Lakers Will Miss the Playoffs Again in 2014-15
The Los Angeles Lakers have only missed the playoffs three times in 38 seasons since 1976. That staggering success rate alone makes it seem very unlikely that L.A. will be watching the postseason from home after a disappointing 2013-2014 season. However, this year's version of the Lakers seem once again destined to wrap up their season by mid-April, which would be only the second time in franchise history L.A. has been on the outside of the bracket looking in for back-to-back years.
Here are five reasons why the Lakers won't be able to crack the top eight teams in their conference in the 2014-2015 NBA season.
1. The wear and tear is catching up to Kobe
Over the 18 seasons of his NBA career (regular season and playoffs combined), Kobe Bryant has played 1,465 games and 54,208 minutes of professional basketball. Let those numbers sink in for a minute. As of April 2013, the durable superstar had never missed more than 17 games in a year. Still, age takes its toll on everyone eventually, and Kobe's torn Achilles and fractured knee (two injuries that came in an eight-month span last year) mean the Bryant we see in 2014-2015 can no longer be expected to carry a team single handedly.
Long gone are the nights when Kobe could score 81 points despite being double- and triple-teamed just because he wanted to, or pour in 40-plus points for nine games in a row for the fun of it. This edition of the Black Mamba is coming off a season where he could only get on the floor for six of 82 games and averaged less than 14 points an outing. The most dependable force in recent Lakers history is clearly on the decline, and — while a past-his-prime Kobe Bryant is still among the game's greatest players — with L.A.'s hopes tied to Bryant's scoring average, that doesn't bode well for the postseason chances in Hollywood.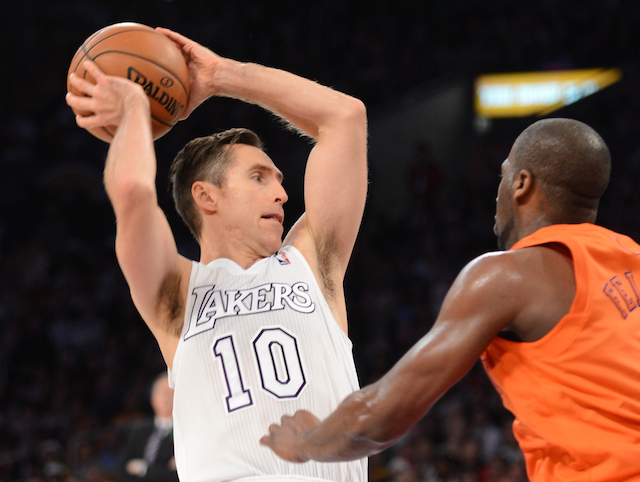 2. Steve Nash is just too old
Because every NBA backcourt needs at least two veterans with 18 or more seasons of experience under their belt (we say this very sarcastically), the Lakers will employ 40-year-old Steve Nash alongside 36-year-old Kobe in the 2014-2015 campaign. Nash managed all of 15 appearances for L.A. in 2013-2014, and — to put it bluntly — isn't getting any younger this season.
Nash's Los Angeles career has been a disappointment, especially from an injury standpoint, with the veteran participating in 65 games and missing 99 more. That's not what GM Mitch Kupchak had in mind when he dealt four draft picks to Phoenix for the two-time league MVP. Even if Nash can keep his aching body off the injured list in 2014-2015, how many games, how many minutes, how many points, and how many assists can L.A. really expect from a 40-year-old whose best days are a whole decade behind him?
3. The rest of the roster is too inexperienced
Yes, the Lakers added veterans Carlos Boozer and Jeremy Lin in the offseason, but for Los Angeles to be a factor this year, the team will need career seasons from Nick Young, Wesley Johnson, and Jordan Hill and All-Rookie performances from Julius Randle and Jordan Clarkson. After all, this ball club only won 27 games a season ago and lost five of its top seven scorers! (Pau Gasol, Jodie Meeks, Kent Bazemore, Chris Kaman, and Jordan Farmar have each moved on.)
This isn't exactly rocket science — take a look at the team's current roster page and tell us: Does this look like a 2014-2015 playoff team to you? The answer is somewhere between "Of course not" and "Are you out of your mind?'" Young had a nice season a year ago (leading the purple and gold with 17.9 points per game), and Randle may very well be the latest in a long line of Lakers superstars, but they're not going to carry a team to the playoffs. So if not the old guard (Bryant/Nash) and not the up and comers, who will? Who possibly could?
4. There's a significant shortage of talent
The Lakers have struck out in free agency each of the past two summers, first watching Dwight Howard walk away for nothing in 2013 and then saving cap space for a run at LeBron James, Carmelo Anthony, and company, but again failing to land a big fish to the big pond in 2014 free agency. For whatever reason (and there are probably plenty), the post-Jerry Buss Lakers aren't the same draw for the game's elite stars that the franchise used to be. The palm trees, glitz, glamor, and movie stars are all still there — Jack Nicholson hasn't gone anywhere, as far as we know — but the days when a Lakers general manager could just throw money at a Shaquille O'Neal and buy the team's way to a title are only distant memories.
It's funny how quickly things can change — we're barely two years removed from the formation of an apparent L.A. super-team when Howard and Nash teamed up with Bryant and Gasol, leading to the infamous Sports Illustrated cover, "Now This is Going to Be Fun." Well, it wasn't fun, and it's fallen apart fast. A possible lineup of Jeremy Lin, Kobe Bryant, Wesley Johnson, Carlos Boozer, and Jordan Hill is a long, long way from a super-team and doesn't seem like the kind of squad that can dig L.A. out of the bottom part of the Western Conference standings.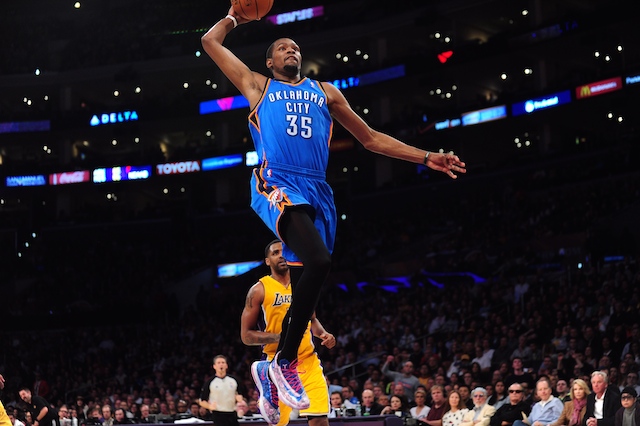 5. The rest of the West is stacked
Eight of the 10 best records in the NBA last season belonged to teams in the Western Conference. To put that in perspective, the Suns finished 48-34 and missed the playoffs, simply because of which half of the league the club played in. The Lakers, on the other hand, had a worse record than every team in the conference outside Utah. L.A. doesn't just have to get better this year — it has to do it against the likes of Kevin Durant, Chris Paul, Blake Griffin, Dwight Howard, James Harden, and Stephen Curry night in and night out, to say nothing of the defending champion (and annually underestimated) San Antonio Spurs.
Los Angeles isn't trying to sneak past a Toronto, Charlotte, or Atlanta to claw its way back into the postseason. Instead, they'll have to unseat the Warriors, Grizzlies, and Mavericks of the world. Even if new Lakers coach Byron Scott can coax his team to a winning record — and if he does, he deserves a unanimous Coach of the Year award, in our estimation — that still probably won't be enough to make the playoffs unless the NBA realigns the West Coast Lakers to the Eastern Conference sometime in the next eight months (hint: they won't).
20 of the Most Unbelievable Finishes in NFL History