5 Reasons Why Jim Harbaugh Will Win the Big Ten Title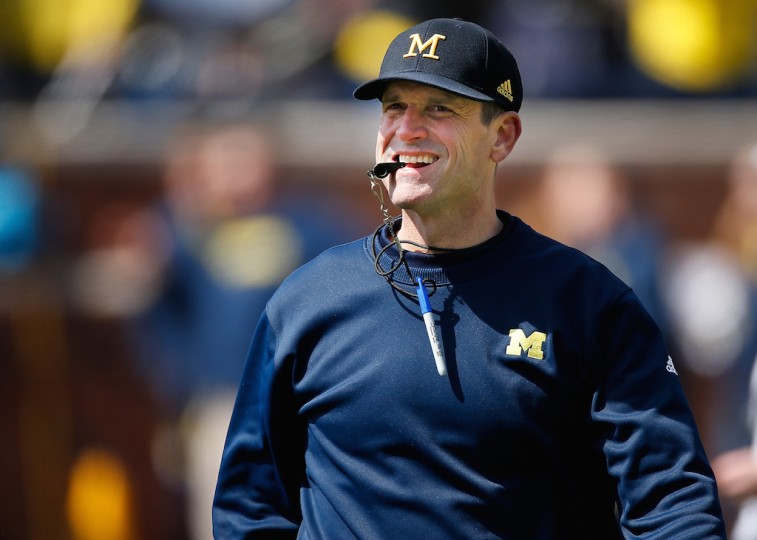 For the last couple of years, it's felt like the Southeastern Conference (SEC) has been the dominant power in the world of college football, but a funny thing happened on the way to the first-ever College Football Playoff: The Ohio State Buckeyes reminded people that the Big Ten was still a force to be reckoned with.
Following a thorough dismantling of the Alabama Crimson Tide in last season's Sugar Bowl, Urban Meyer and company stormed into the College Football Championship, intent on proving the Buckeyes belonged on the biggest stage. And with a 42-20 win over the Oregon Ducks, Ohio State was officially back on top of the country's elite, and the Big Ten Conference proved it could still compete with the big boys.
Now with the 2015 college football season on the horizon, there is no reason to think the Buckeyes don't have what it takes to build off of last season's success. This group is big, strong, experienced, stacked at the quarterback position, and led by Urban Meyer. What could possibly stand in this team's way? How about the Michigan Wolverines and Jim Harbaugh?
This may sound like a far-fetched idea. After all, the Wolverines were 5-7 last season, including a lousy 3-5 in conference play. But that was before the clouds parted and the sun decided to shine brightly on the city of Ann Arbor. From the moment Michigan hired Harbaugh to be the next coach of its storied football team, this is exactly how things have felt around this program. And there is no reason to think he can't help lead the Wolverines back to the promised land.
Granted, Harbaugh doesn't want to be viewed as the savior of this program. However, that's exactly what folks are hoping he can be. The Wolverines haven't won a national championship since 1997, and the fan base is starved for this team to return to its winning ways. Interestingly enough, that is exactly what Harbaugh has been known to do. He's not a miracle worker by any stretch, but the guy knows how to coach. Couple that with his unrivaled enthusiasm (and a 6-0 start), and you have a program buzzing with excitement. And that is something that cannot be overlooked.
We're not saying it's going to be easy. We're not saying it's going to happen overnight. We're not saying it won't take a little luck. But if history has taught us anything, it's that you can never discount a Harbaugh-coached team. With that in mind, here are five reasons why Jim Harbaugh will lead Michigan to the Big Ten title.
1. Favorable Schedule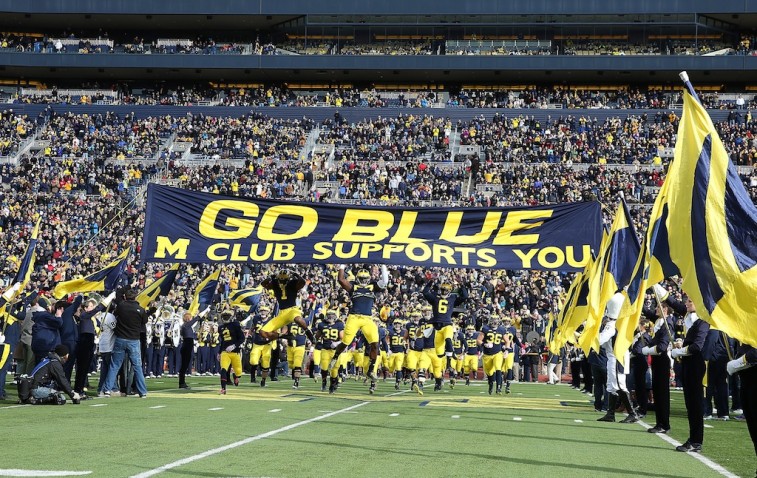 We're not trying to claim that the Michigan Wolverines don't have any tough games to play in the upcoming 2015 season. Because that's certainly not the case. After all, this group did open their season with a loss on the road against the Utah Utes. But when you're a club that's trying to reestablish a winning culture, any chance you get to play difficult teams in front of your home base, is a good thing.This is why the Wolverines should find themselves in a good position come 2015.
Michigan's two biggest conference opponents are the Michigan State Spartans and the Ohio State Buckeyes. And in both of these contests, the Wolverines will be playing in front of a rowdy crowd at Michigan Stadium. If the good folks of Ann Arbor live up to their potential, then the energy in Big House could be enough to propel the home team to, what would be, the biggest wins in Harbaugh's early tenure as coach.
2. History of developing quarterbacks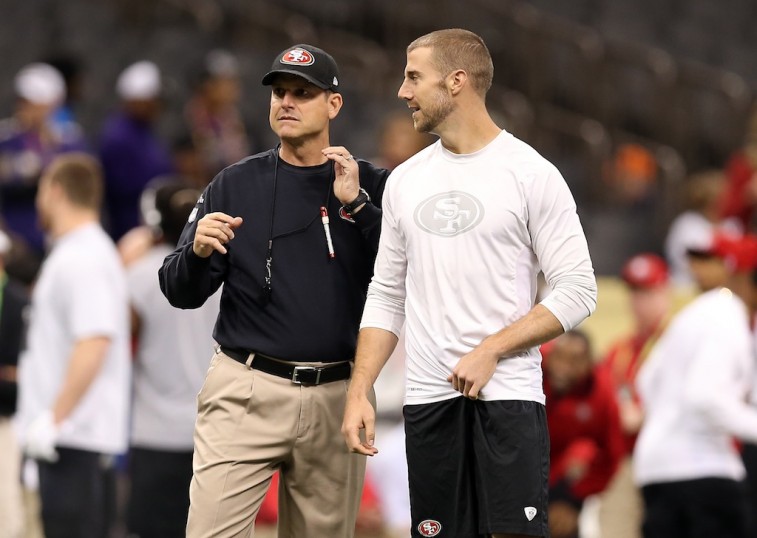 Harbaugh is known for his ability to develop quarterbacks. And while there are plenty of examples we could focus on, we choose to look at what Harbaugh did with Alex Smith when he first arrived in San Francisco. If we look at Smith's numbers in 2010 and compare them to the numbers he had in 2011 –when Harbaugh took over the 49ers — we can easily see a world of difference.
In 2010, Smith completed 59.6% of his passes for 2,370 yards, 14 touchdowns, and 10 interceptions. He finished the year with a quarterback rating of 82.1, and the Niners went 6-10 on the year. The following season, under Harbaugh, Smith's potential was unlocked. He would complete 61.3% of his passes, throw for 3,144 yards, 17 touchdowns, and 5 interceptions. Smith ended the year with a quarterback rating of 90.7, and San Francisco would win the NFC West with a 13-3 record. That's a pretty remarkable turnaround.
At present, Junior Shane Morris is leading the Wolverines' quarterback competition. Of course, that could change at any moment. Still, you have to believe that whoever ends up under center for Michigan in 2015 will be in some seriously good hands.
3. Has the bodies to win in the trenches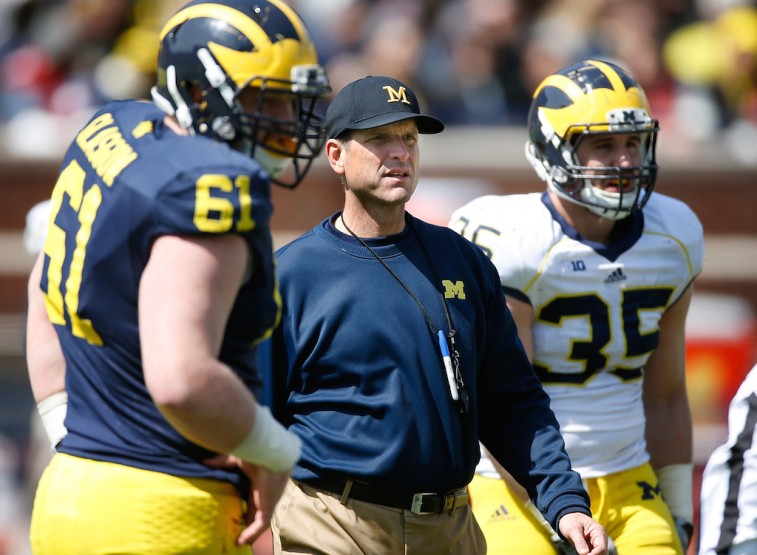 If you're trying to access potential strengths of a team, ahead of the upcoming season, then a good place to start would be in the spring game. And in this respect, one area that stood out was the defense; specifically the defensive line.
The two defenses provided constant pressure and made things extremely difficult for the Michigan offenses. These two units combined for five sacks and 15 tackles for losses. Said linebacker Desmond Morgan: "Those guys did a stud job up front. Taking out blockers and wreaking havoc, they've done that all spring. As linebackers it makes it easy on us when those guys do their job like that."
If you can win the battle in the trenches, then you put yourself in a better position to win the whole war. So far, so good for the big boys upfront.  If the rest of the team can follow suit, then Michigan's overall toughness could be difficult for the opposition to handle.
4. His passion is contagious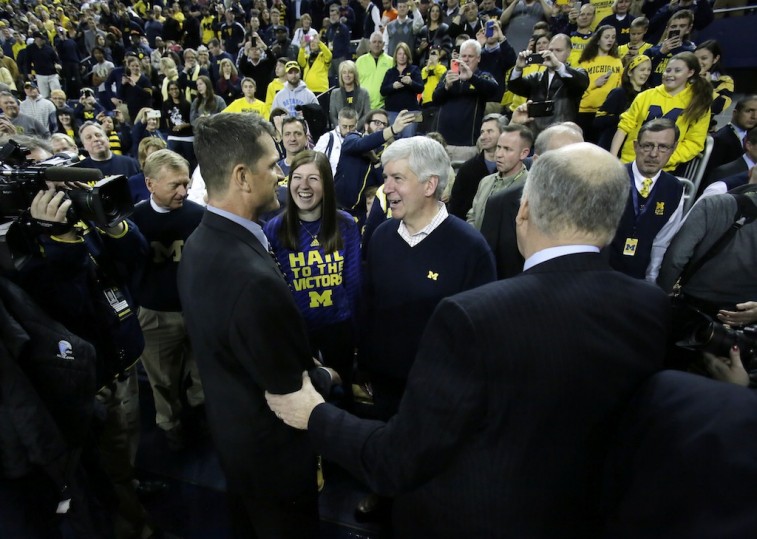 The University of Michigan had only one person in mind when it started searching for  next head football coach. Harbaugh was everything the administration wanted, and it didn't look like there was any plan B. Fortunately, the school got its man. And so far, he's certainly lived up to the hype.
There is a an energy surrounding this program that hasn't been there for quite some time. And it starts at the top. Harbaugh is fiery, driven, competitive and, most of all, passionate. From the moment Harbaugh stepped foot on campus, this passion has rubbed off on the entire Wolverines fan base. Something special is happening in Ann Arbor, and people are excited about the possibilities; excited about what he can do for this program. Wherever Jim Harbaugh goes, a buzz soon follows. That's exactly what this university needed.
Ultimately, the games will have to be won on the field. But if the players are able to feed off their coach — if they're able to play off of his passion — then there's a good chance this team can find the will to win.
5. The success speaks for itself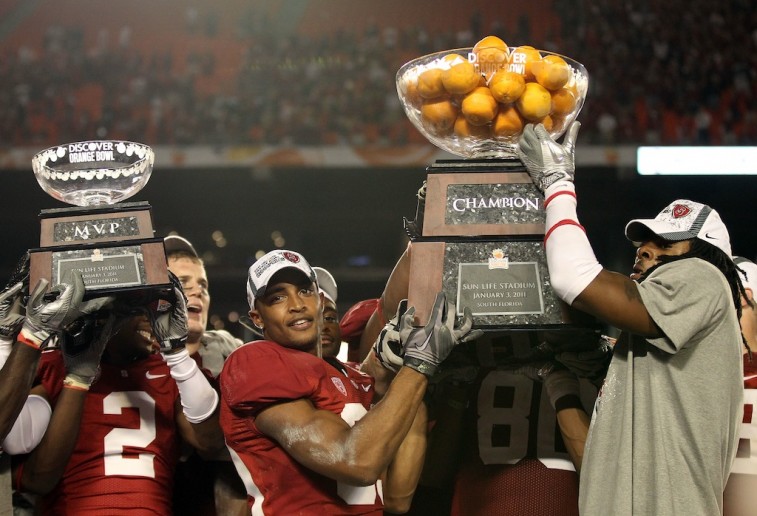 Jim Harbaugh wins. That's just what he does.
From 2004-06, Harbaugh was the head coach at the University of San Diego. In three years, he had an overall record of 29-6, and led the Toreros to two Division I-AA Mid-Major national titles. Following that stint, Harbaugh would head to Stanford University, to take over a program that had gone 1-11 the year before. By 2010, Harbaugh had built the Cardinal into a national power. The team finished the year 12-1, fourth in the AP, and winners of the Orange Bowl. Of course, Harbaugh had bigger aspirations. Which is why he would take his talents to the NFL in 2011.
Harbaugh may not have led the San Francisco 49ers to a victory in the Super Bowl, but he did help transform this franchise into a winner again. In his four seasons coaching the red and gold, Harbaugh won two division titles, a conference championship, and finished with a combined record of 44-19-1. There's no denying that he had worn out his welcome toward the end of his tenure with the Niners, but that doesn't diminish all that he accomplished on the sidelines.
The Michigan Wolverines wanted to bring back a familiar face; one who understood the traditions of the university and knew how to instill a winning mentality. With this in mind, there was clearly only one man for the job. Jim Harbaugh has won everywhere he's ever been. There's no reason to think he can't do that at Michigan. Therefore, don't be surprised if the Wolverines bring the Big Ten title back to Ann Arbor.
All statistics are courtesy of Sports-Reference.com and ESPN.go.com.