5 Reasons Why the Carolina Panthers Will Win Super Bowl 50
The once empty Carolina Panther bandwagon has gradually filled up throughout the regular season and playoffs — to the point where the wheels might fall off anywhere between Charlotte and San Francisco. Last season, the Panthers went 7-8-1, which was somehow good enough to win the then-maligned NFC South and to host one playoff game. In the Wild Card Round, the Panthers did outlast the Arizona Cardinals, who were down to their third-string quarterback, before heading off to Seattle and getting their doors blown off in front of the 12th man.
This offseason, primary target Kelvin Benjamin blew out his knee at training camp and was out for the season, before camera crews cut away to shocking footage of a franchise quarterback in a pile brawling with starting cornerback Josh Norman. Against this backdrop, the Panthers went to rattle off 14 straight wins, before finally taking a road loss 20-13 in Atlanta. From there, Carolina dominated its next three opponents by a combined 118-49 score.
Last week, the Panthers put a signature stamp on their season, in spanking the Arizona Cardinals 49-15 in the NFC Championship Game. Carolina opened up with a controlled fury, racing out to a commanding 34-7 lead, before dabbing and dancing their way to the end zone and handing out footballs to young spectators. In taking the Super Bowl, for the five following reasons, the Carolina Panthers will win over even more fans. From here, broadcasters will likely go into the inevitable Dynasty talk, while confetti streams down upon the head of Cam Newton.
5. Luke Kuechly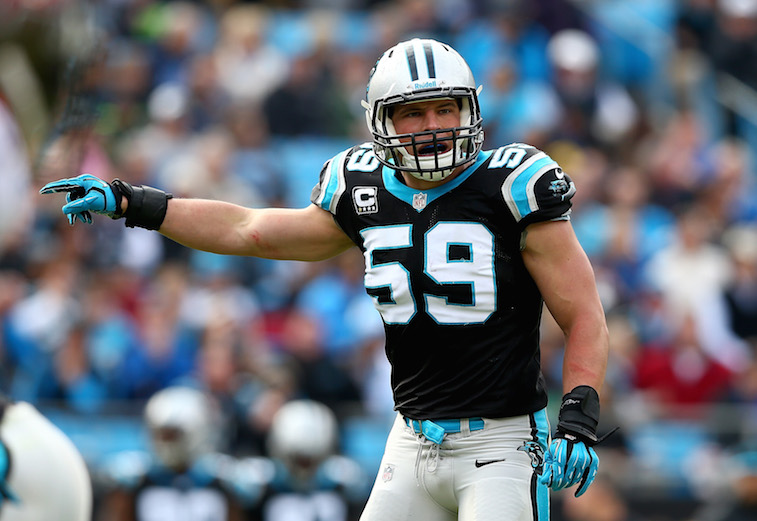 Luke Kuechly is now the man of the hour — at middle linebacker for Carolina. In Week 1, Kuechly did suffer a concussion and was out for the next three weeks in following league protocol. Still, Kuechly racked up 76 tackles, four interceptions, two forced fumbles, and one sack, despite missing out on significant playing time. In completing his comeback, Kuechly reinstalled himself as the unquestioned leader of a dominant defense that gave up a mere 19 points per game this season — good for sixth best in the NFL.
Against the run, Kuechly is especially adept at diagnosing plays, shedding blockers, and making stops at the point of attack. In passing situations, Kuechly will also stay on the field — to match up against backs and tight ends stride for stride, or even drop back to patrol the deep middle. To mix things up, Kuechly will sometimes feint a drop into coverage, before shooting the gap to tee off upon the quarterback.
For students of the game, the chess match, mind games, moves, and counter moves between Kuechly and Peyton Manning will be a special treat. Manning, at 39, does lack the arm strength of his prime. Expect Kuechly to bait Manning into a costly mistake and a turnover that will swing the entire momentum of the ball game. Kuechly, for his part, did come up with pick-six interceptions in two consecutive playoff routes for the Panthers.
4. Riverboat Ron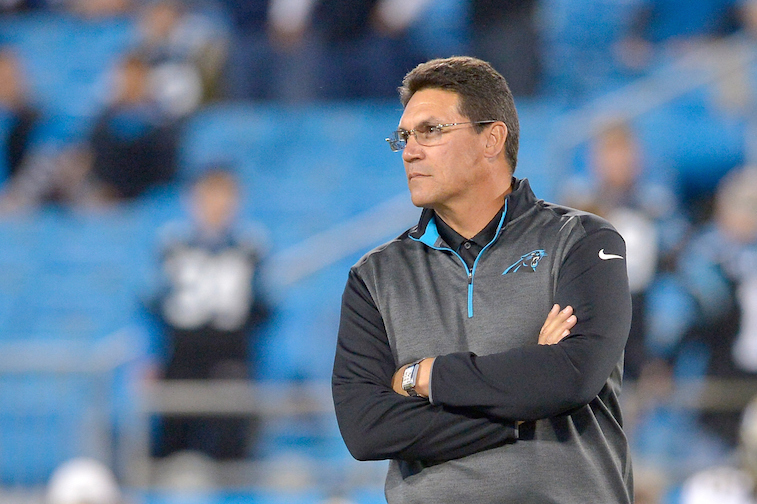 Ron Rivera, with time, has completely reinvented himself to stay up to speed with the modern game. As a young coach, this former '85 Bear came directly out of his old school, with his ground-and-pound approach to controlling the line of scrimmage, running the football, playing for field position, and tightening up on defense. In recent years, however, Riverboat Ron has fully emerged to install gadget plays, take his shots down field, and go for it on fourth down. This aggressiveness and swagger is now the definition of Carolina football.
In Newton, Ron Rivera and offensive coordinator Mike Shula now have the most dangerous dual-threat weapon in the game at his disposal. As a traditional, drop-back passer, Cam has improved significantly with time, going through his progressions and working the seams to the likes of preferred target Greg Olsen. After loosening up the defense, the Carolina coaching staff will mix in a series of designed runs for their quarterback out of the shotgun spread attack. Cam Newton, at 6-foot-5, 250 pounds, is fully capable of taking off in space and lowering the boom out on the edge.
Expect Riverboat Ron to take one big gamble, with the game on the line, to swing the momentum toward Carolina's favor. In Super Bowl XLIV, Sean Peyton and the Saints opened up the second half with an onside kick that completely blindsided Manning and his Colts. For Super Bowl 50, Manning and these Broncos may be due for a repeat lesson, with Riverboat Ron signaling in a fake punt, statue of liberty, or flea-flicker gadget play right in the heat of the moment.
3. A Brittle Peyton Manning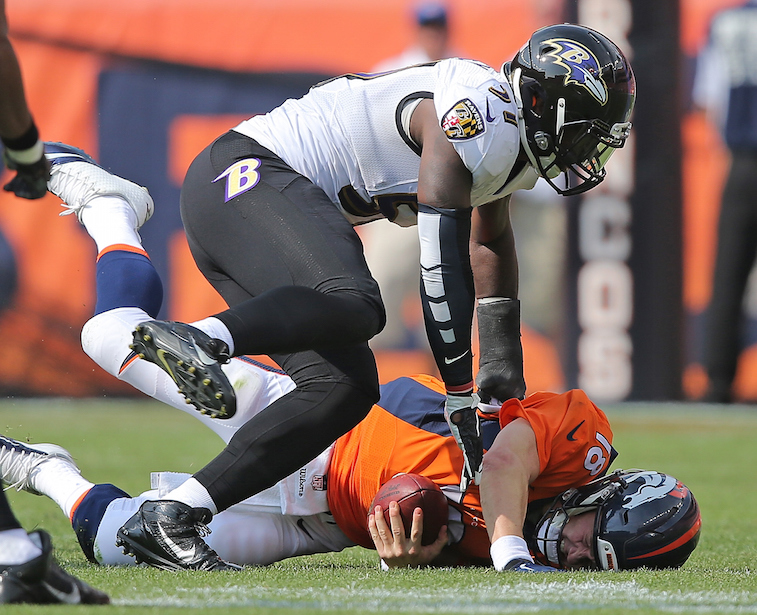 The Denver Broncos have successfully reinvented themselves on the fly. As recently as 2014, the Broncos were in Super Bowl XLVIII, after going 13-3 through the regular season. That year, Peyton Manning lit up defenses for 5,477 yards and a record 55 touchdown passes to a receiving corps featuring Wes Welker, Julius Thomas, and Demariyus Thomas. Last season, Manning was still true-to-form, in completing 66% of his passes, for 4,727 yards and 39 touchdowns. Still, Manning and the Broncos are coming off two consecutive postseason blowout losses, despite the gaudy offensive statistics.
In response, the Broncos parted ways with head coach John Fox and brought in John Elway's former backup for the position. In working together, both Elway and Kubiak pledged to strengthen the team defense and running game in full support of their quarterback. In 1998, John Elway went out on top, after winning back-to-back titles to close out his storybook career.
For Manning, the results have been somewhat mixed this season. Manning did go 7-2 as the regular season starter, despite tossing 17 picks against only nine touchdowns. The Broncos did install Brock Osweiler through the stretch run, while Manning battled through a series of nagging injuries and bizarre HGH accusations. For his part, Osweiler went 5-2, in managing the game. In Week 17, Kubiak took a gamble of his own by first reinstalling Manning into the San Diego game and then continuing to ride the aging legend through the playoffs.
So far, this bet has paid off, with Manning winning two games in the 2015-2016 playoffs without turning the ball over. The Carolina Panthers, however, are likely to dial up the blitz against Manning, with Josh Norman locking up man-to-man upon Demaryius Thomas. By the fourth quarter of Super Bowl 50, expect a visibly agitated Manning to take multiple sacks behind the line of scrimmage, coughing up the football and floating easy picks into press coverage. Manning, at 39, is set to look every day his age in the big game.
2. Disrespect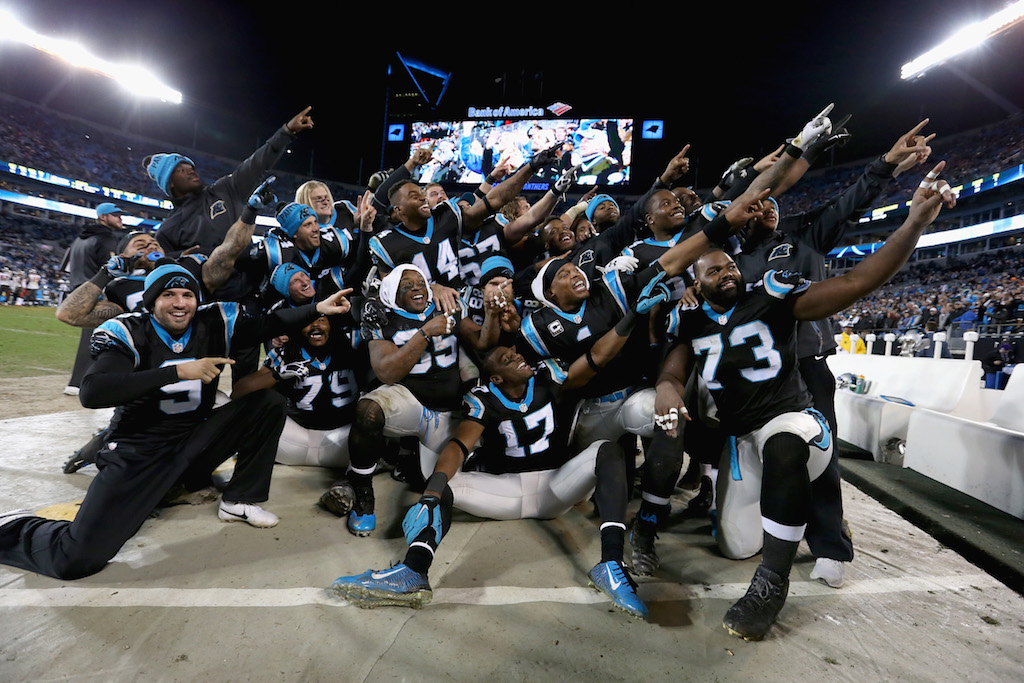 Last November, sportswriter Neil Payne drew the permanent ire of Carolina Nation, when he defined the Panthers as the "worst team to ever start 11-0." In backing his case, Payne threw out a laundry list of sports analytics, such as the Simple Rating System, Elo, Expected Points Added, and Defense-adjusted Value Over Average, and compared these complex metrics against the likes of the 2007 Patriots, '72 Dolphins, and '85 Bears.
This latest case of disrespect certainly served as more bulletin board material and motivation for these Carolina Panthers. In retrospect, the blowback from this point marked a turning point in the season, with the Panthers going on to perform with a controlled fury. After losing to the Falcons, the Panthers rolled over their next three opponents by a combined 118-49 score, with each of these games all but over by halftime.
The Panthers did go 15-1 to close out the regular season, with the top offense and sixth-rated defense in the game of football. Many cynics compared the relative lack of attention and respect for Carolina against the frenzied media circus surrounding Tom Brady and the Patriots. In Week 11, the Panthers were actually two-point underdogs on the road against the then 3-7 Cowboys.
The Broncos, if they cannot withstand their initial Super Bowl jitters, will be at the risk of getting their doors blown off early in the ballgame. Expect camera crews to cut away to various scenes of Carolina Panther players wolfing away at the opposition, before celebrating on the sidelines in the fourth quarter.
1. Cam Newton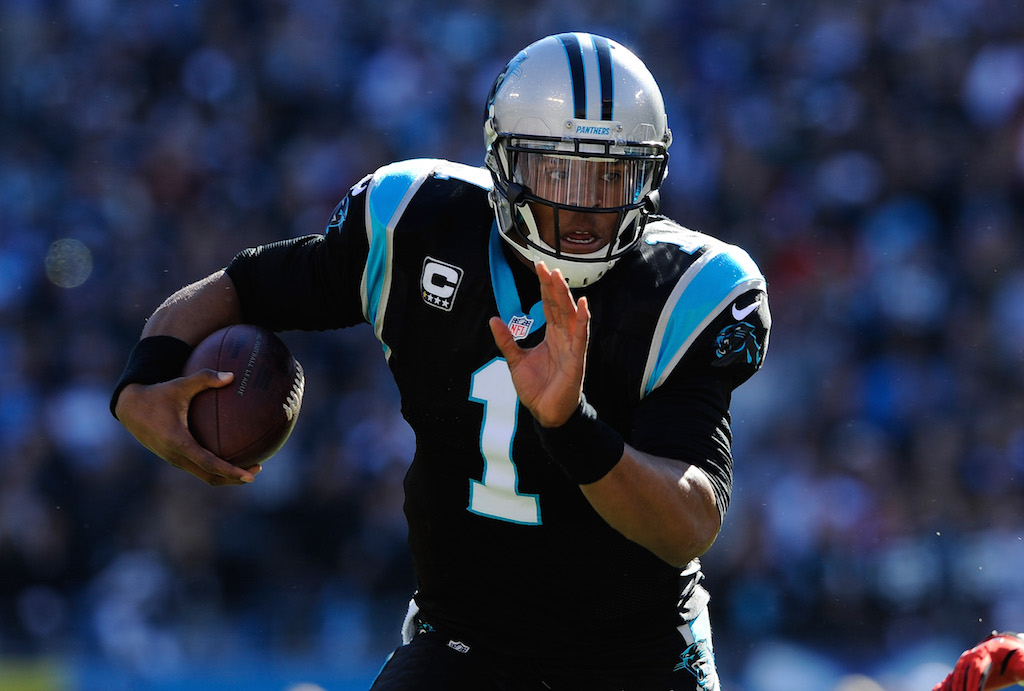 For Newton, adding an MVP trophy to his mantle appears to be all but a formality after putting together a near flawless season for Carolina. In leading the charge, Newton completed 60% of his passes for 3,837 yards and 35 touchdowns — against only 10 interceptions. By doing so, Newton left his many critics with only his dab dance routines to criticize.
Newton, as a dual-threat quarterback was the focal point behind a surprisingly efficient offensive attack that put up a league-leading 31 points per game. With time, Newton grew especially good at working the underneath routes to tight end and security blanket Olsen. After baiting the defense to commit, Newton will not shy away in going over the deep-threat Ted Ginn Jr.
Beyond the rocket arm, Newton was also the second leading rusher on the team, with 636 yards and 10 touchdowns on the ground. After teeing off upon statuesque Brady, the Bronco pass rush may find itself neutralized and humiliated. A quarterback keeper to convert third-and-long may very well ice the big game away — and serve as another signature moment for this Heisman Trophy owner and BCS champion. Newton has remained a winner at all levels.
Statistics courtesy of Pro-Football-Reference.com.