5 Reasons Why We Love World Series Game 7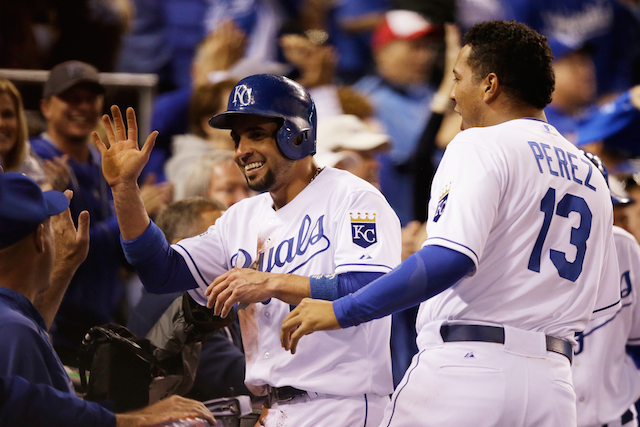 The Kansas City Royals and San Francisco Giants will square off Wednesday night with baseball's ultimate prize, the World Series trophy, on the line. Kansas City's Jeremy Guthrie and San Francisco's Tim Hudson will take the mound to try and deliver a championship for their franchises. There's something special about a Game 7 — in any sport, really — and if you're like us, you can't wait to see the drama unfold. It's a somewhat rare treat, as this is just the second World Series Game 7 since 2002.
Here are five reasons why there's nothing like Game 7 in sports — we're getting excited already (and reading this list will hopefully help you kill a few minutes of your day until it's time to "Play Ball!").
1. The stakes are never higher
One mistake, one error, one slip-up can cost a team a championship. One clutch hit can finally capture a trophy that's taken approximately 180 games of blood, sweat, and tears to win. Each decision — steal or don't steal, curve or changeup, shift or don't shift, swing or don't swing — has higher ramifications than at any other time in a manager or player's career. Some embrace the pressure; others crumble against it. We won't know who does which until all nine (or hopefully more) innings are over Wednesday night.
2. It's unpredictable
The Game 7 hero could be a big name, or it could be someone the casual fan has never heard of before. Tonight could be an 11-10 slugfest … or a 1-0 pitchers' duel. Every baseball expert (self-proclaimed or otherwise) in America will make a prediction on how Game 7 could unfold, and none of them really have any clue what's going to go down in Kansas City on Wednesday night. Will we get a blowout, like last night's 10-0 whitewashing? Or are we destined for a walk-off? Tune in to find out.
3. Teams don't hold anything back
Managers Ned Yost and Bruce Bochy will employ every last weapon in their arsenals tonight, using each trick or move at their disposal to desperately try and gain a winning edge. When there's no tomorrow, there's no reason to save anyone for tomorrow. So if you're hoping to see Giants ace Madison Bumgarner, even though he threw 117 pitches on Sunday, make the most important appearance of his career at some point during Game 7, you might not be disappointed.
4. You can see it on the fans' faces
How does the expression go? A picture says a thousand words. Or, to put it in World Series terms, a camera shot of the emotional fans in the stands says a million words. There's nothing like watching a capacity crowd live and die with every pitch, every strike, every out, every hit, and every run while attending a game they'll never forget.
Home-field advantage could be a big deal for the Royals tonight, but regardless, whether Kansas City eventually wins or loses, if you happen to turn on the game late, you'll be able to tell whether the Royals are leading or trailing even if there was no scoreboard graphic on the screen. Just watch the faces of the blue-clad crowd. Will they go home deliriously happy with their first championship in 29 years? Or will they be heartbroken after the Giants pull out their third title in five seasons?
5. It's winner-take-all
Do we need to say any more? Everyone involved in sports loves winning and hates losing. But whether you win or lose, there's always the next game, the next day, the next series. Not when it comes to Game 7 of the World Series, though. Tonight decides everything. Let's get the game started already.