5 Sons of Former MLB Players Ready to Make a Name for Themselves
As the oldest of the four major professional sports leagues in the country, MLB relies in large part on its rich history and established traditions. Part of that history includes family legacies — players who had fathers who also played in the majors. Aaron Boone, Ken Griffey Jr., and Barry Bonds are just three of the numerous notable MLB players who carried on their father's lineage as a big league ballplayer.

In 2019, there are multiple players whose fathers also played. Here are five sons of former MLB players ready to make a name for themselves. (All stats are valid heading into games played on July 3, 2019).

Bo Bichette
Bo Bichette is the son of former Colorado Rockies' slugger Dante Bichette. According to CBS Sports, Bichette is hitting .365 with an on-base percentage of .465 and a slugging percentage of .554 along with two home runs and 11 RBIs. He's currently playing for the Blue Jays' AAA affiliate, the Buffalo Bisons.

Bichette is the second-best prospect in the Blue Jays' farm system. He doesn't seem to have his father's power, but he's also not playing in the thin air of Colorado. If it weren't for a nasty hit-by-pitch that led to a broken hand in April, he'd probably be playing for the big club already. His AAA stats indicate he's ready to make the jump after he heals his injury and join the list of father-son duos who were MLB players.
Fernando Tatis, Jr.
Few up and coming players entered 2019 with expectations as high as Fernando Tatis, Jr. The son of former major leaguer Fernando Tatis, Tatis Jr. was initially scheduled to start the season in the Padres' minor league system.

Padres' star Manny Machado begged to differ. Machado had dinner with Padres owner Ron Fowler asking to have the prospect start the season in the majors. That's how highly Machado and others within the Padres organization thought of Tatis Jr.

So far, Tatis Jr. is proving Machado right with 11 home runs and a hefty .330 batting average.

Vladimir Guerrero, Jr.
As a member of the Montreal Expos, Vladimir Guerrero was one of the greatest stars in Canadian baseball history. The elder Guerrero's Hall of Fame status makes him one of the best MLB players ever. If the early returns are any indication, his son Vladimir Guerrero, Jr. of the Toronto Blue Jays may join him.

At only 20 years old, Guerrero Jr. has a lot of potential left to fulfill. So far in his rookie season, he has eight home runs and 25 RBIs to go with a .331 on-base percentage.
While his home run numbers aren't otherworldly just yet, one gets the feeling that Guerrero Jr. is on the cusp of stardom. He's planning to participate in the 2019 Home Run Derby, and if his preparation for the event is any indication, baseball fans will be in for a real show.

Adalberto Mondesi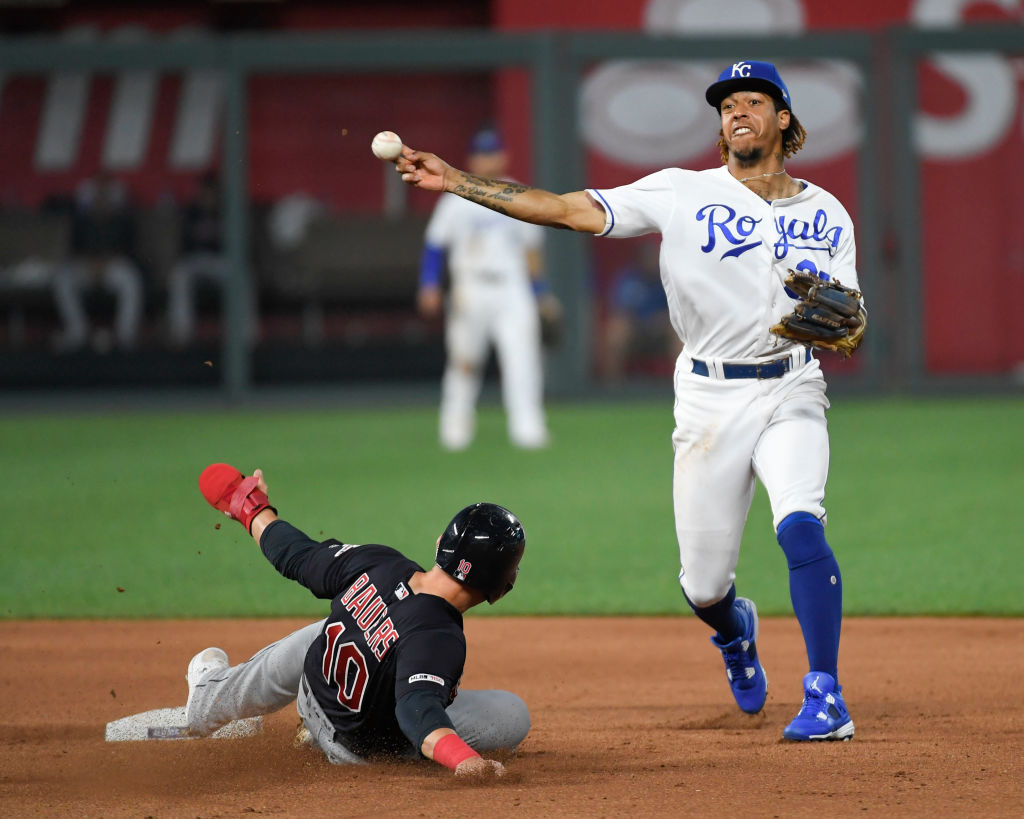 During his playing days, Raul Mondesi's quick bat speed and rifle for an arm made him a standout. His son, Raul Adalberto Mondesi, may play a different position — he's a middle infielder — but he's no less talented than his dad. Last season was Mondesi's first significant time at the major league level with the Kansas City Royals, and he showed wonderful flashes of what is to come.

In 2018, he hit 14 home runs in 291 plate appearances. This year, he has seven home runs before the All-Star break while leading the league in triples (eight) and stolen bases (27). Mondesi just came off the IL with a groin injury as MLB heads to the All-Star break — perfect timing to keep him refreshed and ready to go in the second half.

Cavan Biggio
Craig Biggio was a Hall of Fame second baseman for the Houston Astros. His son, Cavan, is showing shades of his father in his first season with the Blue Jays. At 24 years old, Biggio has six home runs and 22 RBIs in only 33 games. Over a 162-game season, those numbers would project out to 29 home runs and 108 RBIs. Those are All-Star quality numbers.