5 Struggling NBA Rookies This Season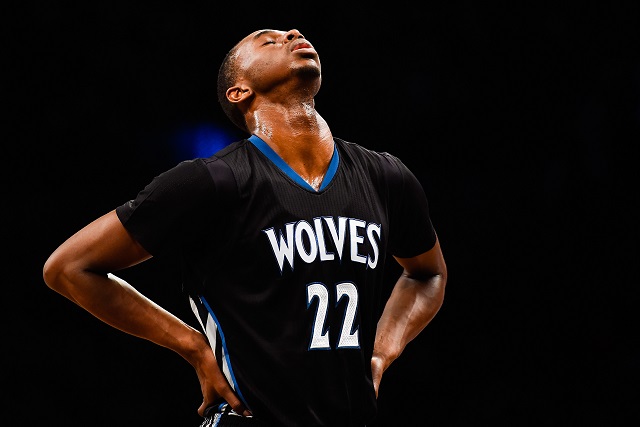 It is not uncommon for newbies to have difficulty in the NBA. Like most professional leagues, the NBA games moves at a faster pace. The players are stronger, there is more wear and tear on one's body, and there is a physicality to the pro level that can certainly not be experience while in college. Not everyone can be LeBron James. There are very few players who come into the league and dominate right away. It doesn't happen. And it's not supposed to happen. So, it comes as a rude awakening to the young guys who have dominated the game for most of their lives.
There is a reason they call it "the rookie wall." First-year players hit that mark, and then we get to discover if they have what it takes to push through, or if they're not quite ready to bang with the big boys. So far this season, there have been a few standouts who have shown their readiness to compete at the highest level. Others have shown that their game still needs work. While there is no telling how these players' careers will turn out, these players are currently struggling to adapt to the rigors of the NBA.Let's take a look at five of these rookies.
All statistics are courtesy of Basketball-Reference.com and ESPN.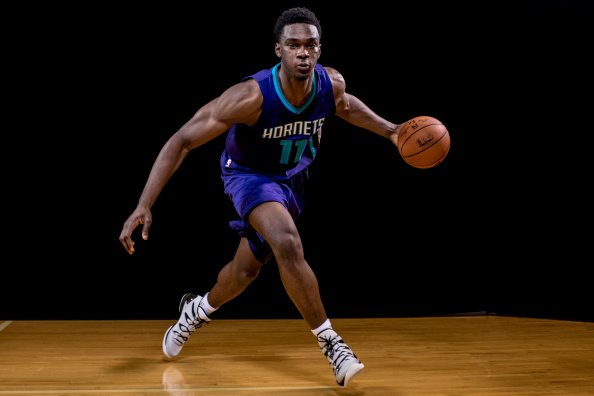 1. Noah Vonleh, power forward, Charlotte Hornets
2014-2015 Statistics: 2.1 PPG, 2.3 RPG, 0.1 APG
There is a lot to like about former Indiana standout, Noah Vonleh, which is why the Charlotte Hornets were thrilled when he fell to them at the 9th pick in this year's draft. The power forward is 6-foot-10, and long. He can play inside and, yet, also has the ability to extend the floor and shoot the rock from outside. However, at 19, Vonleh is still just a kid. And his age has shown in the NBA, where this is a man's game.
Another setback in the development of Vonleh's game, which was already pretty raw to begin with, was the hernia injury he suffered before the season began. It's already challenging enough to adjust to the speed of the NBA, but it's even more difficult if you miss your rookie year training camp. These are among the reasons why coach Steve Clifford hasn't given Vonleh many minutes.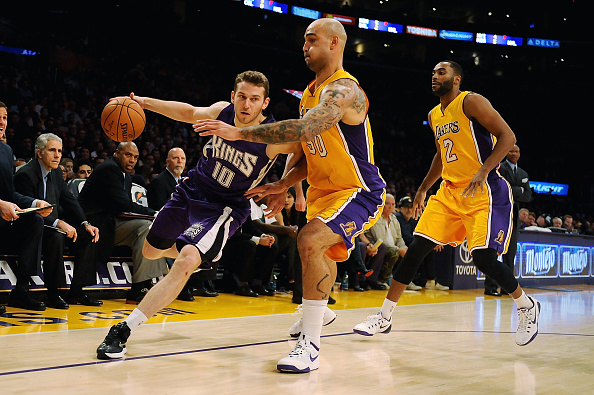 2. Nik Stauskas, shooting guard, Sacramento Kings
2014-2015 Statistics: 3.6 PPG, 1.1 RPG, 0.7 APG
Nik Stauskas was a lights-out shooter for the Michigan Wolverines. However, you wouldn't know it by the way his rookie campaign is going. The numbers aren't there, and he's only shooting 26.9% from 3-point range. Stauskas has been too timid on the floor, and his teammates have noticed this hesitation. But, they want him to keep shooting.
Nik Stauskas is playing the game as if he's afraid to miss. But, the Sacramento Kings are well aware of his shooting touch, which is why the 6-foot-6 shooting guard was an obvious lottery selection. In order to succeed in the NBA, one needs thick skin and a whole lot of confidence. So far this season, Stauskas could truly use some of the latter.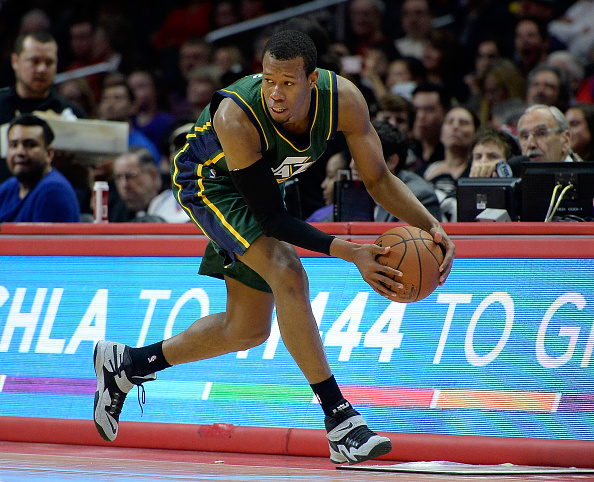 3. Rodney Hood, shooting guard, Utah Jazz
2014-2015 Statistics: 5.3 PPG, 1.3 APG, 2.3 RPG
While the Duke Blue Devils didn't live up to expectations in the NCAA tournament last season, they did have two very exciting prospects set to make a splash in the NBA. Everyone knew about Jabari Parker, but the other heralded Devil was shooting guard Rodney Hood. This sharpshooting lefty is super smooth on the basketball court and, at 6-foot-8, can cause matchup issues at the two-guard position. The Utah Jazz were very excited about Hood's upside, and his natural scoring ability. Unfortunately, things haven't exactly been going as planned.
Rodney Hood showed extreme promise in the preseason, but it's been a different story in the regular season. Hood has been limited during the season, only playing 22 games, but his recent foot injury couldn't have come at a worse time. And now, it appears he'll be out indefinitely. That is not good for Rodney Hood or the Utah Jazz.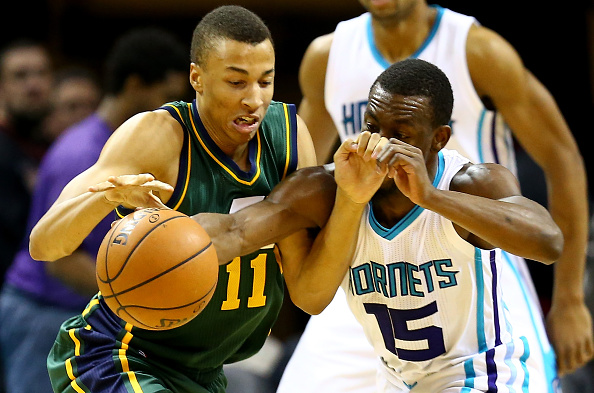 4. Dante Exum, point guard, Utah Jazz
2014-2015 Statistics: 5.0 PPG, 1.4 RPG, 1.9 APG
Let's be clear, Dante Exum is starting to make strides in his rookie year. The 6-foot-6 Australian point guard has a very nice handle, and he's shown that he can compete at the international level. He has a great height advantage for the point guard position, and he will only get stronger as his career unfolds. Exum also showed promise in his first start for the Utah Jazz. However, he definitely still needs a lot of work.
Exum has struggled to gain consistent minutes for the Jazz, and he's shooting under 40% on the year. None of this is to say that Exum won't turn out to be a fantastic pro. But, he never played college ball, and one can assume that this is the best competition he's ever faced in his life. Expectations were extremely high for this kid, albeit, probably too high. His ceiling is very very high, but he needs time to develop. He hasn't dominated as a rookie, but he has all the potential in the world.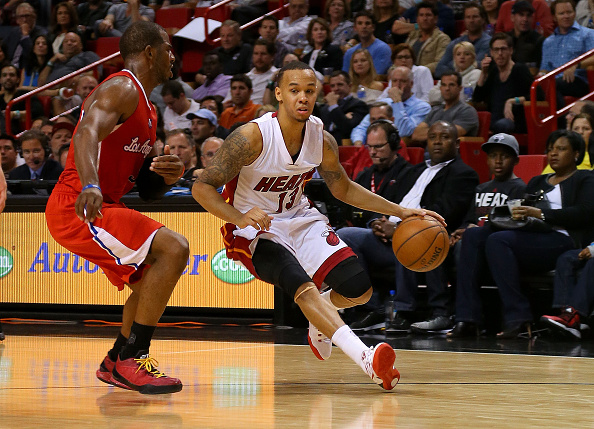 5. Shabazz Napier, point guard, Miami Heat
2014-2015 Statistics: 5.5 PPG, 1.8 APG, 2.2 RPG
We can only imagine how difficult it must be to lead your college team to an unlikely NCAA championship, get praised by LeBron James, and then come to the NBA and try to maintain that level of high quality ball. It has to be hard for Shabazz Napier. And his rookie year is certainly not going as planned for the former UConn superstar.
Shabazz Napier is learning the hard way that the NBA is a faster game. And he is having a very tough time finding a spot in the Miami Heat rotation. Not on has he been stuck behind two point guards, but he has been sent down to the D League for the second time this season. For a player who was already having trouble adjusting to life in the NBA, this has to be disheartening. Here's to hoping that Napier uses this time to his advantage. It never hurts to get more minutes. And Napier really needs the practice.