5 Teams That Won During the 2015 NFL Draft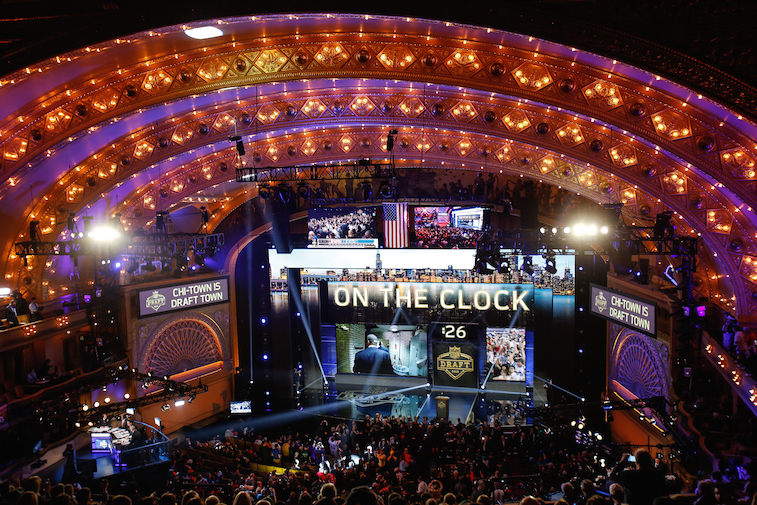 The 2015 NFL Draft has come and gone. As usual, some fan bases feel a lot better about their draft haul than others. In grading draft classes, it's important to remember that the players in question have yet to even participate in an NFL minicamp, let alone play in a game at the sport's highest level. There will be several players in the 2015 draft class who wind up making multiple Pro Bowl rosters and All-Pro teams, but the harsh reality of the matter is that the majority of the 256 players who were selected this year will have brief NFL careers.
We have put together a list of the five teams we believe have the best draft classes in 2015. Before we get into that, there are a few important notes to touch on. The Seattle Seahawks were without a first-round pick this year after sending their No. 31 overall pick to the New Orleans Saints as a part of the blockbuster trade that sent All-Pro tight end Jimmy Graham to Seattle.
If you factor Graham into the Seahawks' draft class, there is no denying that they would be arguably the biggest winner of the 2015 draft. The Seahawks essentially landed Graham with the 31st overall pick in the draft; Russell Wilson's new No. 1 target is a proven All-Pro caliber player in the NFL, something that cannot be said about any other player who was taken over the course of the three-day event.
Three teams that did not make our top five but deserve mentioning are the Philadelphia Eagles, Jacksonville Jaguars, and Washington Redskins. All three teams had deep classes from top to bottom, while also filling several positions of need. With that being said, here is look at five teams that won during the 2015 NFL Draft.
1. Cleveland Browns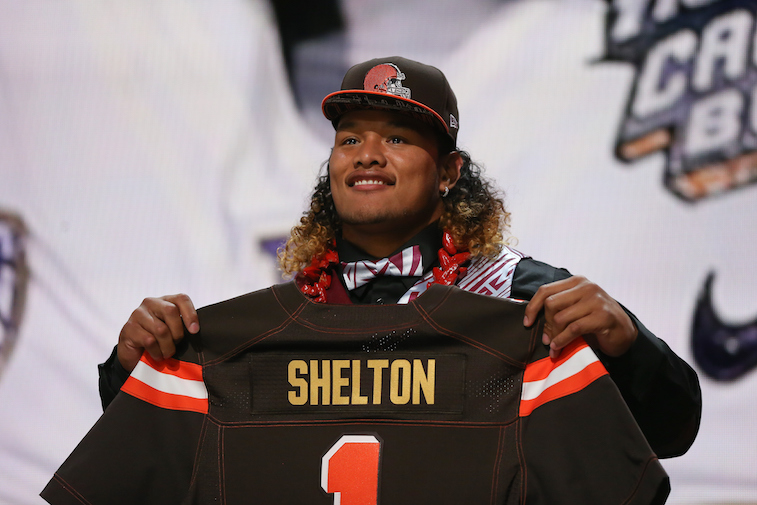 Picks:
Round 1, pick 12 – Danny Shelton, defensive tackle, Washington
Round 1, pick 19 – Cameron Erving, center, Florida State
Round 2, pick 51 – Nate Orchard, outside linebacker, Utah
Round 3, pick 77 – Duke Johnson, running back, Miami (Fla.)
Round 3, pick 96 – Xavier Cooper, defensive tackle, Washington State
Round 4, pick 115 – Ibraheim Campbell, safety, Northwestern
Round 4, pick 123 – Vince Mayle, wide receiver, Washington State
Round 6, pick 189 – Charles Gaines, cornerback, Louisville
Round 6, pick 195 – Malcolm Johnson, tight end, Mississippi State
Round 6, pick 198 – Randall Telfer, tight end, USC
Round 7, pick 219 – Hayes Pullard, inside linebacker, USC
Round 7, pick 241 – Ifo Ekpre-Olomu, cornerback, Oregon
A year after drafting two players in the first round who both turned out to have major off-field issues, the Browns quietly pulled in an impressive 12-player haul during the 2015 NFL Draft. In the first round, the Browns landed defensive tackle Danny Shelton, who should be a Week 1 starter, and offensive lineman Cameron Erving, who may start his career at guard before eventually taking over for All-Pro Alex Mack at center.
In the second round, the Browns got an underrated player in outside linebacker Nate Orchard. The former Utah Ute should be able to come and pressure the quarterback on passing downs right away. Running back Duke Johnson, a third round pick out of Miami (Fla.), has the ability to end up being the team's starter when it's all said and done.
Finally, former Oregon cornerback Ifo Ekpre-Olomu, the Browns' last pick, could end up being the steal of the draft if he can make a full recovery from the knee injury he suffered last December. The one position the Browns failed to address was wide receiver, but there is still no doubting that there is reason for optimism in Cleveland following the 2015 NFL Draft.
2. New York Jets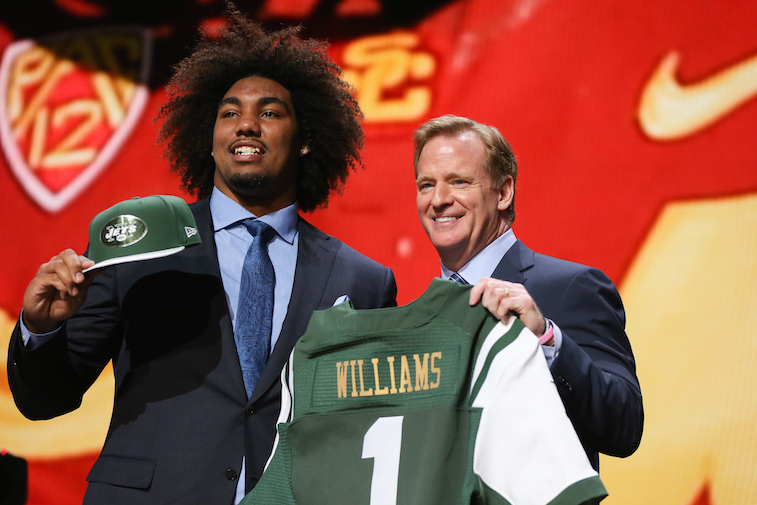 Picks:
Round 1, pick 6 – Leonard Williams, defensive end, USC
Round 2, pick 37 – Devin Smith, wide receiver, Ohio State
Round 3, pick 82 – Lorenzo Mauldin, outside linebacker, Louisville
Round 4, pick 103 – Bryce Petty, quarterback, Baylor
Round 5, pick 152 – Jarvis Harrison, offensive guard, Texas A&M
Round 7, pick 223 – Deon Simon, defensive tackle, Northwestern State
The Jets have had a busy offseason, and it's hard not to be impressed by the job General Manager Mike Maccagnan has done in his first offseason on the job. He started things off by acquiring wide receiver Brandon Marshall from the Chicago Bears for only a fifth-round draft pick. Maccagnan followed that up by landing All-Pro cornerback Darrelle Revis in free agency in addition to several other notable players.
The Jets kept their strong offseason going through the 2015 draft, as well. They landed former USC defensive lineman Leonard Williams, who most experts viewed as the top player in the Draft, with the sixth pick in the first round. Maccagnan followed that up by taking Devin Smith, an explosive wide receiver out of Ohio State, in the second round, and former Baylor quarterback Bryce Petty, who many experts felt was the third-best quarterback in this class, in the fourth round.
On top of those excellent value picks, the Jets also swung a trade for running back Zac Stacy by sending a seventh-round pick to the St. Louis Rams in exchange for the 24-year-old tailback. The 2015 draft did nothing but further solidify the Jets' case for having the best offseason in the league this year.
3. Miami Dolphins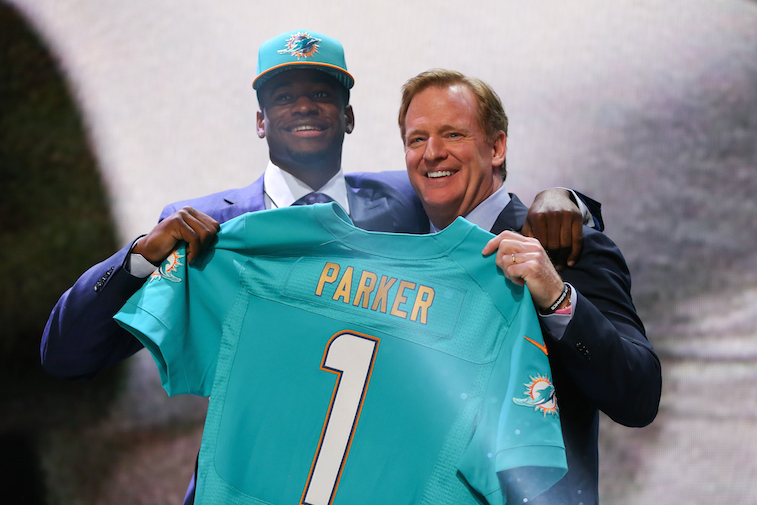 Picks:
Round 1, pick 14 – DeVante Parker, wide receiver, Louisville
Round 2, pick 52 – Jordan Phillips, defensive tackle, Oklahoma
Round 4, pick 114 – Jamil Douglas, offensive guard, Arizona State
Round 5, pick 145 – Bobby McCain, cornerback, Memphis
Round 5, pick 149 – Jay Ajayi, running back, Boise State
Round 5, pick 150 – Ced Thompson, safety, Minnesota
Round 5, pick 156 – Tony Lippett, wide receiver, Michigan State
The Dolphins followed up an aggressive spending spree in free agency by pulling in one of the most impressive draft classes in the league this year. Their first-round pick, former Louisville wide receiver DeVante Parker, could very well develop into an elite wide receiver in the NFL. The Dolphins' second-round pick, defensive tackle Jordan Phillips out of Oklahoma, has the ability to pair with free agent addition Ndamukong Suh to give the Dolphins one of the best interior defensive lines in the league.
If former Boise State running back Jay Ajayi proves to be fully healthy, he could be one of the steals of the draft. The Dolphins were a team that was close to being a postseason contender in 2014, and given their strong offseason, it wouldn't be surprising to see them earn a playoff spot in 2015.
4. Baltimore Ravens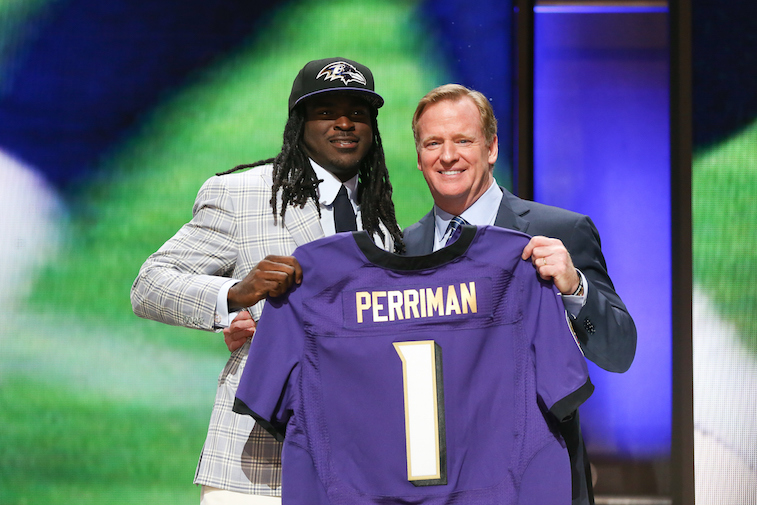 Picks:
­

Round 1, pick 26 – Breshad Perriman, wide receiver, Central Florida
Round 2, pick 55 – Maxx Williams, tight end, Minnesota
Round 3, pick 90 – Carl Davis, defensive tackle, Iowa
Round 4, pick 122 – Za'Darius Smith, defensive end, Kentucky
Round 4, pick 125 – Buck Allen, running back, USC
Round 4, pick 136 – Tray Walker, cornerback, Texas Southern
Round 5, pick 171 – Nick Boyle, tight end, Delaware
Round 5, pick 176 – Robert Myers, offensive guard, Tennessee State
Round 6, pick 204 – Darren Waller, wide receiver, Georgia Tech
This is beginning to seem like an annual occurrence, but the Ravens again pulled in one of the top draft classes in the league this year. Their first-round pick, former Central Florida wide receiver Breshad Perriman, should adequately fill the hole left by Torrey Smith's departure in free agency, and second-round pick former Minnesota tight end Maxx Williams could end up being the team's Week 1 starting tight end.
On top of that, Baltimore General Manager Ozzie Newsome got excellent value in taking former Iowa defensive tackle Carl Davis in the third round. Where the Ravens may have won the most in this draft is from the fourth round on. All six of the team's day three picks have the ability to make a serious run at making the Ravens' 53-man roster and developing into starting-caliber NFL players. This draft class is further evidence that Newsome deserves recognition as a Hall of Fame-level general manager, as well as a Hall of Fame player.
5. Pittsburgh Steelers
Picks:
Round 1, pick 22 – Bud Dupree, outside linebacker, Kentucky
Round 2, pick 56 – Senquez Golson, cornerback, Ole Miss
Round 3, pick 87 – Sammie Coates, wide receiver, Auburn
Round 4, pick 121 – Doran Grant, cornerback, Ohio State
Round 5, pick 160 – Jesse James, tight end, Penn State
Round 6, pick 199 – L.T. Walton, defensive tackle, Central Michigan
Round 6, pick 212 – Anthony Chickillo, defensive end, Miami (Fla.)
Round 7, pick 239 – Gerod Holliman, safety, Louisville
The Steelers' first round Draft pick, former Kentucky outside linebacker Bud Dupree, not only filled a huge need, but he is also one of our early favorites to win the 2015 NFL Defensive Rookie of the Year award. Second-round pick cornerback Senquez Golson, out of Ole Miss, has the ability to be a Pro Bowl player and is another player that fills a glaring need.
If things go well, third-round pick former Auburn wide receiver Sammie Coates could become a poor man's Antonio Brown. The Steelers' day three picks were no laughing matter, either. Defensive tackle L.T. Walton, defensive end Anthony Chickillo, and safety Gerod Holliman are all players who could end up making the team's 53-man roster. Don't be surprised if four or five of the Steelers' 2015 draft picks have an impact as rookies.