5 Thoughts on the LeSean McCoy Trade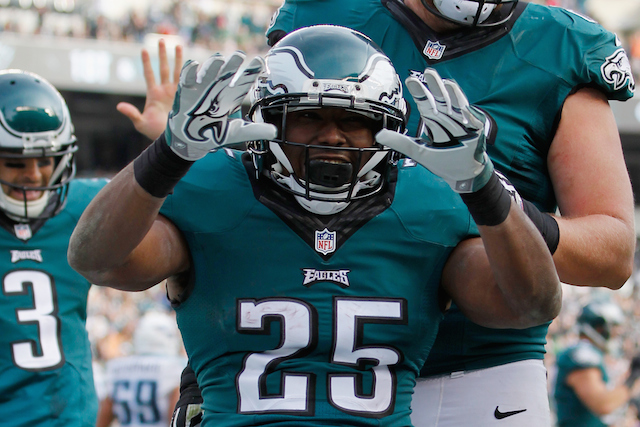 If you have an Eagles No. 25 jersey, it might be time to purchase a new one.
As reported by ESPN's Adam Schefter on Tuesday, the Philadelphia Eagles have agreed to trade Pro Bowl running back LeSean McCoy to the Buffalo Bills in exchange for linebacker Kiko Alonso. Once again Chip Kelly has proven that no player on the Eagles roster is off limits. This is his show now, and he's going to do what he thinks is best for the organization, or at least what he feels is best for the organization that he envisions. Like it or not, this is how things are working now in Philadelphia. And now that we've had time to process this latest development, here are our five thoughts on the LeSean McCoy trade.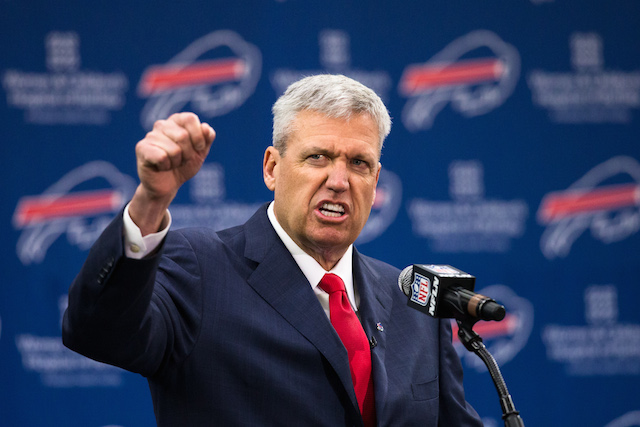 1. Rex Ryan has his running back
Everyone knows that Rex Ryan likes to build his offense around a strong ground and pound game. Well we're not sure about the "pound" part, but the new Buffalo Bills coach has certainly acquired a weapon on the "ground" front. In LeSean McCoy, the Bills are getting a 26-year-old who ran for 1,319 yards last season and led the league in 2013 with 1,607 yards on the ground. Although it would seem that McCoy's shifty, East-and-West running style doesn't fit the usual power back model that Ryan usually employs, there is no question that he's a major upgrade compared to what they currently have on the roster. Last season Buffalo finished 25th in the league in rushing with a total of 1,482 yards on the ground. We think this addition will help them improve in that category come next season.
2. Eagles should be massive players in free agency
Prior to the McCoy trade, the Eagles had already done a lot to create more cap space. On Tuesday they also released veteran defensive end Trent Cole, who was set to make $11.625 million against the cap, and cornerback Cary Williams, whose salary-cap number would've been $8.17 million. By sending McCoy to the Buffalo Bills, the Eagles removed a contract that was going to count for $11.95 million against their 2015 salary cap. Whether you like the decision or not, it's clear that this now provides the Eagles with a lot of financial flexibility going into free agency. There are a lot of glaring holes on the Philadelphia Eagles, specifically at cornerback and safety. With now around $50 million in salary-cap space, you can expect the Eagles to go out and spent some dough.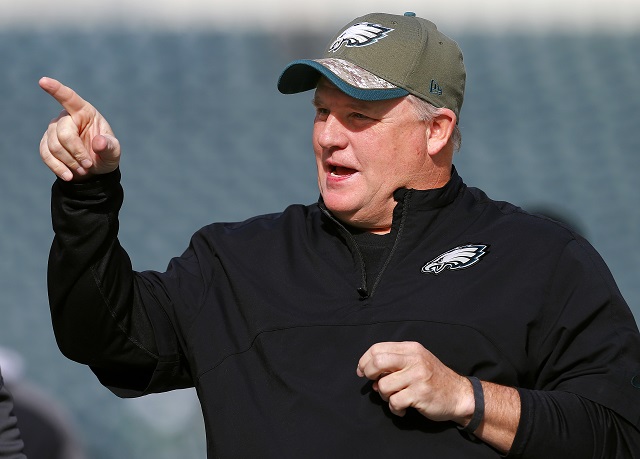 3. Chip's culture is king
With this latest overhaul, Chip Kelly continues to affirm that he is indeed in charge of all player-related decisions for the Philadelphia Eagles. With complete control over player personnel, Kelly is now free to mold the team in his image, and that's exactly what he's doing. He believes in his philosophies, and it's those ideals that make up the culture he is trying to instill in the Eagles organization. And a major one of those convictions is the idea that his system is more important than the players. Now it's time to see if that feeling comes back to haunt him.
4. Potential linebacking foundation in Philly
The Eagles already have a super talented middle linebacker in Mychal Kendricks, and now they've added another gifted inside linebacker by acquiring Kiko Alonso. Although Alonso missed the entire 2014 season with a torn ACL, the former Oregon Duck had an impressive rookie campaign the year before. During the 2013 season, Alonso was a major playmaker for the Bills defensive, and he also recorded an impressive 159 tackles. There's no denying this kid's talent when he's healthy, but we won't know if he's fully recovered until he steps out onto the field. However, if Alonso comes back at full strength, the Eagles could be looking at the start of a successful linebacking corps for years to come.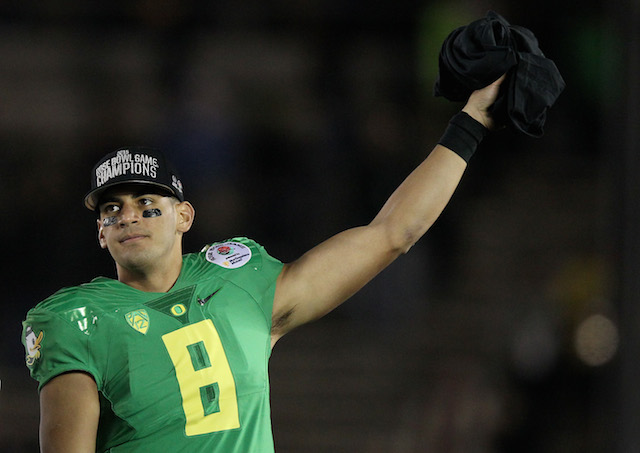 5. Is Mariota next for the Eagles?
We already know that Chip Kelly loves his former quarterback, but it was foolish to think he'd be able to get him with the Eagles sitting on the 20th pick in the 2105 NFL Draft. It became apparent that Philly would most likely need to "mortgage their future" if they wanted to trade up and get Marcus Mariota. And, given all the needs the Eagles had, there was no way they could possibly afford to get rid of all their draft picks. Right? Well, not so fast. In light of recent developments, it appears as though Chip is attempting to fill the team's glaring holes with free agents. After all, why else would he be clearing up so much cap space? With that being said, maybe Kelly has no qualms giving up a ton of draft picks to get his guy. Perhaps the Heisman Trophy winner will continue to sport green colors after all. At this point, when it comes to Chip Kelly, you never know what's going to happen.
All statistics are courtesy of Sports-Reference.com and ESPN.go.com