5 Wide Receivers with Favorable Fantasy Matchups in Week 13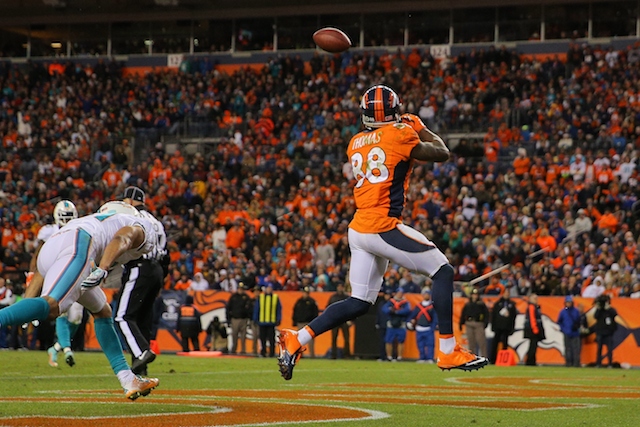 Wide receivers are rapidly becoming more consistent in terms of fantasy football production than running backs. This is mainly due to a league-wide shift toward more pass-heavy offenses and rule changes that make it harder for defenses to defend wide receivers. Most fantasy seasons are in the final week or two of the regular season, and finding the right matchups at this point in the season is more important than ever. Here's a look at five wide receivers with favorable fantasy matchups in Week 13.
All statistics courtesy of Pro-Football-Reference.
1.  Dez Bryant, Dallas Cowboys
On paper, Bryant has a better matchup than any other receiver in the NFL in Week 13, but we all know that doesn't necessarily mean he will put up huge numbers. He will be facing a Philadelphia Eagles defense on Thanksgiving Day that is giving up an average of 22 completions for 293 yards and 2.2 touchdowns per game in 2014. Reports are suggesting that the Eagles defense will be geared up to stop running back DeMarco Murray and the Dallas running game, which should open things up on the outside for Bryant to have a huge fantasy day in Week 13.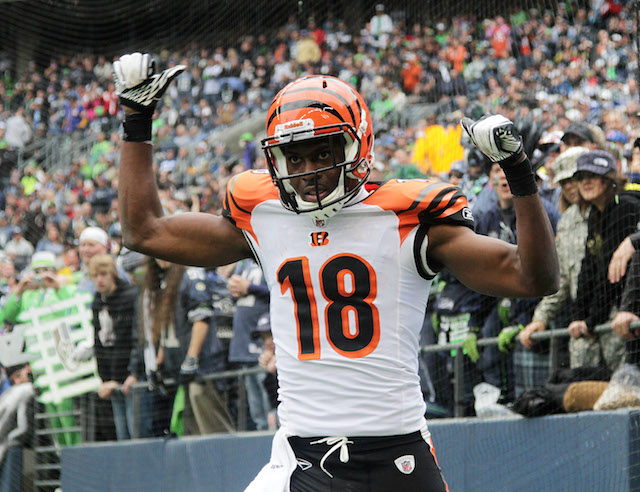 2.  A.J. Green, Cincinnati Bengals
Green had a huge game against the Houston Texans in Week 12, and Week 13 projects to be a big week for the two-time All-Pro wide receiver as well. Green and the Bengals will travel to Tampa Bay to take on the Buccaneers, who are giving up an average of 24 completions, 266 yards and 2 touchdown passes per game in 2014. Elite wide receivers, like Green, have been shredding the Bucs defense all season, and this week should be no different. Expect another 100-yard receiving day for Green in Week 13.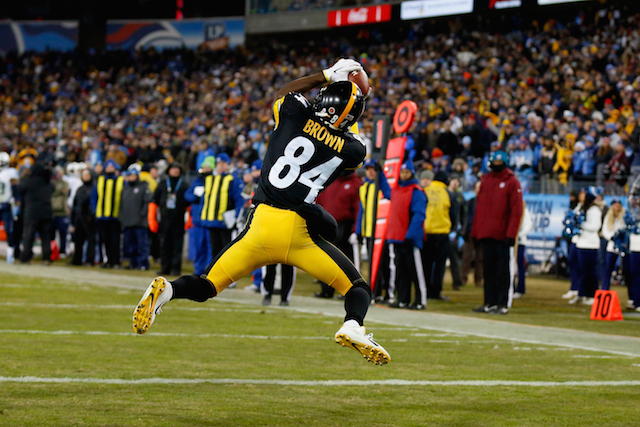 3.  Antonio Brown, Pittsburgh Steelers
Brown is likely to see double-digit targets every week regardless of his matchup. In Week 13, Brown and the Steelers will be playing the New Orleans Saints in Pittsburgh. The Saints' defense has been friendly to wide receivers all season giving up an average of 21 catches for 265 yards and 1.6 touchdown catches per game in 2014. New Orleans lacks a true shutdown cornerback, so elite wide receivers, like Brown, have been putting up big numbers against them all season. Expect to see Brown put up numbers near his 2014 season averages of eight catches, 106 yards and one touchdown in Week 13.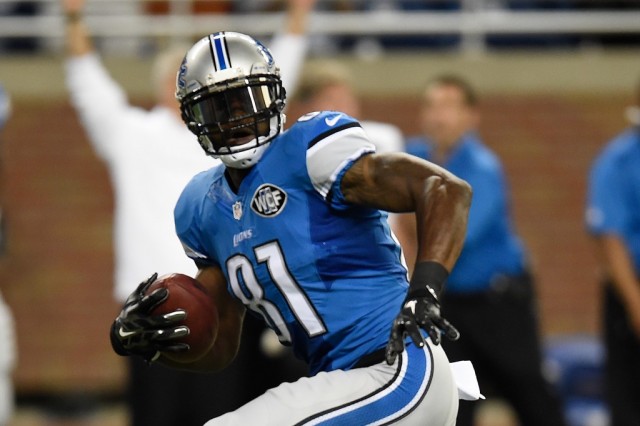 4.  Calvin Johnson, Detroit Lions
Johnson had a big game on Thanksgiving Day in 2013, and should be able to match that performance on Thanksgiving Day in 2014. This year, the Lions will be hosting the Chicago Bears who simply do not have a player that can matchup with Megatron – no team in the league does for that matter. The Bears have had issues defending the pass all season, giving up an average of 23 completions for 276 yards and 2.3 touchdown passes per game in 2014. After two straight losses, this game has become a must-win for the Lions, and for them to turn things around offensively, they will need to focus on getting Johnson, their best player, more involved. Expect Johnson to see double-digit targets, and post a 100-yard receiving game on Thanksgiving Day in Week 13.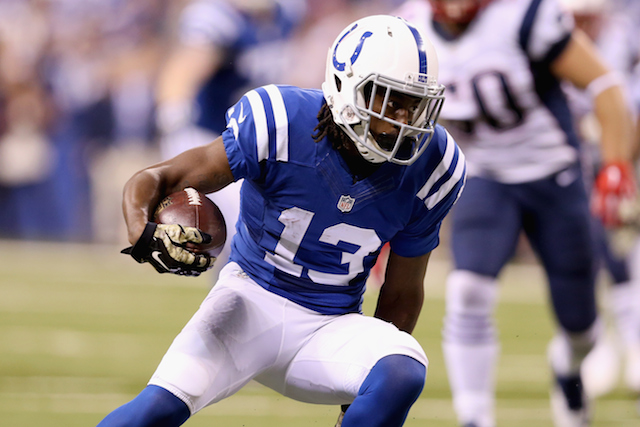 5.  T.Y. Hilton, Indianapolis Colts
Hilton has emerged as one of the best wide receivers in the NFL in 2014. In Week 13, he has the opportunity to put up huge numbers against a lackluster Washington Redskins defense that is giving up an average of 21 completions for 248 yards and two touchdowns passes per game in 2014. The Colts throw the ball on roughly 65% of their offensive plays, and Hilton is clearly their top receiving threat. Expect Hilton to see double-digit targets and have a 100-yard receiving game in Week 13.