The 5 Youngest NBA Finals MVPs Ever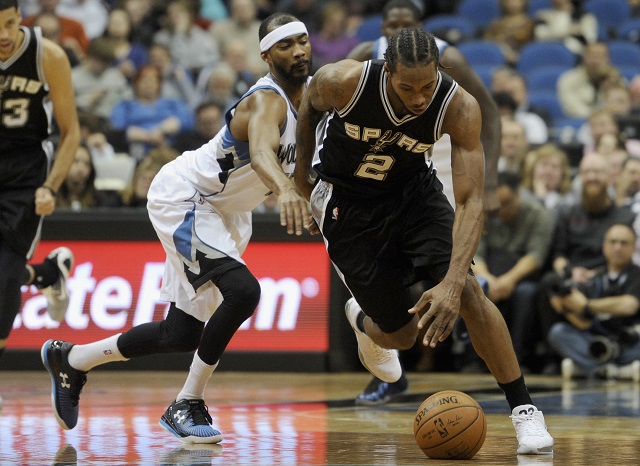 As the dust settled on San Antonio's 2014 drubbing of the Miami Heat — no team had ever beaten another in the NBA Finals by over 15 points in each victory — the Spurs went absolutely ballistic when 22-year-old Small Forward Kawhi Leonard, the third-year player who the team had traded for on draft night back in 2011, was awarded the Bill Russell NBA Finals MVP Award. Kawhi, who also achieved the rarest of all NBA feats — a Shaq-given nickname — during that year's playoff run (Sugar K, as in Sugar K Leonard), averaged 17.8 points, six and a half rebounds, and over one block and one steal a game during the five game series.
For fans of team basketball, as well as fans of arbitrary narratives, this was awesome. They got to watch San Antonio slay the dragons of individual superstardom and top heavy rosters on the backs of some really gorgeous ball movement and exquisite scoring. When Miami strode out to a commanding lead in the opening minutes of Game Five, the crowd resembled 18,000 children that had all discovered the Santa Claus deception at once.
All of which made the eventual Spurs comeback that much more satisfying, and when Manu Ginobili turned back the clock for a rim rattling slam dunk, or when Patty Mills, folk hero of Australian basketball lore, came out of the myth of San Antonio's Bench to drop 14 third-quarter points and really bury Miami, it was Kawhi Leonard that provided the measured hand when Tim Duncan was on the bench and Tony Parker was missing everything in site. So, without further adieu, here's where Leonard slots in on the Top 5 Youngest Finals MVP's of all time.
5.  Kareem Abdul-Jabbar, 23 years old, 1971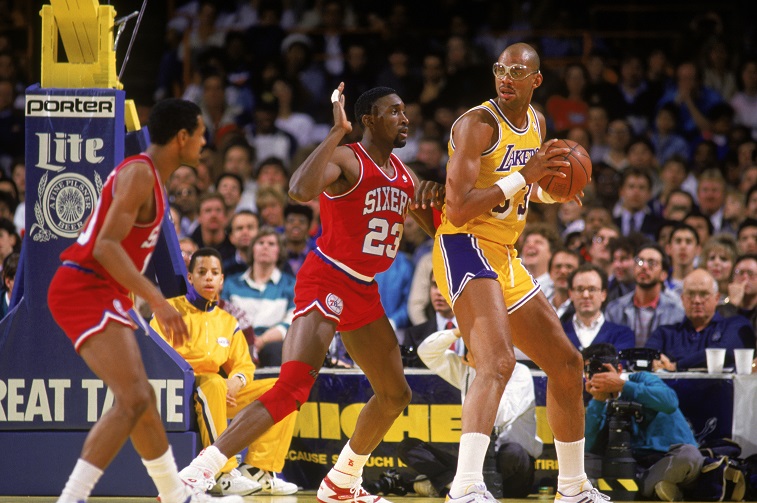 Back in 1971, when Kareem was still going by Lew Alcindor, he teamed up with Oscar Robertson to deliver the fastest franchise championship in NBA History, grabbing the team's first (and only, as of this writing) title a scant two years after their inagural 1969 season. Alcindor, who would later change his name and his team, headed West to the Los Angeles Lakers and eventually became the NBA's All Time leading scorer, as well as winning Finals MVP again in 1985 — a 14-year gulf that still stands as the largest span between the two awards, although Tim Duncan could match it if he wins the award next year.
4. Kawhi Leonard,  22 years old, 2014
When the Miami Heat evened the series at one game apiece after Game 2, there would have been a lot of money to be made betting on Kawhi Leonard. In two games, he'd been a nonfactor, logging a pair of nine point, two rebound games that left him largely invisible on the floor. It's hard to say which game was better for Sugar K, even when one game ended in Spurs win and the other ended in a loss. Then, uh, this happened. As sweet as that video is, it still downplays how huge Leonard was for San Antonio.
3. Magic Johnson, 22 years old, 1982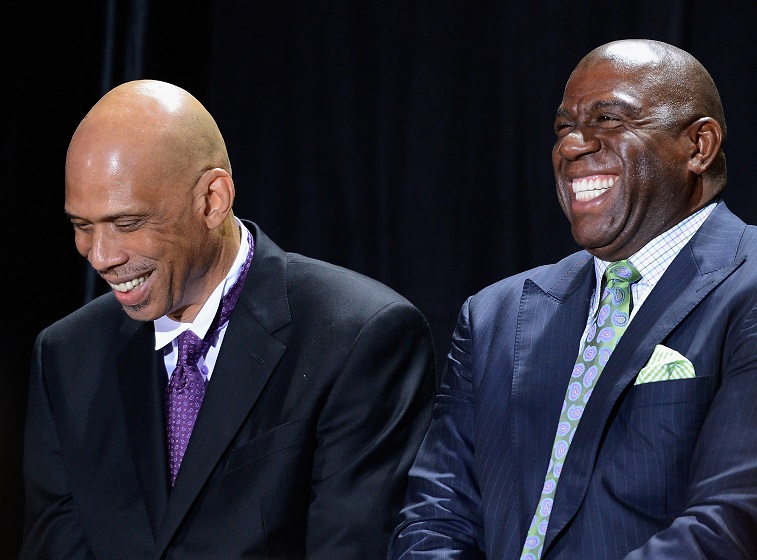 Like Leonard, 1982 marked Magic's second trip to the NBA Finals, and the 22 year, 9 month, and 25 day old Magic would put a cap on his third year in the league by winning a Finals MVP trophy as a member of the Los Angeles Lakers, delivering a knockout Game 6 victory to the Philadelphia 76ers to the tune of 104-114, with Johnson piling on a triple double with 13 points, 13 assists, and 13 rebounds.
Of course, Magic was the face of the Laker's franchise in 1982, while Leonard wasn't all that far away from being the next Sean Elliot when the season began. There are another couple of key differences, too, but we'll dive into those in a minute. For now, lets take a look at Kawhi's teammate and the No. 2 spot on this list:
2. Tim Duncan, 22 years old, 1999
As David Aldridge remarked in his postgame interview with The Big Fundamental, Leonard was the youngest player since Tim Duncan won the Finals MVP in 1999. Duncan, though, had turned 22 a scant two months before winning the NBA Finals. So, you know, advantage Timmy Dunks. It's worth noting, by the way, that this is where the 'Tim Duncan Is Boring' legend began, because he was automatic from the low block, which was boring in the wake of Jordan and the glamorous role of the isolation wing scorer, even though Duncan is clearly the best player to come out of the NBA since His Airness. You can see some prime Duncan below — there's some definite differences, although it's fairly clear why he wound up as The Big Fundamental.
1. Magic Johnson, 20 years old, 1980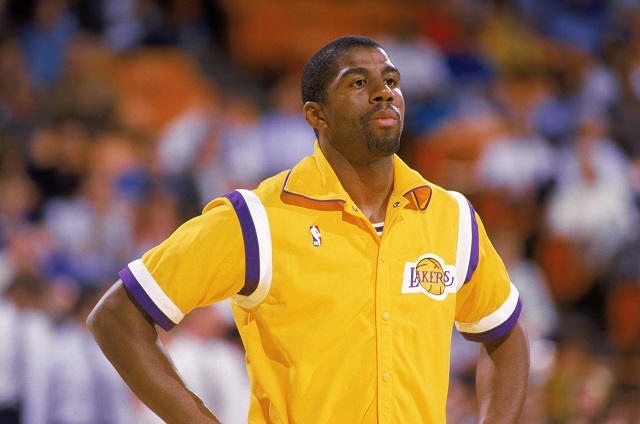 That's right — the biggest difference between Magic Johnson and Kawhi Leonard at age 22 is that, while Kawhi was winning his first Finals MVP award, Magic was winning his second. Johnson, then, is in the unique position of not only being the youngest Finals MVP in NBA history, but also tying for second place, although that's only if you account for just years as far as age is concerned. In 1980, Magic and Kareem were up against a Philadelphia 76ers squad helmed by Darryl Dawkins and Doctor J. What sealed the deal for Magic's MVP candidacy, though, was his tremendous Game 6.
After Kareem was ruled out with an ankle injury, Johnson was moved to center, making him the only player to ever start at point guard and center in an NBA Finals series. Of course, he dominated with a 42 point, 15 rebound, seven assist, and three steal outing that included a perfect 14 for 14 from the free throw line. Playing out of position in the NBA Finals. Magic was awesome.