6 Best LA Lakers Coaches Ever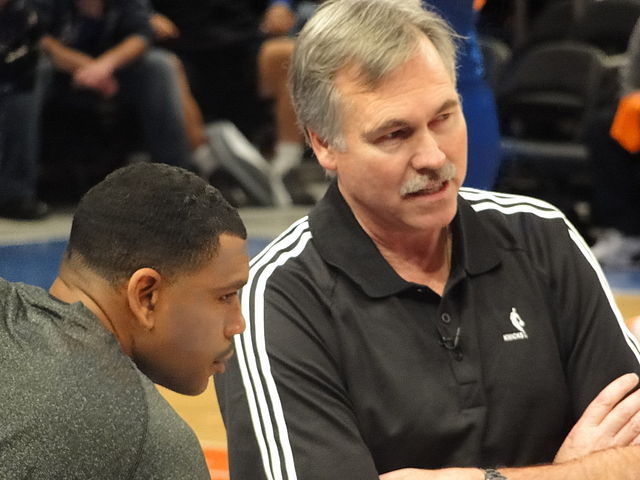 When Mike D'Antoni resigned on Thursday as the head coach of the Los Angeles Lakers, that was one of the worst two-year stretches for L.A. Having previously coached the New York Knicks, D'Antoni joined the Lakers only a few years after they had just won back-to-back championships in 2009 and 2010. The team was proven — maybe a little old — but still a team of veterans who played well together. Whether it was Kobe Bryant, Pau Gasol, or even the addition of Dwight Howard last year, Los Angeles thought they had what it took to win another title.
But after going 40-32 in D'Antoni's first season, there became speculation that he wasn't the right man for the job. After all, it is the Lakers, right? A big market team with a winning expectation from its fans and ownership. So when the Lakers lost in the first round of the Western Conference Finals in 2013, fans were getting antsy; maybe D'Antoni and his unique style of offense wasn't right for the Lakers. After all, it was an offense that apparently didn't cater to superstar Howard's skills.
Following a losing season this past year, it appeared D'Antoni was through. Though he technically resigned, there's no doubt that he was on his way out — if you don't win in L.A., you go. In honor of the next coach to take the reigns, here are six of the most successful coaches (with at least 100 games coached) in the Lakers' storied history based on their respective winning percentage and championships won.
6. Butch van Breda Kolff
Though van Breda Kolff's winning percentage of .652 in his two seasons with the Lakers is one of the best of all these coaches, he failed to do one thing: win a championship. He surpassed 50 wins each year (1968 and 1969) with Los Angeles, and both times the team had title hopes. But they fell short. Whether or not van Breda Kolff was an expert tactician remains to be seen — he had the likes of Wilt Chamberlain and Jerry West leading his teams in. Anybody with a semblance of skill as a coach could have successfully guided teams with those two future Hall of Famers. But even the lack of a championship doesn't take away from van Breda Kolff's success — the numbers speak for themselves.

5. Del Harris
Harris coached the Lakers for five seasons between 1994 and 1999. The team racked up an impressive .659 winning percentage and went to the playoffs in each one of those years (barring only Harris coaching six games in 1999.) But similar to van Breda Kolff, the Lakers had limited success in the postseason.
They failed each year to advance past the Western side of the bracket into the championship, and in a town like Los Angeles, that has consequences. But also like van Breda Kolff, Harris had a fresh-out-of-high-school sensation in Kobe Bryant and an unstoppable big man in Shaquille O'Neal. This would be the start of a dynasty, but Harris just couldn't get the Lakers over the championship hump.
4. Paul Westhead
Westhead had a shortened career with the Lakers — almost two complete seasons (1979-81) and then 11 games in the 1981-1982 campaign. In those 161 total games, Westhead finished with a .689 regular-season winning percentage. Unlike some of his predecessors, he had success from the get-to. In just his first year in Los Angeles, the Lakers made it all the way to the NBA Finals where they defeated the Philadelphia 76ers 4-2 for the title.
But Westhead had the fortune of coaching players such as Kareem Abdul-Jabbar and Magic Johnson during his tenure. While those two would go on to form one of the most dynamic duos the NBA has ever seen, Westhead had a shortened career as their coach. After falling in the first round of the Western Conference playoffs following the championship, it only took owner Jerry Buss 11 games the next year to get rid of Westhead. Again, if Buss expected a title, than anything short of that was failure.

3. John Kundla
First off, Kundla was the first ever head coach of the Lakers — despite them being the Minneapolis Lakers at the time. But he wasn't just a figurehead. Not only was he the first ever coach of the Lakers, he found immediate success, evidenced by his .597 winning percentage between 1948 and 1958. His five championships — albeit one of them was when the Lakers were still part of the Basketball Association of America — are tied for most of any Lakers coach. One of Kundla's most impressive stats was his ability to win in the playoffs; the Lakers had a .659 postseason winning percentage along with their five titles under Kundla. Kundla started this storied franchise on the right path, and that's a noticeable feat in itself.
2. Phil Jackson
The most recent coach on this list, Jackson is still loved in Los Angeles. But the unique part about his career is that he had two separate stints as the Lakers' coach. First was from 1999-2004, and then he came back in 2005 to re-takeover the team. Overall, Jackson coached Los Angeles for 11 seasons between 1999 and 2011. Having had previous success with the Chicago Bulls, Jackson implemented his offensive system with the Lakers, which ended up working well with their style of play. In just his first season, Los Angeles went 67-15 in the regular season and went on to capture the NBA Championship.
But that wouldn't be it for Jackson. Behind Jackson and the Kobe Bryant-Shaquille O'Neal tandem, the Lakers would win three-consecutive titles between 1999 and 2002. But then they went through a drought — some would call it rebuilding after the departure of O'Neal. It wouldn't be until 2009 that the Lakers found the same success. Besides Kobe Bryant, they were a younger team then, but a team with a lot of talent. This showed as they won titles in 2009 and 2010. As a whole, Jackson's tied with Kundla for the Lakers' most championships, and there's no doubt that him and Bryant (no matter what their differences might have been) produced a prolific team throughout the 2000s.

1. Pat Riley
If there's a trend in all of these Lakers coaches, it's that they had the help of superstars along with an excellent understanding of the game. Pat Riley was no different. He took over the team in 1981 after Westhead was fired, and with Abdul-Jabbar and Johnson, the Lakers handily won a championship in Riley's first season. Los Angeles would win three other titles under Riley (1985, 1987, 1988) and would go down as one of the best teams in the history of the NBA.
The rivalries between the Lakers and teams such as the Boston Celtics and the Detroit Pistons helped bring the NBA fame it never expected. Riley's coaching career would continue (and his career evidently as a general manager), but he never matched the success that he had in L.A. His rare approach to coaching and innovative mind allowed Riley and whatever team he coached — the Lakers, in this instance — to excel.