6 Candidates to Replace Urban Meyer as Jaguars Head Coach After Ugly Turn of Events
What a time that was. After just 13 games, the Jacksonville Jaguars finally ended the Urban Meyer experiment in a move that was shockingly long overdue.
It took a lot of headlines to get rid of Meyer, including an anonymous Jaguars player ripping him to pieces. Then came Josh Lambo's comments on how Meyer kicked him, and the list is neverending.
Either way, Meyer's career as the Jaguars head coach ended before one full season, and now Shad Khan and the Jacksonville front office are right back to the drawing board less than a year after inking Meyer to a five-year contract.
Who steps in and takes over the job to fix the locker room?
Here are six candidates to become the Jaguars' new head coach.
6) Former Carolina Panthers OC Joe Brady
After the Meyer news dropped late Wednesday evening, names immediately swirled on who would take over the Jaguars. One name that popped up on the list is Joe Brady.
The Carolina Panthers recently fired Brady as the team's offensive coordinator in a bit of a shocking move and he is still in the free-agent market. Brady's name surfaced for some of the notable college coaching gigs, but he expressed his desire to stay in the NFL.
Brady is a young offensive coach who can get a lot out of Trevor Lawrence. However, there must be a reason the Panthers fired him, and there are many risks involved here.
Plain and simple, the Jaguars can't afford to take any more risks after the ugly, disastrous Meyer era.
5) Dallas Cowboys OC Kellen Moore
As of Thursday morning, Kellen Moore is one of the favorites to become the Jaguars' next head coach. Moore's name also bounced around as a possible option for the Oregon Ducks job after Mario Cristobal left Eugene to head to Miami.
On the surface, Moore makes a ton of sense. He is another brilliant offensive mind and widely regarded as a quarterback guy — after all, he was sensational during his playing days at Boise State.
The NFL's new rule would allow teams to interview employed coaches before the season ends, which helps in the case of Moore.
Moore has never been a head coach before, but everybody has to start somewhere. There is one thing with this Jaguars job: There is a ton to fix in the locker room thanks to Meyer, and it might be difficult for a young, first-time head coach to glue the pieces of the puzzle back together.
4) New England Patriots OC Josh McDaniels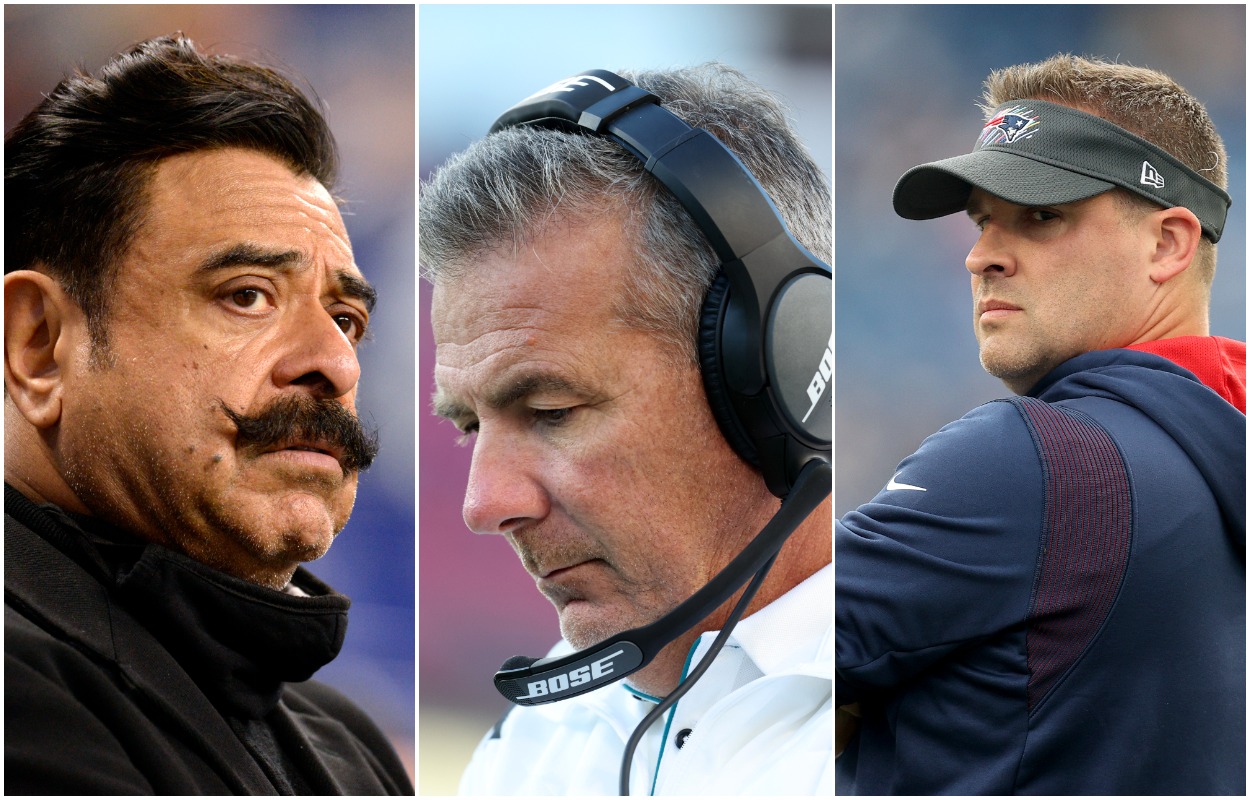 Josh McDaniels, the Jacksonville Jaguars head coach, how does that sound?
On paper, McDaniels makes a ton of sense. He is known for developing quarterbacks and has had the privilege of working alongside Bill Belichick forever and picking his brain. It helps that McDaniels has head coaching experience, even if his tenure as the Denver Broncos lead man didn't go exactly as planned.
He also famously got hired as the Indianapolis Colts head coach only to leave them hanging and head back to New England in a stunning move and has been at Belichick's side ever since.
McDaniels makes the most sense for many reasons, but would he willingly leave the Patriots winning ways to go to Jacksonville and try and right that mess? Also, is he waiting around to take over when Belichick calls it a career?
That is the million-dollar question for McDaniels. That question alone is why McDaniels isn't higher on this list of candidates.
3) Kansas City Chiefs OC Eric Bieniemy
Former NFL kicker Jay Feely is among the many pioneering for Bieniemy to be the next guy in Jacksonville. The Chiefs OC interviewed with them the last offseason before the Jaguars decided to hire Meyer.
WIll Bieniemy get another opportunity? Furthermore, does he even want this opportunity?
The Las Vegas Raiders also have an opening, and teams such as the New York Giants and Chicago Bears could also have openings as well — among others.
Does Bieniemy wait around and see what's open? After all, there is a reason the Jaguars passed on him before, albeit it probably wasn't a very valid one.
It is only a matter of time before Bieniemy becomes a head coach in the NFL, and if you want the locker room and culture fixed, he should be one of the first calls they make.
2) Tampa Bay Buccaneers OC Byron Leftwich
Former Jaguars quarterback Byron Leftwich.
This move makes a ton of sense. First and foremost, Leftwich is a leader. Although he doesn't have head coaching experience, he has spent a lot of time recently working with a guy named Tom Brady — maybe you've heard of him.
The Buccaneers' offense is electric and can go to a second consecutive Super Bowl. Leftwich would more than likely fix the locker room, fix Trevor Lawrence, and have this team competitive after some time.
Leftwich should be a top choice for any of the head coaching jobs that become available this offseason, and the Jaguars might want to jump on the opportunity as soon as they can before another team does.
Bringing Leftwich back to Jacksonville would be a big boost for a crumbling fan base and a solid move for the future of Lawrence, who has looked like a shell of himself under the tutelage of Meyer.
1) Former Cincinnati Bengals HC Marvin Lewis
College basketball legend John Calipari joined the Jaguars' discussions for the head coaching circles and gave Marvin Lewis a strong endorsement.
There is one massive reason why Lewis is atop this list: He has lots of experience and can restore the locker room quickly, which needs to be priority No. 1.
Lewis spent 16 years as the Bengals head coach, and although he didn't win a playoff game, there is a reason he stuck around for a long time in Ohio. Experience, leadership, and a good reputation are what Lewis brings to the table. The zero playoff wins might be a concern, but the Jaguars need to fix the locker room and Lawrence first and foremost.
The Jaguars have a ton of money to spend in free agency and a lot of draft picks once again, not to mention Lawrence and fellow Clemson teammate Travis Etienne.
The veteran head coach brings a lot to the table, and there is no secret that the Jaguars have to get this hire right after Meyer's mess in Jacksonville.
Stats Courtesy of Pro Football Reference