6 Classic Super Bowl Foods With a Healthy Twist
It's official. The Seattle Seahawks will face the Denver Broncos on Sunday at MetLife Stadium at 6:30 p.m. Everyone has their game faces on, especially the chefs in the kitchen. Whether or not you are a football fan, there's a good chance you'll at least pretend to watch the game, because one word: food. Bronco and Seahawks fans may not agree over most things, but they can at least break bread over their appetite for good Super Bowl fare, and that's where you come in. What are you cooking and baking this year?
The Super Bowl conveniently comes at a time when most people are ditching their New Years resolutions and are back on the bad-eating bandwagon, but just in case you've managed to maintain your goals and they involve healthy eating, the big game doesn't have to translate into upsetting your commitment. Sure, Super Bowl staples aren't exactly known for their healthfulness, but a few quick ingredient switches can effortlessly make them easier on your waistline, and can do so without compromising taste and flavor.
Of course, football fans are not the easiest crowd to please with healthy dishes, so we took that into account when selecting our healthier recipes for today. Though this is probably not the best time to whip out your black bean brownies, we promise you can get away with some other healthy recipes that involve quick and easy substitutions. Oh, and we're still recognizing the tradition of game favorites (read: fries, wings, and rings) so don't worry about getting boo'ed out of the stadium. You can't control what happens during the game on Sunday, but you can control what happens in your kitchen. Here are six recipes that give Super Bowl classics a healthy twist.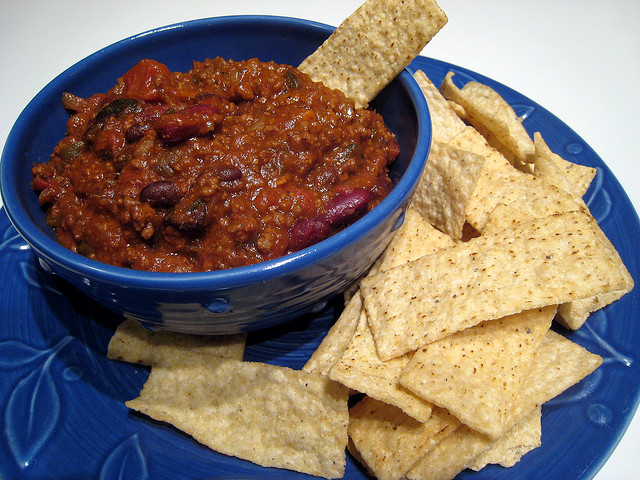 1. Springfield Chili
If we can offer one suggestion for cooking up your goods on Sunday, it's to take advantage of your crockpot. That handy kitchen appliance allows you to do your work ahead of time, turn on the crockpot, and then walk away. No one wants to spend the Super Bowl in the kitchen stirring, and the crockpot does your work for you.
Back to the name of the game: use your crockpot to crank out this classic chili recipe with a twist. Many chili recipes call for ground beef, but this one from Cooking Light substitutes ground turkey meat for ground beef, instantly knocking the dish's nutritional profile up a few points. Replacing high-fat ground beef with lean ground turkey breast and lean ground sirloin lowers chili's saturated fat, and you can barely taste the difference. Even if you're worried that the dish will lack flavor, never fear, because bacon and beer are here. Not only does beer have less sodium than canned broth, it also gives this chili a boozy punch. We don't even need to explain the bacon part. Top this dish with reduced-fat cheese and you definitely have a winner — both in the taste and the nutrition department. Your chili fans won't even know what hit 'em.
Ingredients:
1 bacon slice, finely chopped
2 1/4 cups finely chopped onion, divided (about 2 medium)
2 garlic cloves, minced
1 pound coarsely ground turkey breast
1/2 pound coarsely ground sirloin
1 (12-ounce) can beer
3 tablespoons chili powder
1 teaspoon Worcestershire sauce
1/2 teaspoon kosher salt
1/4 teaspoon ground cumin
1 (14 1/2-ounce) can diced tomatoes, undrained
1 (8-ounce) can no-salt-added tomato sauce
1 (15-ounce) can pinto beans, rinsed and drained
1/2 cup (2 ounces) reduced-fat shredded cheddar cheese
Oyster crackers (optional)
Directions: Cook bacon in a large Dutch oven over medium heat 5 minutes or until browned. Stir in 2 cups onion; cover and cook until onion is tender (about 5 minutes). Uncover and stir in garlic; cook for 1 minute.
Increase heat to medium-high; add turkey and sirloin to pan. Cook 5 minutes or until browned, stirring to crumble. Add beer; cook until liquid is reduced to 1/3 cup (about 7 minutes). Stir in chili powder and next 5 ingredients (through tomato sauce). Cover, reduce heat, and simmer 30 minutes or until mixture thickens. Stir in beans; cook 10 minutes or until thoroughly heated. Ladle 1 cup chili into each of 6 bowls. Top each serving with 4 teaspoons cheese and 2 teaspoons onion. Serve with crackers if desired.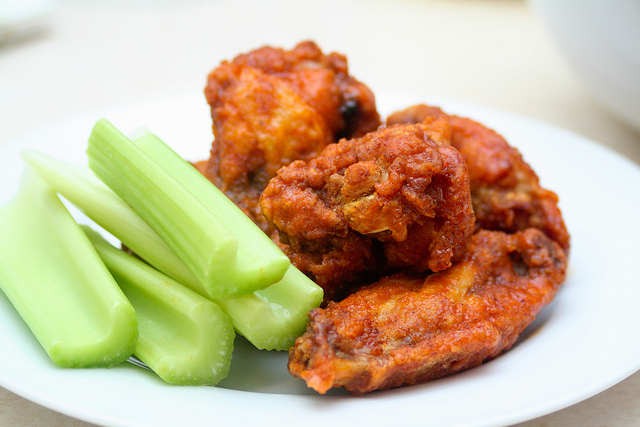 2. Skinny Buffalo Wings With Buttermilk Bleu Cheese Dip
Next up is another carnivore favorite: the famed chicken wings, because nothing says Super Bowl season like a buffalo sauce mustache. Buffalo wings are a crowd favorite for big sports games because they easily please, are the perfect finger food, and are relatively low-fuss. Put those babies out and the tray is empty in no time, especially if you have some big meat eaters on your hands.
Though tasty, buffalo wings are almost too easy to go to hog heaven with because they are so easily consumed. That's bad news bears for those on any sort of diet because any buffalo wings are laden in fat and sodium, and are smothered in a hot buttery sauce. Not this wings recipe by the blogger behind SkinnyLuscious, though, because these "skinny" wings are broiled, rather than fried, meaning you won't have to unbuckle your belt for this fare come Sunday night. As long as you don't tell your eaters you're serving them "skinny" buffalo wings, you should be good to go. Pair these wings with the highlighted bleu cheese dip and we promise they won't even taste the difference.
Ingredients:
2 pounds chicken party wings
3/4 cup Frank's Red Hot sauce, plus more for serving
1 clove garlic, minced
1 tablespoon fresh lemon juice
3 tablespoons low-sodium chicken broth
Cooking spray
3 large ribs celery, cut into sticks
Directions: Preheat the broiler. Place the wings in a large pot and fill the pot with water to cover by about 2 inches. Bring to a boil, and then continue to boil for 10 minutes. Drain. Meanwhile, in a medium bowl, combine the sauce, garlic, lemon juice, and broth and set aside.
Transfer the wings to a baking sheet or broiler pan, which has been lightly coated with cooking spray, and broil 5 to 6 inches from the flame, until the skin begins to blister and brown, 5 to 6 minutes. Turn the wings over and broil until cooked through, 5 to 6 minutes more. Watch the wings very carefully once they're under the broiler, because when they begin to brown, it happens quite quickly.
Using tongs add wings to the sauce and stir to evenly coat wings. Transfers the wings to a baking sheet, drizzle with the reserved sauce, and toss well to coat. Place the baking sheet under the broiler for 1 to 2 minutes. Turn the wings over and broil an additional 1 to 2 minutes to heat the wings and sauce together. Serve the broiled Buffalo wings with extra hot sauce on the side, celery sticks, and the buttermilk blue cheese dip.
Dip Ingredients:
1/3 cup low-fat buttermilk
1/3 cup reduced-fat mayonnaise
½ cup crumbled blue cheese
3 teaspoons lemon juice
Pinch each of salt and pepper
Directions: Combine all of the ingredients in a blender and blend.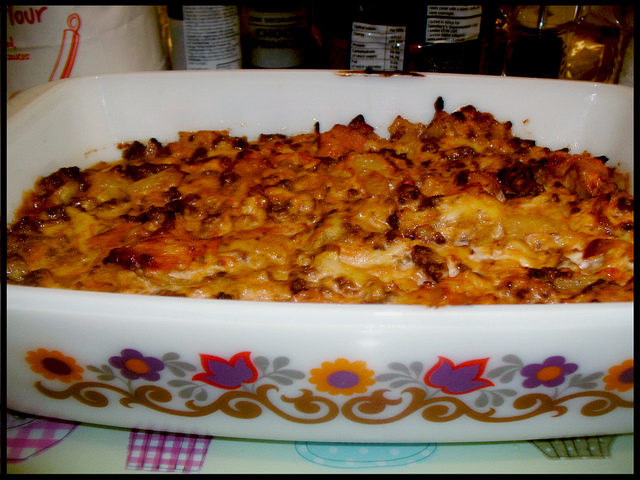 2. Lighter Bacon Cheeseburger Dip
Another classic finger food: chips and dip — a curse, but also a blessing. It's hard for just about anyone to keep their spoon out of the dip jar, but with this recipe via Iowa Girl Eats, you don't have to. Lighter bacon cheeseburger dip makes you feel like you're eating the real (indulgent) thing from McDonald's , but this dip is even better, and it's definitely healthier.
The lightened up cheeseburger dip calls for lean ground beef that is mixed with classic cheeseburger touches like ketchup, mustard, and cheese. It also involves the use of 1/3 less-fat cream cheese in place of full fat, plain Greek yogurt in place of sour cream, and a lot more from where that came from. Don't fear that you think this recipe is too healthified for your football-loving friends. The dip still contains bacon, and not many can argue with that.
Ingredients:
4 slices bacon, chopped
3/4 pounds of 90/10 ground beef
1 large shallot or 1 small onion, chopped
2 garlic cloves, minced
salt and pepper
2 tablespoons ketchup
1 tablespoon mustard (optional)
1 tablespoon worcestershire sauce
4 ounces 1/3 less-fat cream cheese, at room temperature
4 ounces plain non-fat Greek yogurt
3/4 cup shredded mozzarella cheese, divided
3/4 cup shredded sharp cheddar cheese, divided
Toppings: green onions, tomato, lettuce
Directions:  Preheat oven to 350 degrees Fahrenheit. Cook bacon in a large skillet over medium heat until crisp. Remove to a paper towel-lined plate and set aside then pour out bacon fat from skillet and discard (or save.) Turn heat up to medium-high then add ground beef, shallot, and garlic to skillet. Season with salt and pepper then cook until beef is no longer pink. Drain if necessary then return to skillet and stir in ketchup, mustard, and worcestershire sauce. Pour ground beef mixture into a large bowl.
Add cream cheese, Greek yogurt, 1/2 cup each mozzarella and cheddar cheese, and 3/4 of the cooked bacon to the bowl then mix to combine. Spread in a 9-inch pie pan, then top with remaining cheese. Bake for 15-17 minutes or until cheese is golden brown and bubbly. Top with remaining bacon and optional toppings then serve.

4. Chipotle Sweet Potato Fries
Drawing on the classic french fries, we come to another finger food that carnivores and herbivores alike love to love: french fries. It's hard to resist those fried white potatoes oozing with salt, fat, and flavor but this recipe from What's Gaby Cooking proves that you don't necessarily have to — you just have to be willing to try something new.
Sweet potato fries are now popping up on menus and in grocery store freezer aisles everywhere, but that doesn't mean this fare isn't a great way to appease your eaters' appetites without fattening them up. Sweet potatoes have long been paraded as a superfood, loaded with vitamin B, vitamin C, vitamin D, iron, potassium, and magnesium, and they even taste good to boot. The key to their goodness is all in the preparation.
What's more, this recipe for Chipotle Sweet Potato Fries gives consumers that heat that will make them forget about white fries all together. Coated in olive oil and then prepared with chipotle and garlic powder, prepare for your taste buds to scream.
Ingredients:
4 sweet potatoes
1 tablespoon olive oil
1 teaspoon garlic powder
1 teaspoon chipotle pepper
1/2 teaspoon paprika
salt and pepper to taste
3/4 cup mayo
1 lemon, zested
handful fresh basil
Directions: Preheat oven to 400 degrees Fahrenheit. Line a large baking sheet with parchment paper or a silicone baking mat. Peel the potatoes and then cut them into 1/4 inch matchsticks. Put the potato matchsticks and olive oil into a large plastic bag and zip it shut. Shake it up so the fries are evenly coated with olive oil. Add in the garlic powder, chipotle, paprika, and salt and pepper, then continue to shake.
Lay the potatoes on the baking sheet, careful not to overcrowd the pan and they need room to roast. Use another baking sheet if needed. Place the fries into the oven and bake for 15 minutes, remove the fries from the oven and give them a shake or flip them to get the other side crispy. Place them back into the oven and bake for 15 minutes more or until they are crispy. Remove from the oven and sprinkle with salt as needed. In a food processor or blender, blend together the mayo, lemon zest, and basil. Serve the fries with the dipping sauce.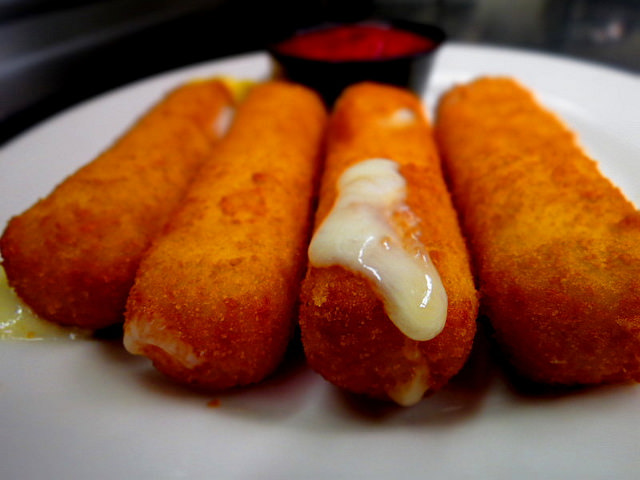 5. Skinny Mozzarella Cheese Sticks
Yep, we went there. We've accounted for meat, we've accounted for bacon, and now we need to account for cheese — because everyone knows those are the three foundations of the football lover's diet. Mozzarella cheese sticks are another great food to serve at parties, no matter what the occasion, because they are not fussy, easy to eat, and easy to clean. If only cheese was a health food we'd be golden. But it's not, and that's where these "skinny" sticks come in. Again, the "skinny" word should not be disclosed at Super Bowl parties.
Nonetheless, these "skinny" mozzarella cheese sticks from AverieCooks are both easy to prepare and easy to eat, plus they don't kill you in the calorie department. Instead of frying the sticks, you bake them, and they can easily be made in bulk. The recipe we've highlighted only gives the direction for assembling one cheese stick, but it can be doubled, quadrupled, etc. as desired, and the ingredients come together quickly. Just roll up string cheese in an eggroll wrapper and bake. The wrappers are sold in the refrigerated area of the produce department of most grocery stores. The cheese sticks are only 110 calories each. You're welcome.
Ingredients:
1 eggroll (or wonton) wrapper (56 calories)
1 low-fat mozzarella sting cheese stick (50 calories)
Olive oil cooking spray, Misto-sprayed olive oil, or brushed-on olive oil (optional)
Directions: Preheat oven to 400 degrees Fahrenheit. Line a baking sheet with a Silpat or spray with cooking spray; set aside. Place cheese stick about 1 inch from the margin of the wrapper, fold the sides in, and roll up as tightly as possible. Place the bundle seam side down on baking tray. Optionally, very lightly spray or brush with olive oil. Bake for 10 to 12 minutes and remove tray from oven.
Alternatively, spray/brush with additional olive oil and flip stick to ensure it browns evenly on both sides. Return to oven and bake for about 5 to 8 additional minutes or until golden brown or done to taste. Sticks are best warm and fresh; serve immediately. I served with marinara sauce; use your favorite dipping sauce or none at all.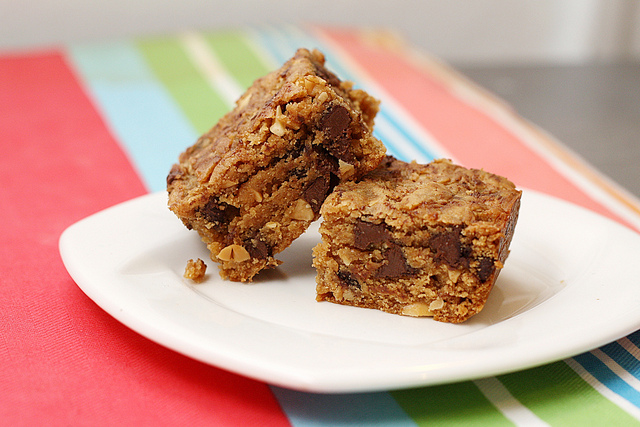 6. Whole Wheat Peanut Butter Blondies
Lastly, we come to dessert, because no one forgets about the sweet stuff on Super Bowl Sunday, even though the salty snacks get most of the fame. Like we said before, we definitely don't think the big game is the best time to try out your black bean brownies or chickpea blondies, but regular blondies with whole wheat flour? Now that we can endorse.
National Peanut Butter Day was on January 24, but who says you can't be late to the party? These whole wheat peanut butter blondies via Sally's Baking Addiction celebrate the fan favorite in all its salty goodness, and the combination of the peanut butter and chocolate will make everyone forget that they're eating dessert with whole wheat flour rather than white. As the blogger behind the blondies says, these "are lightened up with less sugar and whole wheat flour — without sacrificing any of the peanut butter taste!"
Ingredients:
3/4 cup (185 grams) creamy peanut butter
1/3 cup (80 milliliters) melted coconut oil
1/2 cup (90 grams) loosely-packed light brown sugar (or dark brown sugar)
1/4 cup (60 milliliters) milk
2 teaspoons vanilla extract
1 cup (126 grams) whole wheat flour
1/4 teaspoon salt
1/2 teaspoon baking powder
1/3 cup (42 grams) peanuts
1/3 cup (60 grams) dark or semi-sweet chocolate chips
Optional Chocolate Drizzle:
1/4 cup (45 grams) dark or semi-sweet chocolate chips
1 teaspoon creamy peanut butter
Directions:  Preheat oven to 350 degrees Fahrenheit. Line an 8-inch baking pan with aluminum foil or parchment paper, making sure there is enough overhang on the sides to easily remove the blondies. Set aside.
In a large bowl, mix together peanut butter, oil, and brown sugar until smooth. Whisk in the milk and vanilla. Add the flour, salt, and baking powder. Mix until combined. Use your arm muscles — the batter will be very thick. Transfer batter to baking pan and press it into place using the back of a spatula. Sprinkle the top with peanuts and dark chocolate chips, pressing them gently into the batter.
Bake for 22 to 25 minutes until the edges are just barely browning. The top will look very soft. Remove from oven and cool completely before slicing into squares or hearts. The first batch I made two years ago, I cut into the blondies too early and they all crumbled. Be sure to cool for at least 3 hours or overnight (preferred) before cutting.
For the optional drizzle: melt chocolate chips and peanut butter together. Drizzle over cut blondies. Blondies stay fresh in an airtight container for up to one week at room temperature.