6 Cy Young Frontrunners of the 2014 MLB Season
Whether it's the uptick in defensive shifts, the proliferation of great pitchers, or the philosophical shift to "strikeouts don't matter" throughout the sport, Major League Baseball hitters are having an awfully tough go of it compared to recent history. More than one-third into the 2014 season, hitters are posting a sad .250 batting average, which would be the worst since 1964 (yes, fifty years ago) if it holds to the end of the season, according to Grantland.
Of course, broadcasters and players alike are wont to mention the rise of flame-throwing relievers (see: Aroldis Chapman) who have no problem hitting 100 mph out of the pen while dropping secondary pitches that make a hitter's knees buckle. Add in the global reach of MLB, and it's clear hitters have their work cut out for them against the best pitchers on the planet. Looking at the top ten in ERA in 2014, two Japanese pitchers join one Dominican, one Colombian, and six U.S.-born pitchers.
MLB pitchers have been ruthless in tormenting batters early on in 2014. What the A's rotation has done as a whole (2.90 ERA) cannot be praised enough, while the particularly stingy NL ERA leader has offered batters a measly 1.68 runs per game through 91 innings. All these factors make for an interesting Cy Young Award race in 2014. In this year of the pitcher, here are the six nastiest hurlers leading the race for the Cy Young award in their respective leagues.
National League leaders
3. Adam Wainwright, Cardinals
Through one-third of the 2014 season, several National League pitchers have an ERA under 2.00 and a WHIP under 1.00, making them the stingiest souls around. However, none has been able to compile the record of Adam Wainwright (8-3) while posting one of these standout stats (0.90 WHIP). Wainwright is also leading the NL in innings pitched while holding batters to a .194 average.
Some Cy Young voters still like great win-loss records to go with the unrelenting denial of runs. For those with a say in the matter, Adam Wainwright would be a clear favorite to win the NL Cy Young. His two complete-game shutouts and 89-19 strikeout-to-walk ratio are icing on the cake.
2. Tim  Hudson, Giants
Clearly, there is something in the San Francisco water that pitchers use to dominate. Tim Hudson is compiling a career year in his first year with the Giants as he prepares to turn 39 years old in July. Never in his sixteen-year career has Hudson posted an ERA below 2.70, but he's well on his way in 2014 with a 1.75 ERA through one-third of the 2014 season. Hudson has a 6-2 record with a 0.87 WHIP, which is enough to make observers wonder how anyone can score off the man.
The biggest issue for hitters is Hudson's unwillingness to give them free passes. Through 77.1 innings, he has allowed a total of 8 walks, best of anyone with 10 or more starts. Matched against 50 strikeouts (a 6:1 ratio), Hudson's second-best ERA in MLB seems perfectly natural.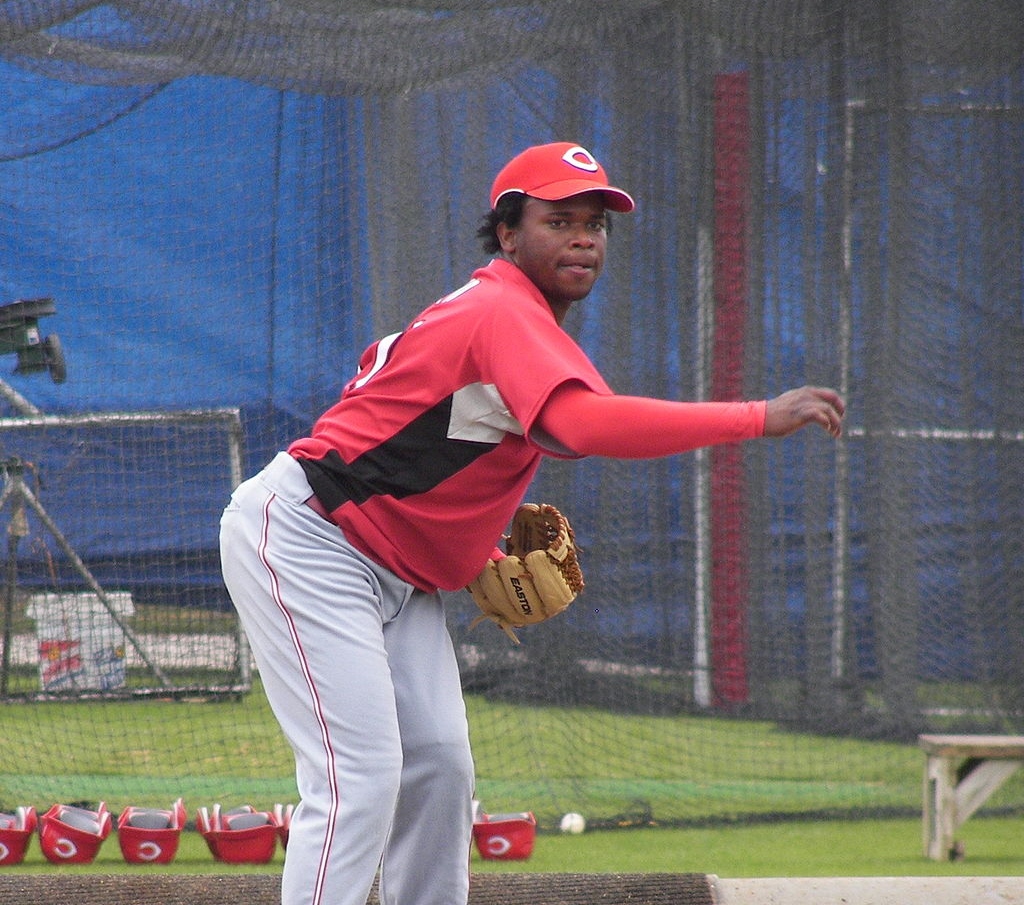 1. Johhny Cueto, Cincinnati
Is it possible to dominate more than Johnny Cueto has in 2014? Through the first third of the season, Cueto has posted an MLB-best 1.68 ERA and .151 batting average against. He's also tops with a WHIP of 0.76, which is enough to prompt a metaphysical inquiry into how three-quarters of a baserunner could score a run (it's impossible). Cueto is second in the NL in strikeouts (92) and innings pitched (91).
If the season were ending, Johnny Cueto would have to be the Cy Young Award winner in the National League. An interesting question to ponder is whether Cueto will have a winning record by season's end, and if not what his fate will be in the voting. Wins require help from the other eight players on a pitcher's team. So far, Cueto hasn't gotten much of it from his Reds teammates, even though he's been lights-out on the mound.
American League leaders
3. Felix Hernandez, Seattle
There are several Oakland A's pitchers (Sonny Gray, Jesse Chavez, Scott Kazmir) one could argue deserve a spot among the top three in the American League, but none have put up the innings pitched or struck out as many as King Felix. Through 13 starts and 91 IP, Hernandez is 8-1 with a 2.57 ERA and a 1.03 WHIP. His strikeout-to-walk ratio is better than 8.5 at 91 K/16 BB.
His 11 quality starts are second-best in Major League Baseball (tied with four others, including Gray), while Felix's number of innings pitched ranks him second only to David Price. He's every bit the ace Cy Young voters prefer.
2. Mark Buehrle, Blue Jays
By any metric or estimation, Marke Buehrle's is having a magical year for Toronto. The southpaw has posted a 10-1 record with a 2.10 ERA through 12 starts for the AL East-leading Blue Jays. Buehrle will never light up radar guns or blow away batters, so his extraordinary control within the strike zone must be celebrated. Batters are simply not squaring up the ball when Buehrle is on the hill.
Besides being a career year for Buehrle, who has never won twenty games or posted an ERA below 3.29, it's an historic achievement in the sport of baseball. According to MLB.com, only seven other lefties have posted an ERA of 2.10 or lower this late in the season since the adoption of the designated hitter. At this point, Buehrle's year is matching up to some of the greatest of all time, Ron Guidry's 1978 campaign among them. That year, Guidry was 10-0 with a 1.57 ERA after 12 starts. He finished 25-3 with a 1.74 ERA. No one is saying Buehrle will match those unbelievable heights, but he has nearly done so through the first third of 2014.
1. Masahiro Tanaka, Yankees
There are several ways to admire Tanaka's performance in his rookie campaign, but the easiest way is to look at runs allowed. Tanaka's is tops in the American League with a 2.02 ERA through 12 starts. What happened to the notion it's impossible for pitchers — especially righthanded pitchers — to be stingy in Yankee Stadium? Tanaka has shown it can be done by posting a 1.91 ERA in six home starts. He has succeeded both home and away by walking just a handful of batters (13 BB vs. 92 strikeouts). His 0.96 WHIP leads the AL.
If you are old-school and like won-loss records, Tanaka has that too at 9-1 through 12 starts. Thrown in the fact he's halted two major losing streaks for the Yankees and singlehandedly kept his team afloat with three starters on the disabled list and you have a case for MVP as well. For now, Tanaka has the edge over Buehrle because of his essential, irreplaceable position on the Yankees. His best case:  Tanaka leads all MLB pitchers with his 3.3 WAR. He also bests Buehrle in ERA, WHIP, opponent average, and opponent OBP. If there were an AL Cy Young through one-third of the season, it would be Masahiro Tanaka.