6 Early NFL MVP Candidates
The first quarter of the 2014 NFL season is officially in the books (for most teams) and the NFL MVP race is beginning to take shape. In the thick of things are a couple of quarterbacks who have already won MVP awards, a rising superstar, and a few surprises.
In determining this list, I factored in team record, on-field performance (mostly statistically-based), and strength of schedule for the rest of the 2014 season. Here is a look at the (very) early top six candidates to win the 2014 NFL MVP award in descending order.
All statistics courtesy of Pro Football Reference.
6. Philip Rivers
Rivers has led the Chargers to a 3-1 record, which includes a dominating win against the reigning Super Bowl champion Seattle Seahawks. He has thrown for 1,155 yards and is averaging a whopping 8.43 yards per pass attempt. The five-time Pro Bowl quarterback has thrown for nine touchdowns compared to only one interception and leads the league with a 114.5 quarterback rating.
Rivers would rank higher on this list if the Chargers weren't facing a remaining schedule that includes six games against 2013 playoff teams and a game against the Baltimore Ravens in Baltimore.
5. J.J. Watt
Simply put, it's hard to argue against Watt as the best defensive player in the NFL. Only a handful of defensive players in the league are capable of impacting a game the way he can. For 2014, Watt has two sacks, an interception that he returned 80 yards for a touchdown, a fumble recovery, a blocked extra point, and has even caught a 1-yard touchdown pass. Throw in numerous pass deflections and quarterback pressures, he had nine in the Texans' win over the Buffalo Bills, and you have a legitimate MVP candidate on the defensive side of the ball.
Watt has led the Texans to a 3-1 record, which already gives them more wins than they had in all of 2013, with Ryan Fitzpatrick as the team's quarterback. Their defense is giving up an average of 16.8 points per game and the Texans only have four games remaining on their schedule against 2013 playoff teams. However, it would take at the very least a Texans playoff berth for a defensive player like Watt to receive serious MVP consideration.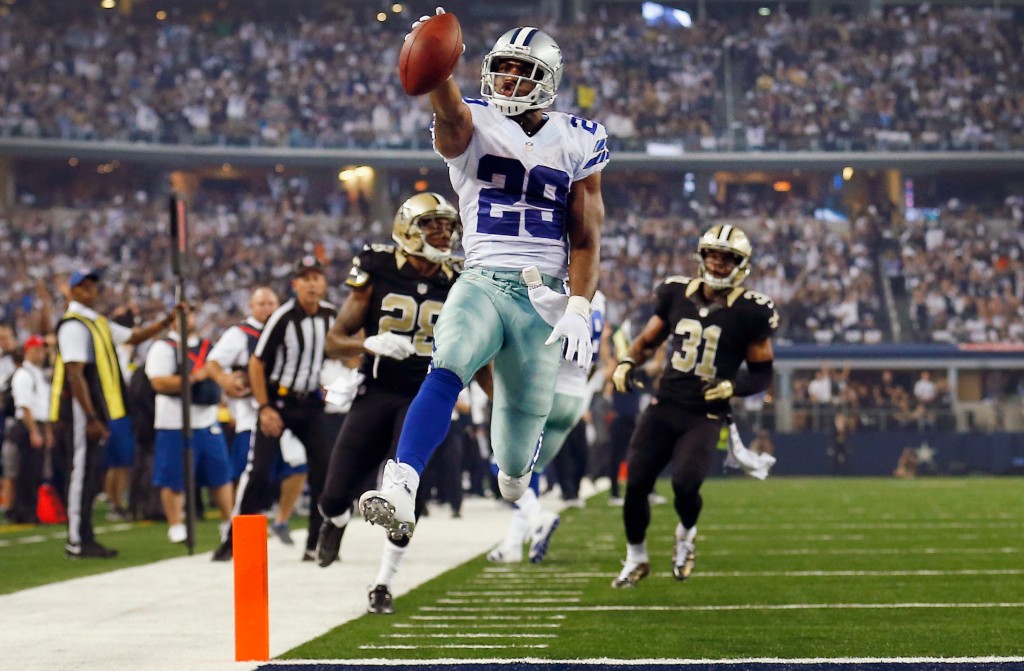 4. DeMarco Murray
The Dallas Cowboys have been one of the early surprise teams of the 2014 NFL season jumping out to a 3-1 record. This is in large part due to a dominating rushing attack led by DeMarco Murray. Murray has already rushed for 534 yards — 156 more yards than any other running back in the league. His four-game yardage total puts him on pace to break Eric Dickerson's 30-year-old NFL single season rushing yardage record. He has added five rushing touchdowns and has averaged an eye-popping 5.4 yards per carry.
The Cowboys have four games remaining against 2013 playoff teams on their schedule and are committed to running the ball. If he stays healthy for all of 2014, Murray is sure to be in the MVP mix come January.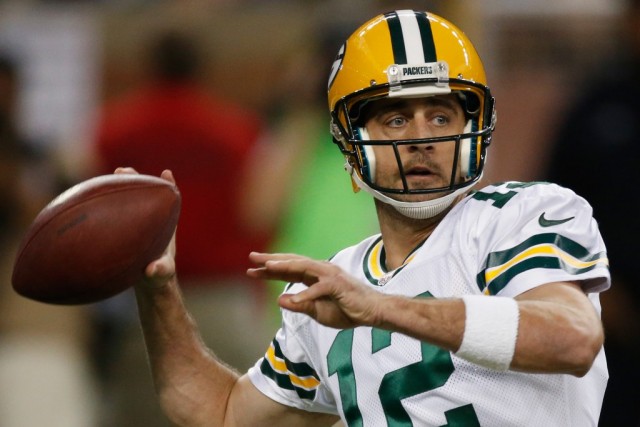 3. Aaron Rodgers
The Aaron Rodgers everybody was expecting to see in 2014 showed up in a big way in the Green Bay Packers' Week 4 win over the Chicago Bears. In the game, he threw for 302 yards, four touchdowns, and had a quarterback rating of 151.2. For the season, Rodgers has thrown for 999 yards (7.69 per pass attempt), nine touchdowns to one interception, and has a 109.1 quarterback rating.
If Week 4 was his coming out party for 2014, look for Rodgers to light up the scoreboard and fill up the stat sheet in the weeks to come. When he is on, he is arguably the best in the business.
2. Peyton Manning
Manning has put up paltry numbers by his standard thus far in 2014 and still remains one of the favorites to take home MVP honors when it's all said and done. In three games, all of which were against 2013 playoff teams, he has thrown for 814 yards, eight touchdowns to one interception, and has a quarterback rating of 108.5.
The Denver Broncos' newfound commitment to the running game, Manning ranks 22nd in the NFL in passing attempts, and will likely move to the backburner after minimal success thus far. Manning is leading an offense that is loaded with weapons and looks primed to explode in the latter half of the season against a much easier schedule. If the Broncos finish near the top of the AFC, Manning will undoubtedly be in the MVP race.
1. Andrew Luck
Luck's play in 2014 is rapidly cementing his place among the elite quarterbacks in the NFL today. He leads the league in passing yardage with 1,305 yards and touchdown passes with 13. His 7.81 yards per pass attempt and 108.0 quarterback rating are among the best in the league as well. With a rushing attach that ranks in the bottom half of the league, the Colts have been forced to rely on the third year signal-caller to carry their offense, and he hasn't disappointed.
The Colts play in one of the weaker divisions in the NFL and have only two games remaining on their schedule against 2013 playoff teams. If Luck continues to throw the ball 40+ times a game and completes 68.9 percent of those passes, his stat sheet will be hard for MVP voters to ignore.
More From Sports Cheat Sheet: