6 Fast Facts About Taylor Heinicke, the Washington Football Team's Newest Starting Quarterback
The Washington Football Team is turning its lonely and extremely desperate eyes to Taylor Heinicke yet again.
You'll likely remember Heinicke, the 28-year-old journeyman quarterback, from his gutsy performance against Tom Brady and the Tampa Bay Buccaneers in last year's NFC Wild Card Round. However, if you're unfamiliar with the Old Dominion product, we're here to help.
Taylor Heinicke is Washington's starting quarterback once again
It's Taylor Time in Washington yet again. Actually, let's hold off on that term. We're not sure if it really rings off the tongue just yet.
Well, the good news is that this is the time for Heinicke to discover just what slogan works best. The veteran quarterback is starting for the Washington Football Team yet again after Ryan Fitzpatrick suffered a serious hip injury in a Week 1 loss to Justin Herbert and the Los Angeles Chargers.
The veteran journeyman completed 11 of his 15 passes in Week 1 for 122 yards, a touchdown, and an interception. He also picked up 17 rushing yards on three carries. With Fitzpatrick out indefinitely, Washington will turn to him — and not Cam Newton, who remained a free agent as of publication — as the quarterback in charge of leading them to a second consecutive NFC East division crown.
Heinicke played well at times down the stretch in 2020
As difficult as this may be to believe, Heinicke only played in two games for Washington last season. He went 12-of-19 for 137 yards and a touchdown off the bench in a 20-13 loss to the Carolina Panthers on Dec. 27, 2020.
After remaining on the bench in Washington's Week 17 victory over the Philadelphia Eagles, he started in place of Alex Smith in the NFC Wild Card Round. Heinicke hung around against a tough Buccaneers defense and went 26-of-44 for 306 yards, a touchdown, and an interception in the 31-23 loss. He also ran for 46 yards and scored a rushing touchdown in his first career postseason game.
Heinicke is among the best football players in Old Dominion history
Long before he faced Brady in a postseason game, Heinicke torched defenses at Old Dominion in the early 2010s. The 6-foot-1 quarterback completed 67.7% of his passes for 14,959 yards, 132 touchdowns, and 39 interceptions across four seasons. Although few would ever confuse him with Michael Vick or Lamar Jackson, Heinicke also scored 22 rushing touchdowns at ODU.
He made Division I history in 2012 when he threw for a staggering 730 yards and five touchdowns. As a true sophomore, he threw for 5,076 yards and 44 touchdowns en route to winning the Walter Payton Award, an honor given to the best offensive player at the FCS level.
Heinicke played for six professional football teams before he joined Washington
It's been a busy few years for Heinicke since he left Old Dominion. Let's sum things up, shall we?
Heinicke signed with the Minnesota Vikings in 2015 and spent the next two seasons as a third-string quarterback. The team waived him with an injury settlement in September 2017.
The New England Patriots signed him a few days later, and he kept him on their practice squad for roughly three weeks.
The Houston Texans signed Heinicke in November 2017 and promoted him to the active roster in mid-December. He debuted on Christmas Day and completed his first NFL pass attempt for 10 yards. However, he soon left the game with a concussion.
The Carolina Panthers signed him in April 2018, and he saw action in five games throughout the season's first 15 weeks. Then came Week 16, when Heinicke started against the Atlanta Falcons and passed for 274 yards, a touchdown, and three interceptions in a 24-10 loss on Dec. 23, 2018.
Heinicke actually suited up for the XFL's St. Louis Battlehawks in 2020, although he didn't see the field before the league suspended operations.
The Washington Football Team signed Heinicke to its practice squad on Dec. 8, 2020. 
For Heinicke's sake, he's likely hoping he doesn't need to look for a new place to live anytime soon.
Heinicke once appeared in a reality TV show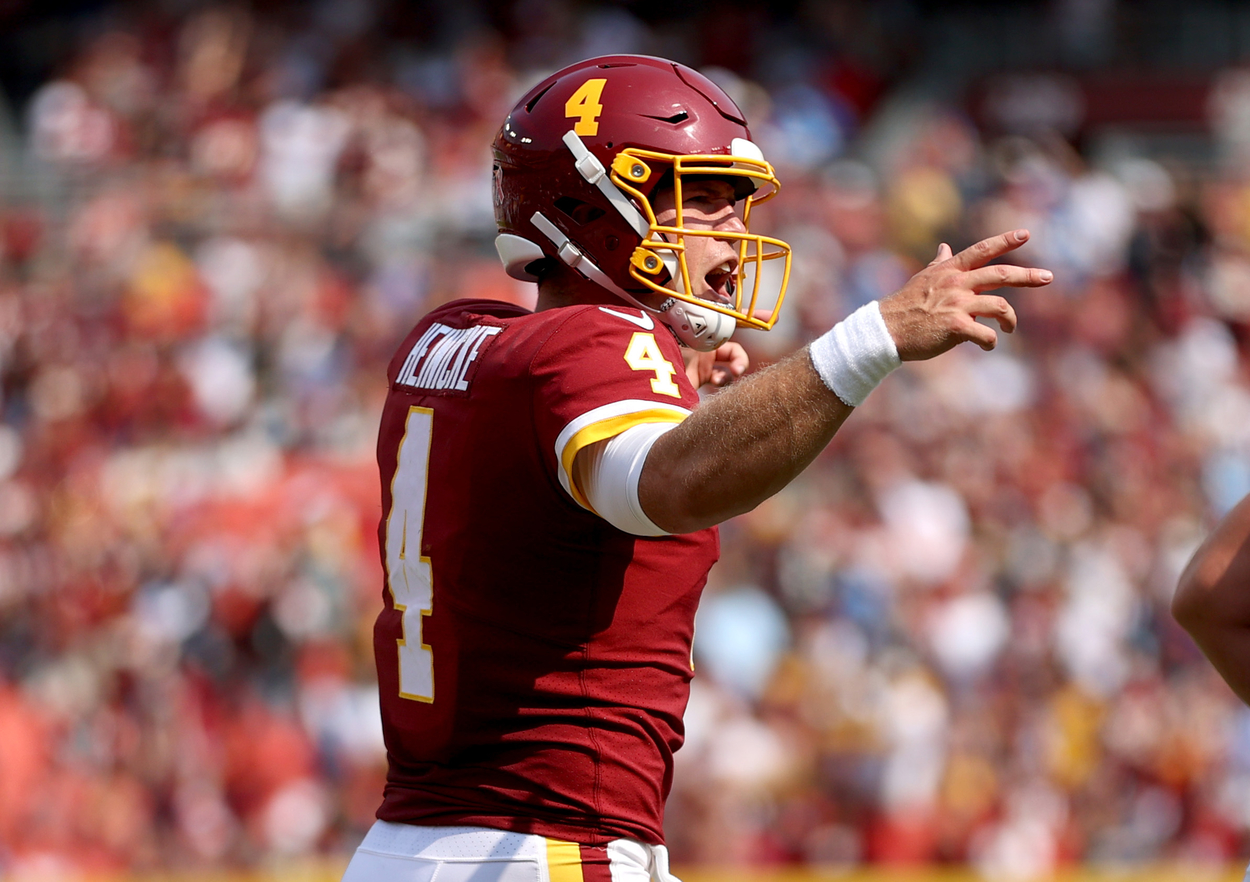 When Brady and Fitzpatrick were slinging touchdowns in the AFC East, Heinicke dominated high school defenses in Georgia. He earned the state's Old Spice National Player of the Year distinction after throwing for 2,418 yards and 44 touchdowns as a high school senior in 2010.
A reality TV show, The Ride, featured him among the high school quarterbacks who hoped to compete in that year's All-American Bowl. Future NFL quarterbacks Cody Kessler and Teddy Bridgewater, along with Kansas City Royals outfielder Bubba Starling, earned three of the game's four quarterback spots. 
J.W. Walsh, who quarterbacked at Oklahoma State and is now an offensive quality control coach on the Cowboys' staff, rounded out the quarterbacks. 
Heinicke was taking classes at Old Dominion when Washington signed him last year
Heinicke wasn't exactly sitting on his couch with a beer in hand when the Washington Football Team called him last December. The Old Dominion product returned to school in 2020 to finish his engineering degree.
At the time of his return to the NFL, his school schedule included classes like Number Theory and Discrete Mathematics and Applied Numerical Methods. Something tells us that if he could handle those courses, he'll be fine studying the New York Giants' defensive scheme on film.
Like Sportscasting on Facebook. Follow us on Twitter @sportscasting19.