6 Memorable Performances by Athletes on the Big Screen
The reason we love sports is the same reason we also tend to love the movies. We yearn for entertainment, and we're always hoping to be moved. Every so often we witness a transcendent performance unlike anything we've ever seen before, and that moment sticks with us forever. Other forms of escapism can do this as well, but there is something special about sports and cinema. So, when you choose to combine the two, there's always the potential for greatness.
And, nothing makes a sports movie feel more real than when you cast professional athletes in it. We understand that films, especially sports ones, are staged and edited to look authentic, but a certain authenticity can be achieved by merely incorporating those individuals who make a living playing the game.
With that, let's take a look at six memorable performances by athletes on the big screen.
1. Ray Allen
Jesus Shuttlesworth – He Got Game
Ray Allen is arguably the greatest three-point shooter in the history of basketball. He exhibits perfect form, a lightning-quick release, and unlimited range. Because of these attributes, it's no wonder that Spike Lee cast him in his basketball drama, He Got Game. Ray Allen played Jesus Shuttlesworth, the number-one high school basketball recruit in the land who feels an immense pressure to decide where he's going to play ball after he graduates.
The main person pushing Allen to decide, is his estranged father, who is given a leave from prison for this sole purpose. That role was played by Denzel Washington. And Allen definitely holds his own against the Academy Award winner, proving that whether it's on the NBA hardwood or up on the silver-screen, Ray Allen most certainly has game.
2. Michael Irvin
Deacon Moss – The Longest Yard
When it comes to dominant wide receivers in NFL history, Michael Irvin is right up there with the best of them. He played with flash, excitement, and extreme athleticism. It was always a challenge to cover No. 88 on the Dallas Cowboys. Irvin flashed that same bravado as Deacon Moss in the re-make of the football comedy, The Longest Yard. 
When ex-football star Paul Crewe (Adam Sandler) is tasked with creating a team of inmates to take on the guards, he knows he can't do it without real talent. Enter Deacon Moss, swagger and all. Once he and his people join the fold, the criminals actually stand a chance. While the name might be different, Deacon is so cool and talented, that we're sure Irvin was just told to be himself.
3. Dwayne "The Rock" Johnson
Joe Kingman – The Game Plan
Dwayne Johnson is one of the biggest blockbuster movie stars on the planet. He's also, The Rock, a charismatic professional wrestler who so happens to be the people's choice. But, before all that, he was a football player. And a pretty good one, too. Not only did he win a national championship as a member of the Miami Hurricanes, but he spent some time as a professional in the Canadian Football League. All of these characteristics made him a perfect fit to play Joe Kingman in The Game Plan.
Kingman is the arrogant star quarterback who finds out that he has a daughter. With her by his side, he learns to be less selfish, more team oriented, and a better overall person. The Rock was born for this part.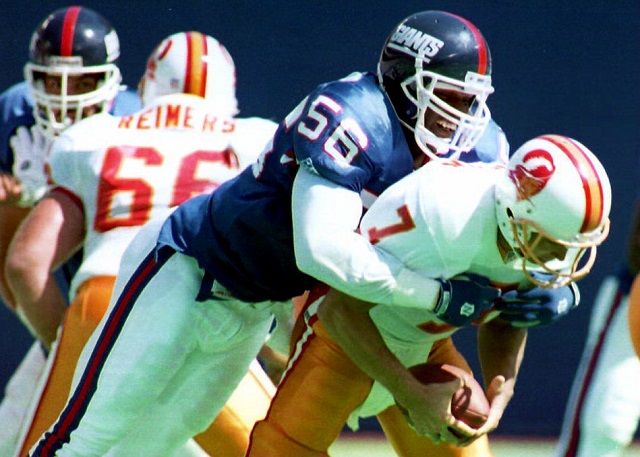 4. Lawrence Taylor
Luther "Shark" Lavay – Any Given Sunday
Lawrence Taylor is one of the most dominant and feared professional football players of all time. He revolutionized the linebacker position, and changed the game as a whole. He played fast, hit hard, and always found the football. His intensity was unrivaled, and there will probably never be another player like him. Which is why he was the only one who could play crazed linebacker, Luther Lavay in Any Given Sunday.
Like Taylor in real life, the Shark just wanted to play football. Aggressive and ageless, Lavay did whatever he had to do to get on the field. He worked hard for his bonus, and nothing was going to stand in his way. This is exactly how Lawrence Taylor played for the New York Giants. He was something truly special on the football field. Just ask anyone who ever watched him play.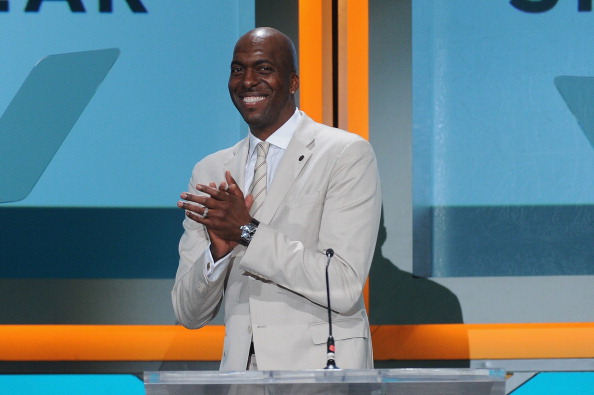 5. John Salley
Nate Wilson – Eddie
In what can only be considered a foreshadowing of this year's New York Knicks, the movie Eddie is a sports comedy where a devoted fan, by the same name (Whoopi Goldberg) is plucked out of the stands at Madison Square Garden and tasked with turning around the floundering franchise. The team is an awful bunch filled with massive egos and little heart. But, she finds a spark in the bench-warming vet, Nate Wilson. And in this role, John Salley saves the day.
With his old school charm, savvy play, and experience, Wilson helps Eddie turn the Knicks into a true team. It's a funny flick and quite enjoyable. Unlike the real Knicks, which are an absolute disaster. Where's Nate Wilson when you need him?
6. Shaquille O'Neal
Neon Boudeaux – Blue Chips
Shaquille O'Neal is an absolute monster of a man. And when he played center in the NBA, he was so dominant, it almost wasn't fair for opposing teams. Not only was he strong and ferocious, but he had great vision and excellent passing skills for a big man. Aside from his poor free-throw shooting, Shaq had it all. And, on top of that, he also had a larger-than-life personality. So, of course he was going to shine on the big screen. His most memorable role: Neon Boudeaux in Blue Chips.
In this flick, Nick Nolte plays a college basketball coach whose once storied program is looking to regain his elite status. To do this, he goes against his principles and illegally recruits some of the best high school prospects in the country. One of those blue-chip athletes is Neon, a massive man with raw skills and untapped promise. He's every coach's dream pupil. The only thing standing in his way are low test scores. Shaq owns this role, and does a great job of balancing the powerful athlete on the floor, with the gentle giant off it.
Shaquille O'Neal was first and foremost a basketball player, but he was always meant to entertain an audience. Mission accomplished.