6 More NFL Comebacks We'd Love to See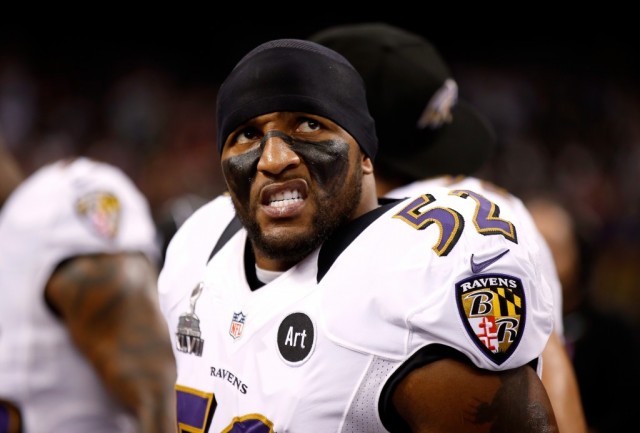 Previously we looked at some recently retired offensive players that we'd be interested in seeing return to the gridiron. In and of itself, an exercise looking only at offensive players to bring back (presumably in the modern game) is a challenging proposition, to say the least.
The rules have virtually never been more favorable for quarterbacks and wide receivers, for instance, and as such there are probably a dozen greats from each position that would be worth seeing compete in 2015's NFL. By the same token, the bruising backs and powerful linemen that were once so essential now seem curiously out of place. The best lines in football are now as athletic as they are mammoth and even the most durable, oft-used runners have acceleration and agility that would leave their predecessors in the dust.
The point is that, all things being equal, the offensive side of the ball has evolved more than the defense. Run stuffing tackles like Vince Wilfork are still commodities, edge rushers who can get after the quarterback are worth their weight in gold, and a tremendous secondary such as Seattle's is the difference between a good and truly great defensive unit. Oh, and if he came back Ray Lewis would definitely still be Ray Lewis.
Still, some things have changed. By and large, defensive greats of even the recent past might have trouble navigating the rules that prevent them from being as physical at every level and unlike offensive players – where the argument could be far-fetched but tangentially possible – there's virtually no way a defensive retiree older than 35 could come back after a hiatus and be a meaningful contributor in today's game.
So, with that caveat acknowledged, here are five defensive players we'd hypothetically love to see take the field once again: 
DE: Michael Strahan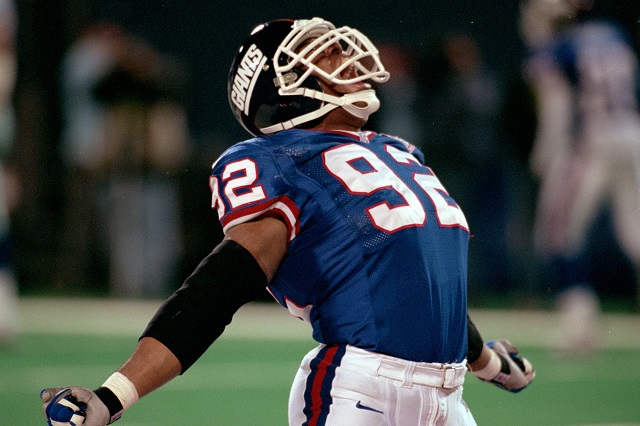 You can't say the telegenic Strahan hasn't kept himself busy since going out a Super Bowl champion after 2007. And when he hasn't been appearing as an NFL commentator, or on commercials to sell any number of products, he's been the guy your grandparents watch in the morning opposite Kelly Ripa ever since Regis Philbin decided to give it a rest.
Strahan's celebrity and off-field charm actually may overshadow just what an outstanding and dominant pass rusher he was during his 15-year career with the New York Giants. The all-time single season sack leader with 22.5 in the 2001 campaign, Strahan also ranks 5th all time in sacks behind Bruce Smith, Reggie White, Kevin Greene and Chris Doleman with 141.5. What's worth noting is that the 2014 Hall of Fame inductee's total actually outpaces another great Giants DE: Lawrence Taylor.
One thing's for sure: the Giants' pass rush sure could use Strahan nowadays.  
DT: Warren Sapp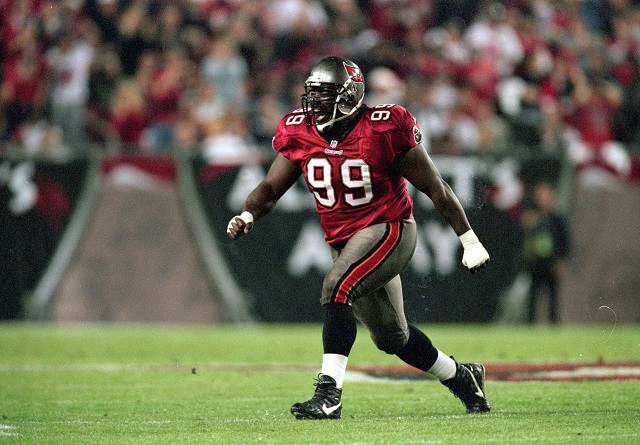 He's been in the news recently for some off-field issues, but in his playing days Sapp had as much personality as game. A seven-time Pro Bowl performer and a 2013 Hall of Famer, Sapp was the leader of several great Buccaneer defenses, which reached their peak during the 2002 season when they would ultimately win the Super Bowl.
Featuring a unique ability to both stuff the run as a DT should, but also generate a high number of sacks from the position (96.5 for his career), he was never one to back down on or off the field. Sapp told it like it is, which means the now-sorry Buccaneers defense should probably cover their collective ears if things don't pickup in a hurry this season — unless he's willing to get back out there.  
LB: Tedy Bruschi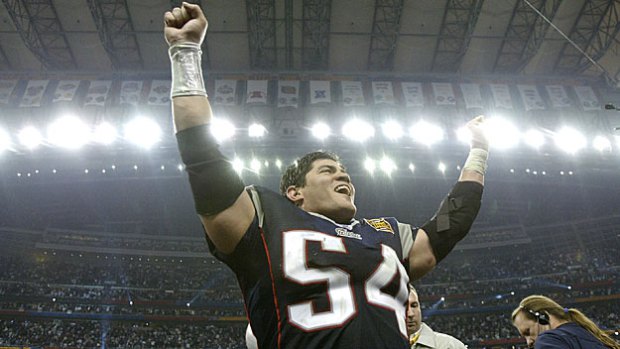 A kind of constant presence on ESPN's NFL coverage, Bruschi was once the leader of the consistently underrated Patriots defenses that helped win the franchise's first three Super Bowls. Although he was only a one-time Pro Bowl and two-time All-Pro selection, Bruschi epitomized toughness.
That was no more evident than during his 2005 comeback from an offseason stroke. The grit and courage he displayed that year won him a share of the Comeback Player of the Year award and was emblematic of his entire 13-year career.
He may never be an NFL Hall of Famer and he has stated in the past that he'd rather not see his number retired by the Patriots, but fans who have watched Brady and Belichick take this team to the top of the game over the past 15 years are unlikely to ever forget the instrumental role that Bruschi also played in that rise.  
S: Ed Reed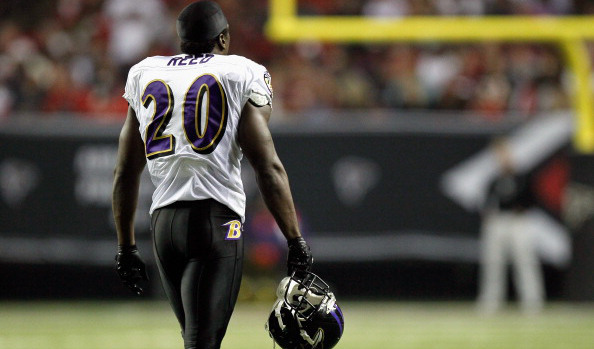 A very recent retiree and one of the last bastions of the great Baltimore Ravens defenses that wreaked havoc on the AFC for well over a decade Reed, Ray Lewis, and company may have officially passed the torch upon their Super Bowl victory at the end of the 2012 season. If that title year was the end of the era, though, the ball hawking and fierce hitting Reed might well go down as not just the best safety of his time, but of all-time as well.
The owner of several NFL records including most career interception return yards (1590), the longest interception return of all-time (108 yards), and tied for the highest number of postseason interceptions (9), the nine-time Pro Bowl performer is also the Ravens' all time leader in interceptions with 61.
And unlike his contemporaries on this list, we're not so sure he couldn't return and start. Until then, however, Reed can look forward to being a no-doubt first ballot Hall of Famer the very first year he's eligible.  
CB: Champ Bailey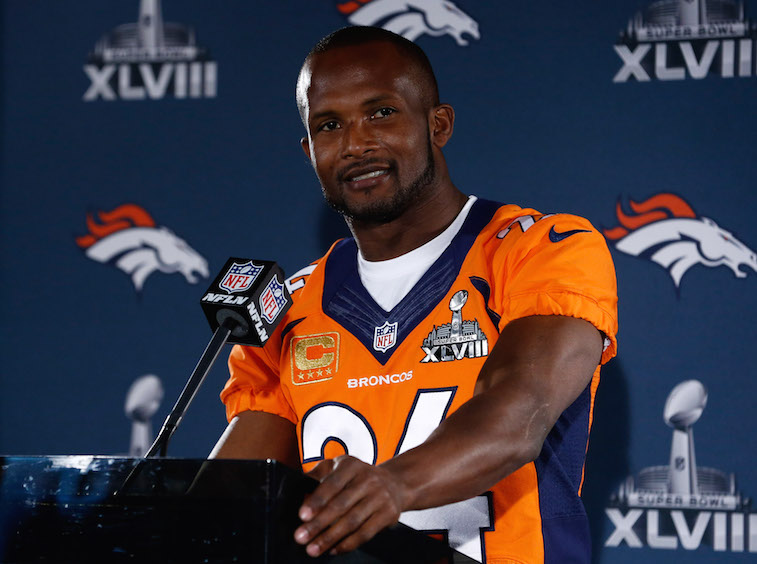 Champ Bailey played 15 seasons and was selected to an astounding 12 Pro Bowls, which is tops all-time among cornerbacks. The greatest disappointment of his career, by far, has to be that Super Bowl loss the Broncos suffered against the Seahawks, which concluded their soaring 2013 campaign with a thud.
To be fair, however, the Broncos best chance may have been lost during the previous season's playoffs, when Bailey was widely criticized in the aftermath of their stunning divisional round loss to the Ravens. Be that as it may, Bailey could probably return to the field and still contribute as a backup of some sort, even just serving as a mentor to younger players on a given team's secondary.
He, more than the rest, seems like a guy who deserves one last shot, because unlike the others on this list, Champ left the game while still lacking a ring.
Stats and information provided by ESPN and Pro-Football-Reference.com
Connect with Tamer on Twitter @iamtamerabouras