6 of Our Favorite 2014 Halloween Sports Costumes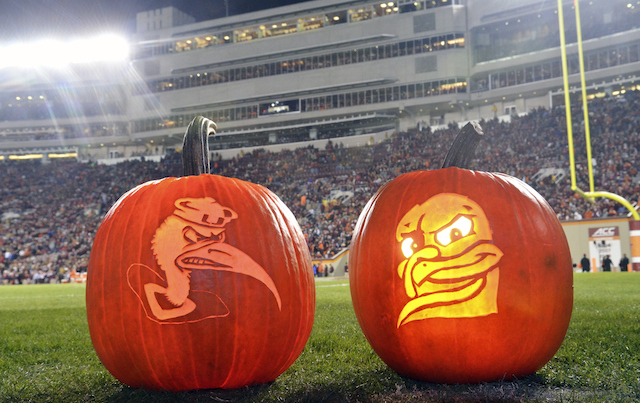 As the calendar turns to October 31, and millions of people around the country slip into their Halloween costumes to commemorate the annual trick-or-treat holiday, there are always quite a few sports personalities that come up with clever, interesting, or funny costumes of their own. We took a survey of social media on Halloween to find some of our favorites from basketball, football, and other sports. Who would you add to this list?
Bruce Pearl — yeah, that's Bruce Pearl — entertains on a fun night for Auburn students. Story: http://t.co/S7bxiPI3mL pic.twitter.com/FkszrYbNDZ

— Auburn Gold Mine (@AUGoldMine) October 31, 2014
Bruce Pearl New Auburn basketball coach Bruce Pearl celebrated Halloween with a special (if familiar on the school's campus) look during this week's 'Pearl Jam' tipoff event. Pearl dressed up as Gus Malzahn, complete with headset, glasses, and visor. If Pearl can follow in Malzahn's footsteps and make the national championship in his first year at Auburn, we think the fans would gladly take that.  
"Great to be on with you morons this morning…you didn't even cut the sleeves short enough." – Bill Belichick pic.twitter.com/GdEcoQY00U — Mike & Mike (@MikeAndMike) October 31, 2014
Mike and Mike
Former NFL player Mike Golic and co-host Mike Greenberg, best known for their Mike and Mike show on ESPN Radio, dressed up today as the two faces of the New England Patriots franchise for an on-site program at Gillette Stadium. 'Greeny' came as Tom Brady, while Golic impersonated Bill Belichick. When the real Belichik dropped by, he had some sweatshirt-related words of wisdom for his 'twin.'
Deron Williams It looks like Nets guard Deron Williams is a fan of HBO's Game of Thrones, according to this Instagram post. (We'd like to see him try to play basketball in that get-up.) Also: With the amount of characters that television show goes through, Williams should be set for Halloween characters for the next 100-some years of his life.
Jabari Parker
Bucks rookie star Jabari Parker dressed up as a Blues Brother for Halloween this year, taking the opportunity to hand out candy to quite a few dumbstruck kids. The funniest part of this video (from the team's official Facebook page) is watching the children multiply once the word got out: Hey, there's a 6-foot-8 guy giving out candy!
Nick Collison and Russell Westbrook Thunder players Nick Collison and Russell Westbrook obviously take Halloween seriously, as evidenced by this photo of a prospective Ghostbuster and character from Orange is the New Black. You can see more photos from the Oklahoma City costume party here. Perhaps, with the news of Westbrook's broken hand adding to OKC's long injury list, a doctor costume might have been more fitting? Oh, well. There's always next year.  
Now that I'm on the US Amputee Soccer Team, this seemed like an appropriate Halloween costume. pic.twitter.com/2TiN2fdrFm — Josh Sundquist (@JoshSundquist) October 28, 2014
Josh Sundquist
Last but not least, our favorite Halloween costume of 2014 comes from the Twitter feed of U.S. National Amputee Soccer Team member Josh Sundquist. Sundquist dressed up as a foosball player, and did so quite convincingly. As Sundquist tweeted, "Got something that makes you 'different'? Instead of being self-conscious or embarrassed, find a way to celebrate it."