11 of the Biggest NFL Draft Busts of All Time
Football never really stops.  So you can imagine that all 32 National Football League teams started preparing for the next regular season long before the offseason officially started, and most of their efforts go into picking the right players in the draft. Scouts closely follow the careers of collegiate players in hopes of finding the next Adrian Peterson or Tom Brady.
Although drafting quality athletes with the right physical and mental tools to "make it" in the pros is always a big challenge, sports analysts do their best to project the most valuable college players who could likely become big stars. Sometimes, they're right; other times, they completely miss the mark. Teams that covet their first-round pick often come away with a complete dud. Here are 15 of the biggest NFL draft busts in recent history. (Our pick for No. 1 probably won't surprise you.)
15. Jameis Winston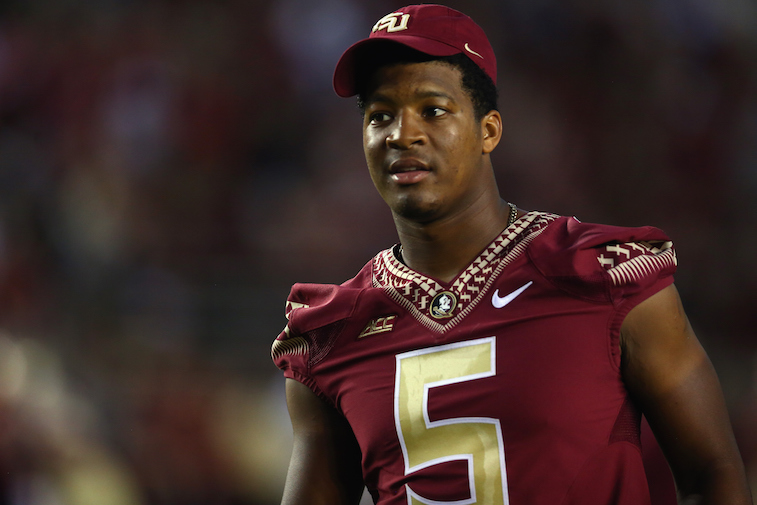 The Tampa Bay Buccaneers had incredibly high hopes riding on Jameis Winston, who they selected with the first overall pick in the 2015 NFL Draft. In just a few seasons, however, Famous Jameis hasn't done much to be remembered for. (Unless you want to count getting into trouble on a regular basis.) Over three seasons down in Tampa, he has thrown 69 touchdowns and 44 interceptions, and the Bucs have only had one winning season with him at the helm. (A 9-7 record during their 2016 campaign, which is nothing to write home about.) While Tampa Bay's losing ways aren't solely Winston's fault, he's certainly not living up to his draft stock so far.
Next: Yet to be proven effective.
14. Matt Barkley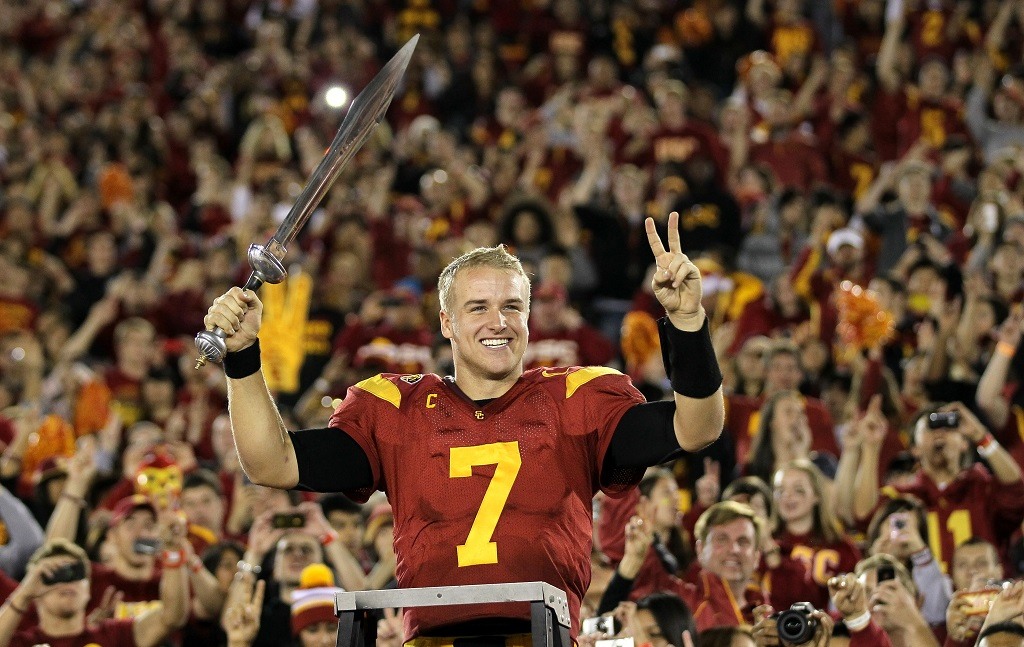 Barkley is a special case because of his decision to stay at USC for his senior year instead of go into the NFL Draft after he'd played his best year of collegiate ball. Nevertheless, the Trojans QB was praised for his decision to get one more year of CFB under his belt before hitting the pros. Then, somewhat unexpectedly, his level of play dropped during his senior campaign, and his draft stock followed suit.
His pro career hasn't been much better. Although he was initially drafted by the Philadelphia Eagles, he had limited playing time there and has bounced between teams ever since. In a short six-game stint starting for the Chicago Bears, he went 1-5 with eight touchdowns, 14 interceptions, and 43 yards lost because he was sacked so much.
Next: Another disappointment at the QB position.
13. Brady Quinn
It's not that the former Notre Dame product couldn't make the jump skill-wise from college football to the NFL. Or the fact the Cleveland Browns have terrible Draft luck despite getting high picks so many years in a row. The problem with Brady Quinn is the guy just couldn't stay healthy long enough to prove he could be a staple in the league.
Quinn only played one game in 2007 after being drafted. He then had his following two campaigns cut short by injuries and ended both of those seasons on injured reserve. A number of concussions helped to cut his professional football career short.
Next: Before the debacle with Quinn, there was …
12. Courtney Brown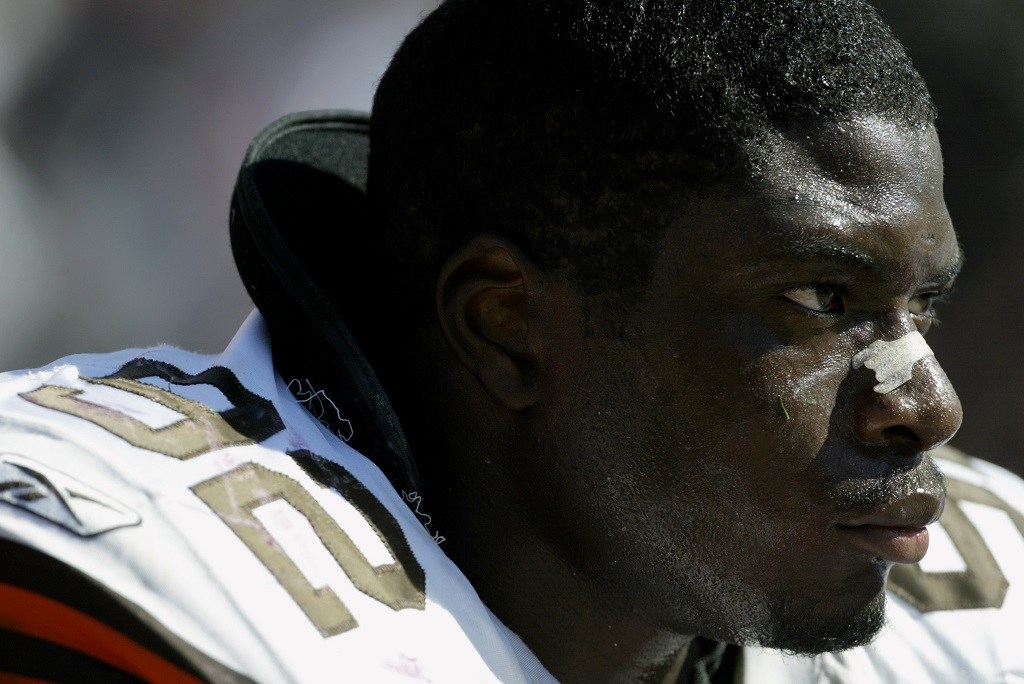 Cleveland selected Courtney Brown with the first overall pick in the 2000 Draft. And from the looks of his rookie season, it appeared the defensive end would have a solid professional career and give the Browns some much-needed stability on his side of the ball. Then he got injured during his second season and only played five games.
After that, Brown never got his mojo back. He never played a full season again, and when he did play it didn't resemble his dominance from before. After spending the 2005 season playing for the Denver Broncos, he hung up his cleats for good.
Next: Three poor seasons does not a QB make.
11. Heath Shuler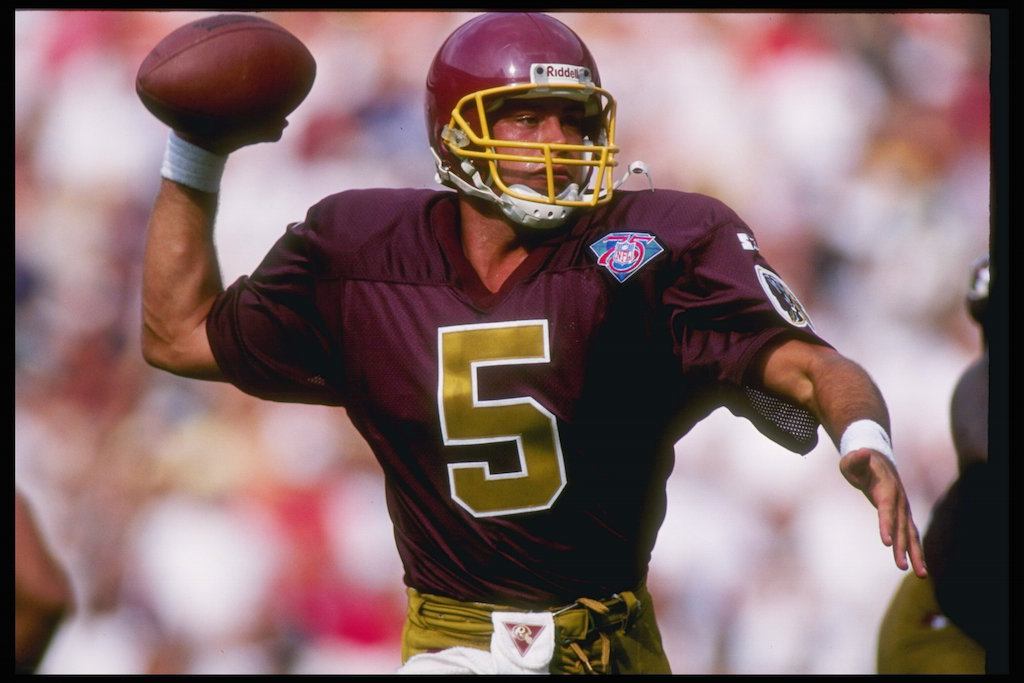 With the No. 3 overall pick in the 1994 draft, the Redskins selected Tennessee quarterback Heath Shuler. During his brief three seasons in Washington, Shuler started just 13 games (playing in 19 total) and went 4-9 as a starter. He completed 47.7% of his passes, amassed only 2,403 total passing yards, and threw 13 touchdowns against 19 interceptions.
In 1997, the Redskins traded Shuler to the New Orleans Saints in exchange for a fifth-round pick that year and a third-round pick in 1998.
Next: More pass completion trouble.
10. Akili Smith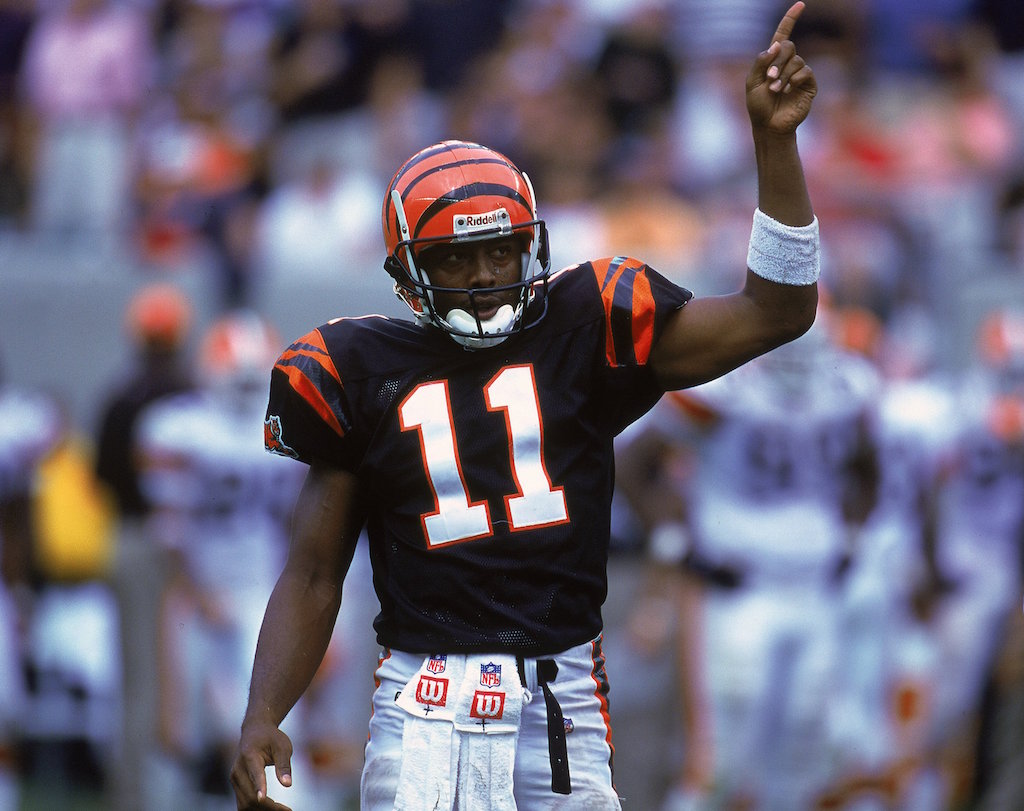 The Cincinnati Bengals took quarterback Akili Smith with the third overall pick in the 1999 draft. Over the next four seasons, the organization learned a valuable lesson: Success in college doesn't always translate to the NFL. Smith started only 17 games in Cincinnati, boasting an uninspiring 3-14 record. He threw for just 2,212 yards and five touchdowns — compared to 13 interceptions —  as a Bengal, completing a mere 46.6% of his passes in the process. The 2002 season was his last in the NFL.
Next: At least this draft busts stuck around the league for a few years.
9. Rick Mirer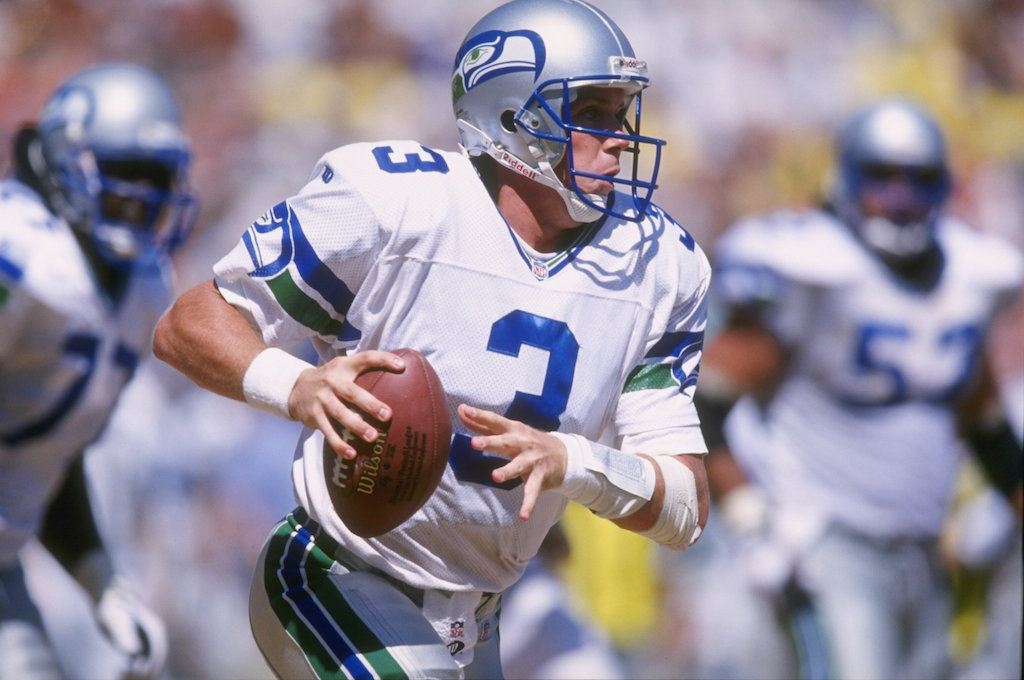 Thinking they had their quarterback of the future, the Seattle Seahawks took Notre Dame's Rick Mirer with the second overall pick in the 1993 draft. Prior to being traded to the Chicago Bears in 1997, Mirer spent four seasons in Seattle, where he compiled a 20-31 record as a starter, completed 53.4% of his passes, and threw for 9,094 yards, 41 touchdowns, and 56 interceptions. Although Mirer never lived up to the hype, he deserves some credit for carving out an eight-year playing career. That's better than most.
Next: One of the biggest busts in recent memory.
8. Trent Richardson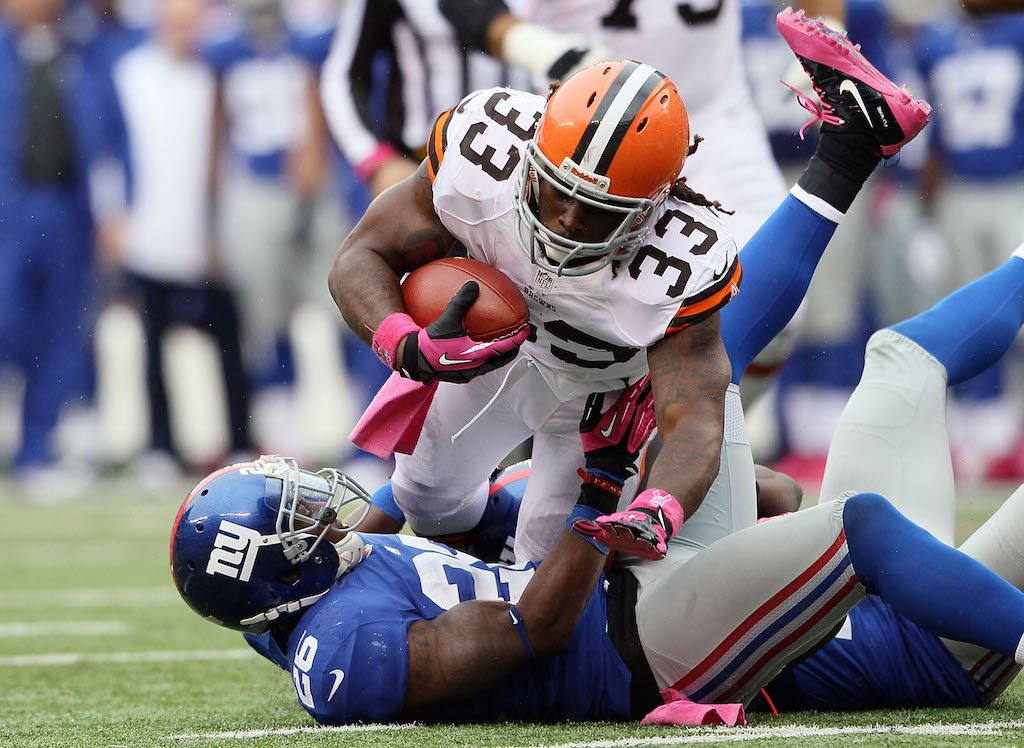 As we said before: When it comes to the NFL draft, few teams make more mistakes than the Cleveland Browns. Selecting running back Trent Richardson with the No. 3 overall pick in 2012 is a perfect example of the franchise's ineptitude. Richardson lasted a little over two years in Cleveland, where he amassed 1,055 rushing yards — and 11 rushing touchdowns — and averaged 62.1 yards on the ground per game. He was traded to the Indianapolis Colts during the 2014 season and hasn't stepped on an NFL field since the end of that year.
Next: The run game doesn't always transition from college to the pros.
7. Ki-Jana Carter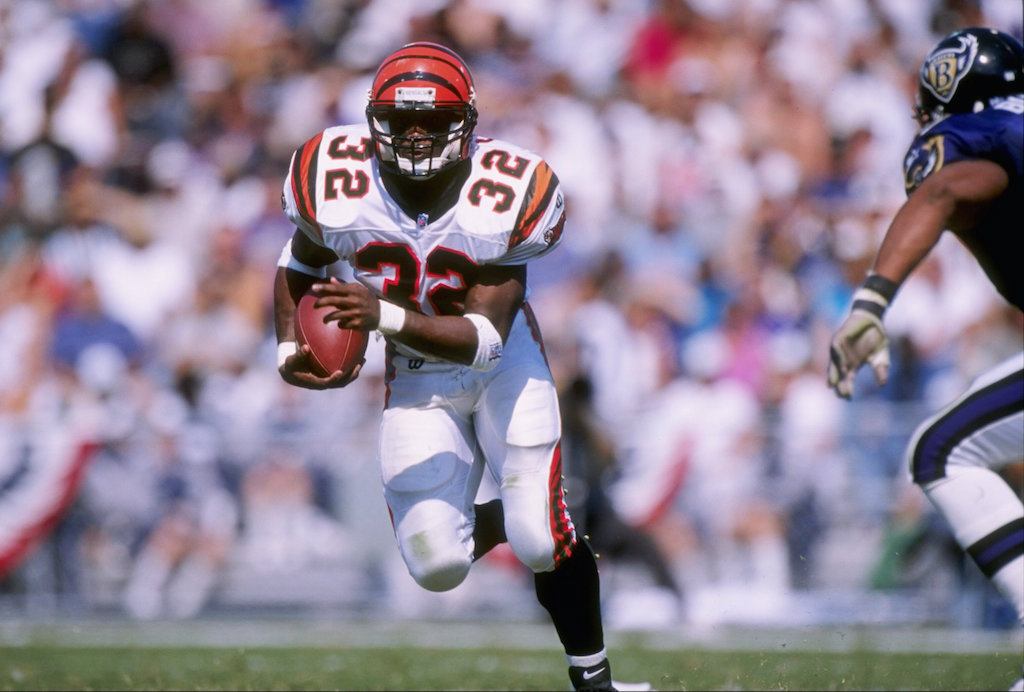 If you ever wonder why teams hesitate to take running backs early in the draft, look no further than Ki-Jana Carter. Following an All-American campaign at Penn State, Carter was taken by the Bengals with the first overall pick in the 1995 draft. His time in Cincinnati was short-lived, to say the least. Carter started just 14 games over the next four seasons, compiling 747 rushing yards and 16 rushing scores while averaging an abysmal 21.3 yards per game. Just think: The Bengals could've had Steve McNair, Warren Sapp, or Derrick Brooks instead.
Next: Troubles on defense.
6. Aaron Curry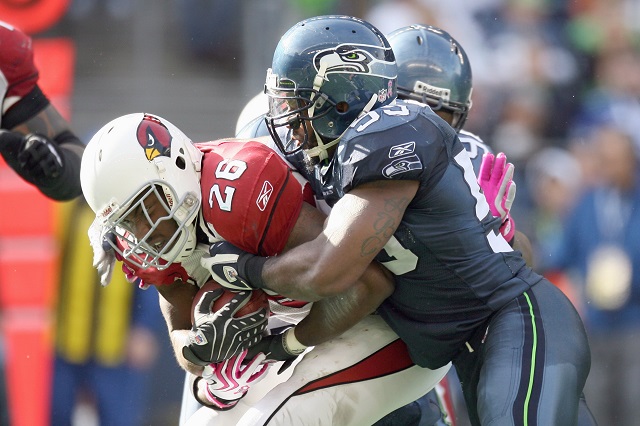 In the 2009 draft, the Seattle Seahawks thought they had their dominant linebacker of the future in Aaron Curry. They took him fourth overall out of Wake Forest and paid him $34 million guaranteed. Just two years later, they traded him to the Oakland Raiders for a seventh-round pick in the 2012 draft.
After being waived by the Raiders, Curry signed a one-year deal with the New York Giants in 2013. They cut him in training camp, and he decided to retire from professional football altogether in August of that year.
Next: THis next player makes most 'Draft Busts' list out there.
5. Tim Couch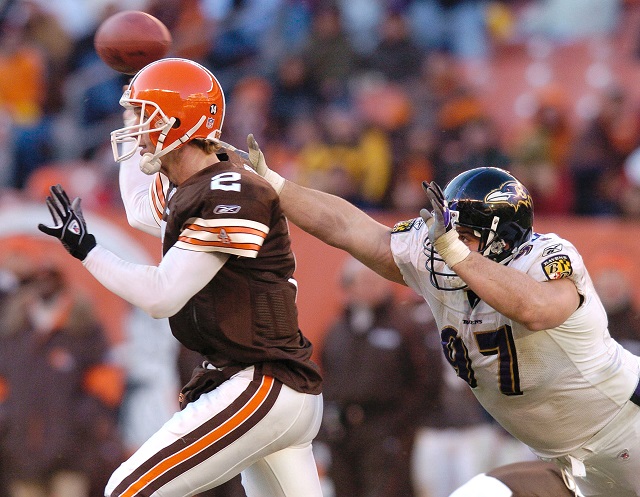 With great success at the college level for the University of Kentucky, quarterback Tim Couch was the No. 1 overall selection for the Cleveland Browns in the 1999 NFL Draft. However, his five-year career was full of injuries. And when he actually played, he was terribly inaccurate.
Couch finished with 64 touchdowns and an awful 67 interceptions. The Browns wound up releasing him after the 2003 season. He attempted a few comebacks, but they were all unsuccessful. In 2007, Couch solidified his failed attempt at an NFL career, testing positive for human growth hormone and steroids.
Next: Big money only led to a big letdown.
4. Tony Mandarich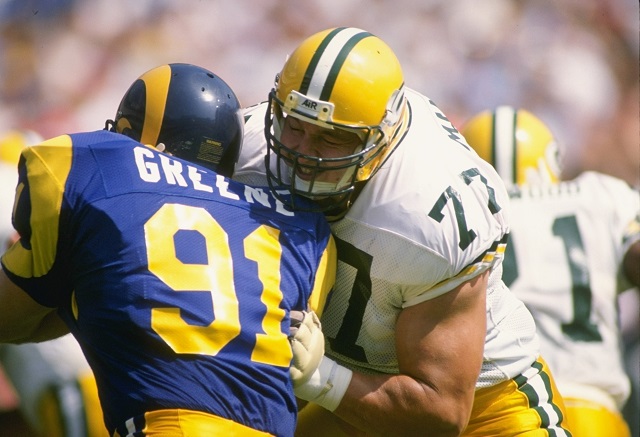 Billed as "The Incredible Bulk" because of his amazing college career at Michigan State, offensive lineman Tony Mandarich was projected to be a monster in the NFL. The Green Bay Packers took him as the No. 2 pick in the 1989 draft, but he never lived up to those expectations.
Though Mandarich held out for a big rookie contract — becoming the first O-lineman to make a seven-figure salary per season — he was a liability on the field and got burned by defenses on a weekly basis. His career with the Packers only lasted two seasons before he was cut. To make matters worse, he became addicted to painkillers and had to enter rehab. Mandarich actually returned to the NFL for a decent three-year stint with the Indianapolis Colts. However, he never became the dominant force he was supposed to be.
Next: Not exaclty the 'country's best' wideout.
3. Charles Rogers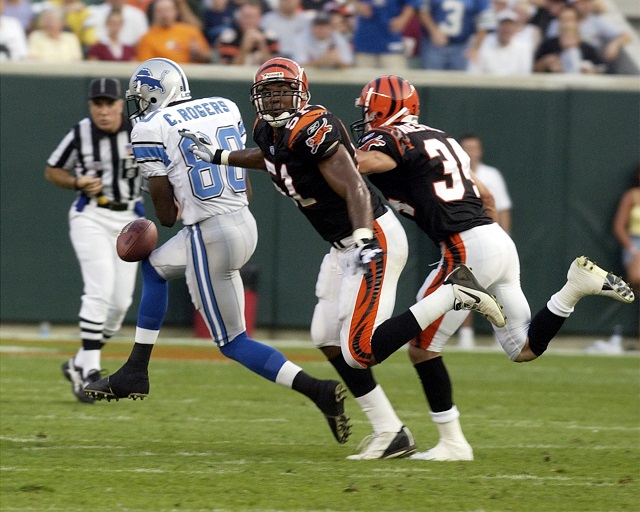 There were many bad drafts for the Detroit Lions in the 2000s, when former player Matt Millen was president and CEO. But one draft that sticks out in most peoples' minds occurred in 2003 when the team picked Michigan State wide receiver Charles Rogers second overall.
Expectations were high after Rogers won the Biletnikoff Award for being the country's best WR. Sports writers even compared him to future Hall of Famers like Randy Moss. But in his first two seasons, Rogers broke his collarbone twice and only played six games. In 2005, the league suspended him following his third violation of the NFL's drug policy. This led to his eventual outright release.
Next: Bad news for the Silver and Black.
2. JaMarcus Russell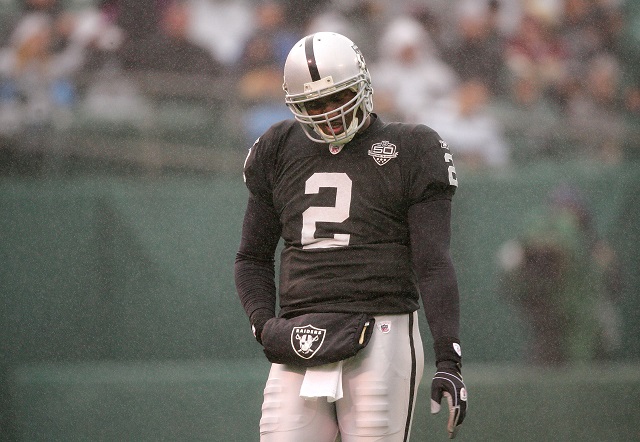 Al Davis, the late owner of the Oakland Raiders, was known for drafting some of the worst busts in recent history. Quarterback JaMarcus Russell could be the biggest. Between his unbelievable Sugar Bowl performance with the LSU Tigers and his ability to throw a football 70 yards from his knees, Russell had Davis convinced that he found his franchise QB.
Subsequent to becoming the first overall selection of the 2007 draft, Russell made it clear that he couldn't be coached and was a lazy player. His career only lasted three seasons; he had 18 touchdowns, 23 interceptions, and 22 fumbles. After he left the game, Russell was arrested for possession of codeine, and he ballooned up to 308 pounds. He tried to make a comeback before the 2014 season but was never signed by any team. He even offered to play for free — that didn't work out too well, either.
Next: He was no Peyton Manning.
1. Ryan Leaf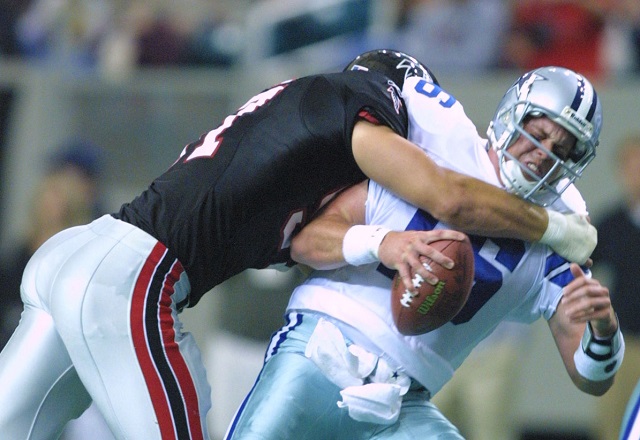 As one of the most coveted players coming out of college in 1998, Ryan Leaf seemed to be a future Hall of Famer. The San Diego Chargers agreed with the assessment, taking the Washington State quarterback second overall in the draft, right behind first overall pick Peyton Manning. But Leaf just didn't pan out from the start. His passion for the game was always in question, and it showed on the field.
In just a four-year span, he played for four different teams and finished with a horrible 14/36 TD-to-INT ratio and a QB rating of 50. Following his quick retirement, Leaf became a quarterback coach at West Texas A&M University in 2006. Unfortunately, his life spiraled out of control with illegal drug issues and other brushes with the law. Most recently, Leaf served a seven-year sentence in state prison stemming from burglary and drug possession charges in Montana. He was released in 2014.
Writer Chelena Goldman contributed to this piece.