6 of the Most Impressive Performances of the NFL Season So Far
The Buffalo Bills players spent part of last week snowed in at their respective houses. They missed multiple days of practice. They required snowmobiles to get to the airport and head out of town. They had to play a home game hundreds of miles away on a neutral field in a different state. In short, the Bills faced seemingly every distraction possible in the last seven days … and still blew out the New York Jets, a longtime AFC East rival, by the score of 38-3 Monday night when it was finally time to play football.
If ever a team had an excuse for not showing up to an NFL game ready to play, the Bills did. If ever a team could have been forgiven for looking like its focus and attention was somewhere else, it would have been Buffalo. But, instead, the Bills put together a thoroughly dominant performance in front of more than 56,000 fans at Detroit's Ford Field to improve their record to 6-5. In light of the difficult circumstances, Buffalo's 35-point win will go down, at least in our minds, as one of the most impressive performances of the NFL season to date. That puts Bills 38, Jets 3 in pretty decent company: Here is our (admittedly somewhat subjective list) of five other incredibly-impressive results so far in the 2014 NFL campaign, working backward chronologically. Which ones would you add? (No, sorry, the Raiders actually defeating an NFL team for a change doesn't count.)
Aaron Rodgers buries Bears

On November 9, Packers quarterback Aaron Rodgers took advantage of a national spotlight during Sunday Night Football to throw six touchdown passes against Chicago — before halftime. Rodgers' passing clinic staked Green Bay to a 42-0 lead at intermission en route to an eventual 55-14 win. Rodgers threw scoring strikes to five different receivers in the first half: Brandon Bostick, Andrew Quarless, Jordy Nelson (who caught two), Eddie Lacy, and Randall Cobb. The Green Bay star finished the game with 18 completions on 27 attempts for 315 yards and the half-dozen touchdowns. Considering no quarterback has ever thrown more than seven scores in a game, six in a half has to go down as one of the most impressive performances of the season.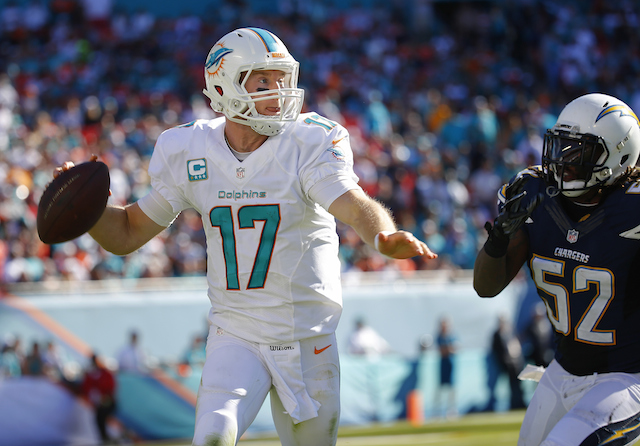 Dolphins shut out Chargers for their coach
The Miami Dolphins played with heavy hearts on November 2, knowing that head coach Joe Philbin's father, Paul, had died earlier that week in Massachusetts. Joe Philbin traveled back south to be with his team on Saturday, and his team played a practically perfect game to honor him. The 4-3 Dolphins shut out 5-3 San Diego by a score of 37-0 in a game that really wasn't that close, forcing four turnovers and owning the time of possession in the process. After the game, Miami owner Stephen Ross presented the clearly emotional Philbin with a game ball from the Dolphins' most lopsided shutout win since 1987.
Big Ben does his best video-game impersonation
Pittsburgh Steelers quarterback Ben Roethlisberger had the game of his career on Sunday, October 26, throwing a career-best six touchdown passes in a 51-34 win over Indianapolis. Then, the next week, he did the same thing. Big Ben once again tossed a half-dozen scores in a 43-23 victory over divisional foe Baltimore, becoming the first quarterback in league history to compile 12 touchdown throws in a two-game span. Between the two wins, Roethlisberger completed 69 of 86 passes, rolling up 862 yards through the air. Those stats would be remarkable enough playing Madden, let alone in real life.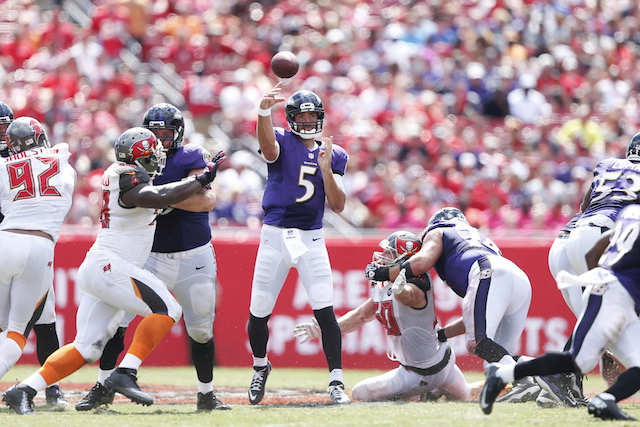 Flacco > Bucs (OK, everyone > Bucs?)
Speaking of the Ravens, Baltimore signal-caller Joe Flacco had a career game of his own in October. Flacco shredded the Buccaneers' defense for five touchdowns in just over 16 minutes to start the game on Sunday, October 12, in Tampa. Barely a minute into the second quarter, Flacco and the visitors owned a 35-0 lead in a one-sided display reminiscent of a team running offensive drills against air in practice. (Of course, the Buccaneers defense is hardly a formidable outfit in 2014: The 4-7 Falcons led Tampa Bay 56-0 after three quarters a few weeks before Flacco's aerial assault on the record books.) Flacco finished the afternoon 21-29 throwing the football for 306 yards with five TDs as Baltimore romped to an easy 48-17 win over Tampa Bay.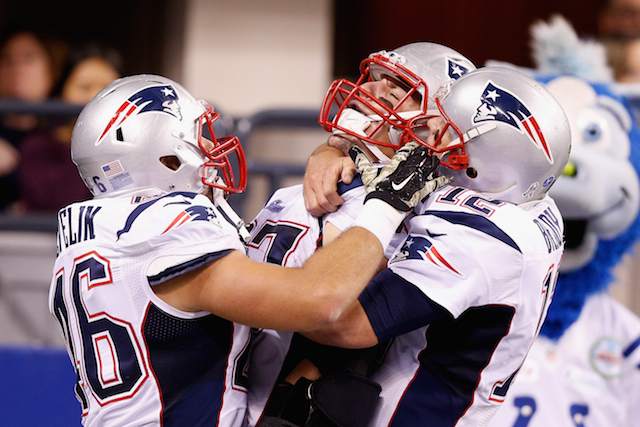 Patriots win and win and win and win and win and win and win
On Monday, September 29, the New England Patriots suffered a 41-14 blowout loss at Kansas City on Monday Night Football. The embarrassing defeat dropped the Pats' 2014 record to 2-2 and sparked no small amount of talk about the end of New England's dynasty. Since that day, however, the Patriots have been perfect. Bill Belichick's team has dominated the last seven opponents it's faced by an average of more than 19 points per game, a run of extraordinary play that's been one of the biggest storylines of the 2014 season. The last three teams New England has faced have each been division leaders (Denver, Indianapolis, and Detroit), and none of those squads have come within 21 of the Pats. The Patriots now enjoy the best record in the AFC and look like Super Bowl favorites, a familiar position for Belichick, Tom Brady, and company.