6 Teams Defying the NBA's Current Small Ball Trend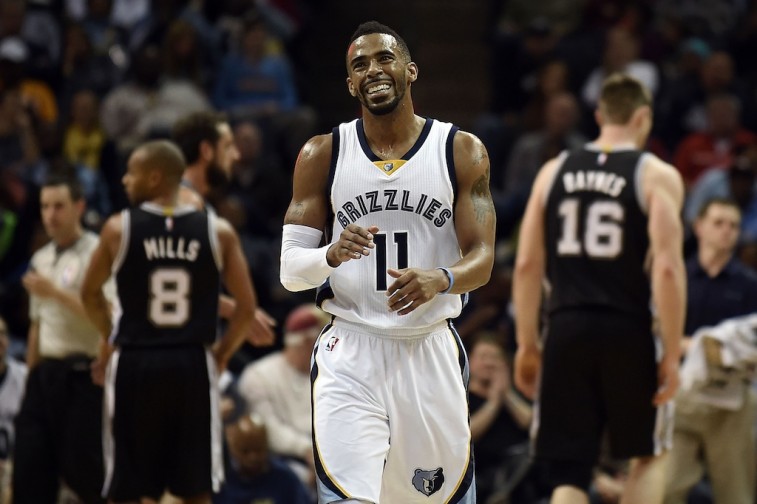 In Game 4 of this year's NBA Finals, the Golden State Warriors rolled out a variation of their "small ball" lineup in which no player stands taller than 6-foot-8 and Draymond Green (who is all of 6-foot-7) manned the center position. Casual fans and basketball die-hards alike took notice of this odd starting five but in the aftermath, the quick jump-shooting team that had dominated the league all year was once again praised for playing to its overwhelming, if unconventional, strengths. That starting group of Stephen Curry, Klay Thompson, Andre Iguodala, Harrison Barnes, and Green would lead the Warriors back from a 2-1 series deficit and to the franchise's first championship in 40 years. In so doing, they capped what some feel was a defining year for the direction of the league with regard to how the game is played.
The Warriors' victory seems to be the culmination of a year where analytics, three-point shooting, smaller lineups, and high-paced offenses finally won over a majority of the league. In raw numbers, the average team attempted 1838 three-pointers and that number represented an increase of 23.6% from 2009-2010, when the mean was 1487.4 per team.
That being the case, you'd think the NBA's analytic paradigm shift would have swept away all of the seven-footers and conventional big men completely by now. However, there are at least six teams rolling out starting fives in almost complete defiance of this growing trend. And here's the catch: five of them made the postseason! (Of those, three advanced past the first round) What's more, they all ranked in the top ten for fewest points allowed per game, including occupying all of the top three spots.
In addition to generally being strong defensive teams, the key numbers to look for here are each club's offensive efficiency number, which is the number of points it scores per 100 offensive possessions, and its pace factor, which measures the number of possessions it uses per game. Let's examine each of these clubs and see what's helping them so successfully stand against the winds of change in (literally) a big way.
6. Utah Jazz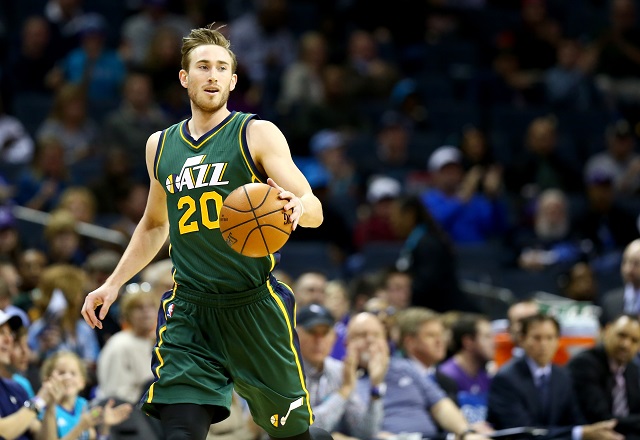 The only squad on this list to not reach the playoffs, the Jazz quietly led the league in scoring defense and went on a 22-11 tear to close the season that probably would have netted them a postseason birth had it begun a bit earlier. With 7-foot-1 Rudy Gobert, affectionately known as the Stifle Tower, at center, 6-foot-10 Derek Favors at power forward, and 6-foot-8 small forward Gordon Hayward, as well as Trevor Booker and Jeremy Evans coming off of the bench, Utah was second in the NBA in blocked shots per game. They ranked 15th in the NBA in offensive efficiency, but unsurprisingly were dead last in pace. With their young, tall core all coming back, these Jazz might have their running and gunning Western Conference counterparts singing the blues next season.
5. Milwaukee Bucks
Judging by the size of them, there are many very legitimate reasons to fear the deer going forward. For one thing, even their guards are huge — they start 6-foot-6 and 6-foot-7 guards Michael Carter Williams and Khris Middleton, respectively. They also feature the 6-foot-11 Greek Freak, Giannis Antetokounmpo at small forward, and assuming a healthy return, 6-foot-8 Jabari Parker to presumably play power forward, and have two 6-foot-11 guys, John Henson and Greg Monroe, at center. Somewhat eerily, the big Bucks actually rated 12th in pace with 96.5 per game and made 36.3% of their threes last season, good for 7th in the league, but their 25th ranking in offensive efficiency was less foreboding. And with all this size, their 26th mark of just 1500 three-point attempts doesn't figure to rise significantly.
[update: this piece originally mentioned Zaza Pachulia as a member of the Bucks, he is now signed with the Dallas Mavericks]
4. Washington Wizards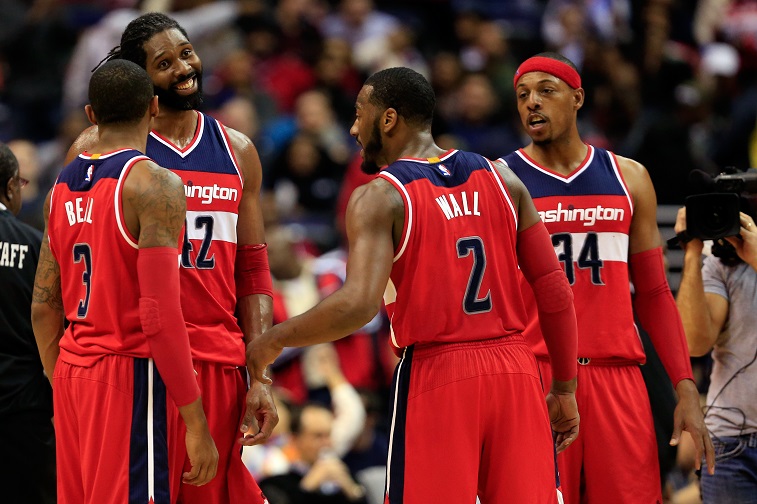 Like Milwaukee, the Wizards shot an impressive 36% from three, but they finished behind the Bucks with just 1381 such attempts. And with Paul Pierce, who shot 303 and made nearly 39% of those, gone, the Wizards seem unlikely to substantially increase their number of attempts from beyond the arc, the additions of Jared Dudley, Alan Anderson, and Gary Neal notwithstanding.
Even with Pierce, the Wizards were an ordinary 16th in pace and 19th in offensive efficiency. With 6'11" stalwarts Nene and Marcin Gortat, as well as the 6'10" Drew Gooden patrolling the paint (not to mention Bradley Beal and John Wall in the backcourt), this top ten defense and rebounding team appears ready to threaten the upper echelon of the East once again.
3. Chicago Bulls
Although the Bulls rated 16th in threes attempted, 15th in total made, and 9th in percentage at 35.3%, defense and rebounding have long been their calling cards; those made threes contributed substantially to their high offensive efficiency rating of 104.7 (good for 10th overall), but their pace still sat in a tie for 20th. Pau Gasol is seven feet tall, Joakim Noah is 6-foot-11, Nikola Mirotic is 6-foot-10, Mike Dunleavy and Taj Gibson are both 6-foot-9 and even guards Jackie Butler and Tony Snell stand in at 6-foot-7. Taken together, these are all huge reasons why the Bulls were again a top three team in rebounding, a top five team in blocks, and why they opted to play at a slower tempo. Although the hire of former sharpshooter Fred Hoiberg as the team's new coach might signal a shift towards more of a faster paced game plan, their only other offseason addition so far has been Arkansas product Bobby Portis, who's a mere 6-foot-11 himself. If there's going to be a running of the Bulls in 2015, they'll have to do it with a pretty big squad.
2. San Antonio Spurs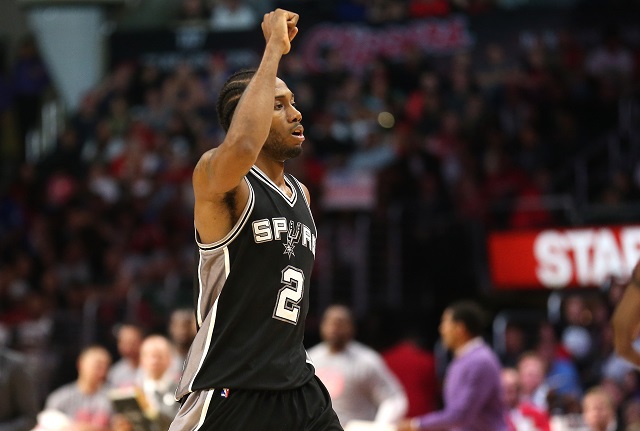 After bombing their way to consecutive Finals appearances and a title in 2014, it'd be disingenuous to say that the ever-analytical and cutting edge Spurs were averse to outside shooting, but 2014-2015 was not their most prolific or efficient turn from beyond the arc. Hoisting the 15th most attempts, good for the 12th most makes and placing them in a tie for 6th in offensive, the Spurs (whose pace of 95.9 possessions per game was good for 17th) began to look a little more like their teams of yore.
Those clubs relied more on defense and methodical low post play to bulldoze opponents and power their quasi-dynasty. Although not as big as some of the other teams on this list (or, for that matter, as deep as they used to be) the Spurs will nonetheless be lead in the coming year by twin 6'11" stars: the ageless Tim Duncan and his heir apparent, splashy free agent acquisition LaMarcus Aldridge. One quirky stat about Aldridge: he made more mid-range shots (between 10 feet and the three-point line) last season than the entire Houston Rockets team (327-243).
1. Memphis Grizzlies
Rating 29th in both three-pointers made and attempted, as well as just barely making that 33.3% cut (33.9%), the Grizzlies have spent the past several years carrying on the legacy of the old-fashioned, physical basketball nobody liked or watched at the time but seems to appreciate now. They've even nicknamed their home arena "The Grindhouse." In spite of employing statistical and analytics pioneer John Hollinger as Vice President of Basketball Operations, the Grizzlies once again were just 26th overall in pace (although they did finish a decent 13th in offensive efficiency).
The NBA's second-ranked defense and the only team aside from the Cavaliers to trouble the Warriors on their way to the title, the Grizzlies look to be unchanged as next season approaches. They have 7-foot-1 Marc Gasol re-signed, 6-foot9 Zach Randolph still playing bigger than his size, and have swapped backup seven foot center Kosta Koufos for 6-foot-10 Brandan Wright. With Mike Conley, Tony Allen, and Courtney Lee providing stingy defense along the perimeter, it seems as though the Grizzlies won't be speeding up or getting much smaller anytime soon. Bad news for visitors of The Grindhouse.
Stats and research provided by NBC Sports, Grantland.com, ESPN, NBA.com, The Atlantic, and Yahoo! Sports.