6 Top Super Bowl Performances by a Single Player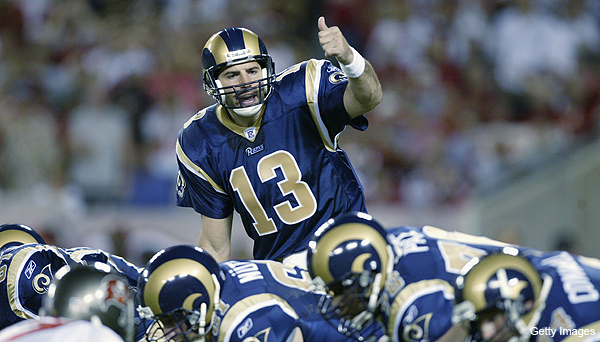 Every year, it seems that there's always at least one player who really stands out in the Super Bowl — a player who performs at a higher level than everybody else on the field and who becomes the impetus behind his team's championship. With Super Bowl XLVIII a mere days away, speculation about who it'll be this year has reached a high; will he hail from the Denver Broncos or the Seattle Seahawks? Peyton Manning is the obvious choice as he was the league's best passer throughout the entire season and during the Broncos' playoff run, and he's more than likely to win the National Football League's MVP award. Manning's been untouchable, and Denver has followed suit.
Seattle running back Marshawn Lynch certainly has a case to make, too. If he is in "Beast Mode" then he may very well lead the Seahawks to their first-ever Super Bowl victory. If it's not an offensive player — albeit a rare occurrence — it could be a guy like veteran cornerback Champ Bailey who's playing in his first Super Bowl despite it being his 15th professional season, or even Seahawks cornerback Richard Sherman, whose fame has possibly surpassed his ability.
Either way, there's a very good chance that come Sunday and a matchup between the league's best offense and best defense, someone will perform remarkably. In preparation for this, here are six individual Super Bowl performances that didn't disappoint.
6. Kurt Warner, Super Bowl XXXIV, 2000
Coming off of an MVP winning season, Warner led the Saint Louis Rams to a Super Bowl title. This game is better known for the dramatic ending where Tennessee Titans wide receiver Kevin Dyson came up a yard short for the tying score as the game ended. But Warner put on quite the show, too. He threw for 414 yards and two touchdowns — the 414 passing yards was a Super Bowl record. His biggest play, a 73-yard touchdown pass to Isaac Bruce, gave the Rams a late lead in the game and would be enough (just barely enough) to claim the Super Bowl. Though Warner had the likes of Marshall Faulk, Torry Holt, and Bruce at his disposal, it was his single performance that really stood out.

5. Lynn Swann, Super Bowl X, 1976
Not only does this happen to be the oldest game on this list, but Swann also checks in as the only wide receiver on this list. As this game took place 38 years ago, Swann's four catches for 161 yards and a touchdown have been far surpassed since — in terms of numbers. But it was momentous; he became the first wide receiver in the NFL to be named the Super Bowl MVP. Swann's touchdown in the fourth-quarter gave Pittsburgh a two-possession lead, which would prove vital after Dallas scored late in the game. The Steelers held on to win 21-17, and Swann accounted for about half of Pittsburgh's total offense; an impressive feat in and of itself.

4. Terrell Davis, Super Bowl XXXII, 1998
The lone running back on this list, Davis led the charge for the Denver Broncos past the Green Bay Packers. Denver scored 31 points and Davis accounted for 21 of those points with three touchdowns (a Super Bowl record for a running back at the time). The Broncos went on to win by a score 31-24, and Davis was named the game's MVP for his 157 rushing yards and three scores.
While Davis and a sturdy Denver offensive line terrorized the Green Bay Packers, he also had a migraine headache that kept him out of the game in the second-quarter. But with the game tied and less than two minutes remaining, it was the ill Davis who scored the go-ahead touchdown. Similar to the "Michael Jordan flu game" or any other championship performances by a sick player, Davis' three touchdowns would go down as one of the better championship showcases, especially by a sick player.

3. Rod Martin, Super Bowl XV, 1981
It wouldn't have been fair to leave off a defensive player from this list, but this selection wasn't based on fairness. Martin, a linebacker for the Oakland Raiders, had one of the single best defensive performances by a player in Super Bowl history. Martin got off to a hot start after he intercepted Philadelphia Eagles quarterback Ron Jaworski's first pass of the game. This set up an easy opening-possession touchdown for Oakland, and would set the tone for the rest of the game. Martin finished with a Super Bowl record three interceptions and single handedly helped Oakland shut down a good Saints' offense en route a 27-10 victory.

2. Joe Montana, Super Bowl XXIV, 1990
With a rookie coach and a veteran team, quarterback Joe Montana led the San Francisco 49ers to their second-straight Super Bowl title. Handling the Denver Broncos, 55-10, Montana picked apart Denver's secondary for the entire game and then some. While Montana threw for just 297 yards, his five touchdowns passes were a Super Bowl record at the time (though it would be broken a few years later by his then backup). Montana ended up winning four Super Bowl titles in his career, but the five touchdown passes he threw against the Broncos was by far his best.

1. Steve Young, Super Bowl XXIX, 1995
Continuing a Super Bowl trend of solid quarterback play by San Francisco, Young didn't fail to disappoint. After backing up Montana during his hey day, Young finally got the chance to lead the 49ers on his own. It also didn't hurt that they had one of the more dominant defenses in the league, so Young all but had to manage the game and a Super Bowl Championship was potentially in store. He did more than just manage it though, throwing for 325 yards and six touchdowns (breaking his predecessor's previous record for a Super Bowl).
Like Montana before him, Young and wide receiver Jerry Rice made for an impressive bond, nearly beating the San Diego Chargers outright. The tandem combined for touchdowns of 44, 15, and seven yards. Even during the recent golden age of passing the NFL has experienced, Young's six touchdowns still rank as the single most by a quarterback for the Super Bowl. San Francisco's 49-26 victory over San Diego in XXIX established Steve Young as an elite quarterback in the league, and his performance wouldn't be easily forgotten — even to this day.