6 Worst NFL Players of All Time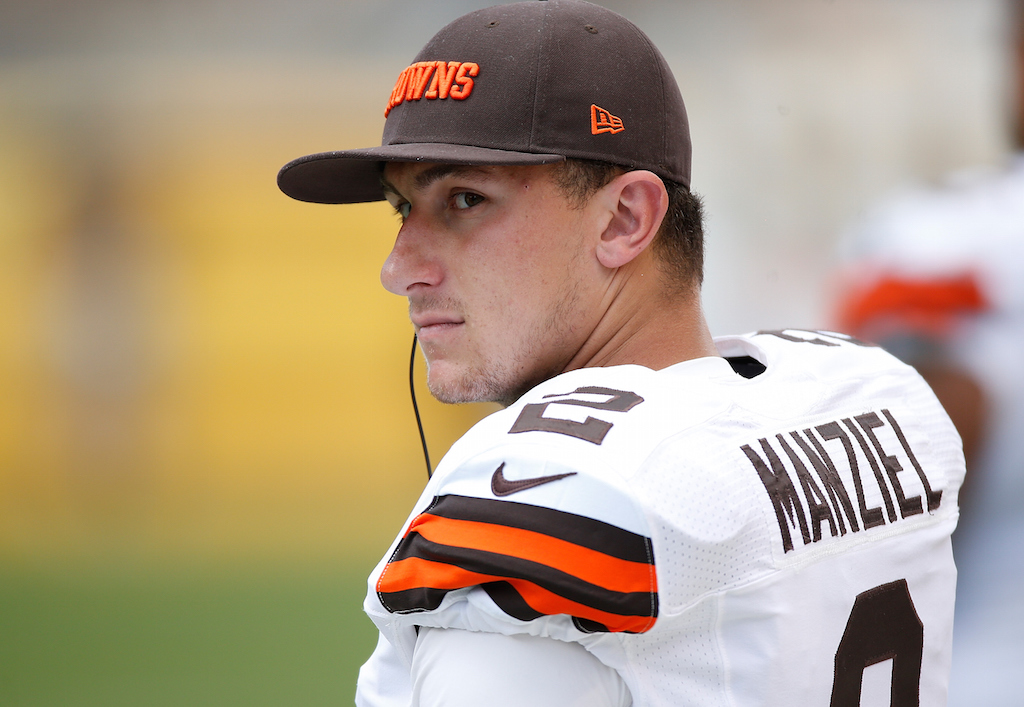 The National Football League employs some of the most gifted athletes on the planet. There are guys with world-class speed, agility, strength, and jumping abilities; guys who can throw or kick a football 80-plus yards; and guys who make 60-yard field goals look easy.
In actuality, every player who has found a place on an NFL roster possesses a skill set that is matched by far less than 1% of the general public. As a result, we found that putting together a list of the worst players in NFL history is extremely difficult, and in a way, quite unfair. Still, we came up with a group of six players who negatively stood out from their peers to comprise our list of the worst NFL players in history.
Before we go on, we wanted to clarify and establish a few ground rules we used in our selection process. First off, we only considered inactive players from the Super Bowl era who had enough credited seasons to be eligible to collect retirement benefits from the league (guys like Johnny Manziel don't qualify). This helped weed out the worst NFL players who only played in a couple games, or those who had careers that only lasted one or two seasons.
Secondly, we did our best to exclude players who had their careers derailed by injuries. Lastly, we chose to only consider "skill position" players (you're welcome, Tony Mandarich) because of the unavoidable subjectivity that comes with evaluating offensive and defensive linemen. With that being said, here is a look at the six worst NFL players in history.
1. JaMarcus Russell, quarterback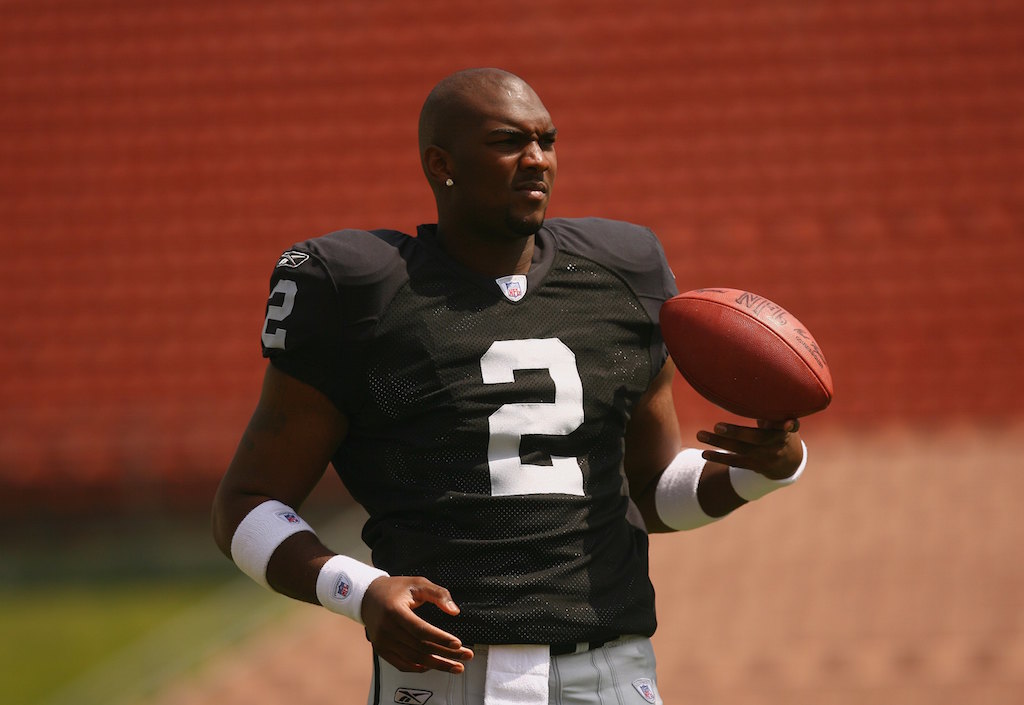 Career Statistics:
52.1% completion percentage
4,083 passing yards
18 touchdown passes
23 interceptions
65.2 quarterback rating
7-18 regular season record
Not only is JaMarcus Russell one of the worst NFL players ever, he is also arguably the worst draft pick in league history. As the Oakland Raiders' No. 1 overall selection in the 2007 NFL Draft, the former LSU Tiger's first NFL contract included a whopping $31.5 million in guaranteed money.
After Russell's disastrous three-year stint in Oakland, it's safe to say that the Raiders got practically nothing in return. The simple truth of the matter is that Russell's NFL struggles can be attributed to one thing: an atrocious work ethic.
He continuously showed up to team activities overweight and out of shape; he refused to put in the necessary time studying film and scouting reports; and he deservedly earned a reputation for being the last guy to show up to work and the first guy to go home at the end of the day. All of this showed on the field.
Despite having every physical trait that a coach could ask for in a quarterback — including one of the strongest arms in the history of the game – Russell will now forever live in infamy as one of the worst NFL players we've ever seen.
2. Ryan Leaf, quarterback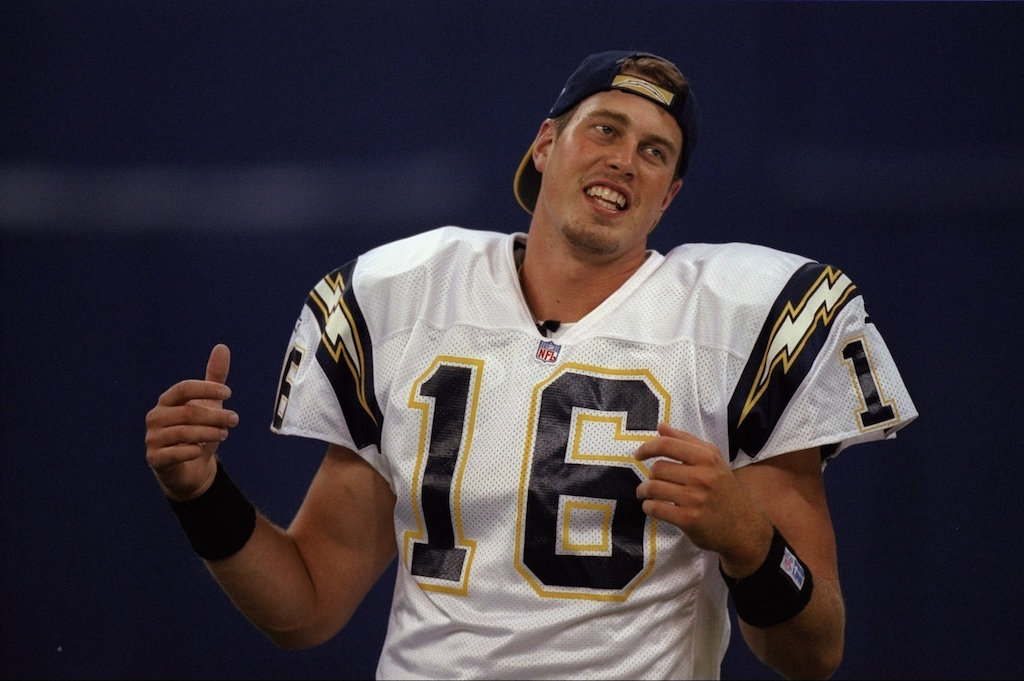 Career Statistics:
48.4% completion percentage
3,666 passing yards
14 touchdown passes
36 interceptions
50 quarterback rating
4-17 regular season record
Unfortunately Ryan Leaf will forever be linked and compared to Peyton Manning. The two signal callers were widely considered to be among the best quarterback prospects to ever come out of college when they entered the 1998 NFL Draft, but as history would have it, their careers couldn't have been more different.
Manning, who recently retired, is arguably the greatest player in league history, and Leaf's career lasted for just four awful (mostly) seasons. The San Diego Chargers were the unfortunate franchise that ended up with Leaf, who many scouts adamantly believed was a better prospect than Manning, and the former Washington State Cougar went on to last just three seasons in San Diego.
During his time with the Chargers, Leaf was a trainwreck both on and off the field, and is hands down one of the worst NFL players of the Super Bowl era.
3. Charles Rogers, wide receiver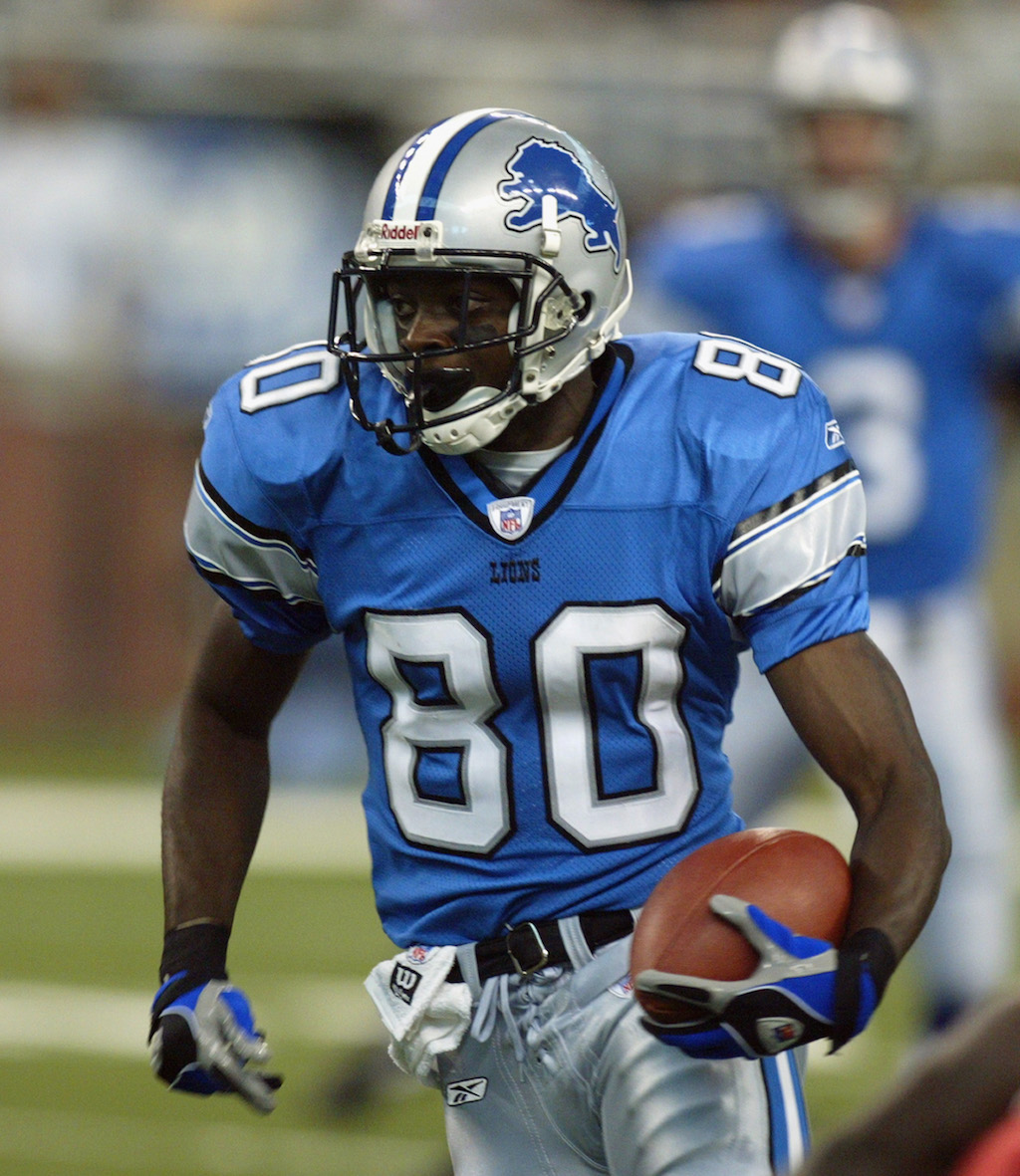 Career Statistics:
36 receptions
440 receiving yards
12.2 yards per reception
4 touchdown receptions
Long story short, Charles Rogers is easily one of the biggest wastes of talent in NFL history. After a record-breaking college career at Michigan State, the Detroit Lions selected Rogers with the No. 2 overall pick in the 2003 NFL Draft, and needless to say, their selection turned out to be a colossal bust.
Rogers battled a couple of injuries during his time in Detroit and also had several personal issues off the field, but at the end of the day, he simply wasn't effective when he was on the field. His work ethic was subpar (that's being nice about it), he struggled with dropped passes, and he never was able to adjust to playing in an NFL offense.
With that being the case, Rogers has a place on the list of the worst NFL players of all time, instead of enjoying the fame and fortune that comes with NFL stardom.
4. Akili Smith, quarterback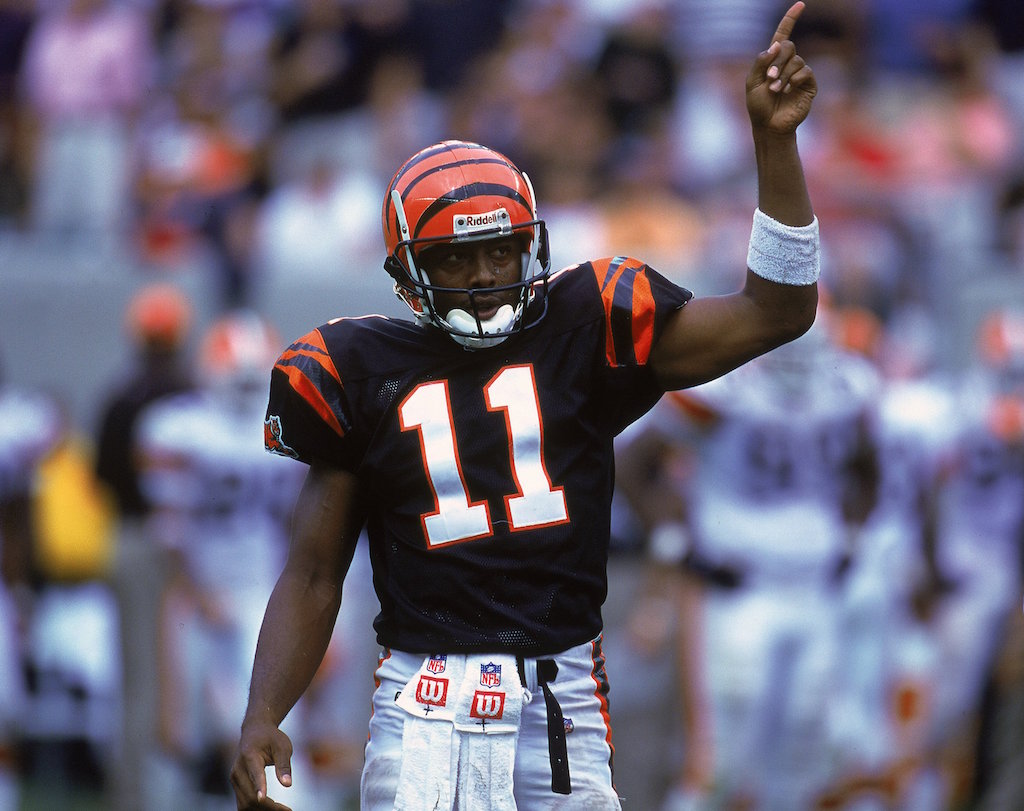 Career Statistics:
46.6% completion percentage
2,212 passing yards
5 touchdown passes
13 interceptions
52.8 quarterback rating
3-14 regular season record
From the early '90s through the early 2000s, the Cincinnati Bengals were to the NFL what the Cleveland Browns are to today's NFL. So, it should only make sense that during that time, the Bengals had one of the worst NFL players ever in Akili Smith under center.
The Bengals used the No. 3 overall pick in the 1999 NFL Draft to select Smith out of the University of Oregon, and on paper, it looked as though they were getting a future Pro Bowler. In his final collegiate season, Smith took the college football world by storm, throwing for 32 touchdowns and only seven interceptions.
He then put on a show at the NFL Combine (in every test but the Wonderlic), but in the end, none of it translated to success at the professional level. Smith would ultimately start only 16 games in four NFL seasons, and will forever be remembered for his ability to turn the ball over at an alarmingly high rate.
5. Lawrence Phillips, running back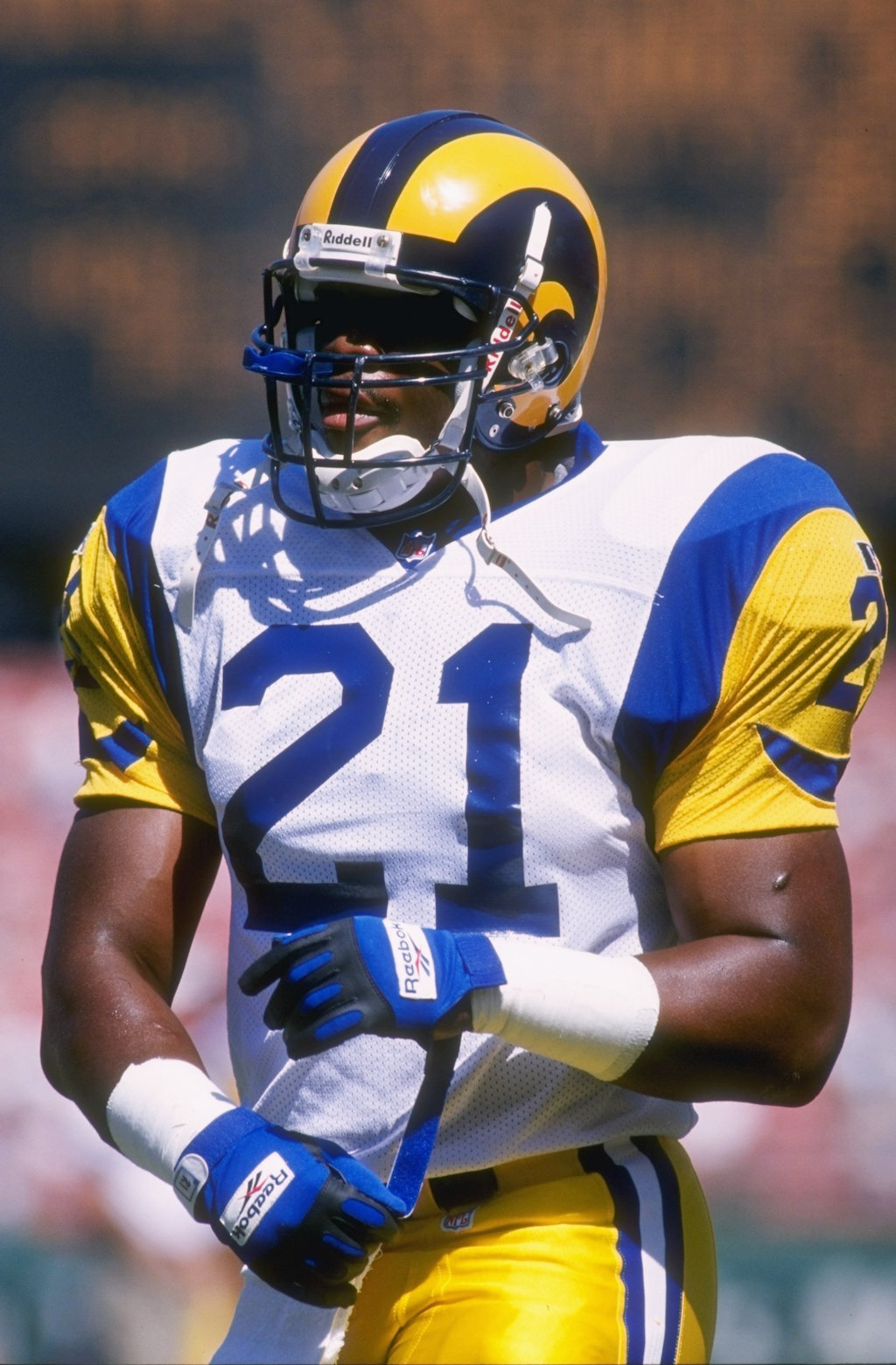 Career Statistics:
424 rushing attempts
1,453 rushing yards
3.4 yards per carry average
14 rushing touchdowns
34 receptions
219 receiving yards
1 touchdown reception
The story of Lawrence Phillips' NFL career is both sad and frustrating. After leading the Nebraska Cornhuskers to the 1994 national championship, it looked as though Phillips was destined for NFL stardom. As it turned out, the 1994 college football season would be the last time anyone would see Phillips dominating his competition on a football field.
His off-field issues have been well documented over the last two decades. There is no doubting that they played a role in his massively disappointing NFL career.
But when you look at his career from purely a football standpoint, it is abundantly clear that he just wasn't an effective running back at the pro level. He averaged a paltry 3.4 yards per carry in 35 career games and was out of the league before his 25th birthday.
6. Heath Shuler, quarterback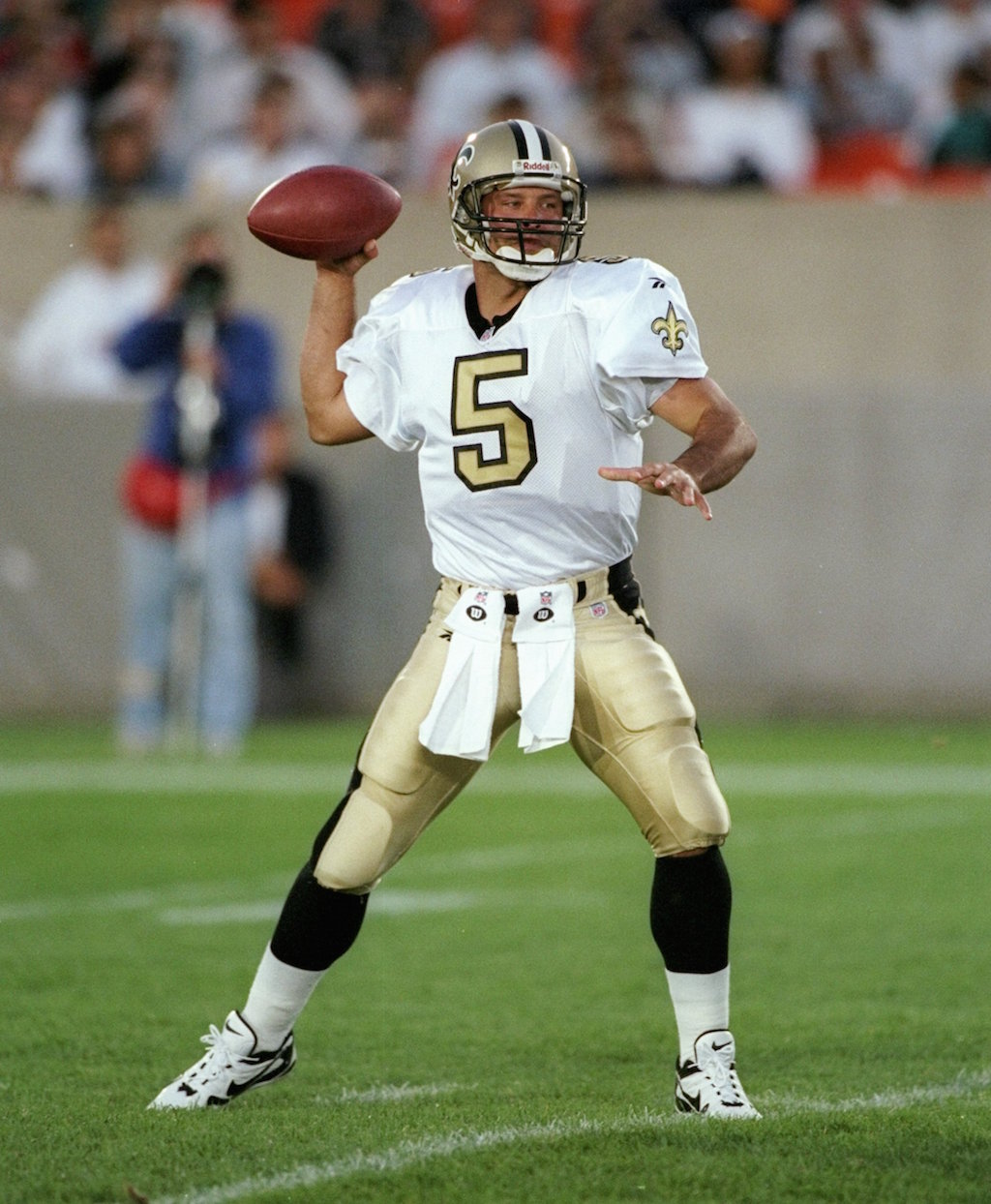 Career Statistics:
49.2% completion percentage
3,691 passing yards
15 touchdown passes
33 interceptions
54.3 quarterback rating
8-14 regular season record
The Washington Redskins drafted Heath Shuler with the No. 3 overall pick in the 1994 NFL Draft, hoping that he could resurrect their struggling franchise. Seeing as how Shuler has a place on this list, it's fairly obvious that the Redskins ended up immensely disappointed by their investment in the former University of Tennessee quarterback.
In 13 starts with the Redskins, Shuler threw 19 interceptions and posted a 54.3 quarterback rating. He was traded to the New Orleans Saints following the 1996 season, and in his lone season in the Big Easy, Shuler threw two touchdown passes and 14 interceptions in nine starts for a quarterback rating of 46.6.
This was the final time we saw him in an NFL uniform. On a positive note, despite having one of the worst careers in NFL history, Shuler has been highly successful in his post-football life.
Statistics courtesy of ESPN.com and Pro-Football-Reference.com.