65 Years Before the Clash at the Coliseum, NASCAR Legend Fireball Roberts Captured a Race at Soldier Field
Most of the talk surrounding the opening of NASCAR's inaugural Clash at the Coliseum was of the event's uniqueness.
A short track inside a football stadium in the middle of a downtown metropolis?
Some insiders doubted the concept would work. Critics suggested officials were reaching too far, gambling too much with construction costs in excess of $1 million.
All for a race featuring stock-car speeds of around 65 mph.
The thing is, it's all been done before. Sixty-five years ago.
Local racing ruled Soldier Field before the Chicago Bears made it their NFL home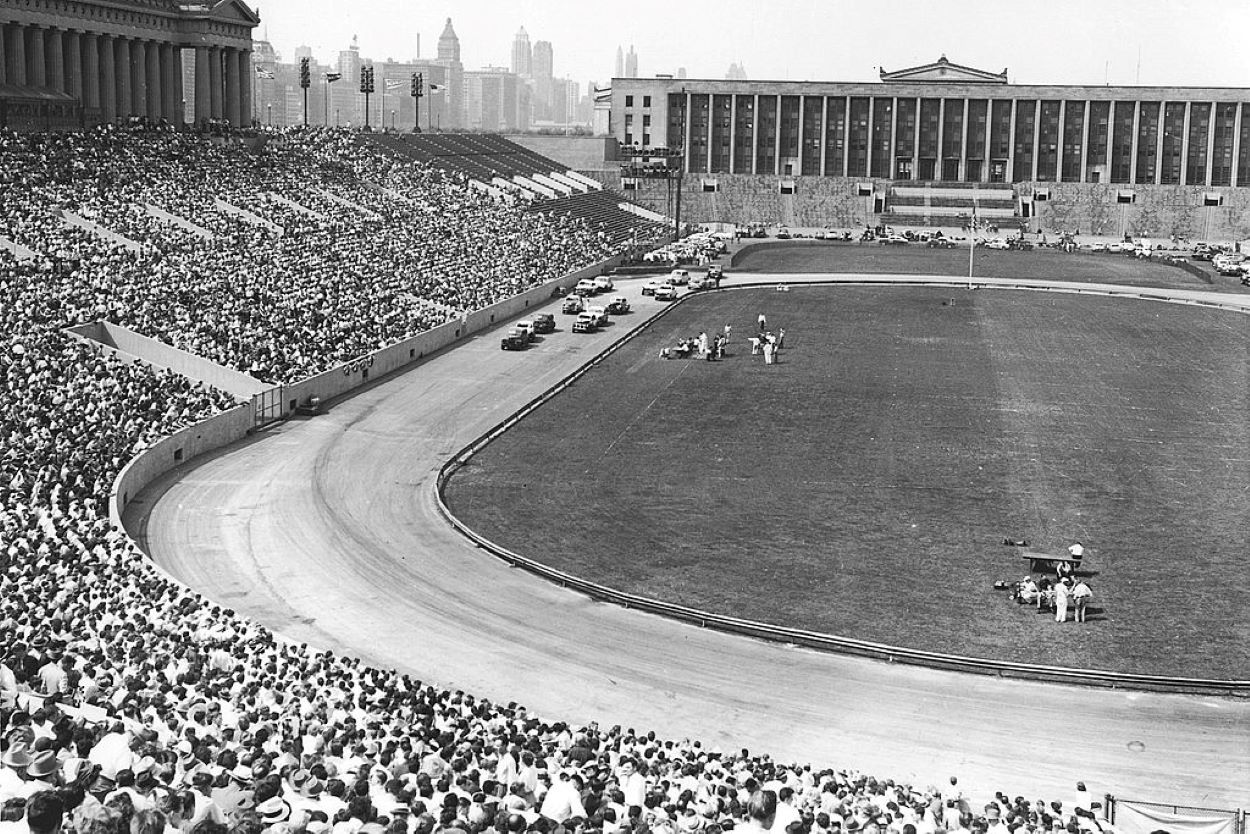 Instead of a quarter-mile track inside Los Angeles Memorial Coliseum with a horde of Hollywood personalities and live music captivating a season-opening audience, NASCAR staged a similar event inside Soldier Field in Chicago.
It would prove to be a one-time affair. 
Three-time series champion Lee Petty, the father of seven-time champ Richard, highlighted the field. The careers of drivers "Tiger" Tom Pistone and Fred "Elmhurst Express" Lorenzen were rooted in their success at local racing events at Soldier Field.
Lorenzen, a member of the NASCAR Hall of Fame, earned 26 Grand National wins, including the 1965 Daytona 500. Pistone won two races in 130 starts.
Tom Pistone on local racing at Soldier Field: 'You'd see guys flipping, cars burning, guys fighting'
The track at Soldier Field was initially constructed of cinder and started hosting Midget and "Hot Rods" races in 1935.
"Every night, there was excitement," Pistone told nascar.com, reported by Fleet Feet Chicago. "You'd see guys flipping, cars burning, guys fighting. It was excitement every night. Every night. They loved it. And us drivers, we didn't know any better."
When Grand National drivers took over the half-mile track at Soldier Field for its only appearance, Fireball Roberts passed Jim Pascal on Lap 194. Over the final six laps, Roberts held off Pascal and took the checkered flag by about a car's length.
Billy Myers, who collected two wins in 84 career Cup starts, earned the pole but bowed out because of brake problems, finishing 17th.
Here are the top five finishers and the make of their cars:
1, Fireball Roberts, Ford
2, Jim Pascal, Mercury
3, Ralph Moody, Ford
4, Speedy Thompson, Dodge
5, Frank Mundy, Dodge
Fireball Roberts died after fiery crash at Charlotte in 1964
Withstanding racing suspensions during World War II and in 1959 for the Pan-American Games, racing at Soldier Field lasted until 1968. In 1970, stadium officials ordered the track torn up. Grounds crew members planted grass, and the Bears moved across town from Wrigley Field.
Tragically, Roberts, who won 33 races from 1950-64, died because of injuries he sustained during a fiery crash at Charlotte Motor Speedway.
Like Sportscasting on Facebook. Follow us on Twitter @sportscasting19.