7 Best Days of the 2014-2015 Season for College Football Fans
College football fans are eagerly anticipating this weekend's matchups, as six different games will pit ranked teams against each other on the same day. That hasn't happened in the regular season since 2012, and it got us thinking: Where does October 4 fit into the best days of the year for college football fans? Here is an admittedly subjective ranking of the best seven days of the 2014-2015 season, in order from worst to first. What date would you add to our list, and which days are too high or too low?
7. Wednesday, February 5, 2014
The college football season really got started way back in February, on National Signing Day, the first day a recruit in the class of 2014 could sign his letter of intent. Signing Day is to college football what the draft is to the NFL: A frenzy of activity that translates into a significant percentage of new players for the upcoming season. You can't really have a college football team without a freshman class, so for the diehard fan, National Signing Day ranks up there with the very best days of the season as teams officially learn which players will be entering their program for the next couple of years. But this day still has to be No. 7 on our list, simply because there aren't any games played on that date.
6. Saturday, August 30, 2014
It's like Christmas for college football fans: The regular season finally gets underway in late August. And while Thursday night of Week 1 provides a nice little appetizer with the first real slate of FBS games, it doesn't compare to a full Saturday featuring dozens of games after no college football to speak of for nearly nine months. If your favorite team played on Thursday night and your countdown paper chain, mental calendar, or electronic "days/hours/minutes/seconds to kickoff" sign was programmed to then instead of Saturday, we'll forgive you … as long as you at least had some sort of countdown running to get you through February, March, April, May, June, July, and August.
5. Wednesday, December 31, 2014
New Year's Eve shows up on this list partly because of the longtime tradition of college football as one year turns to another. Also, the 2014 edition of New Year's Eve should be more meaningful than in years past, with three quality bowl games on the docket. The Peach Bowl, Fiesta Bowl, and Orange Bowl (in that order) are all scheduled for December 31, and they should keep you occupied from 12:30 p.m. Eastern until it's time to watch the ball drop in Times Square. That sure beats watching the Car Care Heart of Independence Pizza Dot Com Bowl or whatever second-tier games used to show up on the New Year's Eve schedule.
4. Saturday, October 4, 2014
You can argue that a different regular-season weekend might be your favorite, but we're sticking with October 4. Undefeated No. 6 Texas A&M at undefeated No. 12 Mississippi State. Undefeated No. 3 Alabama at undefeated No. 11 Ole Miss. Undefeated No. 4 Oklahoma at undefeated No. 25 TCU. No. 14 Stanford at undefeated No. 9 Notre Dame. No. 15 LSU at undefeated No. 5 Auburn. Undefeated No. 19 Nebraska at No. 10 Michigan State. Days like this are what college football fans dream of. Now, is it too much to hope that all six can't-miss games come down to the final play?
3. Saturday, December 6, 2014
It remains to be seen how compelling this year's conference championship games will be, but there's a good chance December 6 could feature nearly as many ranked teams as October 4, only in more meaningful games. The SEC, SWAC, ACC, Big Ten, MWC, and C-USA all play league title games on that date, with a half-dozen other regular-season games on the docket (including Oklahoma-Oklahoma State), so it's sort of the best of both worlds. We might even cheat and include Friday night as the lead-in to the main event, because that would let us add the MAC and Pac-12 title games to this beautiful 30-hour feast of football.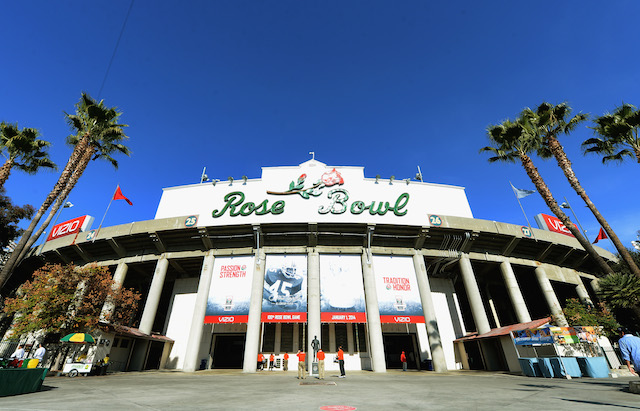 2. Monday, January 12, 2015
The first College Football Playoff national championship game is scheduled for Monday, January 12, 2015, and while some of you may prefer quantity over quality when it comes to your football viewing, this day surely has to be one of the best of the year for football fans. The sport is on display in front of millions, and — guess what? — this year, it actually will be decided with a bracket. It's about stinking time. (Sorry, we got off track there for a second; that rant is for a whole different article.) Regardless, the biggest game of the college football season makes January 12 one of the biggest days of the college football season. Still, in our estimation, it doesn't top…
1. Thursday, January 1, 2015
New Year's Day is traditionally a highlight of the college football calendar, and the 2015 version might just be the most exciting of all time. Five big-name bowl games are on the docket, and two of them — the Rose Bowl and Sugar Bowl — will double as playoff semifinals to determine who will meet on the field for the national championship. While college football has perhaps lost a bit of its monopoly on the January 1 calendar due to the NHL's Winter Classic — although we certainly wouldn't go so far as Ted Leonsis and Gary Bettman have in that regard, because there's no way hockey "owns" New Year's Day — adding meaningful playoff semis to one of the most hallowed days of the college football year simply makes it that much more important and wonderful for football fans across the country and around the world.