MLB
7 Best MLB Defenders of 2014 By the Numbers
Everyone loves diving stops in the hole or outfielders who soar above the fence to snag a would-be home run. These plays are indisputably awesome and worth the price of admission. Still, it takes much more than a last second dive to make a good fielder. Players who cover more ground may not need to dive, while players without good range may never have the chance to make any play. It can be dizzying to figure out who is an elite MLB defender.
Thankfully, the advanced statistic gurus have measurements that do the job. While the wins against replacement (WAR) metric is becoming part of the standard stat sheet, the defensive equivalent (dWAR) is just nudging its way into broadcasts and fan chatter. This dWAR stat (provided by BaseballReference.com) may be the most comprehensive. If a team removed the player in question and replaced him with a league average defender, how many wins would that team give up?
The player's dWAR provides a concrete answer. Here are the seven best MLB defenders of 2014 based on dWAR. Stats are current at the start of play on July 25, with FanGraphs.com providing statistics that support the overall defensive player values from Baseball Reference.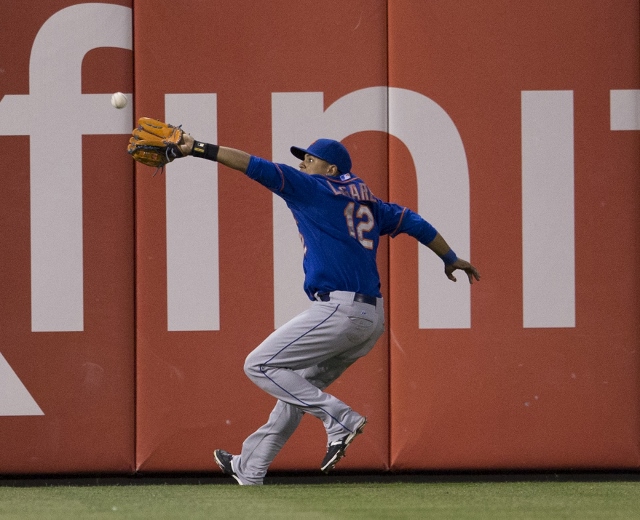 7. Juan Lagares, New York Mets
Juan Lagares may not be a household name, but the Mets center fielder has racked up the most defensive runs saved (DRS) of any MLB player (16) at his position depite playing only 66 games in 2014. His ultimate zone rating (UZR) of 13.4 is also tied for best in center field, which many say is the toughest position in baseball. For his sterling glove work in limited action, Lagares has the seventh best dWAR in baseball at 1.9 in his second big league season.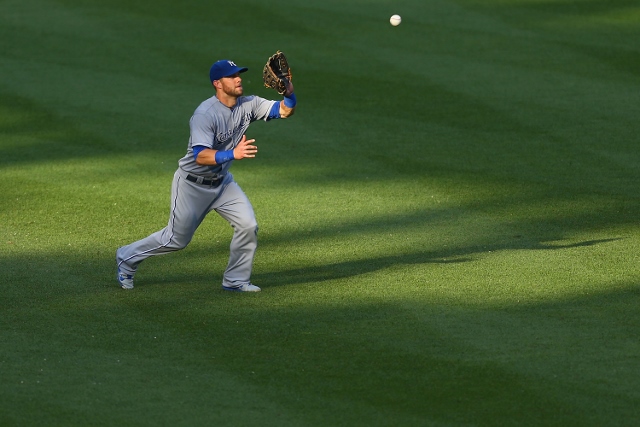 6. Alex Gordon, Kansas City Royals
In terms of defensive runs saved and ultimate zone rating in left field, no one comes close to Kansas City's Alex Gordon. No other left fielder is even in double figures, while Gordon has posted 20 DRS with an MLB-best 24.9 UZR in 2014. He nabbed a Gold Glove for his defensive effort in 2013, and it appears Gordon is headed for another one this season. His 1.9 dWAR ranks his sixth in MLB, just ahead of Juan Lagares.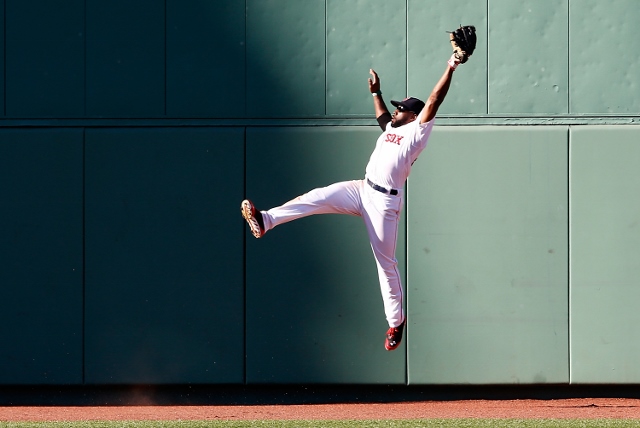 5. Jackie Bradley, Jr., Boston Red Sox
Jackie Bradley's hitting may not have hit its stride yet, but the Red Sox center fielder hasn't disappointed with his glove work in the slightest. As the top-rated center fielder with a dWAR of 2.0, one could argue there is no more important outfielder defensively. Bradley has to cover a lot of outfield terrain at Fenway, but he's been more than up for the challenge. His 13.4 UZR ties him with Lagares for best in center (fourth in MLB), while his 13 DRS ranks him eighth in the game.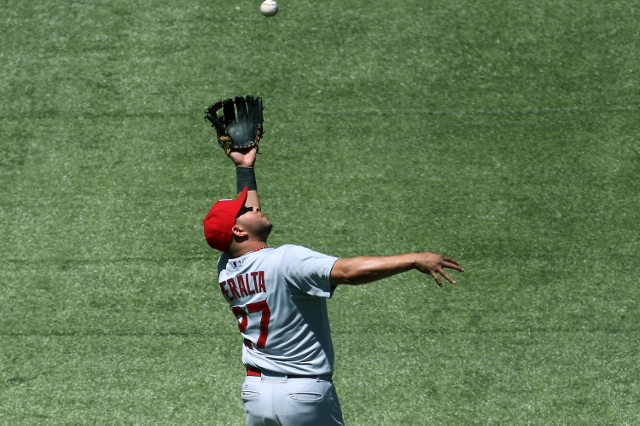 4. Jhonny Peralta, St. Louis Cardinals
The Cardinals' Jhonny Peralta was never known for being a defensive force, but in 2014 he has already doubled his previous high with a 2.1 dWAR. He also ranks sixth in MLB with 16 defensive runs saved on the season and twelfth with his 13.4 UZR. His offensive contribution has been nearly on par with his 2013 season, but there is nothing but good things to point out about Peralta's defense. The numbers say he is fourth best in Major League Baseball in 2014.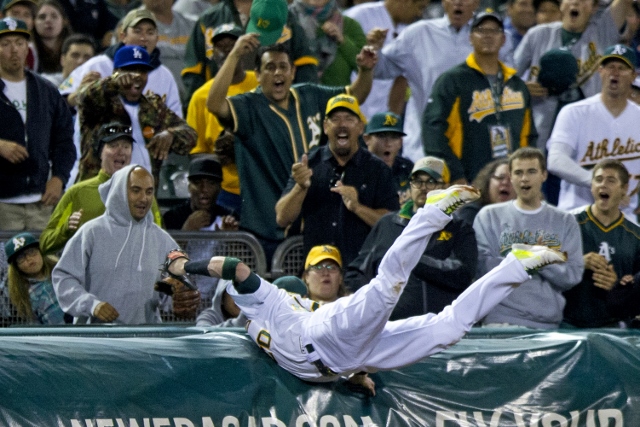 3. Josh Donaldson, Oakland A's
If it weren't for the otherworldly play of Mike Trout, many people would be discussing Josh Donaldson as a top MVP candidate for the American League. (If the Angels fall out of the race, they still might.) As it stands, only Trout (5.8) and Troy Tulowitzki (5.6) rank higher in total WAR than Donaldson (5.0). Defensively, he ranks third in baseball with his 2.2 dWAR. In support, Donaldson ranks third in defensive runs saved (18) and third in UZR (15.2). It's one of those cases where it's hard to argue with the eyeball test or the numbers: Donaldson is the third best defender in the game.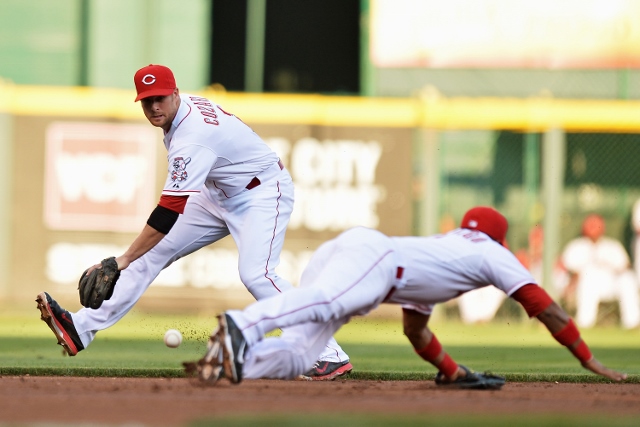 2. Zack Cozart, Cincinnati Reds
In his third full MLB season, Reds shortstop Zack Cozart is establishing himself as a dominant defensive force. His 11.3 UZR ranks him seventh in baseball and his 17 defensive runs saved rank him fourth in the game (both bests at his position.) His 2.2 dWAR amounts to better than two wins for Cincinnati over the league replacement — all from the job Cozart has done at short. Only one MLB player has performed better defensively in 2014 according to the numbers.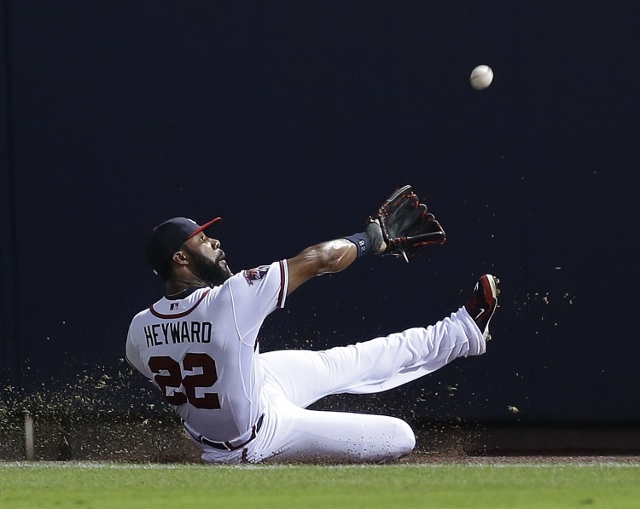 1. Jason Heyward, Atlanta Braves
The biggest jump on the list goes from second place (2.2 dWAR) to first, where Atlanta's Jason Heyward resides with a spectacular 2.8 dWAR in 2014. Heyward has managed an astounding 29 defensive runs saved at his position in 890.1 innings. To put that figure in perspective, that's 9 runs better than Alex Gordon (who is second in MLB) and 20 runs better than any other right fielder.
Heyward's 24.4 UZR trails only Gordon for MLB's top spot in 2014. Again, no right fielder is even close to where Heyward stands this season. He added a Gold Glove to his trophy case during his last full season in 2012. Based on his performance in 2014, he should make room for another one headed his way when the voters weigh in at season's end.