7 Best Seasons From Backup Quarterbacks in NFL History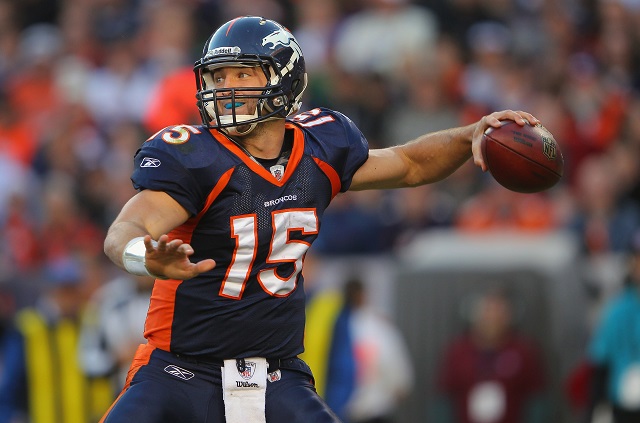 The true worth of a backup quarterback may be the closest thing the NFL has to an unmeasurable. In the best-case scenarios, teams never actually have to play the backup in anything beyond something like a largely meaningless Week 17 game — just enough for them to be secure in the knowledge that their clipboard jockey can, if need be, step up to the plate and deliver a legitimate performance in the off chance that it ever becomes necessary for that person to do so.
What constitutes a backup, though? For some people, Tom Brady's 2001 campaign would be a surefire member of this list because Brady began the season as the second man on the depth chart. That's one way to look at it, but that doesn't feel right, since he started more than half of the games, which would make him the starter. Instead of using the initial depth chart to determine a QB's status as a starter, we poked and prodded the always awesome Pro Football Reference for signal callers who appeared in a sizable amount of games that make up any given season but didn't started in more than half of those.
Our candidates also had to have attempted at least 60 passes in that span, since we weren't particularly interested in looking for players who came out for a couple of drives in one game for one reason or another. Then we sorted all those who qualified by their passer rating — or, as ESPN calls it, their quarterback rating. Also, for what it's worth, Tim Tebow's 2010 season came in at No. 80, so he misses the cut despite being the poster boy for the perennial hope of the backup QB.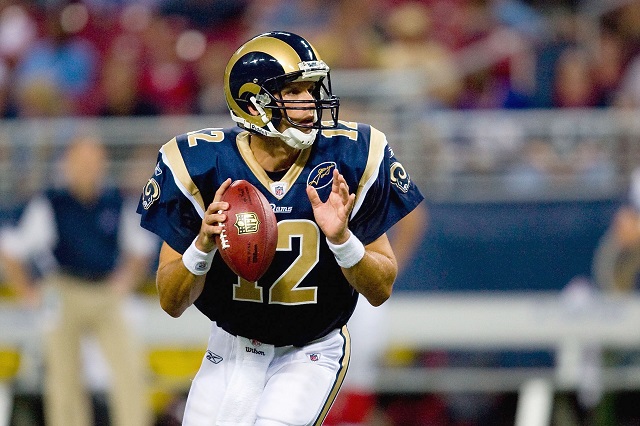 7. Trent Green, St. Louis Rams, 2000 – 101.8 QBR

Started for five games in the 2000 season in place of Kurt Warner, he of the most impressive depth-chart-related backup season ever, in 1999, when Warner replaced Green as the starting quarterback after Green went down in the preseason as a result of the infamous Rodney Harrison hit. Got it?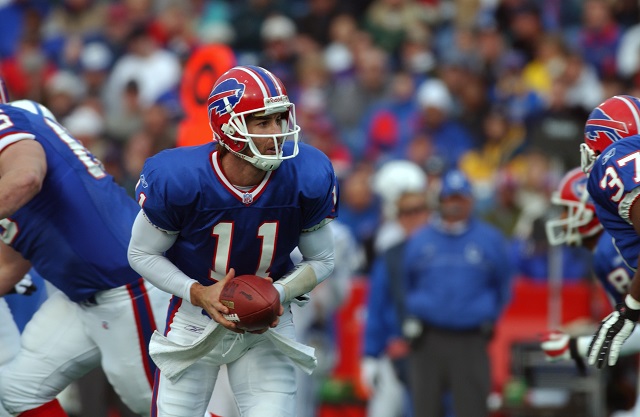 6. Rob Johnson, Buffalo Bills, 1998 – 102.9 QBR
Rob Johnson's 1998 season stands as the ultimate litmus test for what, exactly, is considered a starting quarterback. Traded to the Bills from Jacksonville and labelled the incumbent starter for the team, Johnson would only manage to take Buffalo's opening offensive snaps for six of that season's games, going from starter to backup in the course of a single season. You can see everything you'd ever want to know about Johnson's '98 year here and determine whether you think he qualifies.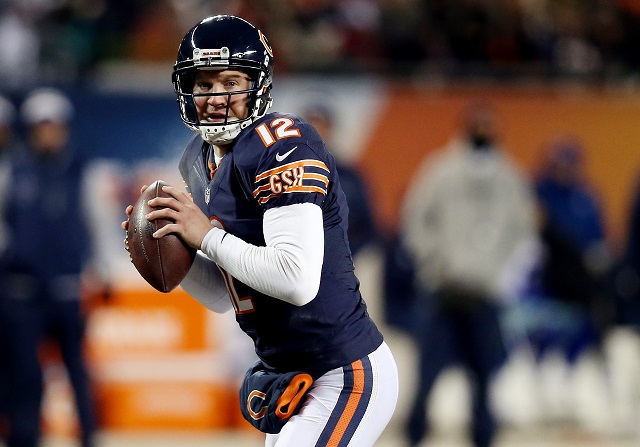 5. Josh McCown, Chicago Bears, 2013 – 109.0 QBR
Almost entirely a career backup — save for a starting gig with the Arizona Cardinals in 2004 — McCown's 2013 campaign with Chicago, the franchise that has been the closest thing to a second home for a guy who's played for eight different NFL teams, was easily the highlight of his career. He went for 13 touchdowns over eight appearances and five starts as the man behind Jay Cutler.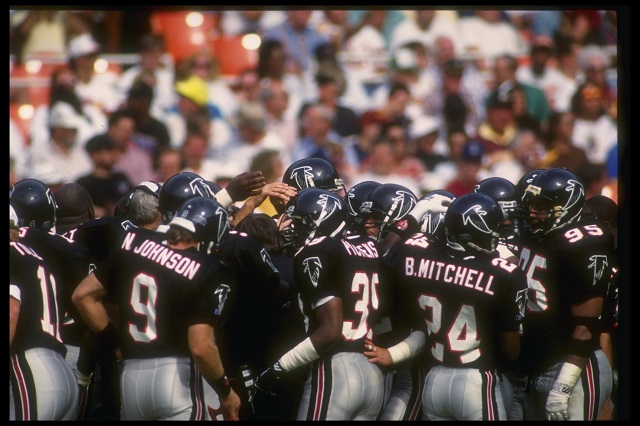 4. Wade Wilson, Atlanta Falcons, 1994 – 110.1 QBR
While most fans have memories of Wilson as a member of the Minnesota Vikings and a few may remember his stint with the Dallas Cowboys at the end of the '90s, Wilson's best year as a backup came behind Chris Jones on the 1994 Atlanta Falcons. It was a brief showing that nonetheless saw him finish with a respectable quarterback rating and 13 touchdowns against just four interceptions.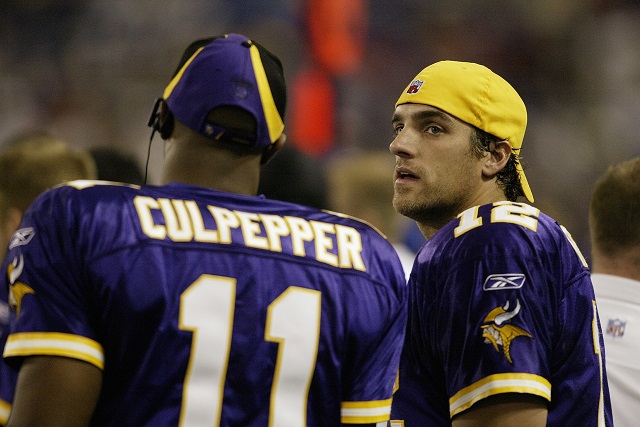 3. Gus Frerotte, Minnesota Vikings, 2003 – 118.1 QBR
Seen above talking to incumbent starter Daunte Culpepper, Gus Frerotte made his bones on this list with, essentially, one epic game: A four-touchdown, 267-yard monster of a showing that culminated in a 35-7 Minnesota victory over the San Francisco 49ers. Also, his backwards hat swag is off the charts, which is very 2003.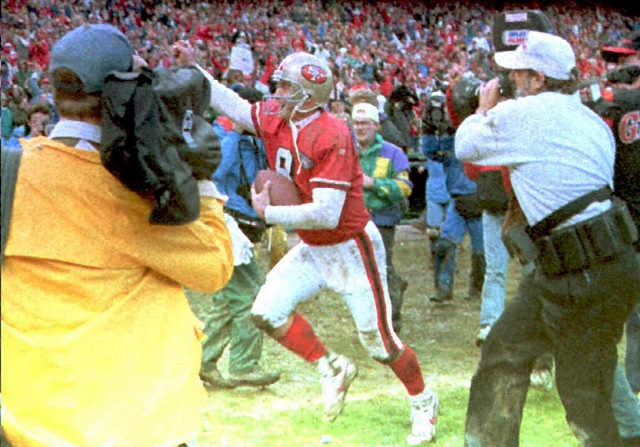 2. Steve Young, San Francisco 49ers, 1989 – 120.8 QBR
1. Steve Young, San Francisco 49ers, 1987 – 120.8 QBR
That's right: Not only does Steve Young hold the title of Most Unfair Backup of All Time — for both of these seasons he was second to Joe Montana — but he's also got the first- and second-place medals for Best Season Ever Delivered By a Backup QB. 1987 Young gets the nod for throwing 10 touchdowns and zero interceptions, but '89 Young wound up breaking the 1,000-yard mark, so there's that.
For the complete list as well as a search tool that can help you learn more about our methodology and allow you to play around with your own results, click here.