7 Biggest Scandals in World Cup History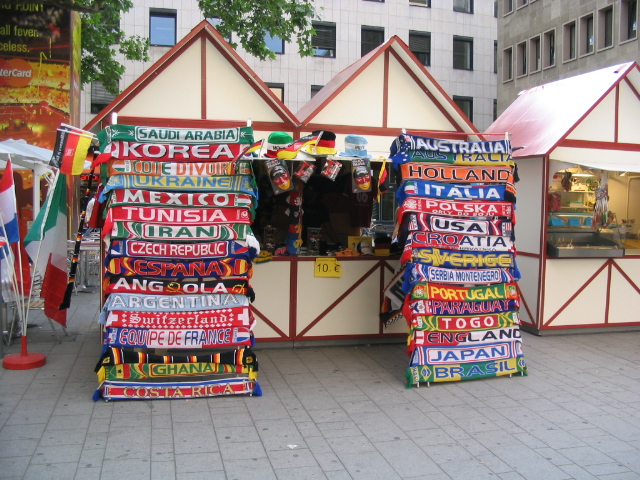 Between the institutional corruption, human rights violations, and general skeeviness that tends to surround FIFA and the World Cup, it's often difficult to remember that, on some occasions, there are on-the-pitch controversies and scandals that happen in the world of soccer.
It's not all fixed bidding and awarding tournaments based on insane air conditioning schemes to allow soccer to be played in the summers of Qatar – it's also flare guns and a Russian keeper getting laser-pointed at a critical juncture in a match. The GIF from that article is pretty priceless, by the way.
Watching the group stages break down the way they have, it's tempting to think of all the ways the games could be tweaked to nefarious ends — even if the referees have nothing to do with it. Speaking of referees, anyone that thinks that a league like the NBA is in need of better officials needs to watch the World Cup. It's kind of hilarious, given the advent of goal-line technology and high-definition cameras (even the last World Cup, from just four years ago, looks awful compared to the broadcasts from Brazil) that so many suspect calls and non-calls can still be made.
Here, then, are the seven incidents that spring to mind first when it comes to pitch impropriety. They're fantastic, and even if you don't dig soccer/football, you can still use them to rain on someone's parade in a pinch.
7. Nigel de Jong gets away with channeling his inner Karate Kid
Soccer is a game in which you are allowed to use your feet, as well as any part of your body other than your hands, to control a ball and try to guide it into the opposing team's goal. One of the things you can't do is kick players on the other team. One of the things you really can't do is plant a flying kick into someone's chest. That is most definitely a foul and most definitely an impropriety worth being sent off the field for (aka getting red carded). Except that de Jong wasn't sent off and continued to contribute to a decidedly chippy 1-0 game between Spain and Netherlands. For the curious, Holland lost.
6. Thierry Henry uses his hand to get into the World Cup
Again, soccer is a game in which using your hands is prohibited. However, Thierry Henry used his to help France secure a 2010 World Cup berth at the expense of Ireland — because of course it was Ireland — in 2009. Henry "clearly controlled the ball with his hand before passing it on for the goal that secured France's ticket to South Africa next June," reported Time while the incident was fresh. "After the game, Henry admitted that he had touched the ball, but in a manner implying it was accidental — an assertion that compounded the sin because replays showed he actually touched it twice, the second time with a certainty that suggested it was deliberate." Pretty damning stuff from a newsmagazine that's not particularly known for its edgy and aggressive tone.
Luckily for fans of Ireland, fairness, and schadenfreude, France would play about as miserably as one would hope, and the team was eliminated in the group stages of the South African tournament. This year, though, the French have advanced to the Round of 16, where they will play Nigeria on Monday.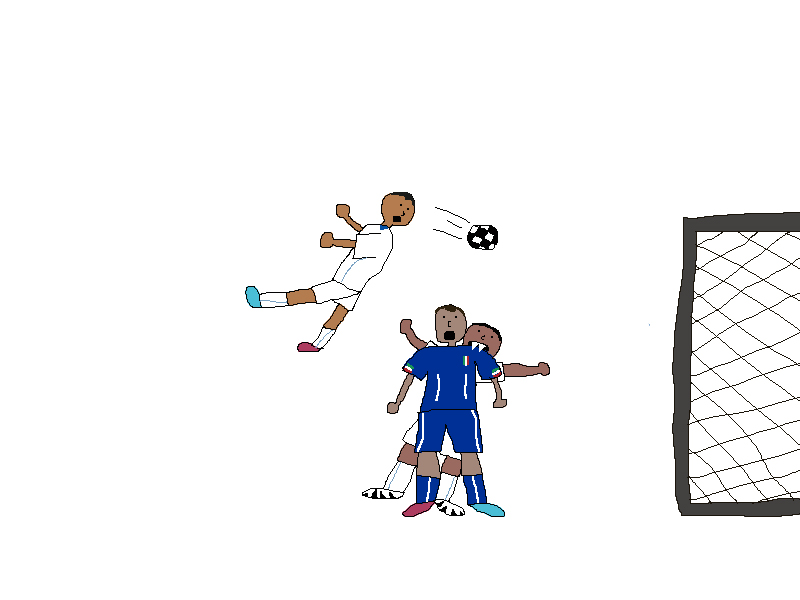 5. Luis Suarez can't stop biting people
First and foremost, we need to give a shout-out to Here Comes the Ball, a Tumblr page that has provided MS Paint recaps of every World Cup match so far. The site, which you can visit here, is basically the greatest thing in the history of soccer – for all time and forever. If you don't know who Uruguay's Luis Suarez is, it's time for some education. First, you need to know that it is more likely you'll be attacked and bitten by him than by a shark. Any shark.
Suarez, who was handed a four-month soccer and nine-game international ban for his latest bite (on Italian player Giorgio Chiellini), is a tremendously talented forward who is, apparently, totally insane. "Putting him in an American context is difficult because he transcends the sports page," according to this tremendous ESPN feature. "Imagine the tabloid fodder of Lindsay Lohan's life with Jennifer Lawrence's acting chops." Regardless of how easily Suarez translates into young American actresses, it can't be very reassuring to be on the pitch with someone whose reputation is so questionable.
4. Argentina beats Peru to oust Brazil
When the U.S. was getting ready to face Germany in its final match of group play, there were some who questioned whether the teams would unofficially agree to play to a draw, since that would let both teams go through and screw Portugal and Ghana. No one took the notion particularly seriously, but it may (or may not) have happened in 1978, when host nation Argentina, which needed four goals to advance in place of Brazil, wound up beating Peru 6-0. It's hard to say one way or the other, but at least one Peruvian senator has claimed the match was fixed.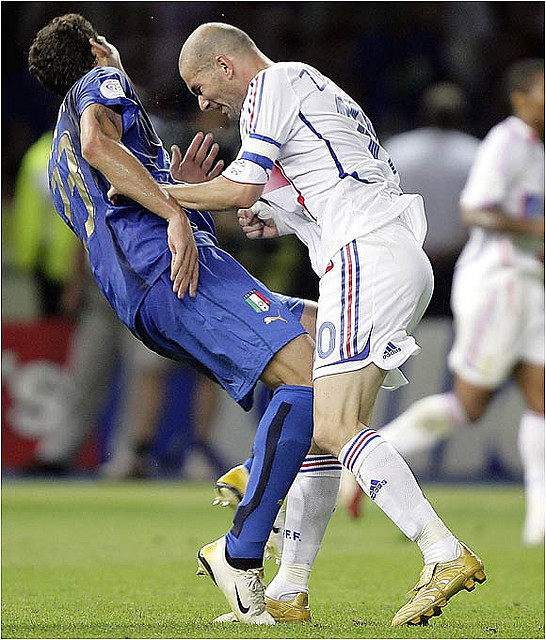 3. Zidane gets heady
The return of the shady French! In 2006, with France and Italy squaring off in the World Cup finals, Zinedine Zidane was under the microscope of more than 600 million viewers who saw him, rightly, as the best player on the defending World Cup champion squad. He had been an important part of France's championship hopes in 2002, and throughout the match he played well, exchanging, we assume, barbs with Italian defender Marco Materazzi, as is the nature of a stressful sports environment.
Regular time expired with the game all even at one goal apiece, and during overtime, Zidane snapped. He was allegedly provoked by Materazzi, but we're not sure what exactly could have been said that would cause someone to headbutt you to the ground. Zidane was immediately suspended, and the French were left with 10 men on the pitch to try and eek out a victory; Italy would go on to win the game.
2. Maradona uses his hand to score decisive goal
Maradona is nothing less than a soccer deity in Argentina, and he one of the best players of all time in the history of the sport. He's also, admittedly, a cheater who broke soccer's cardinal rule (no hands) in order to score the first goal of an eventual 2-1 victory. You can watch the clip above.
1. Roberto Rojas cuts his own head
This one gets top billing simply because it's so absurd. In 1989, during one of the qualifiers for the 1990 World Cup, Chilean goalkeeper Roberto Rojas slipped a razor blade out of his glove and gave himself a cut on his head when a (planned) flare was fired at him from the crowd in a match against Brazil. Ostensibly, the attempt was to try and have Brazil, then and now a powerhouse in the game of football, be eliminated from contention in the upcoming tournament.
Ultimately, the evidence against Rojas would surface (the full account is here, in an excellent story from CNN) and Chile would be banned from the 1994 World Cup. Rojas, though, would go on to coach the Brazilian team as a goalkeeper trainer, because even if he perpetrated one of the most ridiculously sleazy maneuvers in World Cup history, he was still pretty good.