7 Greatest Shots in U.S. Open History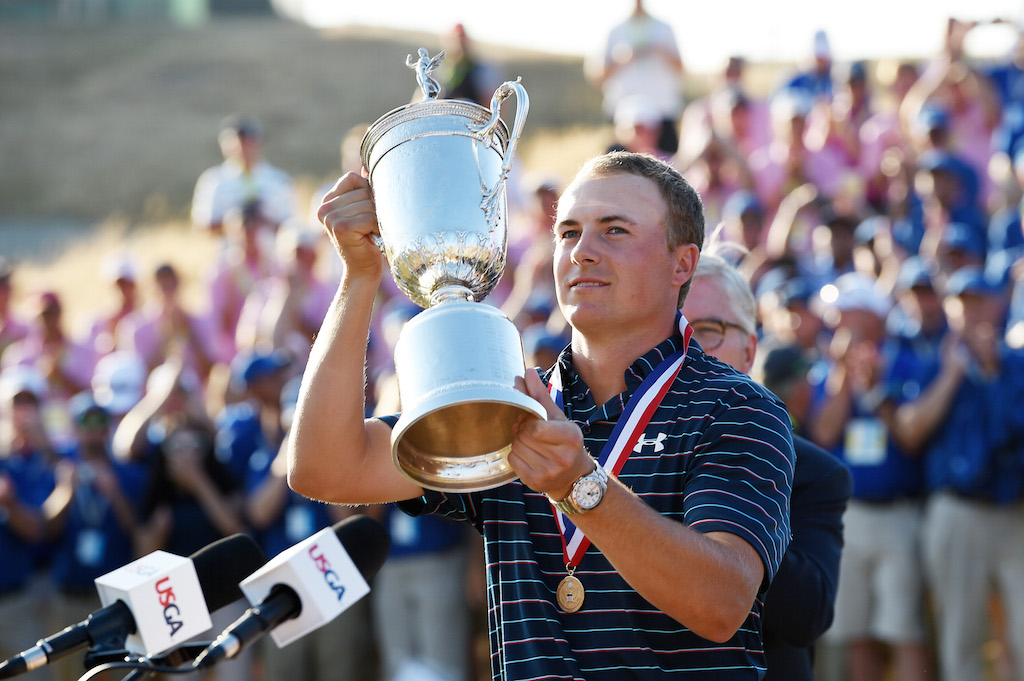 As one of the favorites at this year's U.S. Open, and one of the biggest names in the sport of golf, Jordan Spieth will look to overcome the odds and win this major for the second consecutive year. But he'll have his work cut out for him — and we're not just talking about the difficulty that comes with having to out-duel a talented field.
This year's U.S. Open is at Oakmont Country Club, and this course takes no prisoners. "I'd sign for even par," said Spieth of a four-round total. "I don't think anyone's going to be in the red come 72 holes. So it will be a challenge, but I'm certainly looking forward to it."
While the best players always appreciate a good challenge, it's the ones who rise to the occasion and make the big shots that will be remembered forever. Throughout its history, the U.S. Open has seen its fair share of incredible shots. In our opinion, these are the seven greatest of them all.
7. Corey Pavin finally gets his major
As noted by the New York Times, Corey Pavin spent much of his career being considered the best golfer to have never won a major. Not exactly a crowning achievement. Yet, that all changed at Shinneck Hills in 1995, when Pavin brought the wood on the 18th hole  — the 4-wood to be exact.
With 209 yards standing between him and U.S. Open glory, Pavin pulled out the aforementioned club and knocked a shot that landed short of the green and rolled within five feet of the 18th pin. After this incredible shot, Pavin two-putted for par, finally capturing his first major title.
6. Payne Stewart sinks Mickelson at Pinehurst
It's not every day that you get the opportunity to sink a putt that wins you the U.S. Open, yet, that's exactly what Payne Stewart did at Pinehurst in 1999. One putt for all the marbles — nothing but cup.
After sinking the 18-foot par putt on No. 18, Payne proceeded to give one of the most memorable celebrations in U.S. Open history. There was a wild fist pump, a leg in the air, and a genuine embrace with the man he had just defeated, Phil Mickelson. This being such an iconic moment, it was only fitting that it be redone in Lego form.
5. Hale Irwin's incredible birdie putt at Medinah
On the 72nd hole at the 1990 U.S. Open at Medinah, Hale Irwin needed to sink his birdie putt in order to stand any chance at forcing a playoff. Seems simple enough, except, of course, for the fact that he was 45 feet away from the cup, making this putt anything but easy.
Still, Irwin stepped up, gave the ball a good stroke, and buried it dead center. To the delight of the gallery, Irwin raised his hands in triumph and proceeded to run around the green in his bright red pants, giving high fives to all those in attendance. Now that's a moment.
4. Ben Hogan's 1-iron shot at Merion in 1950
Just 16 months removed from a near-fatal car accident, Ben Hogan made his triumphant return to golf at the 1950 U.S. Open at Merion. Not only did he end up winning the tournament in a playoff against Lloyd Mangrum and George Fazio, he also hit one of the most iconic approach shots in U.S. Open history.
On the 72nd hole of the tournament, needing a par to join the playoff, Hogan nailed the green with a 2-iron, made his par, and went on to win the whole thing in an 18-hole playoff. As far as the sport of golf is concerned, this is what an iron man looks like.
3. Jack Nicklaus hits the pin in '72
No list of memorable shots at the U.S. Open could be complete without the Golden Bear himself, Mr. Jack Nicklaus, making an appearance. And with that, we take a look back at the 1972 U.S. Open at Pebble Beach, when Nicklaus went right at the pin — literally — on the 17th hole in the final round.
Despite a crazy wind hitting him in the face, Nicklaus hit his tee shot with a 1-iron and watched as the ball bounced on the green, struck the pin, and just stopped right next to the hole. He would tap in the putt and go on to win the third U.S. Open of his career. Just another example of Jack being Jack.
2. Tiger forces a playoff in 2008
In a career filled with one crowning achievement after another, what Tiger Woods did at the 2008 U.S. Open at Torrey Pines has to rank near the top of the list. And for us, this putt on 18 was simply the cherry on top.
Needing a 15-foot birdie putt to force a playoff with Rocco Mediate, Tiger did what he seemed to always do back then: make greatness happen. "I kept telling myself make a pure stroke, if it bounces in or out, so be it, at least I can hold my head up high and hit a pure stroke," Woods said. "I hit it exactly where I wanted it to and it went in."
We miss this Tiger most of all.
1. Tom Watson chips it in at Pebble Beach
While Nicklaus's shot on 17 at the '72 U.S. Open at Pebble Beach was special, what Tom Watson did on the same hole during the 1982 U.S. Open was nothing short of magical. Best of all, it helped him topple the Golden Bear in the process.
After Watson's tee shot landed in the rough, he found himself with a difficult second shot. Yet, in what can only be described as an act of divine intervention, Watson somehow chipped in for birdie, took a one-stroke lead, and never looked back. The way we see it, this is the greatest shot in the history of the U.S. Open.